Up close: Cartier Clock Prisme – prism clock with 8 day power reserve
A clock dial on the front, in the traditional Cartier aesthetic, but there's actually nothing there. From the back the clock is completely transparent, thanks to a nifty optical illusion.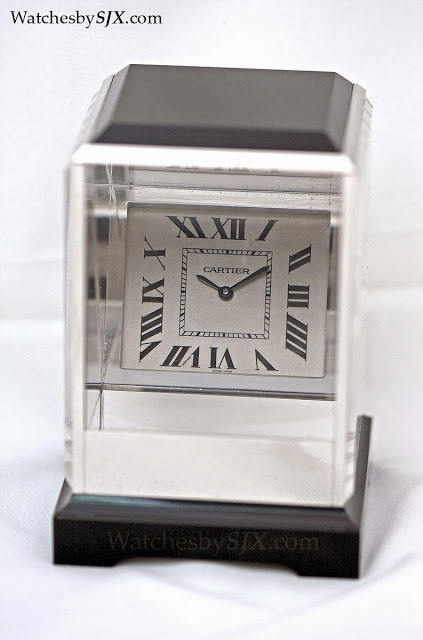 Though best known for its lavish Mystery clocks, Cartier has also been creating prism clocks for decades. Invented by Gaston Cusin, a colleague of mystery clock creator Maurice Couet, the prism clock was patented in 1937. Like the Mystery clock, the Prism clock's relies on a simple but clever sleight of hand to amuse the viewer.
Inspired by the workings of a submarine periscope, Cusin devised a prism which sits inside the clock, above the clock face and mechanism which are concealed in the base.
Thus the clock face is visible from the front of the clock, appearing at a slightly reclined angle. The dial is in the classic Cartier style with sword hands, Romain numerals and a railway minute track.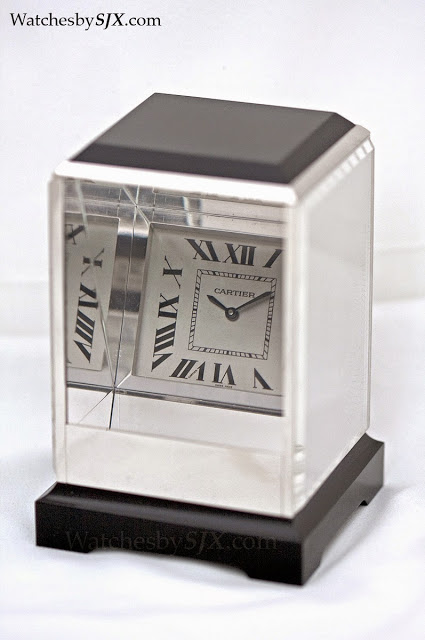 But turn the clock around, and everything disappears. From the rear the clock is entirely transparent.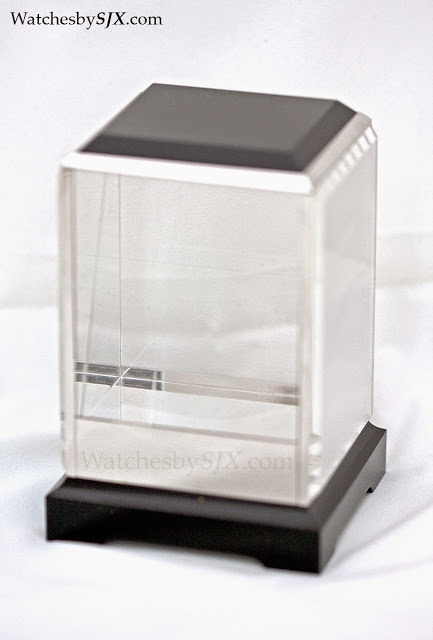 All see-through from the back
Cartier has made prism clocks for many decades, in varying materials and sizes. Most recently it unveiled the limited edition Clock Prisme.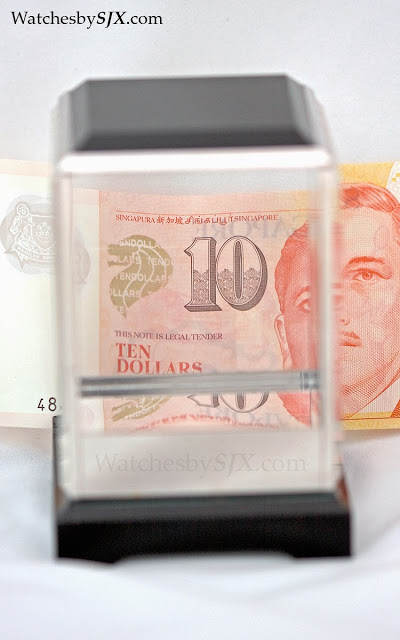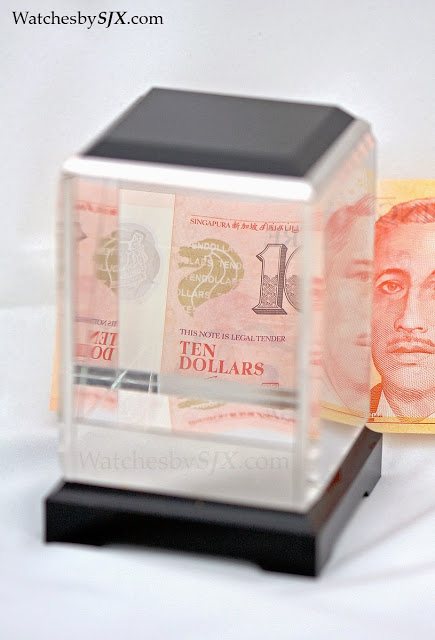 Made of palladium plated sterling silver, the clock is decorated with guilloche on each side, reminiscent of the brilliantly coloured enamelled clocks Cartier made in the twenties and thirties.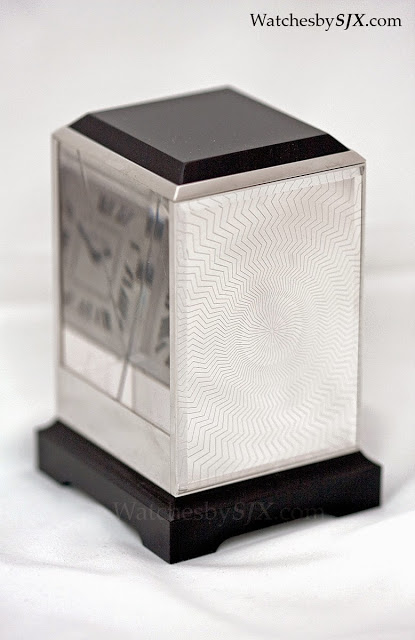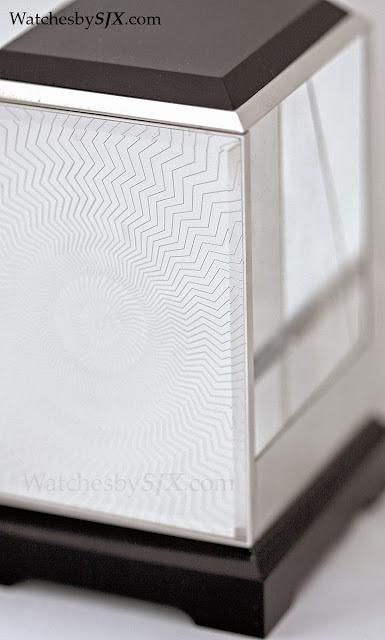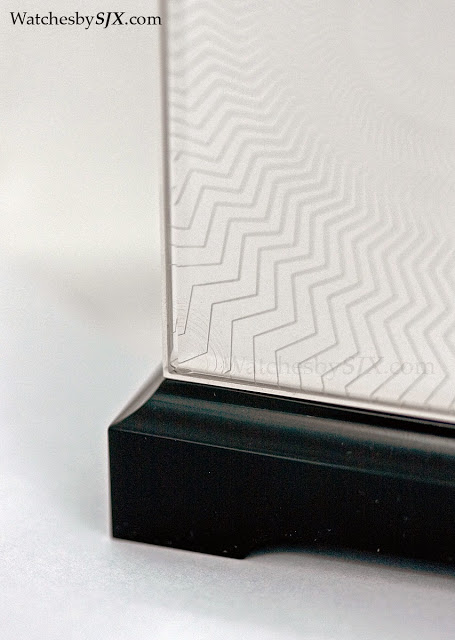 The top and bottom are onyx, and inside is an eight day, key wound movement. Notably, the 6002 MC clock movement is made in-house by Cartier at its La Chaux-de-Fonds manufacture, making Cartier one of the few watch companies still manufacturing mechanical clocks movements.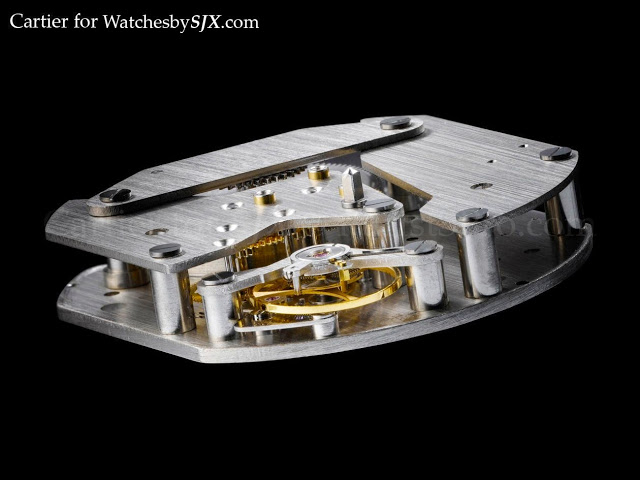 Cartier 6002 MC eight days clock movement
Though it has solid horological credentials, the Clock Prisme is less a timekeeper than a lavish object for the home or office. Though the shape and decoration draws heavily on the Cartier prism clocks of old, the Clock Prisme looks decidedly contemporary, thanks to its monochromatic black and silver theme. It would go perfectly in the modern office that is often characterised by polished steel and black leather. The Clock Prisme retails for a hefty S$38,900 with 7% tax in Singapore (that works out to about US$30,900).
– SJX
Back to top.
---
You may also enjoy these.