Auction Watch: Cartier "Model A" Mystery Clock For a Good Cause
The rock crystal masterpiece goes on the block at Bonhams Hong Kong.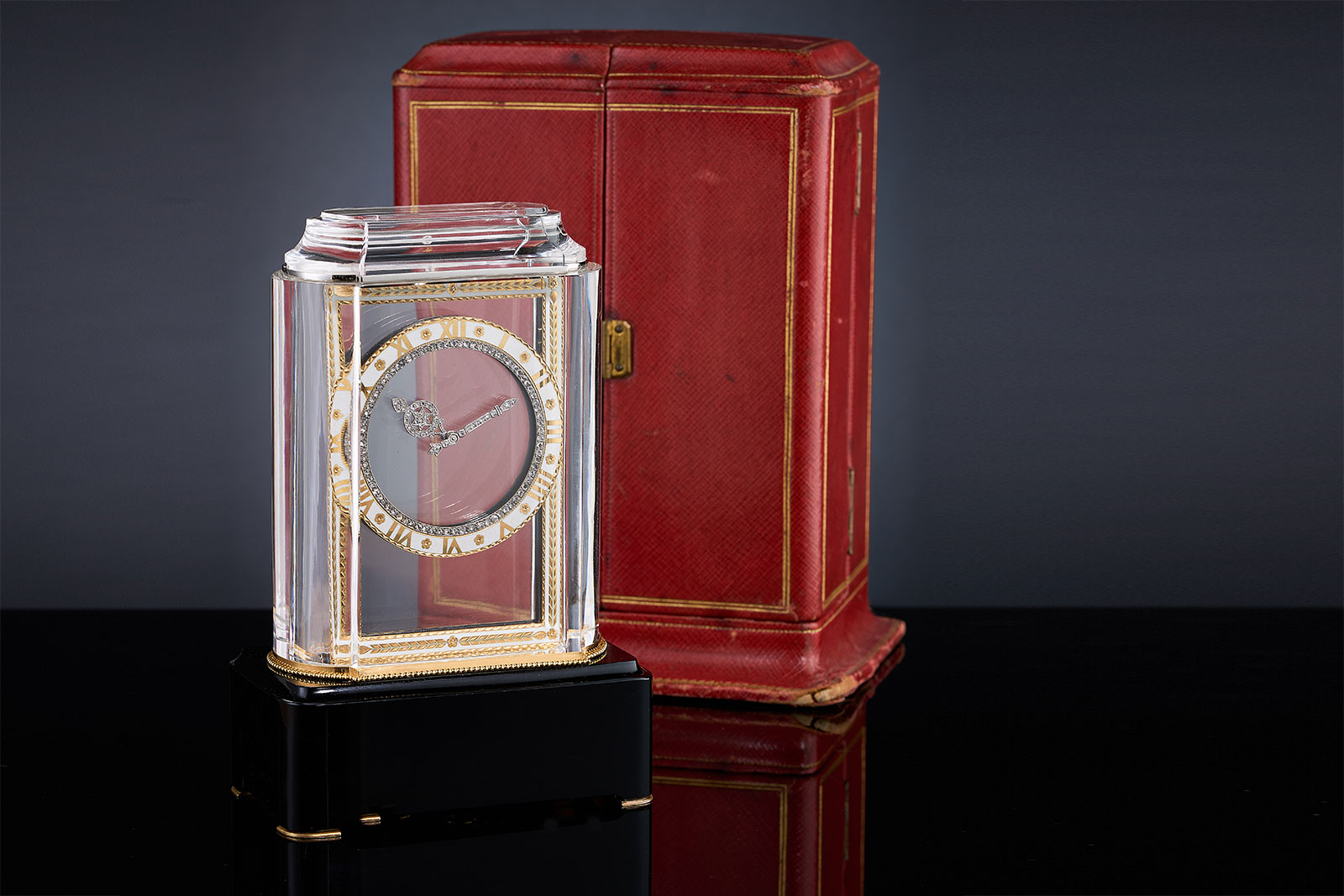 While lesser known than wristwatches like the Tank and Crash, the mystery clock is as quintessentially Cartier as its wristwatch counterparts. Bonhams' upcoming Hong Kong auction includes a prime example of the classic Cartier "Model A" mystery clock.
The first type of mystery clock developed by Cartier, the Model A, made its debut in 1912 and the first example was sold to banker J. Pierpont Morgan. Compact but striking in its details and transparency, the Model A is essentially a block of rock crystal sitting on a mineral stone base with accents of gold, enamel, and diamonds. This example that will go on the block at Bonhams dates to 1928 and sits on an onyx base.
The mystery clock, however, wasn't invented at Cartier. Instead the clock with floating hands was conceived by Maurice Coüet, a clockmaker who was first a supplier to Cartier before joining the jeweller. Coüet in turn was inspired by the work of 19th century clockmaker-turned-magician Jean-Eugène Robert-Houdin, the inventor of the mystery clock concept.
Notably, the Model A clock is being sold to benefit an Australian conservation non-profit, thanks to the late Antony Coote, a farmer and businessman whose family formerly controlled Angus & Coote, a storied name in Australian retail that was once the biggest jeweller in the country.
After selling his family's stake in 2006, Coote turned his attention to the Mulloon Institute, a non-profit that specialises in sustainable agriculture and environmental conservation. He bequeathed the clock to the institute upon his death in 2018 and all proceeds from its sale will go to the non-profit.
The Model A clock has an estimate of HK$1.5-2.5 million, which is about US$200,000-400,000. Having just been serviced by Cartier in January 2022, it will be sold at Bonhams' upcoming Hong Kong watch auction taking place on June 22, 2022. For more, refer to the sale catalogue.
---
Back to top.
---
You may also enjoy these.