News: Richemont posts full year results – up, up and away?

Richemont has just announced its results for the year ended 31 March 2013, showing strong performance despite the slowing sales in Asia; notably its watch and jewellery brands did well. Chairman Johann Rupert will take a 12 month sabbatical from September 2013.

Regardless of the economy, Richemont seems to be able to make money, and more and more of it each year. Mr Rupert sounds cautiously optimistic as usual. Some notables figures from its full year results: – Revenue up 14% to EUR10.15 billion (up 9% on a constant currency basis) – Gross profit up 15% – Operating profit up 18% – Net profit up 30% Sales in Asia, which comprise 41% of the total, are slowing, but Europe (36% of total) and the Americas (15%) are making up for that, according to the sales figures by region (on constant currency basis): – Asia +5% – Europe +14% – Americas +11% Richemont continues to sell more at its own boutiques where it enjoys better margins and positioning, as compared to retailers: – Retail sales (boutiques) up 11% to EUR5.44 billion – Wholesale (third party distributors and retailers) up 7% to EUR4.71 billion The results of individual business segments are also worth a look, and Montblanc's performance will shed some light on the appointment of Jerome Lambert as CEO of Montblanc. Jewellery maisons (Cartier and Van Cleef & Arpels): – Sales +13% – Operating profit +20% Watchmakers – Sales +18% – Operating profit +36% Montblanc – Sales +6% – Operating profit +1% Montblanc's positive results were "primarily driven by demand for watches and favourable currency effects", which explains why it makes more sense to sell watches instead of pens. Also, Johann Rupert, Chairman and controlling shareholder of Richemont, will take a one year sabbatical after the annual general meeting in September 2013. Leading the group will be the members of the Senior Executive Committee, comprising co-CEOs Bernard Fornas and Richard Lepeu, along with CFO Gary Saage. Lastly, Mr Rupert's commentary in the report is worth a read. The points are obvious but worth noting.
"… our investments will continue to focus on the differentiation of our Maisons…"
"… the expansion and integration of their respective manufacturing facilities…"
"… adaption of their distribution strategies to the constantly changing customer environment in growth markets and tourist destinations."
In other words Richemont will continue to invest heavily in marketing and developing its brands. Factories will get bigger and bigger (I would love to see ValFleurier in five years), with more and more components being made in-house. And of course points of sale will grow at a rapid pace, but most will be retail sales and less will be wholesale. – SJX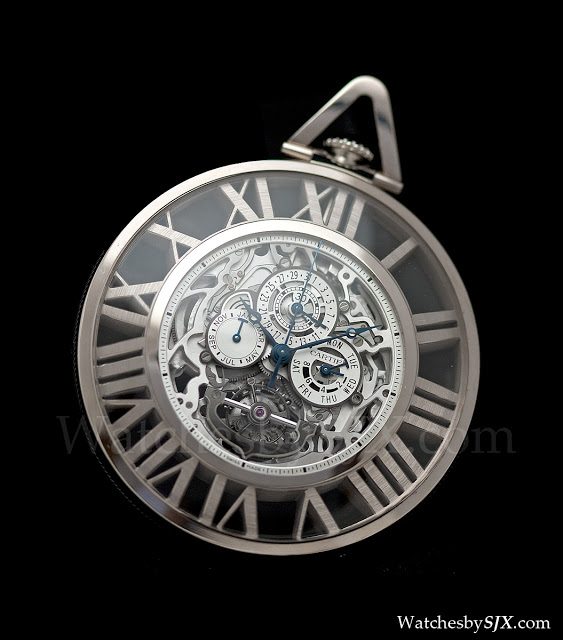 Cartier Grand Complication Skeleton pocket watch; the jewellery maisons had a 34.9% operating margin
Back to top.
---
You may also enjoy these.