Crowdsourcing a watch – The Nautilus from Czech forum Chronomag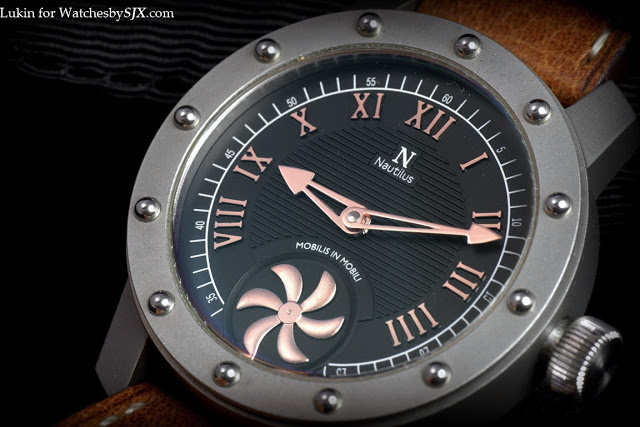 It is not uncommon for watch forum communities to band together and create limited edition watches. Such editions are often ordinary; it is unusual to get something unique at a reasonable price. Two years ago, members of the Czech watch forum Chronomag embarked on a project to create a small run of wristwatches for forum members, with many of the eventual components of the watch being locally sourced as well. The result was the Nautilus, which proves a little bit of imagination can go a long way, even for something designed by committee.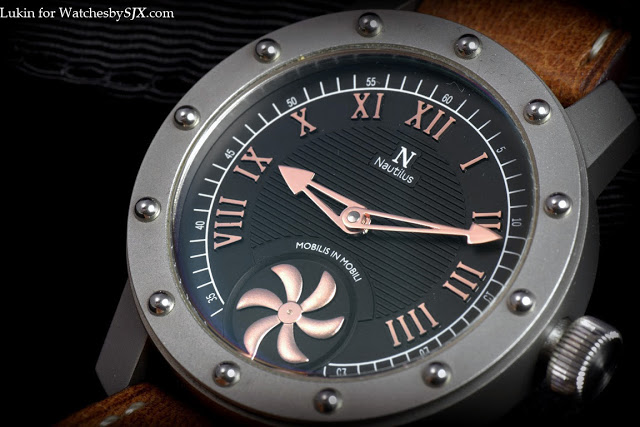 Chronomag Nautilus equipped with the Unitas 6498
Housed in a 42 mm sandblasted steel case – made by a friend of one of the project's leaders – with a Unitas 6498 inside, the Nautilus is named after the Nautilus submarine of Jules Verne's Twenty Thousand Leagues Under the Sea. The fixed bezel is attached by rivets, resembling a porthole, and at six o'clock is Captain Nemo's motto "Mobilis in Mobili". The single most expensive component of the watch was the dial, which was made in Switzerland by a dial specialist.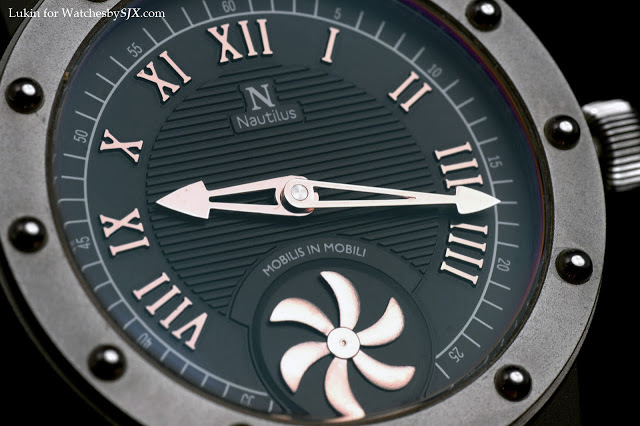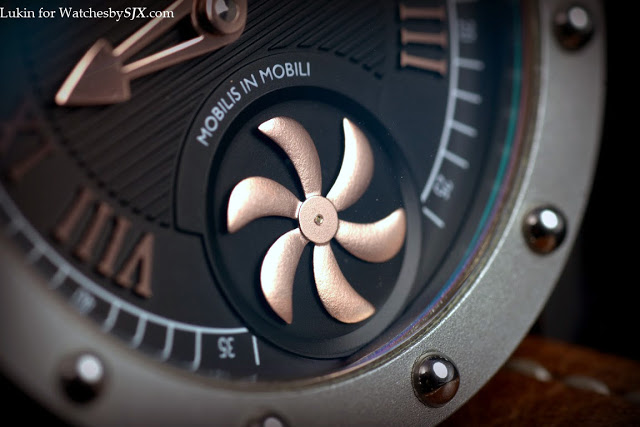 Most striking of all is the seconds hand in the forum of a rose gold plated propeller. It has a diameter of 10 mm and is only 0.08 mm high. The hands, which were made by a Czech goldsmith, and applied indices are also plated in rose gold. The manufacturer of the propeller, however, remains a secret. Interestingly the sapphire crystal has a green antireflective coating on both sides.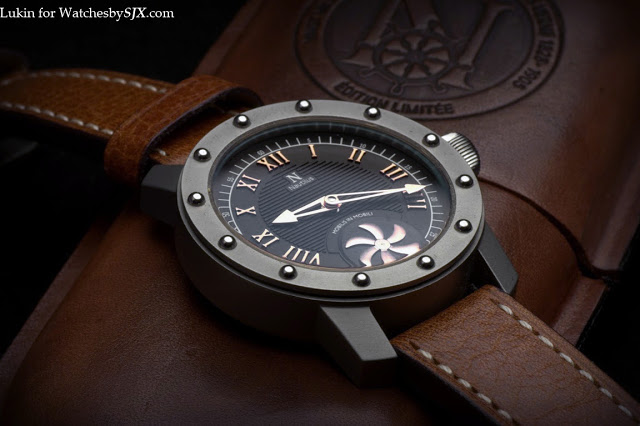 According to Vojtech P., a member of Chronomag, all the components for the Nautilus were custom made, except for the movement. The price was a reasonable 25,000 Czech Koruna, which is equivalent to about US$1290. 33 pieces were made and all have been sold to forum members. – SJX Thanks to Vojtech P. for the info about this project.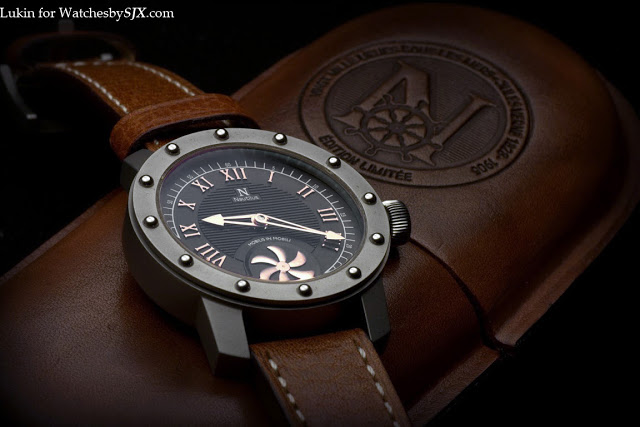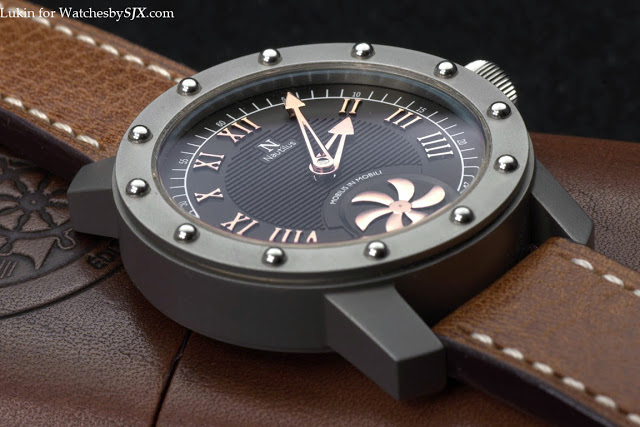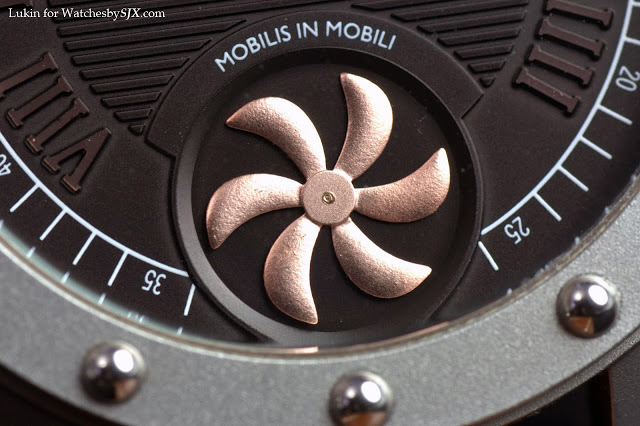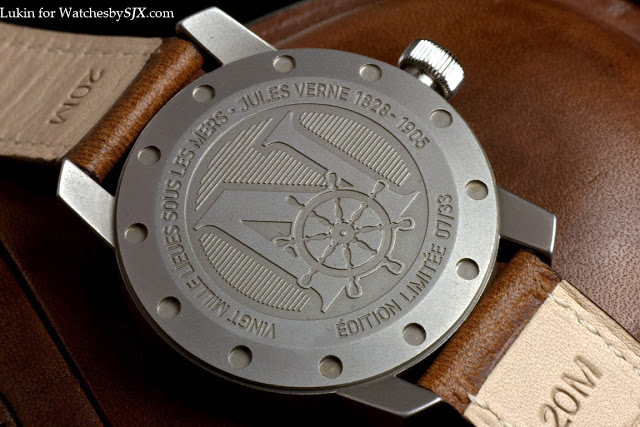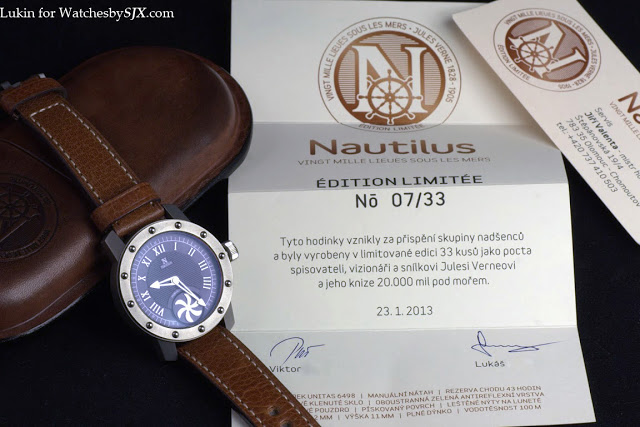 Back to top.
---
You may also enjoy these.