A USAF F-15 Pilot Explains What Makes a Good Aviator's Watch
Col Rich Sweeten loves watches, and Bremont.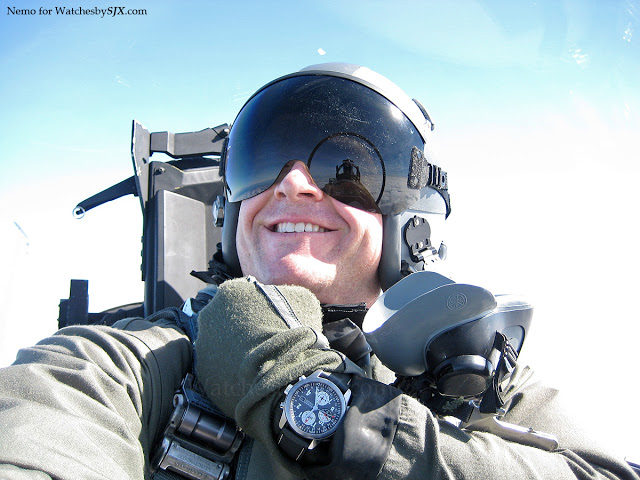 For my story on pilot's watches in The Peak Selections: Timepieces (available at bookstores and newsstands in Singapore), I got in touch with Colonel Rich "Nemo" Sweeten. Nemo has spent most of his career flying the F-15C Eagle and is now Commander of the United States Air Force 102nd Air Operations Group. Nemo is not only a pilot, but also a watch enthusiast – he has collection of watches but is especially a fan of English aviation watch brand Bremont –  so his thoughts on pilot's watches are instructive.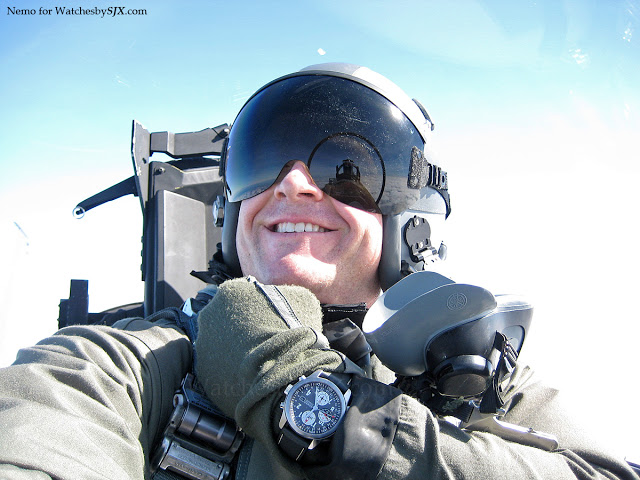 Nemo with his Bremont ALT1-Z in the cockpit of an F-15 Eagle
On what makes a good pilot's watch: "It needs to have good readability and be able to keep a good "hack". If it's a mechanical watch, then I want it to have a chronometer rating to ensure accuracy and good lume for night.
If it's a quartz watch, where accuracy is a given, then the standard litany of quartz functions can be handy at times, but really not required. Most modern day instrument panels will have all of those things, so the watch is really just a backup.
Lastly, the watch, regardless of movement type, needs to be tough. A fighter cockpit can get a bit violent at times, so the watch has to be able to handle some significant shock and the occasional slam against the canopy rail!"
On what really makes a good pilot's watch: "If it's in the bar after a day of flying, then it needs to be big and bold, so as to make a statement about our profession; sleeves rolled up, hands in motion, while telling a good story."
Mechanical vs. quartz: "Let's face it, a mechanical watch can't compete with a quartz watch when it comes to accuracy and functions. But the mechanical watch by far wins the coolness contest. There's just something not right about being in the cockpit of a very expensive high-tech aircraft and wearing a disposable quartz watch that costs a few bucks.
From the perspective of pure function, I guess with a mechanical watch you never have to worry about a dead battery!"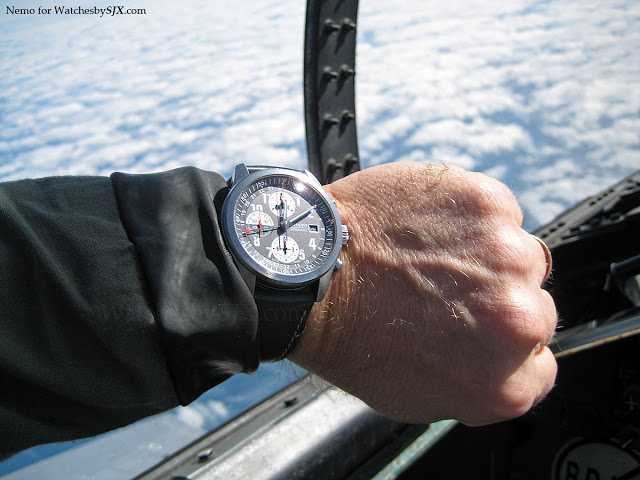 A priceless wrist shot
The usefulness of a watch in a cockpit: "A pilot needs both hands free in the cockpit to work the controls, and a watch is always just a rotation of the wrist away when needed. A watch is still very valuable for coordinating a start time with other wingmen, or to time a holding pattern or instrument approach.
It is also useful when flying under visual flight rules (VFR) when navigating. There is a good old fashioned technique called 'clock to map to ground'. The method is basically to hack the watch at a preplanned point, use time and airspeed to calculate distance, cross-check the map for ground references, and continuously look outside to validate the location."
What his colleagues wear: "I am speaking strictly as a military guy here, but I would say most Air Force or Navy pilots rely on the inexpensive quartz watch. We tend to be somewhat of a cheap group! I had a discussion once with a fellow aviator who told me it makes no sense to spend thousands of dollars on a watch that does nothing but tell the time. It is hard to argue with that. But as any watch enthusiast knows, once you own a nice watch, you don't ever go back.
I have worked hard to educate my fellow pilots on the merits of a fine timepiece. Brands like Bremont that are willing to make a watch specifically designed around a specific jet or mission are helping me win that argument!"
His watch collecting background and Bremont: "I have collected watches for about 15 years. I have a collection of about 35 to 40 watches, some high end, some not, but all in the 'professional' category. Many brands like Breitling, Omega, and IWC make exceptional pilot watches, but Bremont has really elevated the excitement level for me.
Their robust styling, testing and attention to detail just screams 'pilot watch'. I am a bit embarrassed to say that I now own six Bremonts – don't tell my wife!"
---
Back to top.
---
You may also enjoy these.