Photo essay: Jean-Baptiste Viot In Paris chronometer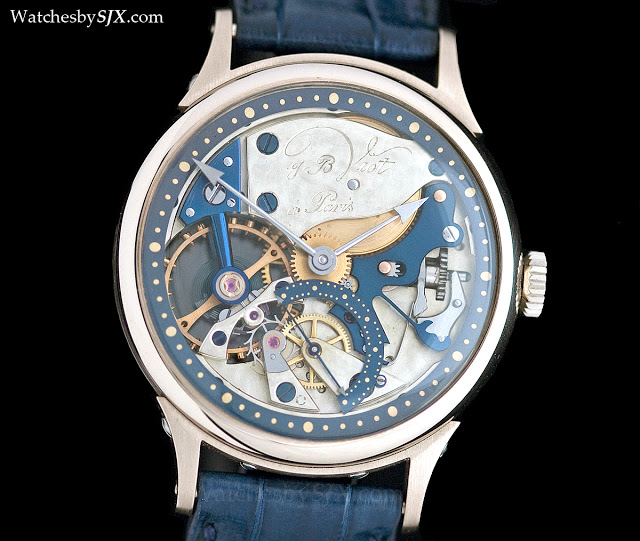 Jean-Baptiste Viot presented his In Paris chronometer a couple of years ago. Using parts from the Peseux 260 movement (which Kari Voutilainen also used for his Observatoire), the In Paris is almost entirely handmade by Mr Viot in his Paris workshop.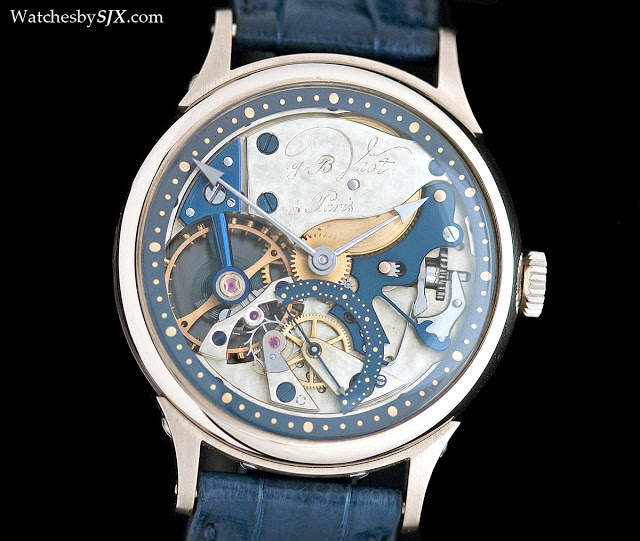 Jean-Baptiste Viot In Paris
Housed in a modest 38 mm case, the movement clearly takes inspiration from 18th century pocket watches. The look is very unusual yet also very French, with hints of 18th and 19th century pocket watches. Mr Viot spent some years doing restoration for Breguet, so this is not surprising. When I first saw photos of the watch I thought it looked untidy and indifferently finished, but after examining one up close I changed my mind. The In Paris reminds me of early FP Journe pieces, it's clearly hand-made, or home-made. It has plenty of charm.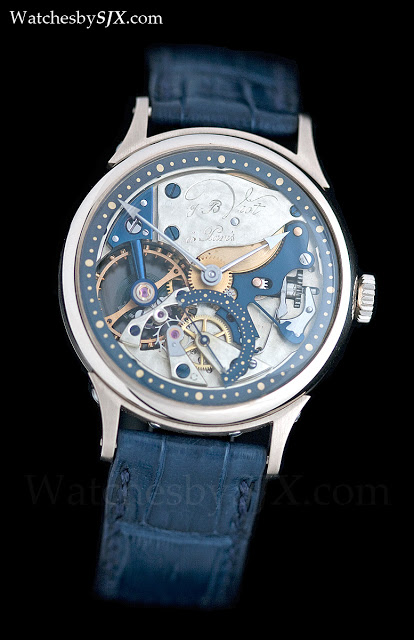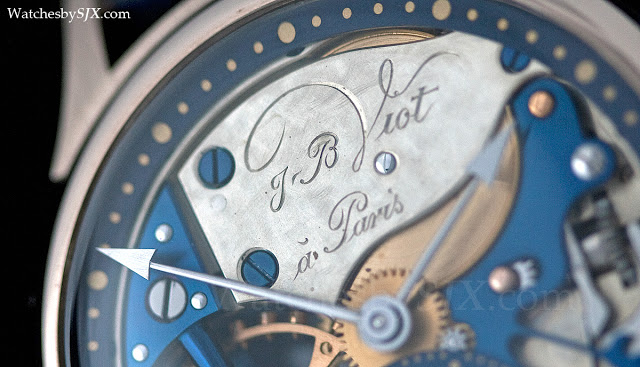 The elegant engraving on the plate
It is not just the look of the watch that is reminiscent of antique pocket watches, but also the execution and finishing. There is a noticeable uneveness, even crudeness, in the form of some of the parts, which is evident in this photo – look at the seconds hand, the wheel spokes and the steel cap on the escape wheel cock.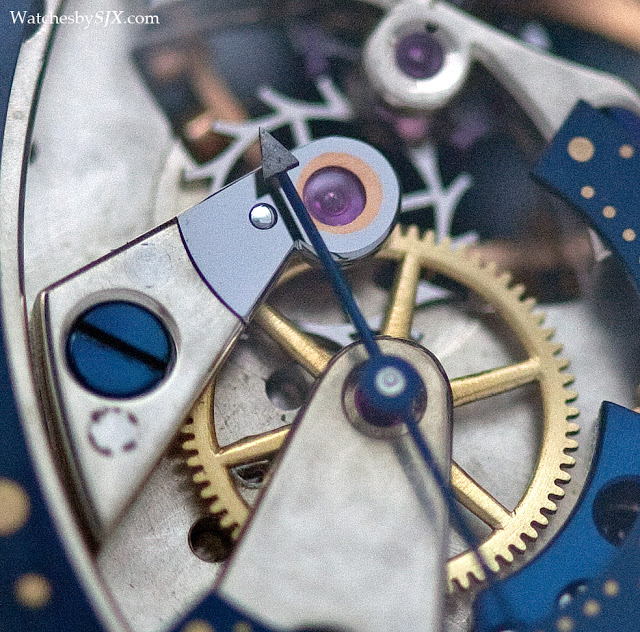 But that doesn't mean it carelessly put together. It just reflects primitive production methods and equipment. This is how a watch looked in the 18th and 19th century. As I said, this has a great deal of charm. The finishing, though uneven, clearly has thought put into it. Attention has been paid to the details, like the barrel ratchet wheels and the keyless works for instance. Though far from perfect, the decoration has character.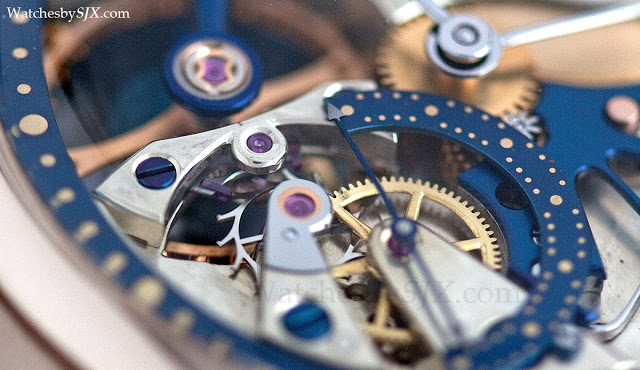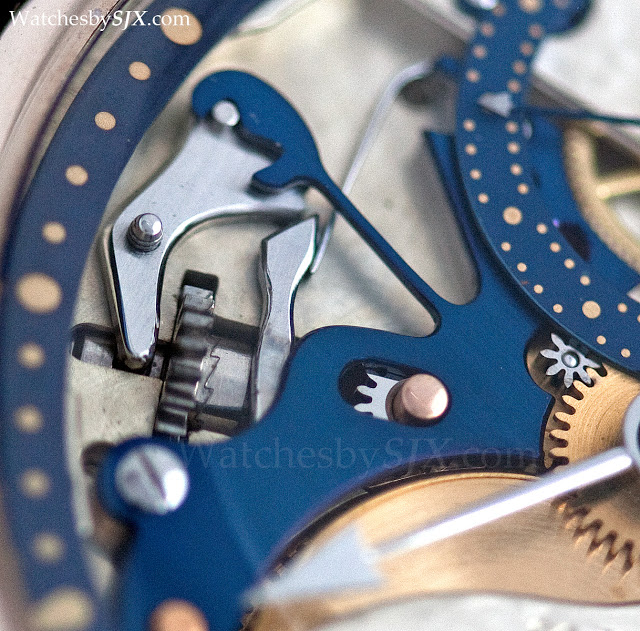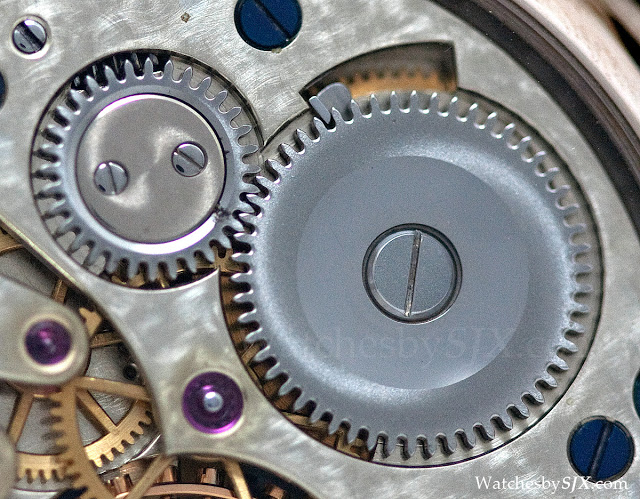 His use of large, blued steel parts is also attractive and unusual. The rest of the bridges are German silver with a traits brouillés finish that can be found on old clocks and pocket watches.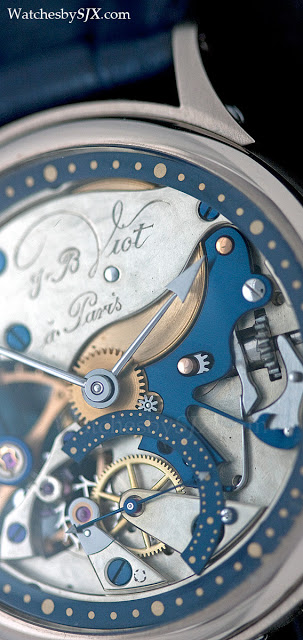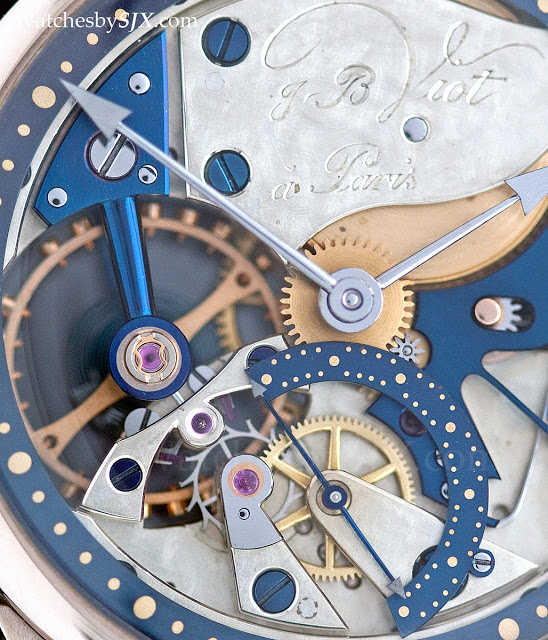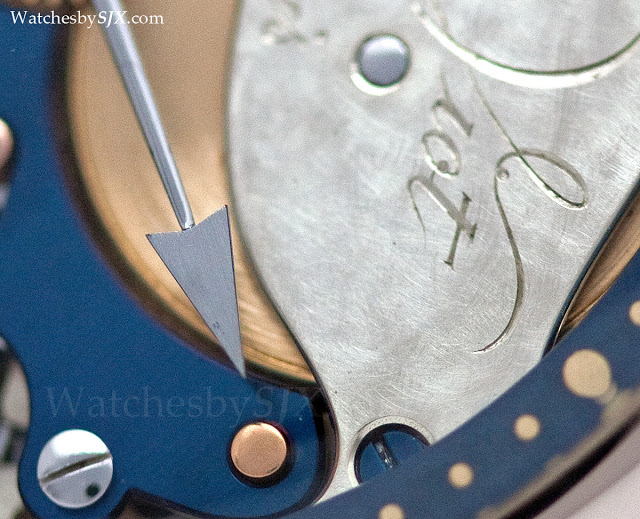 traits brouillés finish on the bridges
The view from the back is less engaging, though the use of a transverse screw for the regulator index is interesting.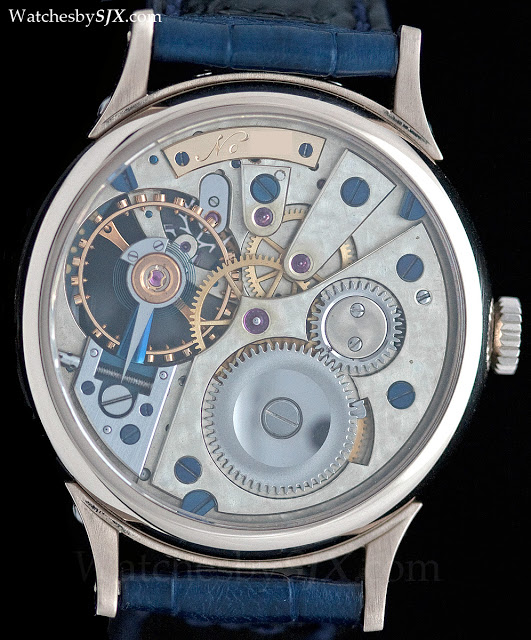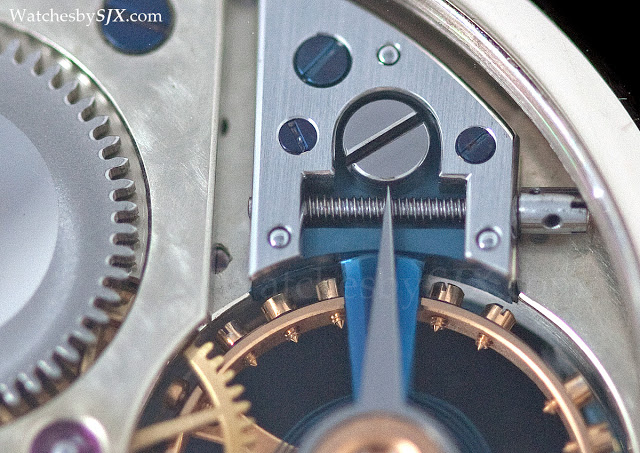 Interesting the lugs on each side are one-piece, and secured by screws.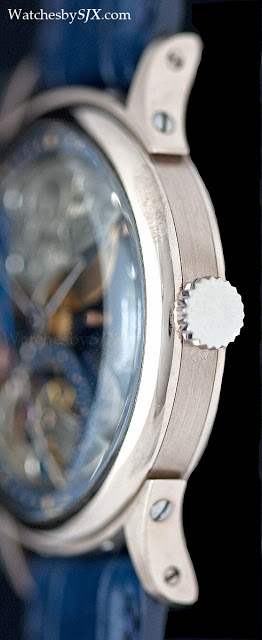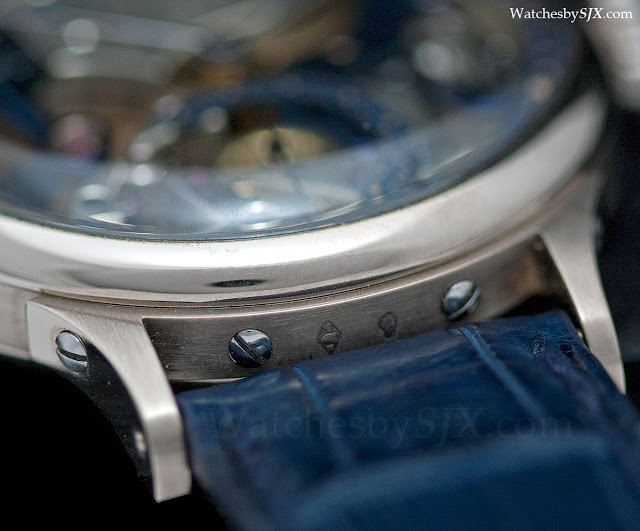 I forgot to take photos of the packaging but all of the paperwork is handwritten by Mr Viot himself. And the instructions are hand drawn. It certainly adds much greater personal touch to the watch.
This is priced at about EUR25,000 with tax, which is a reasonable sum for a well crafted timepiece.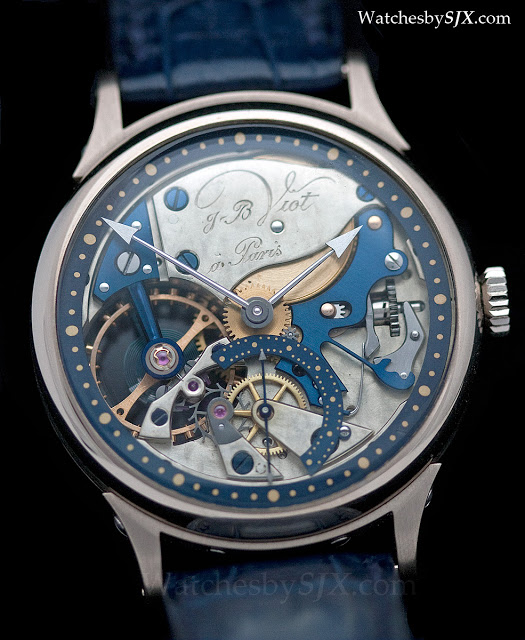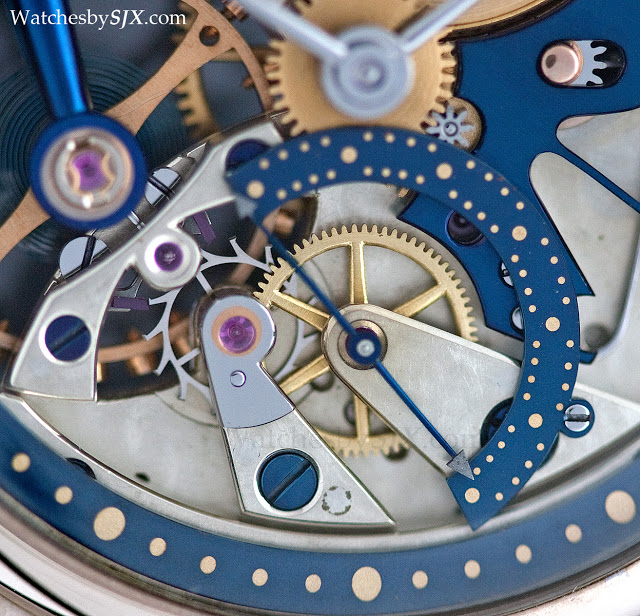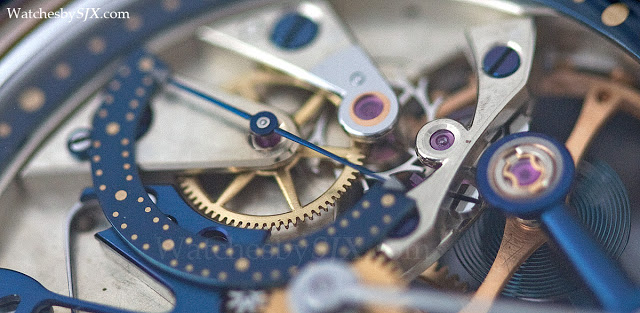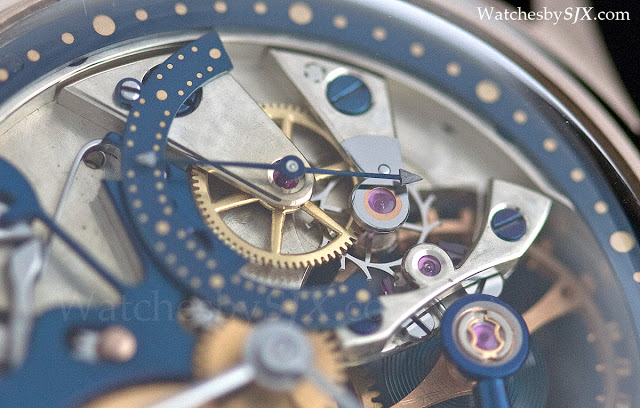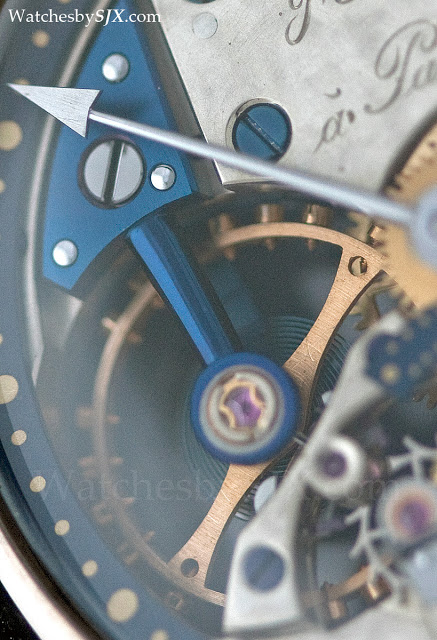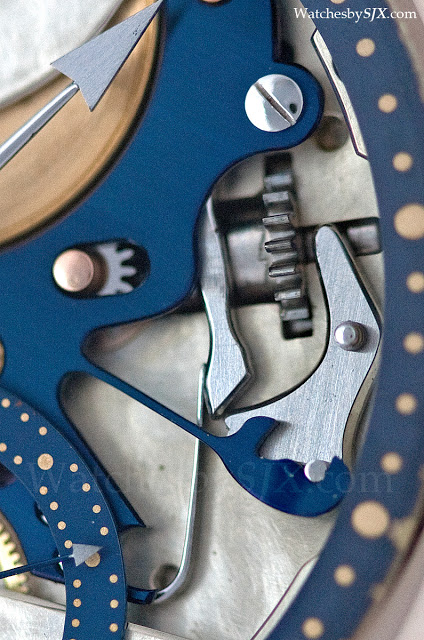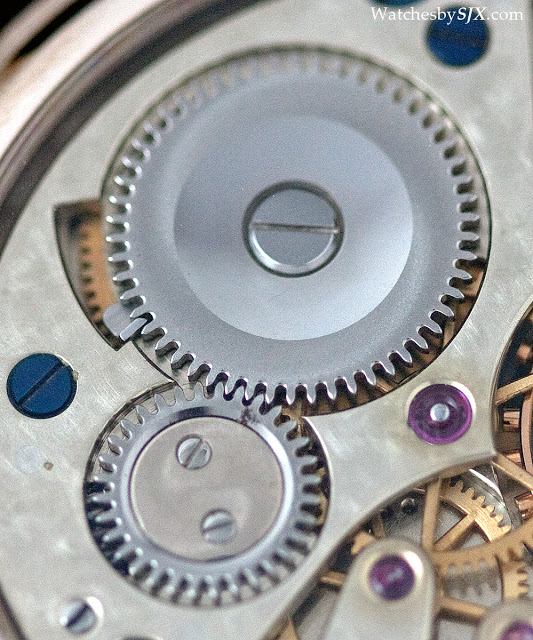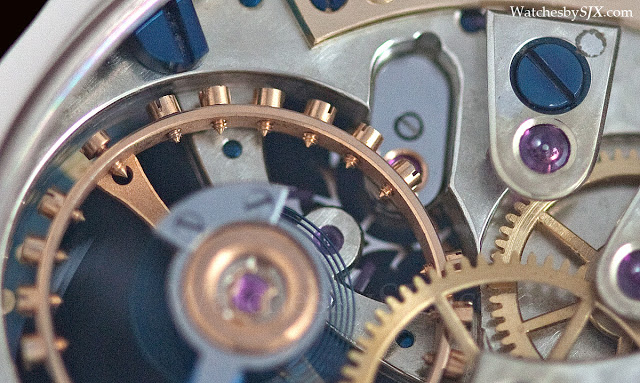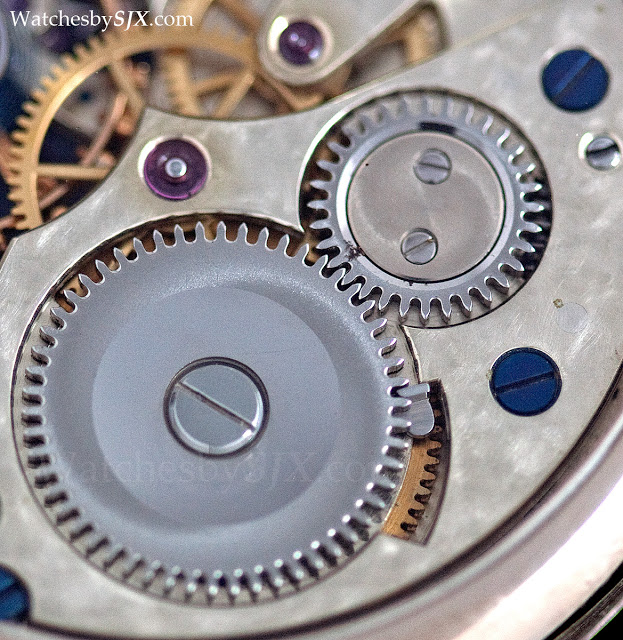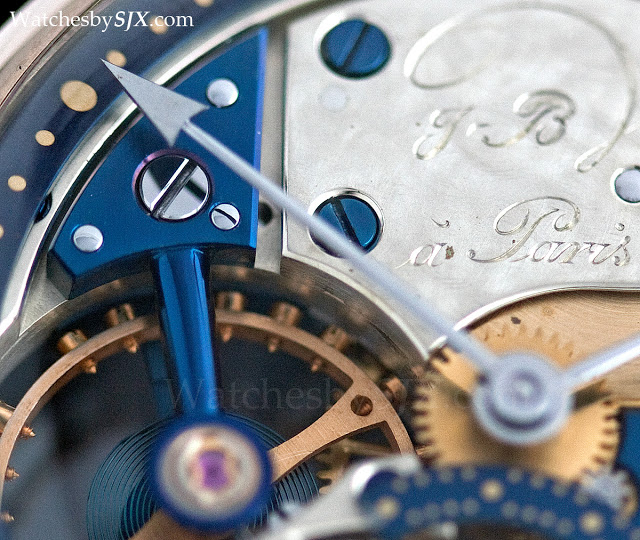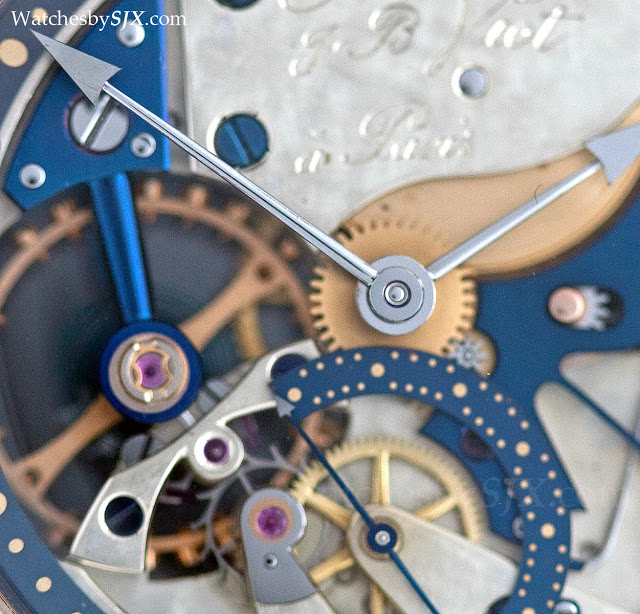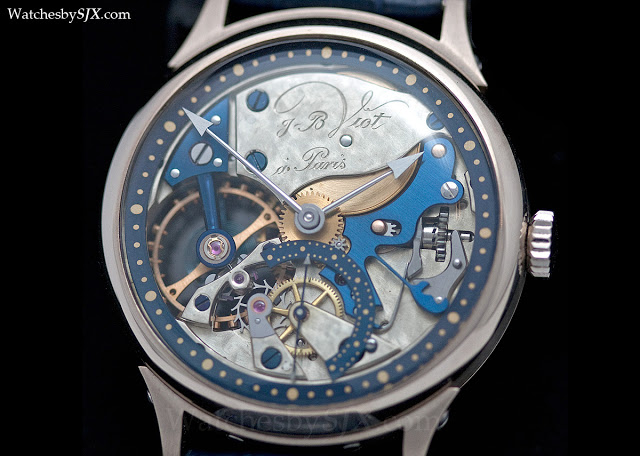 Back to top.
---
You may also enjoy these.