JLC Gyros and Triptyque, and unique IWC Destriero Scafusia, at upcoming Antiquorum HK sale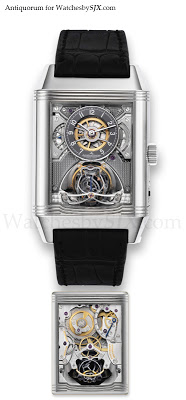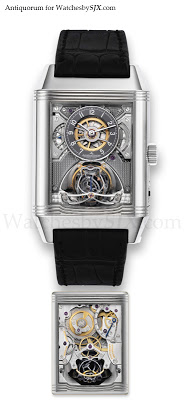 JLC Reverso Gyrotourbillon2
The Antiquorum sale in Hong Kong on 26 February will feature some interesting timepieces from Jaeger-LeCoultre and IWC. The JLCs are a three piece set of the Gyrotourbillon 1, Reverso Gyrotourbillon 2 and Reverso a Triptyque, lots 178-180 respectively, known as the "Hybris Mecanique" according to Antiquorum (or perhaps they confused it with the Hybris Mecanica grandes sonnerie set). The Gyrotourbillon is of course the landmark high complication for JLC and one that has done quite well at auction. Estimate for the Gyro 1 is USD250,000-300,000, Gyro 2 is USD180,000-220,000 and USD300,000-400,000 for the Triptyque. They were sold in 2009 as a three piece set, from a limtied series of 20 sets in white gold with black dials. This is the first set to be offered for sale at auction, though not the first set to be broken up or sold on the secondary market. And there is a set available at an authorised dealer in Asia as well. Interestingly while I was in the JLC manufacture recently I saw watchmakers assembling a Triptyque in this configuration, which must be part of the last of the 20 sets to be delivered.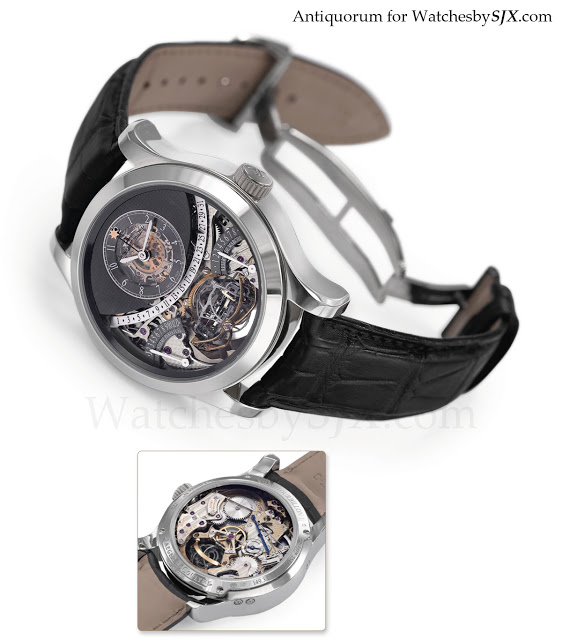 JLC Gyrotourbillon 1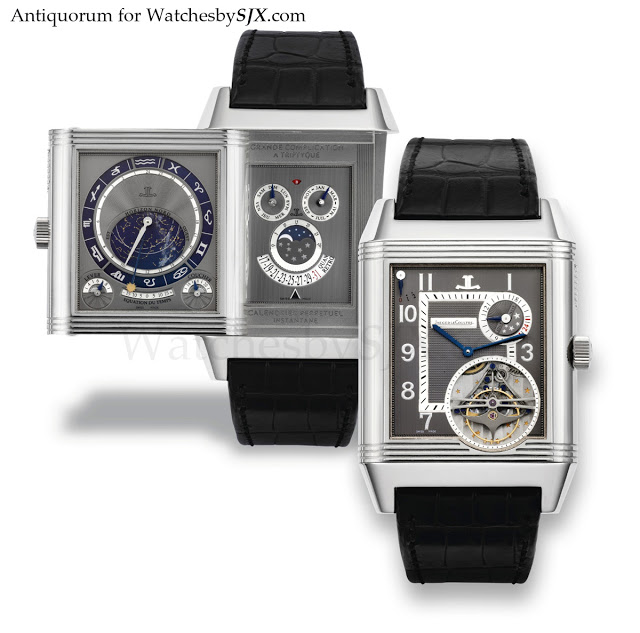 JLC Reverso a Triptyque
Another notable watch is a piece unique IWC Il Destriero Scafusia from 1997 (lot 308). This was a big achievement in those days, and a milestone for IWC. Estimate is USD220,000-270,000 which seems a bit high to me.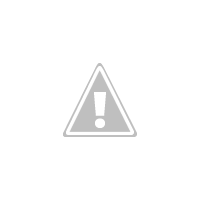 IWC Il Destriero Scafusia platinum piece unique
 Most of the 125 watches in this series were in yellow gold with silver dial (take a close look at one of those). This one offered for sale is unusual in that it has a platinum case with dark blue dial and a rhodium-finished movement. There was one other variant with Pt case and blue dial, but it had a gold-plated movement as typical of most of the others. – SJX
Back to top.
---
You may also enjoy these.