FP Journe launches the Centigraphe Sport in aluminium and rubber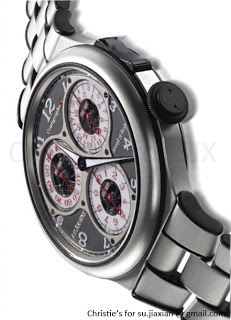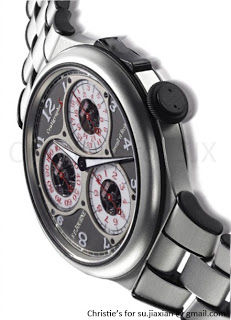 I just heard of this from my friends Ay and Ty. This is the most unusual FP Journe yet, the Centrigraphe Sport chronograph. The case and bracelet are in aluminium, with rubber covering the crown and rocker for the chronograph. Piece no. 1 will be auctioned at the end of May by Christie's in Hong Kong with proceeds going to Japan earthquake relief. Based on the photo alone it reminds me of a Swatch aluminium.
The description from Christie's: "F.P. JOURNE, CENTIGRAPHE SPORT, ERGONOMIC CHRONOGRAPH, FIRST WRISTWATCH ENTIRELY MADE FROM ALUMINIUM, NO. 1 FINE AND EXTREMELY RARE ALUMINIUM AND RUBBER, SCRATCH RESISTANT MANUALLY-WOUND CHRONOGRAPH WRISTWATCH WITH 100TH OF A SECOND, 20 SECOND AND 10 MINUTE REGISTERS, PATENTED ROCKER FOR RE-SET AT 2 O'CLOCK AND POWER RESERVE, MANUFACTURED IN MAY 2011 Calibre 1506 entirely crafted from aluminum alloy, semi-skeletonised aluminum alloy dial, subdials for 100th of a second, 20-seconds and 10 minute registers, circular aluminum alloy with rubber inserts, titanium crown with rubber coating, patented ergonomic chronograph reset button in the band at 2 o'clock which is rocked back and forth for the stopping and starting of the chronograph, F.P. Journe aluminum alloy bracelet with rubber inserts with titanium and rubber coateddeployant clasp, case, dial and movement signed Diameter: 42 mm" Update: More on the Centigraphe Sport. – SJX
Back to top.
---