Highlights: "The Nevadian Collector", a Spectacular Single-Owner Collection of Patek Philippe
Exceptional watches in exceptional condition.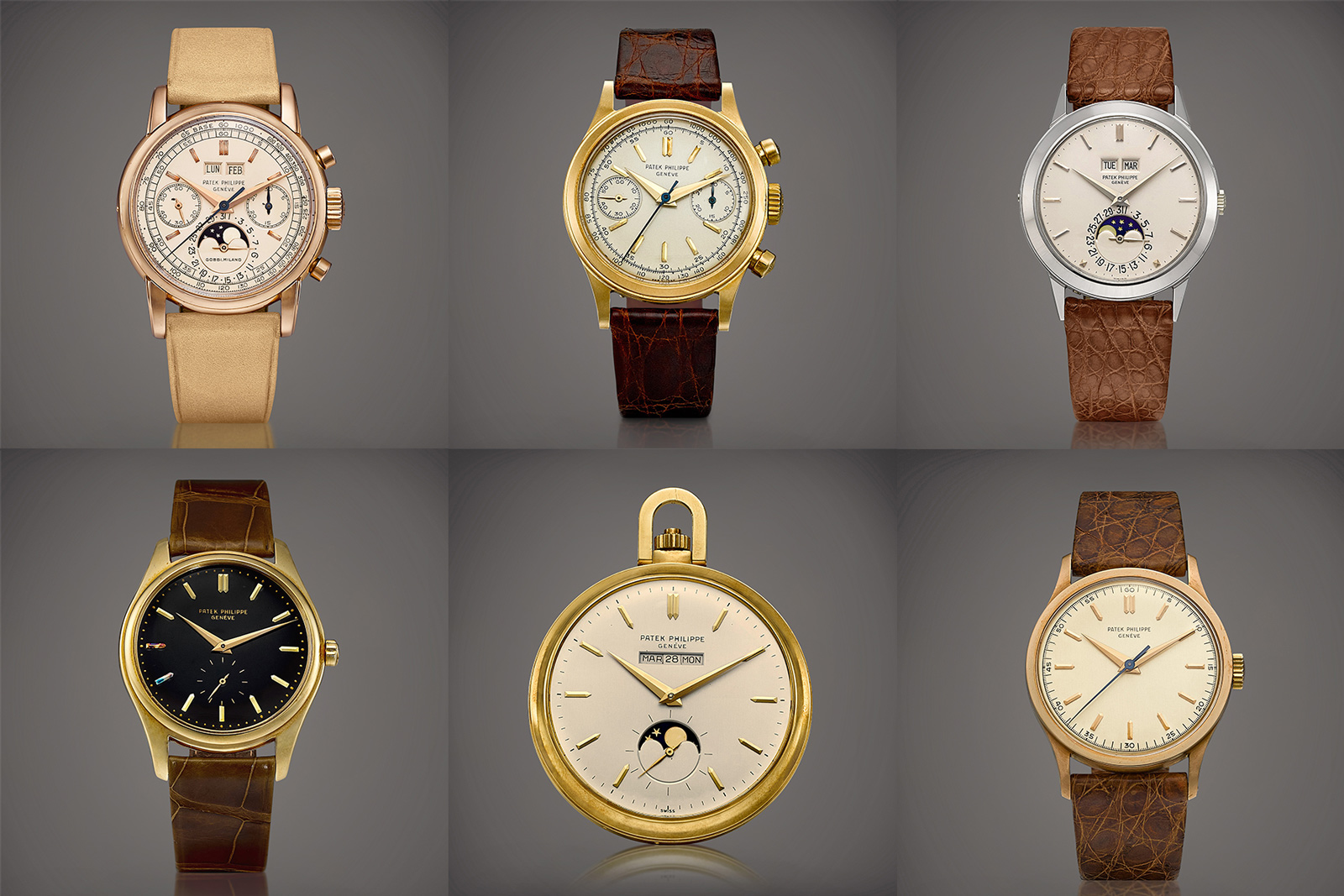 The flagship event at Sotheby's upcoming spring watch auction in Hong Kong is The Nevadian Collector. Focused on historically significant Patek Philippe references, the compact but valuable sale is the closing act of a notable collector based in California. Having started collecting over 30 years ago, the "Nevadian" became a major figure in vintage watch collecting after selling his media business in the mid 1990s.
Now in his eighties, the gentleman's collection was once some 400 watches, a number that has been gradually pared down in recent years. It included several timepieces that set priced records in recent years, including the ref. 2499 signed "Asprey" that sold for almost CHF4 million in 2018 and another ref. 2499 signed "Tiffany & Co." that sold for the equivalent of US$3 million later that year.
Made up of only 40 lots – but with a cumulative value of US$15 million at the low estimates – the sale takes place in the evening of April 25, 2022, starting at 8:00 pm (GMT +8). Bidding and the full catalogue can be accessed here.
The upcoming auction represents the last of the Nevadian's watches, but considering the depth and breath of the collection, the line up unsurprisingly encompasses many spectacular, important references. But the sale also includes fine examples of more affordable models, including a ref. 1509 in pink gold with a low estimate of just US$8,000. We take a look at a few highlights from the sale, including a pink gold ref. 2499 signed "Gobbi".
---
Nicknamed "Calatravone", Italian for "large Calatrava", the ref. 570 was characterised by its 35 mm diameter case, oversized for the time. The ref. 570 was introduced in 1938 and stayed in production for more than three decades until 1972.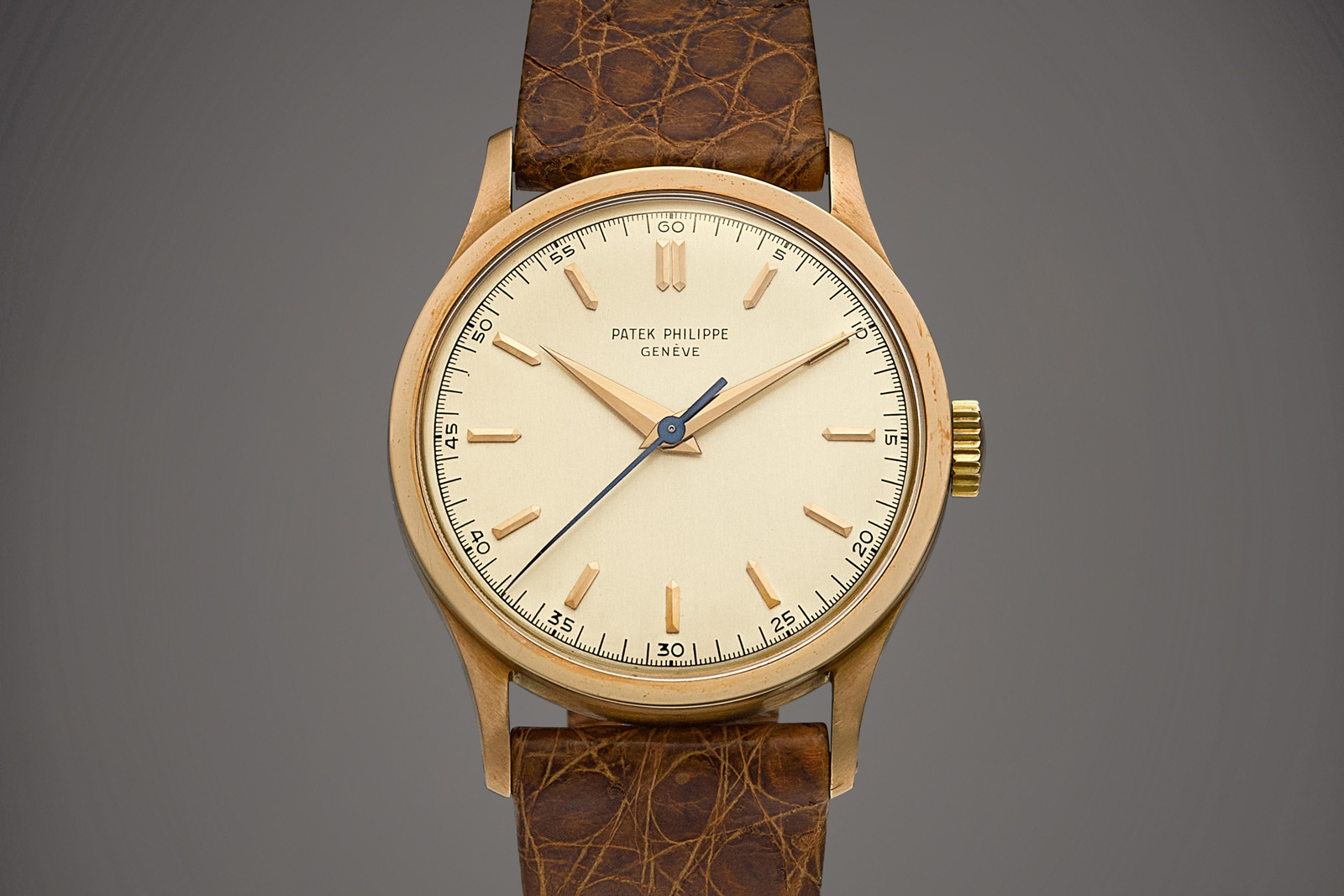 With such an extended period of production, there were many variants produced. The majority are in yellow gold, and only very occasionally can they be found in rose gold, white gold, platinum, or stainless steel. Most examples had centre seconds, though Patek Philippe also produced the ref. 570 with subsidiary seconds.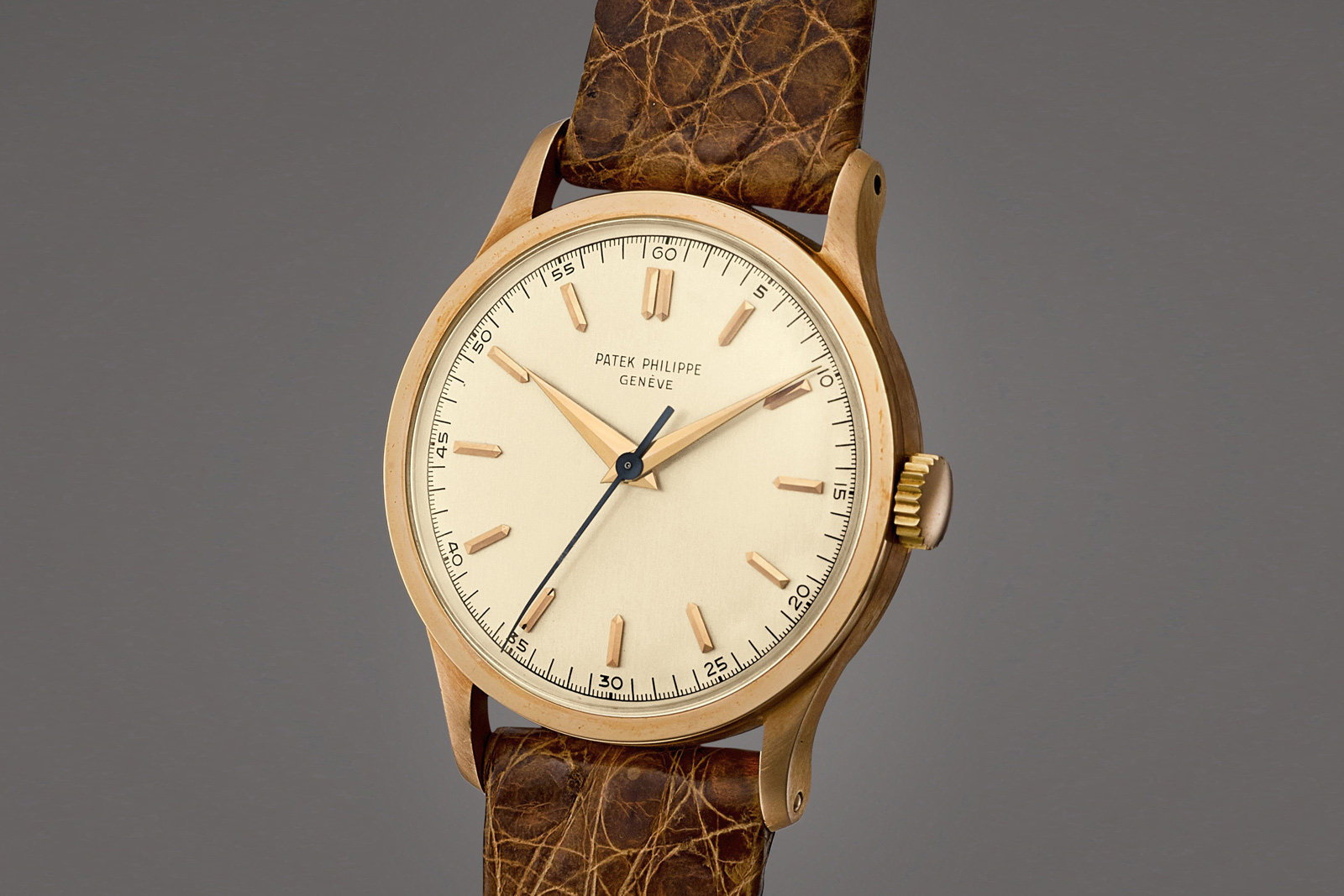 The present example is a centre seconds example with a rose gold case, making it a rare specimen. But more notable is its exceptional condition. The case has razor-sharp edges, crisp hallmarks, and an extremely clean dial. One might even reasonably assume that the case is in original, unpolished condition.
A significant reference in Patek Philippe history because it relies on a design language that continues with the brand's current watches, the ref. 570 has evergreen proportions and size, which allow it to remain relevant today. As a result, it is sought-after, especially in such impeccable condition.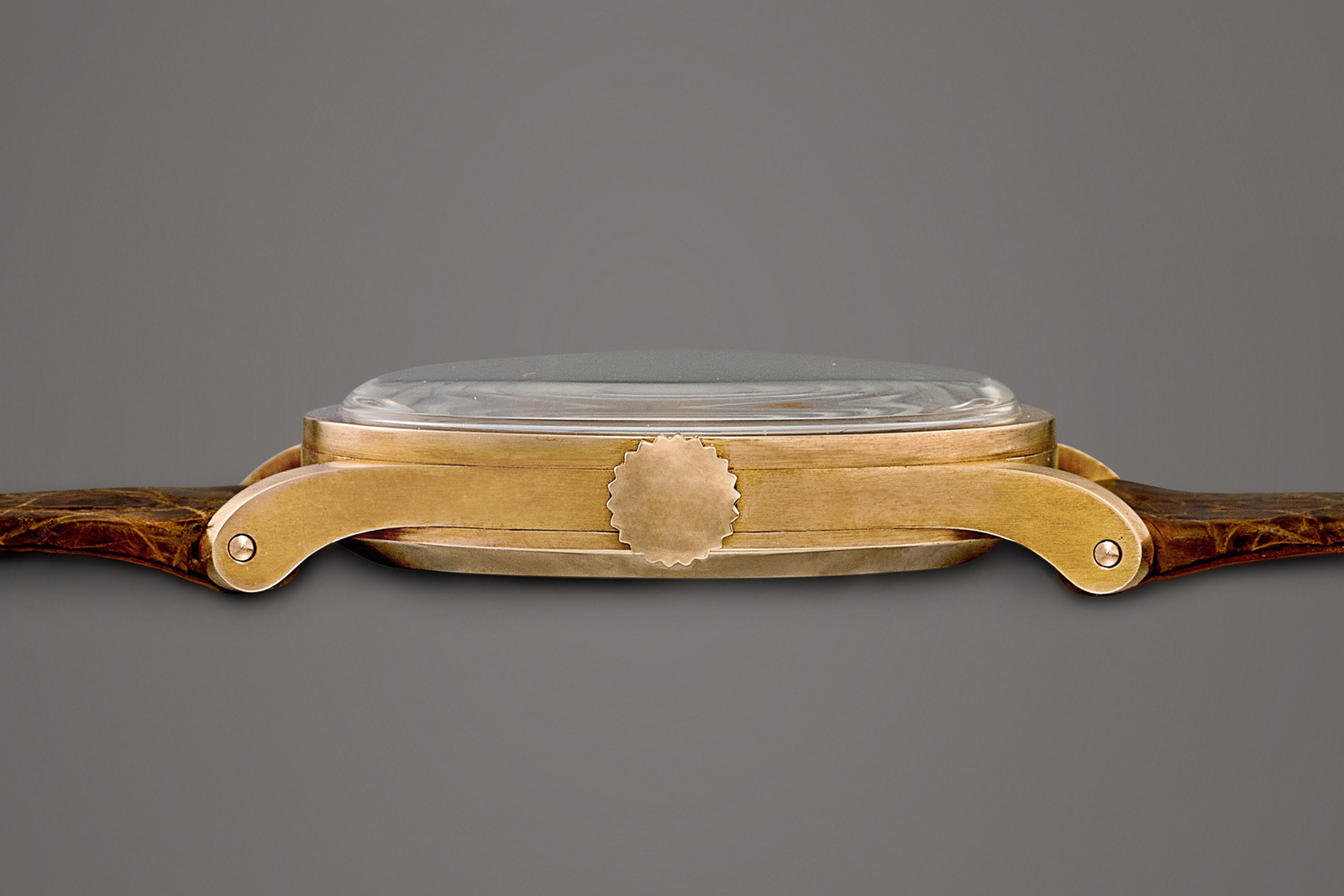 This has an estimate of HK$240,000-400,000, or US$30,700-51,500. Full lot details here.
---
Launched in 1953, the ref. 2526 was first Patek Philippe to feature an automatic movement, the cal. 12-600AT. Arguably one of the most significant Patek Philippe calibres, the cal. 12-600AT was notable not only for being self winding, but also claiming an accuracy of only one second per day, an exceptional feat of that time.
Beyond the movement, an important feature of the ref. 2526 is the dial. The twice-fired enamel dial is "impervious to the action of outside agents, such as tarnishing produced by sunlight", according to period material produced by Patek Philippe. The statement implies the dial was conceived last forever, which is somewhat ironic given the delicate nature of the material.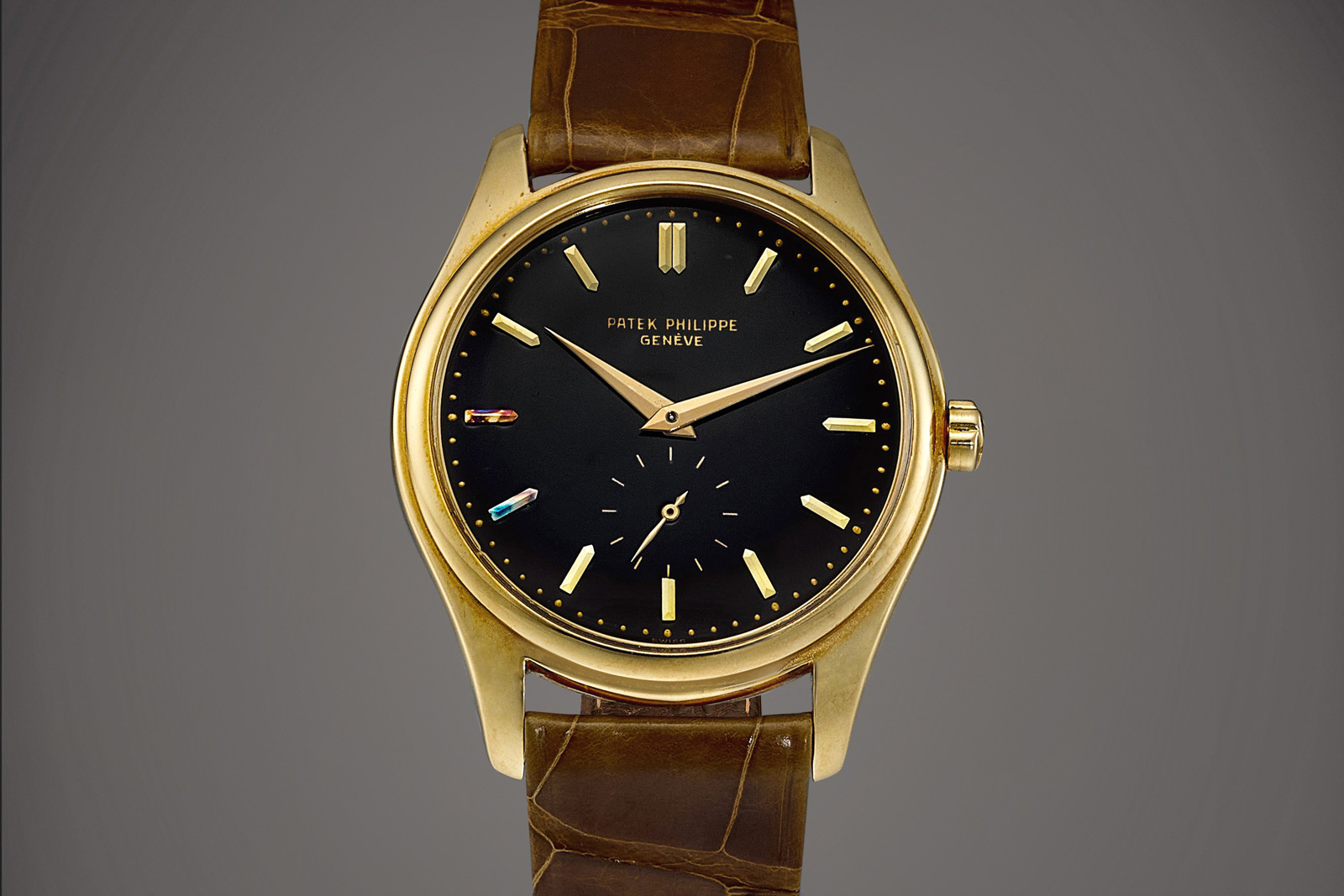 Therefore the ref. 2526 can be regarded as one of the ultimate mid-century Patek Philippe references due its over-engineered calibre and lustrous enamel dial. Yet it remains suitable for modern-day collectors with its largish, 36 mm case that is also water resistant. That combination of wearability and timeless design, along with its solid mechanics and gorgeous dial, mean the ref. 2526 is a strong contender for the ultimate time-only watch from the preeminent watchmaker.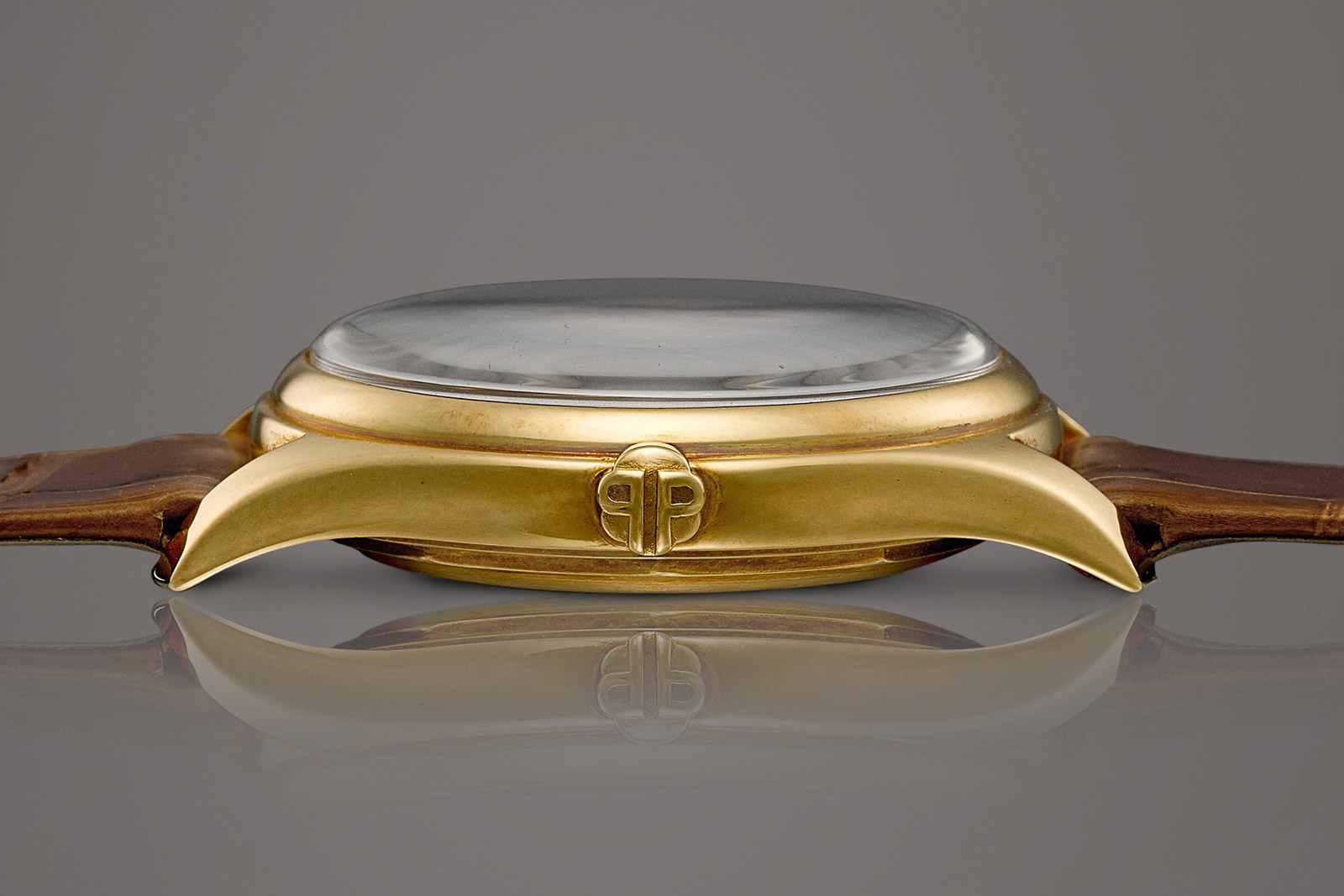 But even within the family there some that are more ultimate than others. The present example is a first series ref. 2526 that is distinguished by its exceptionally rare black enamel dial, instead of the more common ivory enamel dial found on most 2526s.
The first series ref. 2526 is set apart by the dimples on the dial under the ends of the hour markers, which resulted from the pins on the underside of the markers that secure them to the dial. In contrast, the hour markers of second series are glued to the dial, which allows for smooth, flat dial. According to research, there are only ten known examples of the first series ref. 2526 with a black dial, making this truly rare.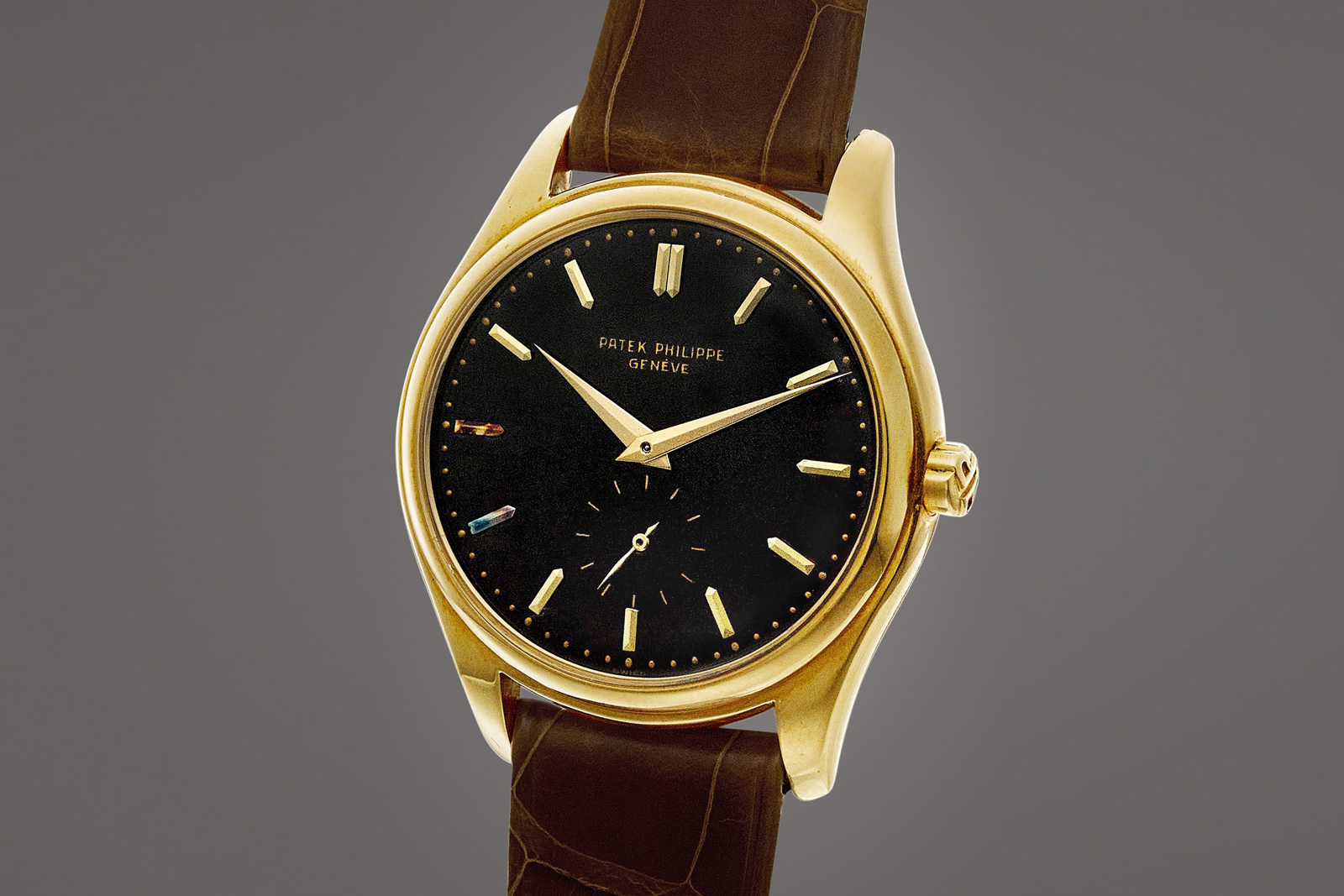 This is estimated at HK$800,000-1.6 million, or US$103,000-205,000. Full lot details here.
---
A highly important pocket watch with known provenance, this incredibly complicated and possibly unique ref. 655/1 was sold by Tiffany & Co. in 1958 to Esmond Bradley Martin, a patrician American banker who owned an impressive collection of pocket watches that were sold by Sotheby's after his death in 2002. This ref. 655 sold for US$265,000 – a major sum in 2002 – to the Nevadian. As a result, the buyer of this watch will be its third owner, despite almost seven decades having passed since it was sold by Patek Philippe.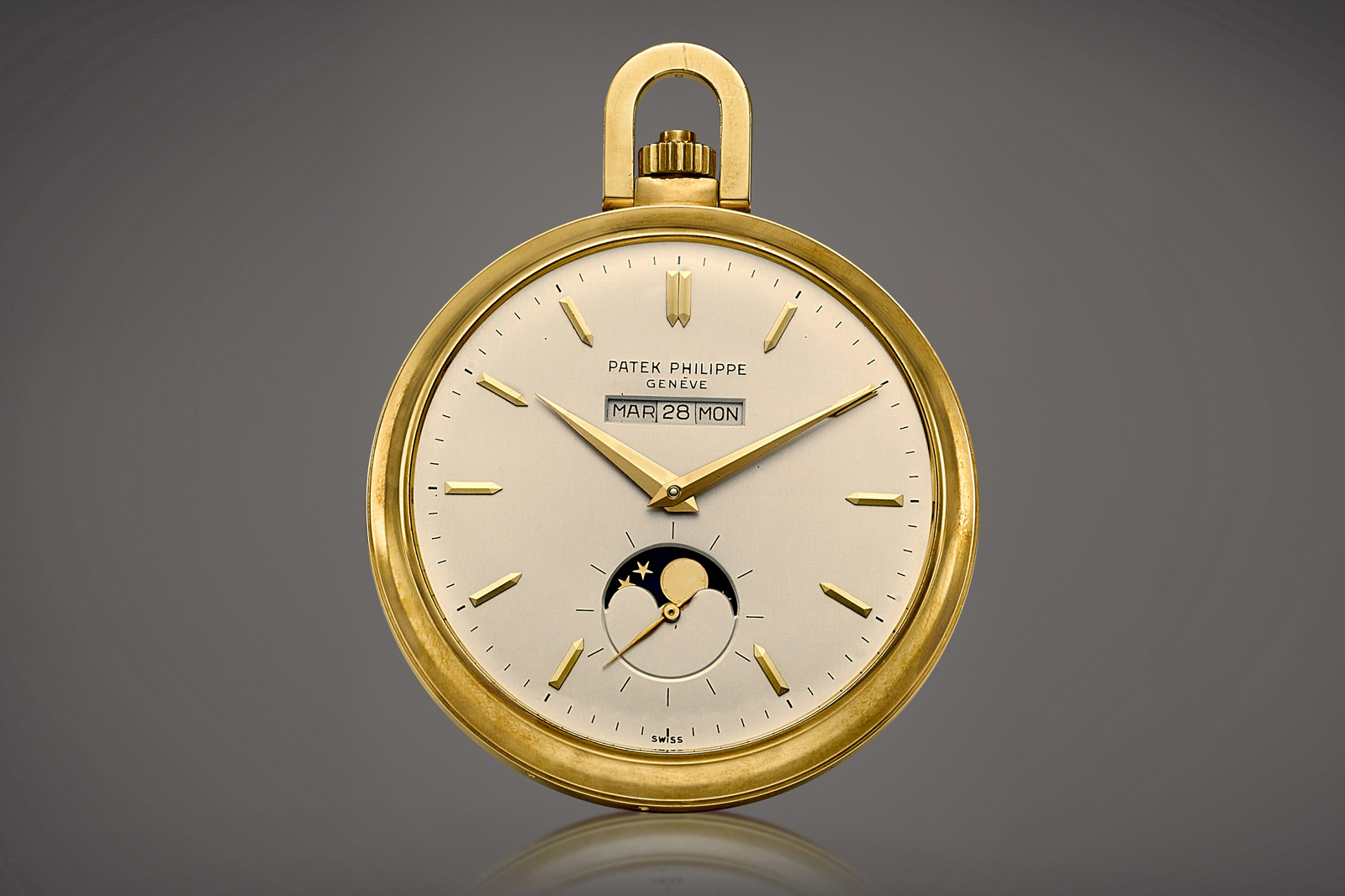 The ref. 655 features an in-line, or "American", calendar, which is arranged in the sequence "month-date-day", instead of the more common "day-date-month" that is today seen on the ref. 5236P. The calendar is naturally perpetual, but the ref. 655 also includes a minute repeater.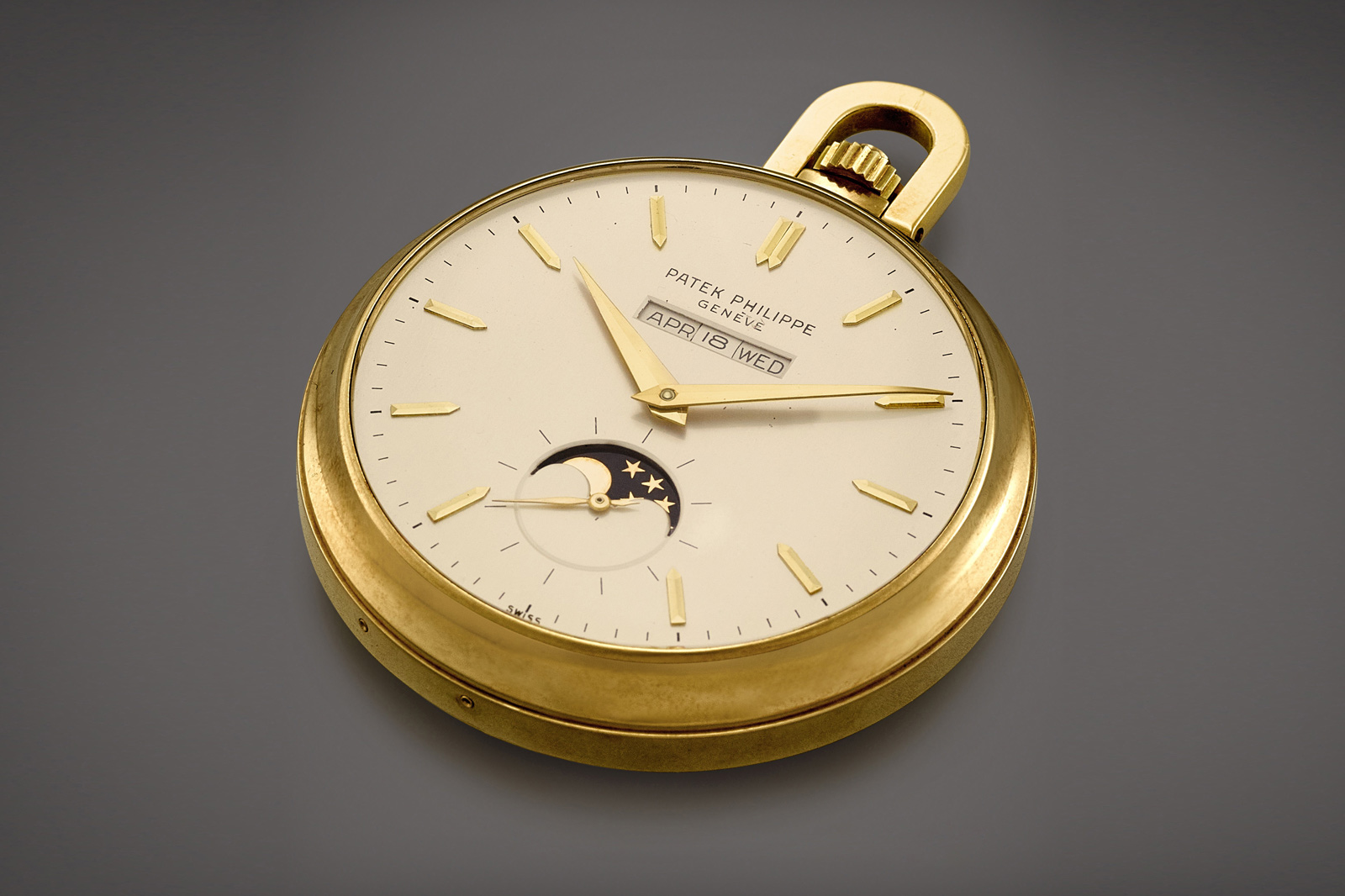 But unlike most other Patek Philippe pocket watches with in-line calendar and minute repeater, like the refs. 699, 843, and 844, the ref. 655 has a special movement. A hint of its unusual nature can be observed from the fact that the case lacks a slide for the repeater.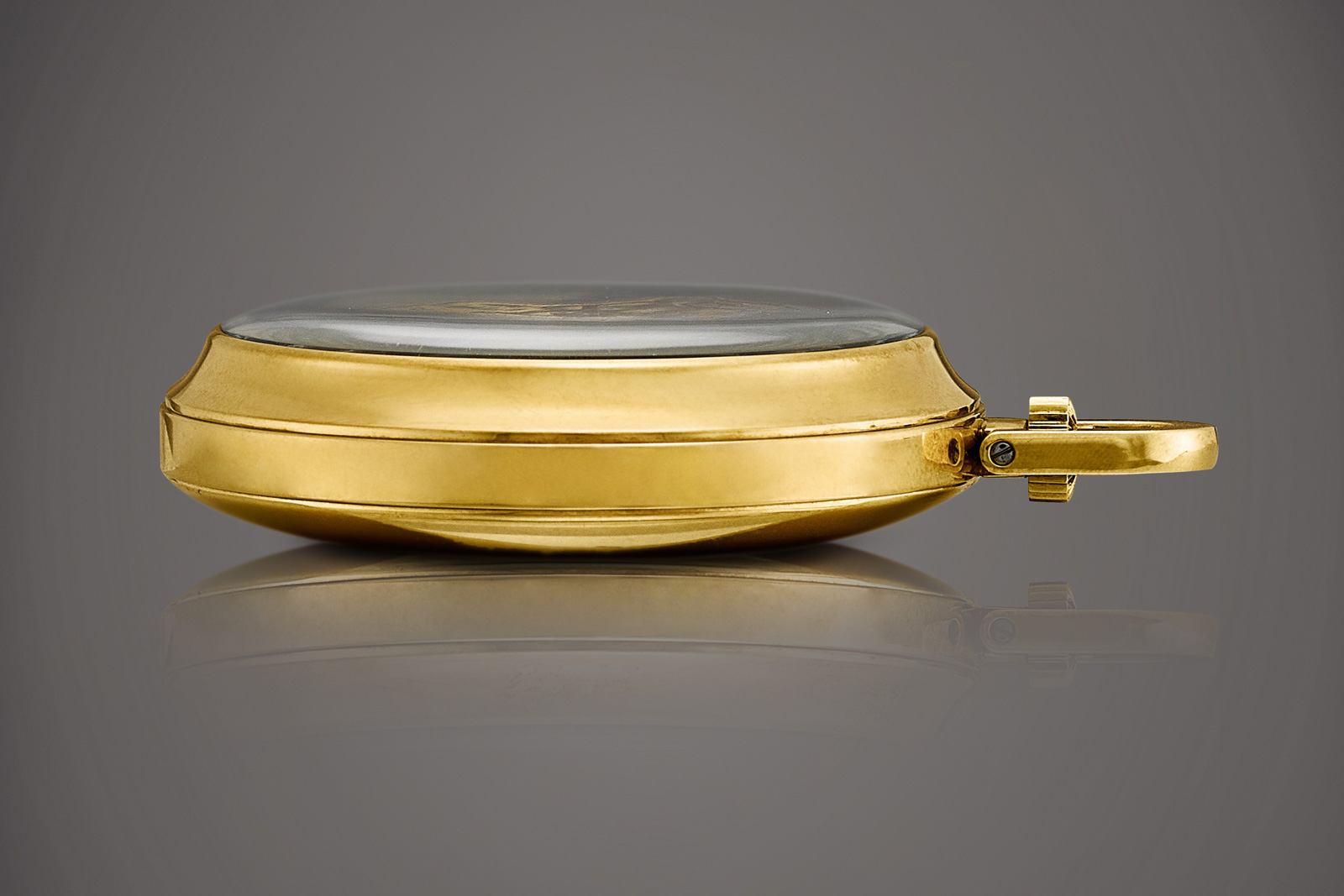 The ref. 655 is two-train trip repeater, which means it is mechanically closer to a grande sonnerie than a conventional minute repeater. In contrast to standard repeaters that rely on the sliding action to wind a small secondary spring that drives the repeater, a trip repeater has another mainspring and going train for the repeating function.
As a result, activating the repeater on this ref. 655 just requires a simple push of the button integrated into the crown. And because the repeater has its own mainspring, it can be activated several times before its mainspring needs to be wound. Turning the crown in one direction winds the mainspring that powers timekeeping, while turning it in the opposite direction winds the repeater mainspring.
This pocket watch is in exceptional condition with a clean dial and crisp case. The provenance and importance of this reference will make it instantly appealing to collectors of pocket watches who appreciate both historical and technical significance.
This can be had for an estimate of HK$2.0-2.8 million, or US$256,000-358,000. Full lot details here.
---
Equipped with the cal. 27-460, the ref. 3448 was introduced in 1962 as the first-ever automatic perpetual calendar wristwatch. It is believed that 586 pieces were produced by the time production ceased in 1986.About 500 are in yellow gold, with only 50 or so in white gold, and two in platinum.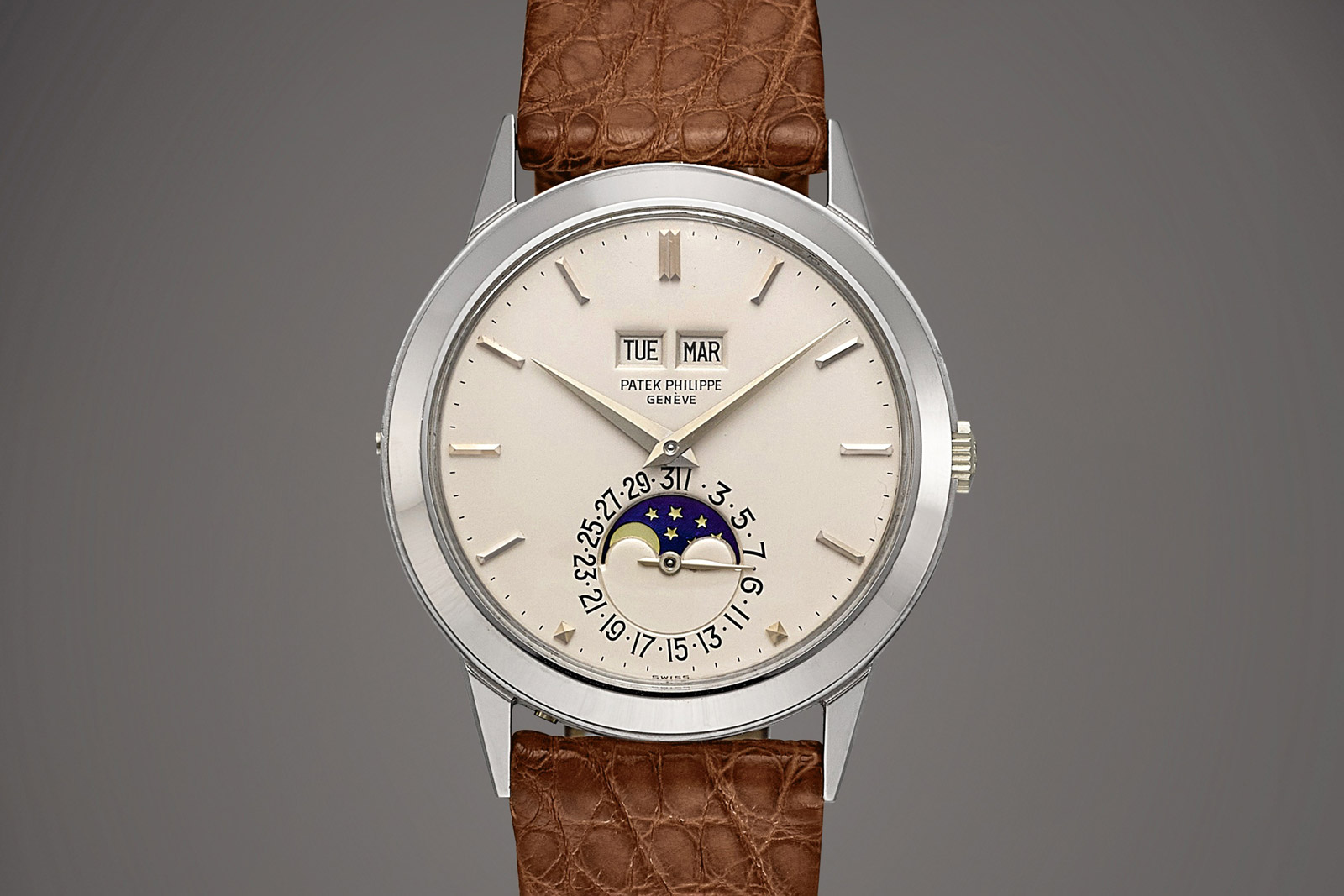 The ref. 3448 marks an important point in horological history as it was first self-winding perpetual calendar, a combination that has become the norm today. Almost minimalist, the dial is legible yet classic Patek Philippe in style. And the case size of 37.5 mm remains a good size today.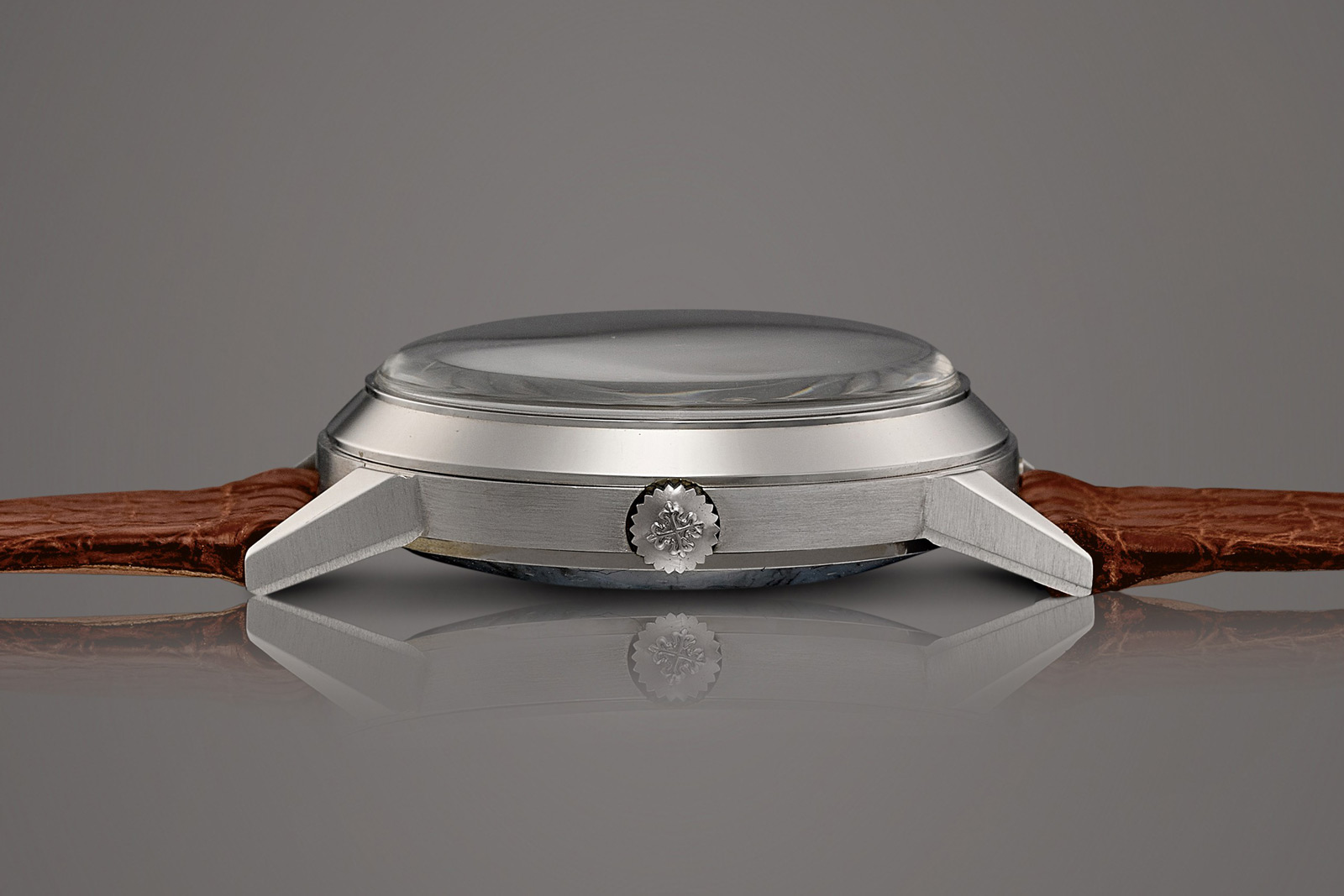 The present example is a rare version with a white gold case. It also appears to be from one of the last batches produced as the dial has the hallmarks of a later specimen with its printed signature and black baton minute markers, instead of the champleve enamel signature and "pearl" markers that denote earlier examples.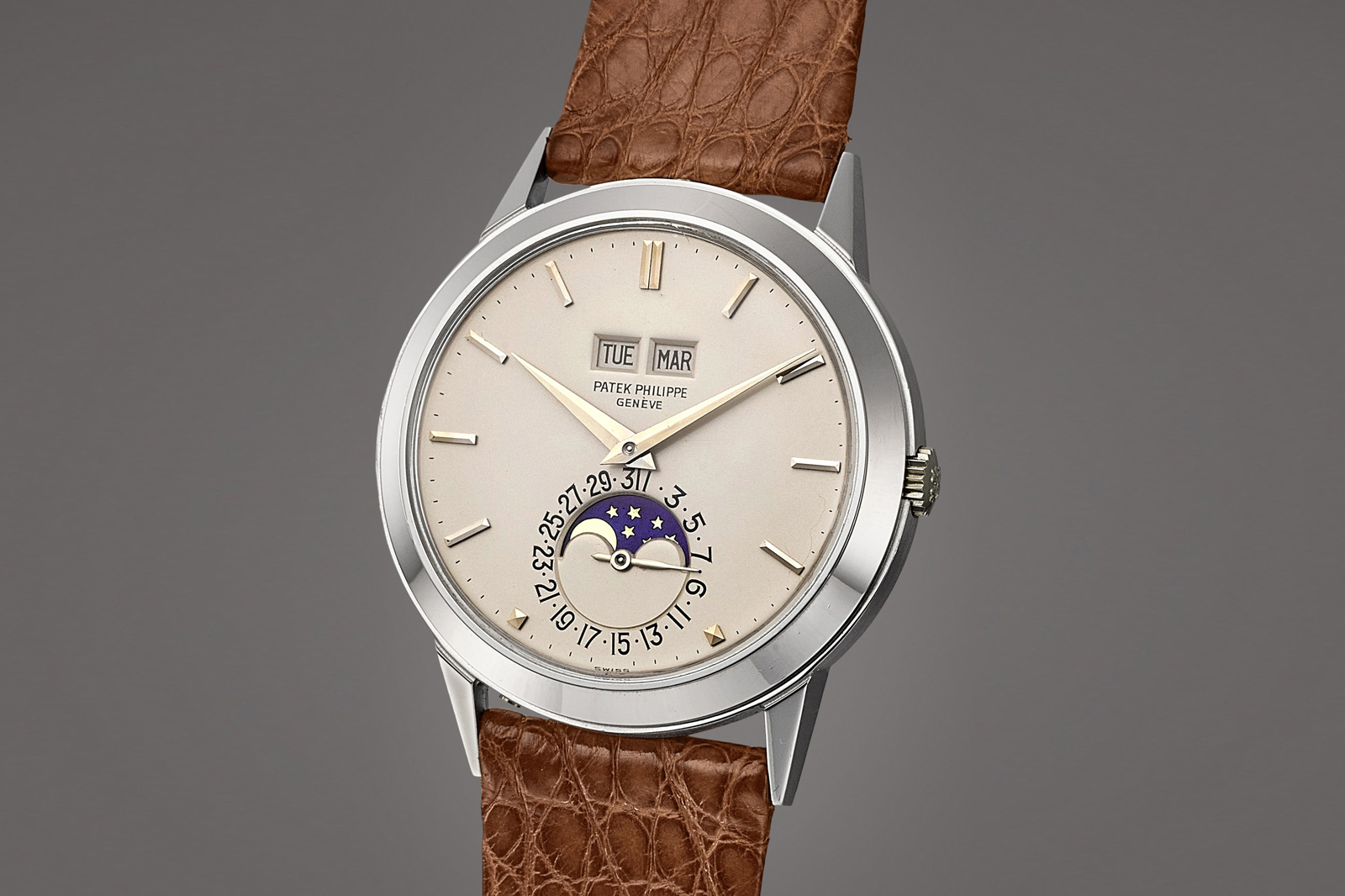 Like all of the watches in the Nevadian's collection, this piece is preserved in excellent condition. The case is crisp with its lugs retaining sharp edges, while the hallmarks are deep and clearly visible. An uber-rare variant of the highly desirable reference, this ref. 3448 has an estimate of HK$2.4-4.0 million, or US$307,000-515,000. Full lot details here.
---
Recognised as one of the most important and significant Patek Philippe references for its complications and design, the ref. 2499 was produced from 1950 until 1985. Over its three-decade production run, the ref. 2499 only totalled 349 pieces, equalling to an average of only nine examples per year, which means rare is an understatement when it comes to the ref. 2499.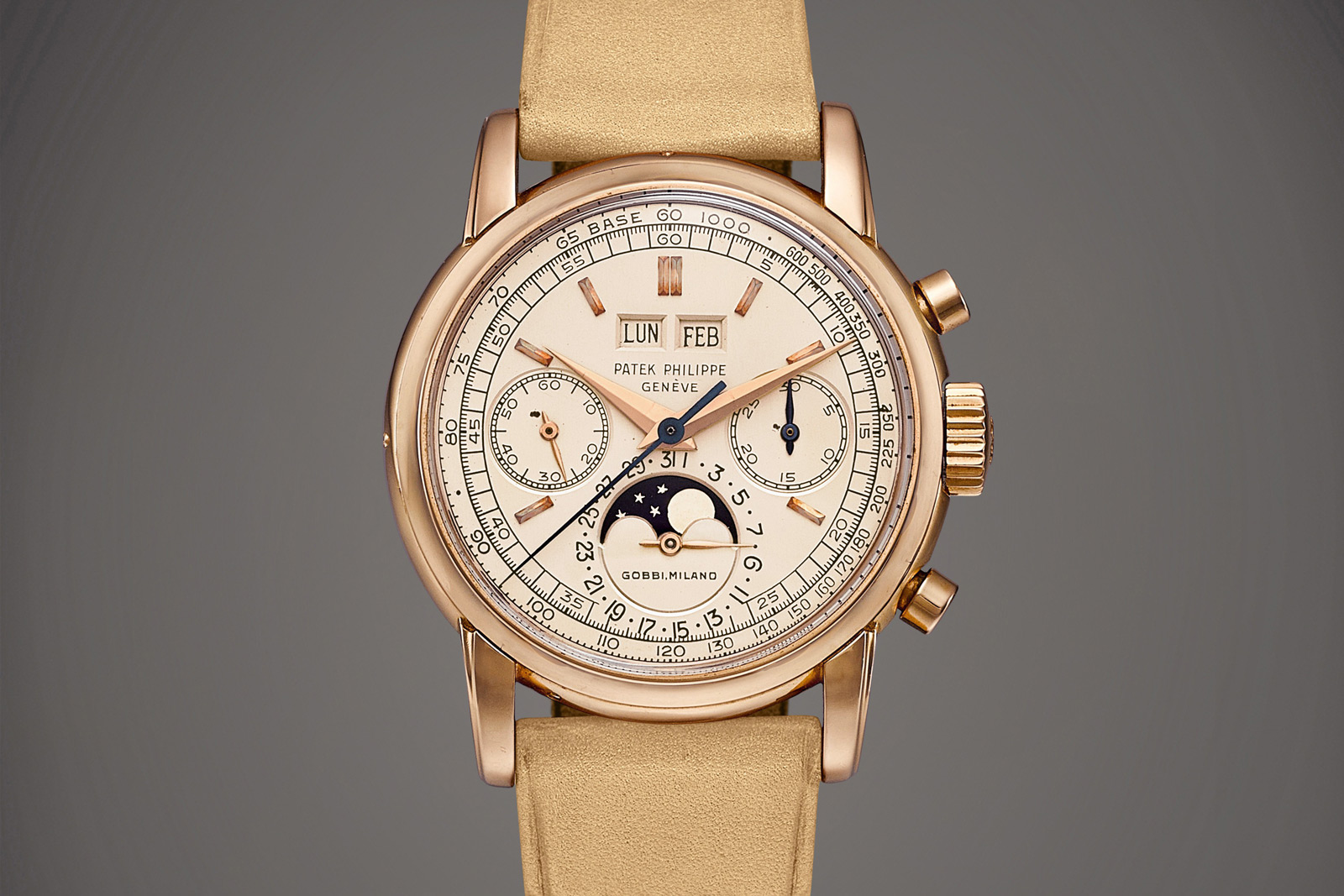 It was a successor to the ref. 1518 and predecessor of the ref. 3970, both landmark references in their own right but still not quite as desirable as the ref. 2499. At 37.5 mm in diameter, the ref. 2499 is more suited to modern taste than its smaller, 35 mm predecessor and 36 mm successor, making the ref. 2499 somewhat more desirable than either.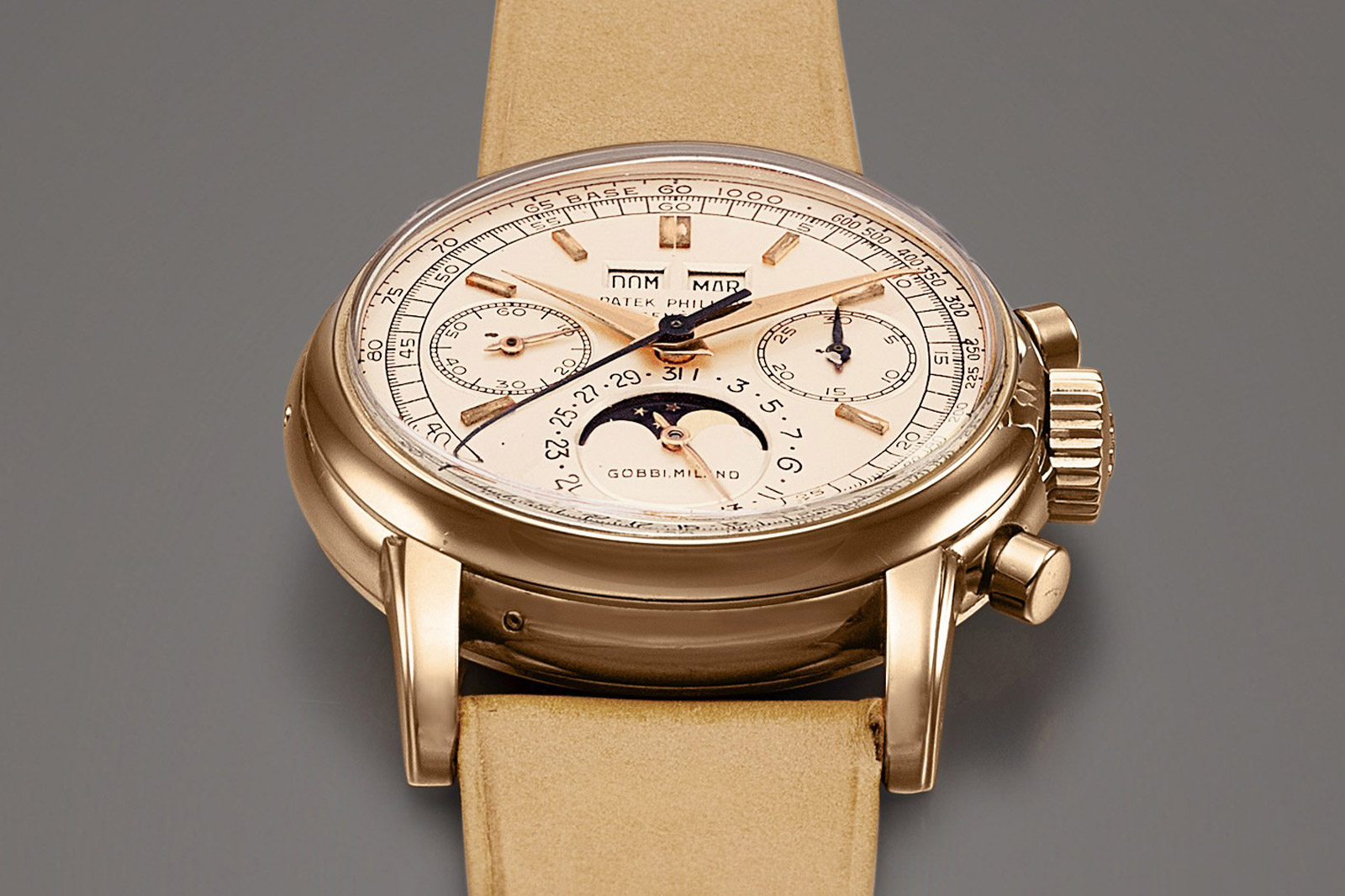 The present example is a second series watch, as evidenced by the round pushers and tachymeter on the dial. And it is in pink gold, which is extremely rare in itself. But the watch is further enhanced by the "Gobbi Milano" signature on the dial, which makes it possibly unique since there are no other known examples of the ref. 2499 in pink with the Italian retailer's name on the dial.
This watch is preserved in excellent condition, with the flutes on each lug and hallmarks still crisp and obvious. The dial has developed an attractive, off-white patina that otherwise has minimal ageing. It is accompanied by an Extract from the Archives that notes production of the watch in 1957 and its subsequent sale in October 1958.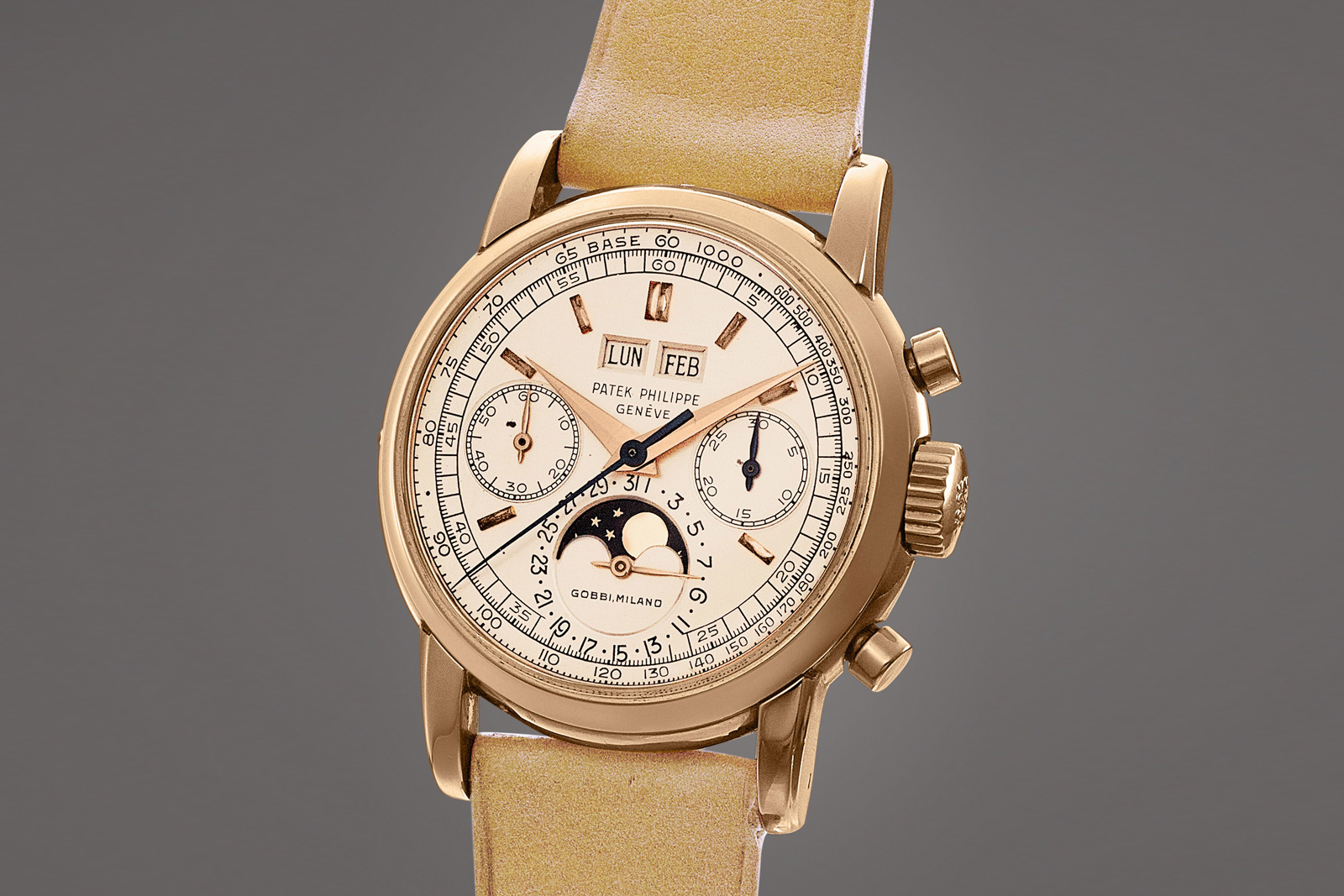 Last sold for CHF2.7 million in 2007 at Christie's Geneva, this watch represents rarity and condition rolled into one. Bidding on it will no doubt be fierce, but its future owner will have something truly special.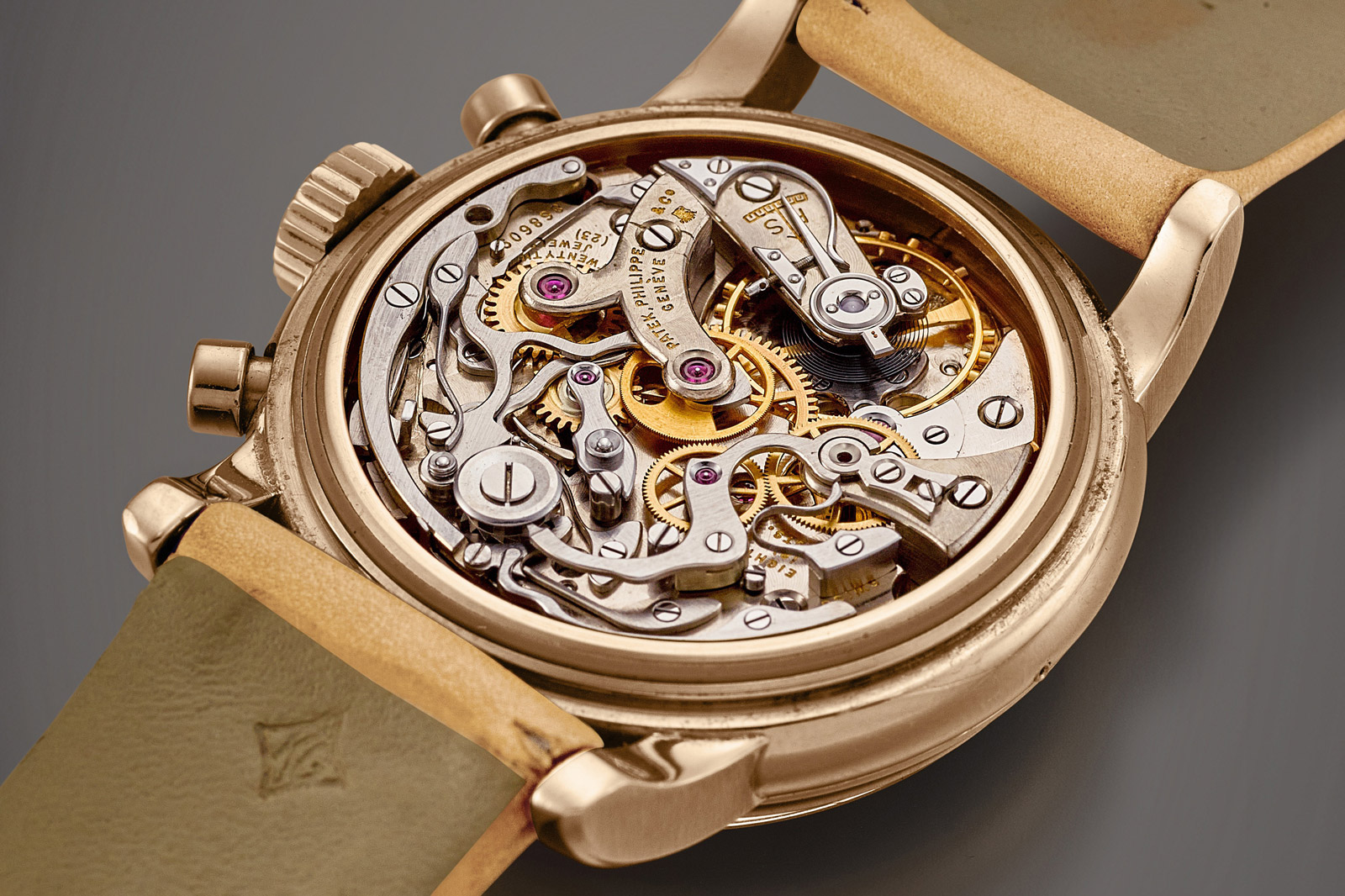 The estimate is unsurprisingly a big one, HK$24-48 million, or US$3.07-6.14 million. Full lot details here.
---
Introduced in 1940, the ref. 1463 was Patek Philippe's first waterproof chronograph wristwatch and stayed in the catalogue for two decades until 1965. Around 750 pieces were produced, most of them in yellow gold with a handful in steel or pink gold.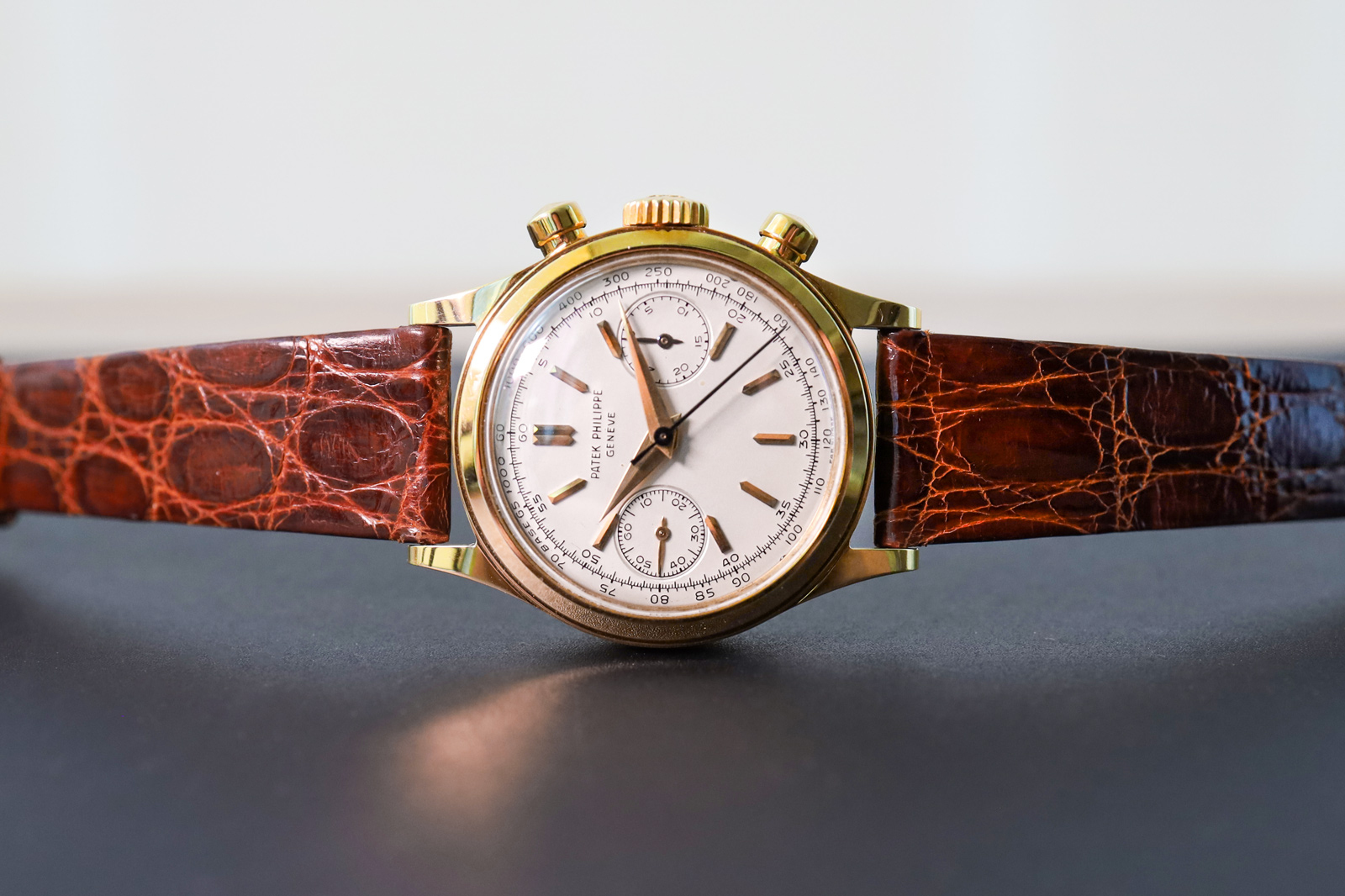 Like many vintage Patek Philippe watches, this has an Italian nickname: "Tasti Tondi", or "round buttons", due to its round pushers with fluted tops that were apparently conceived to prevent slippage while operating the chronograph.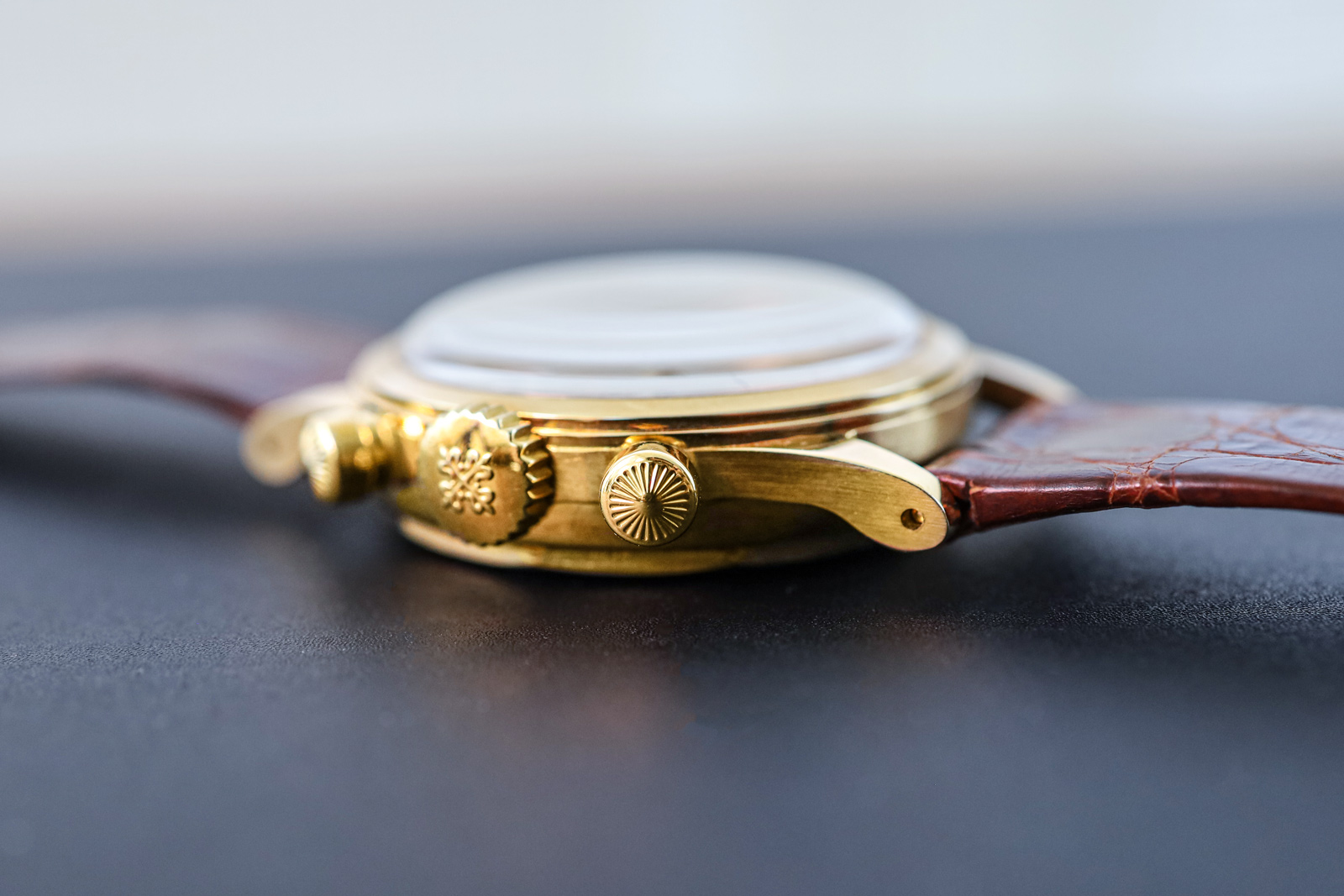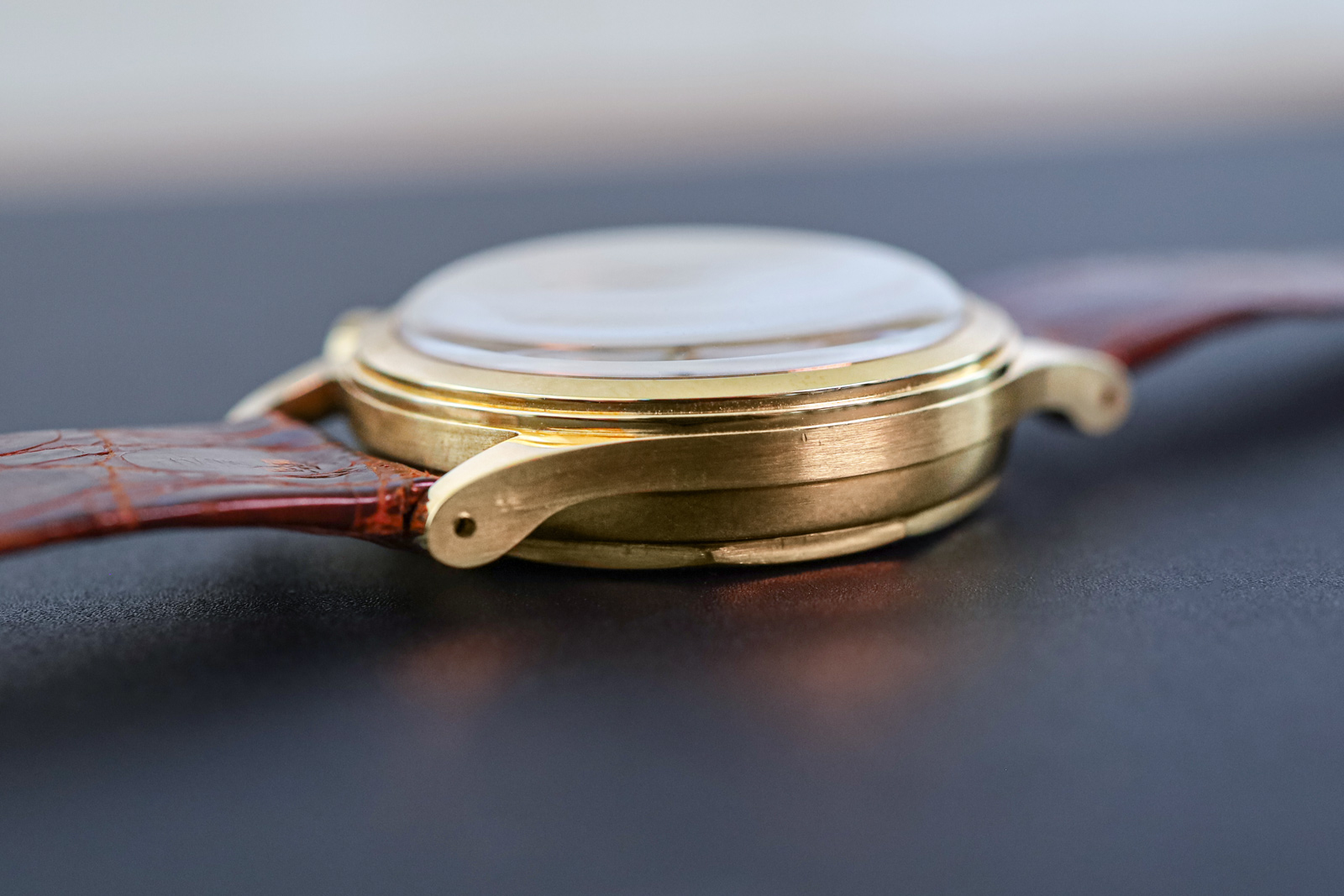 The present example is yellow gold and in mint condition. The case is unpolished, explaining the razor-sharp edges and untouched hallmarks. The dial has minor spotting and ageing that is expected for a watch of this age. Notably, this example includes its original certificate revealing it was sold by Guillermin & Mollet in Paris in September 1964. And it includes an Extract from the Archives confirming production in 1962 and its subsequent sale in November 1963.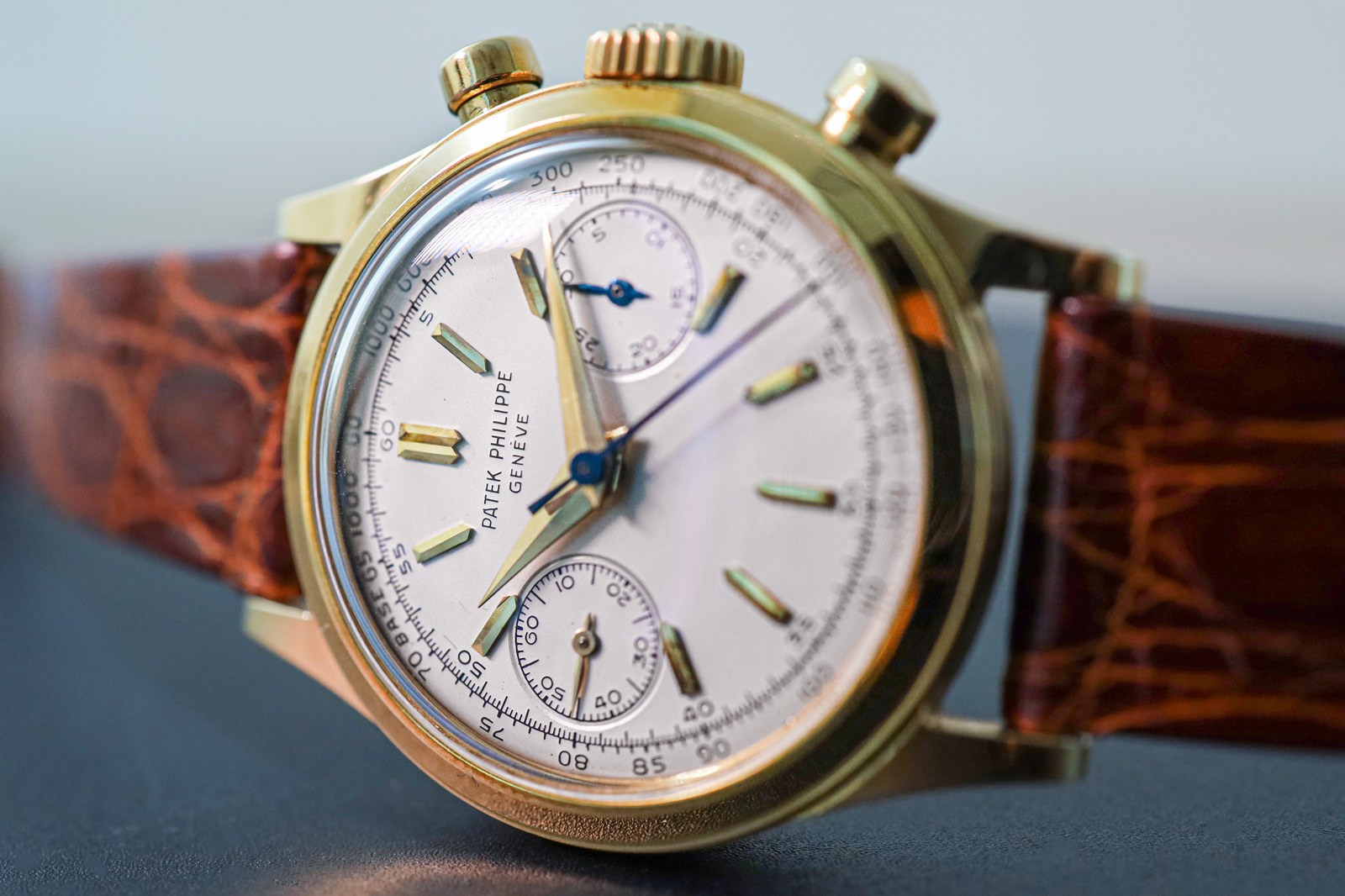 This lot is in some ways a time capsule that illustrates how a ref. 1463 would have looked when bought new in the 1960s, fresh from Patek Philippe in Geneva, just as it was handed over from retailer to client. It is an opportunity to enjoy a historically important reference in the fullest way possible (though it would no doubt be difficult to easily wear a watch in this condition).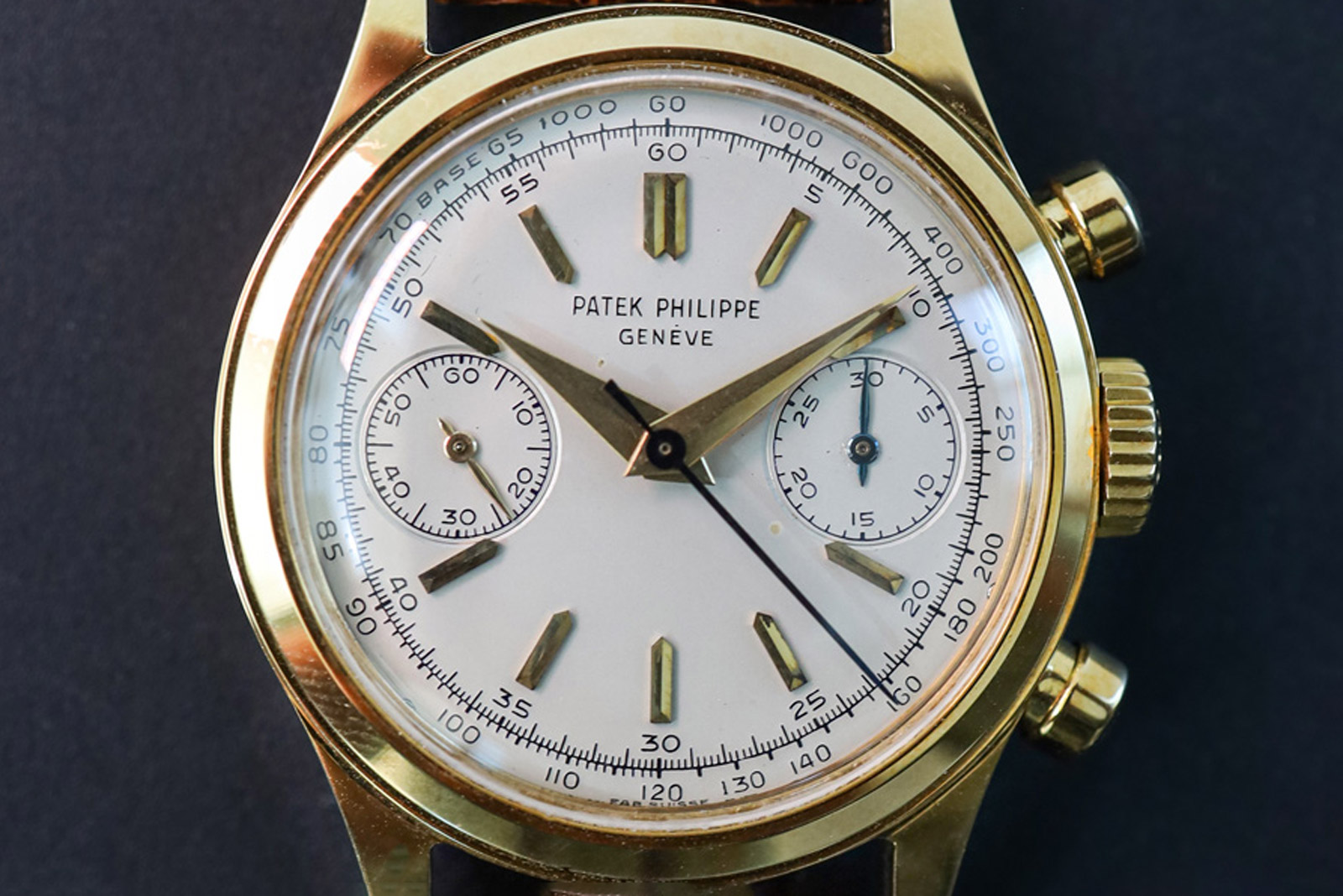 The estimate is HK$2.0-2.8 million, or US$256,000-358,000. Full lot details here.
---
Preview and auction details
The 40 lots of The Nevadian Collector will be exhibited in Hong Kong from April 23-25, with the auction starting in the evening of April 25. Both the preview and auction itself will take place at Sotheby's Hong Kong office located in One Pacific Place in Admiralty.
Preview
April 23-25
Auction
April 25, 8:00 pm (GMT+8)
Sotheby's Hong Kong Gallery
5/F One Pacific Place
88 Queensway
Hong Kong
For the catalogue, viewing appointments, and online bidding, visit Sotheby's.com.
---
This was brought to you in collaboration with Sotheby's.
Back to top.
---
You may also enjoy these.