Junghans Introduces the Max Bill Mega Solar
Classic design meets new tech.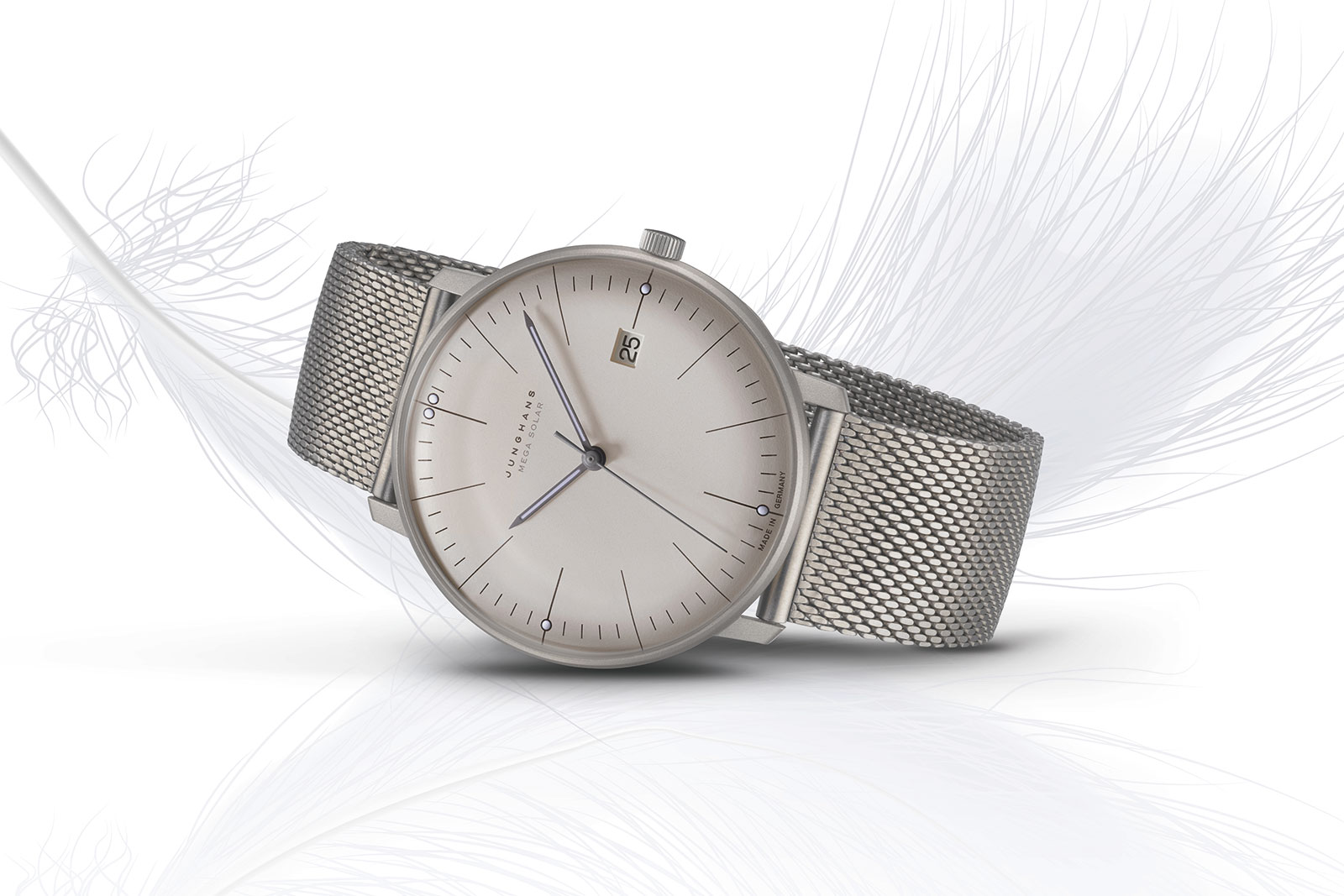 The quintessential Junghans is arguably any Max Bill wristwatch, which are all slightly different but share an instantly recognisable style that's modern, mid-20th century, and still appealing five decades on. The German watchmaker now offers the Max Bill designs in a variety of watches from quartz to automatic chronograph, and the new Max Bill Mega Solar is the most extreme in its design and technological disparity – high-tech dressed in retro style, which makes for a pretty cool watch.
Initial thoughts
Junghans has solid timekeeping tech in its Mega radio-control watches, but for the most part they are unattractive, at least for someone who likes mechanical watches. Many look like gadgets trying to be an analogue wristwatch. As a result, the Max Bill Mega Solar is a blessing.
A Swiss architect and designer whose style was spare and Bauhaus-inspired, Bill designed a series of clocks for Junghans in the late 1950s, followed by wristwatches in 1961. Today's Max Bill watches are essentially identical to the originals of the 1960s. And now the delightfully concise styling has been combined with a solar-powered, radio-controlled movement. For someone who likes gadgets – and also values good design – this is hard to beat.

Radio-control, now worldwide
The Max Bill Mega Solar is an upgrade over the earlier Max Bill Mega, which has a quartz movement in a steel case. The new Max Bill Mega Solar has a titanium case, and is solar-powered. It'll run for up to three years on a full charge – the dial is actually the solar cell – and also has a quick-charging function allowing it to go from dead flat to proper running after eight minutes of exposure to light. But both generations of Max Bill Mega watches have the same principle function – radio-controlled timekeeping.
While Japanese watchmakers are better known for their electronic watches – both Seiko and Citizen have made a specialty of watches that sync with GPS time signals – Junghans was a pioneer in radio-controlled timepieces. The brand's first radio-controlled clock was unveiled in 1985, and the first wristwatch five years later.
Radio-controlled watches receive a time signal via a radio transmitter, which means they can receive the signal anywhere a radio signal will reach, unlike GPS watches that can only sync outdoors. But because radio reception is largely national, historically Junghans' radio-controlled watches worked in Europe (DCF77), United Kingdom (MSF), United States (WWVB), and Japan (JJY40 and JJY60).
The new Max Bill Mega Solar only functions in those countries or regions on radio-control, but thanks to the recently developed Junghans Mega smartphone app, the watch will work anywhere in the world.
Available for both iOS and Android, the smartphone app broadcasts a time signal that synchronises the watch within "less than 30 seconds on average" according to Junghans.
And even within synchronisation to either smartphone or radio signals, the watch will run within eight seconds a year as an ordinary, high-precision quartz watch.
Smart watch
Despite the simplicity of the dial, the watch has a surprising number of functions, including a perpetual calendar. Additionally, the movement incorporates an Advanced Moving function where the hands start moving "fractions of a second before the step in time", meaning that the hands will be showing the actual, current time, rather than being fractions of a second behind.
And the movement also boasts Intelligent Time Correction that analyses the seconds hand's position 1,440 times a day, and once a day for the hour and minute hands, comparing the against the reference time from the radio signal. And even the date display is verified once a month.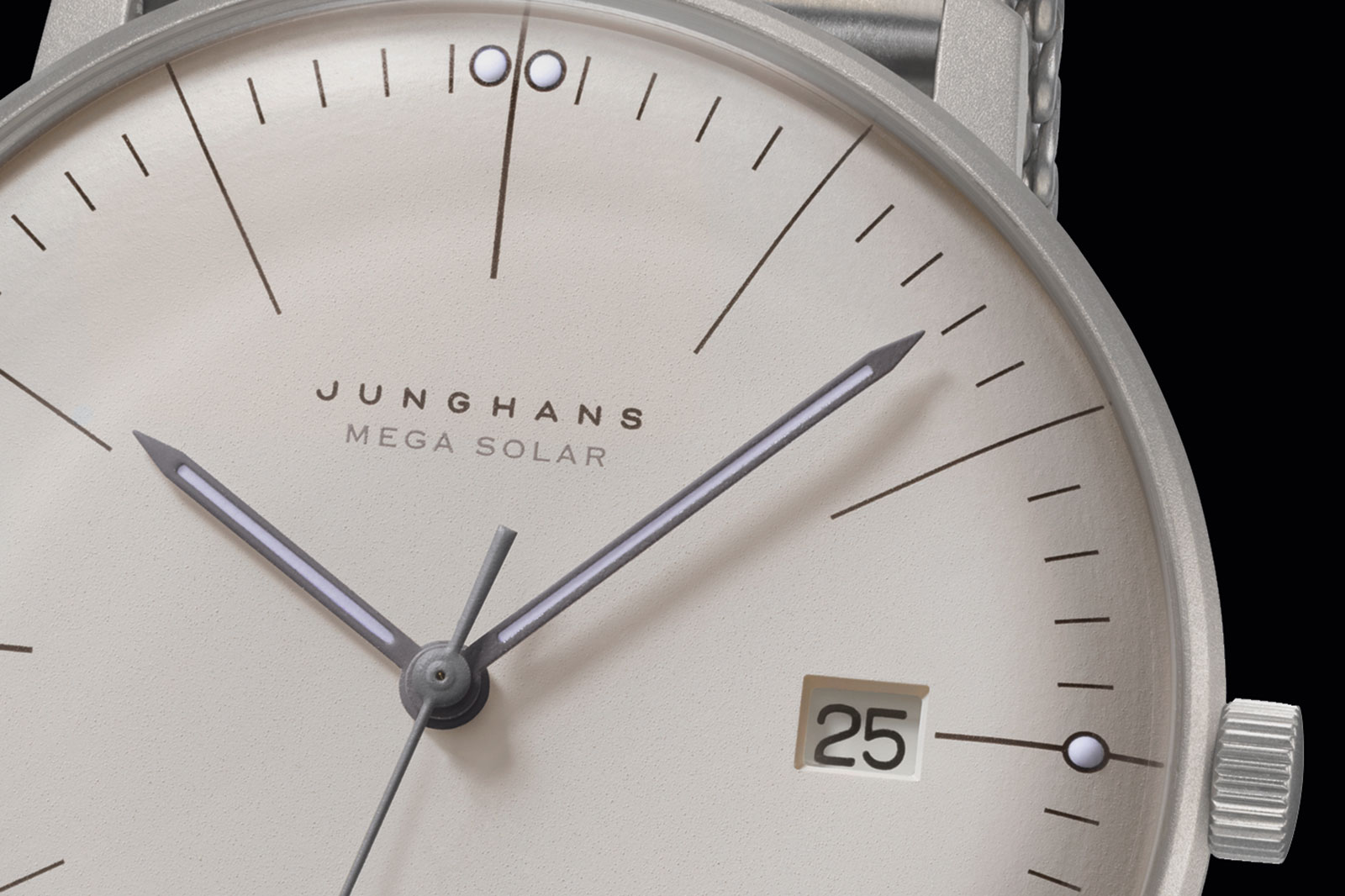 Variants
The Max Bill Mega Solar is available with either a polished titanium case and white dial, or a matte titanium case with a light grey dial.
Both share the same dimensions of 38 mm by 9 mm.
---
Key facts and price
Junghans Max Bill Mega Solar
Ref. 059/2020.04 (polished titanium on strap)
Ref. 059/2021.04 (polished titanium on strap)
Ref. 059/2022.48 (matte titanium on bracelet)
Ref. 059/2023.04 (matte titanium on strap)
Diameter: 38 mm
Height: 9 mm
Material: Titanium
Crystal: Plexiglas (sapphire crystal optional)
Water resistance: 30 m
Movement: J101.85
Features: Hours, minutes, seconds and date
Winding: Solar powered
Frequency: 32.760 Hz
Power reserve: Up to three years
Strap: Leather strap or titanium bracelet
Availability: Already at retailers
Price: €895 on strap, and €975 on bracelet (also 1,460 and 1,590 Singapore dollars respectively)
For more, visit Junghans.de.
---
Back to top.
---
You may also enjoy these.