Jaeger-LeCoultre Introduces the Atmos Transparente
A new look for the clock that runs on air.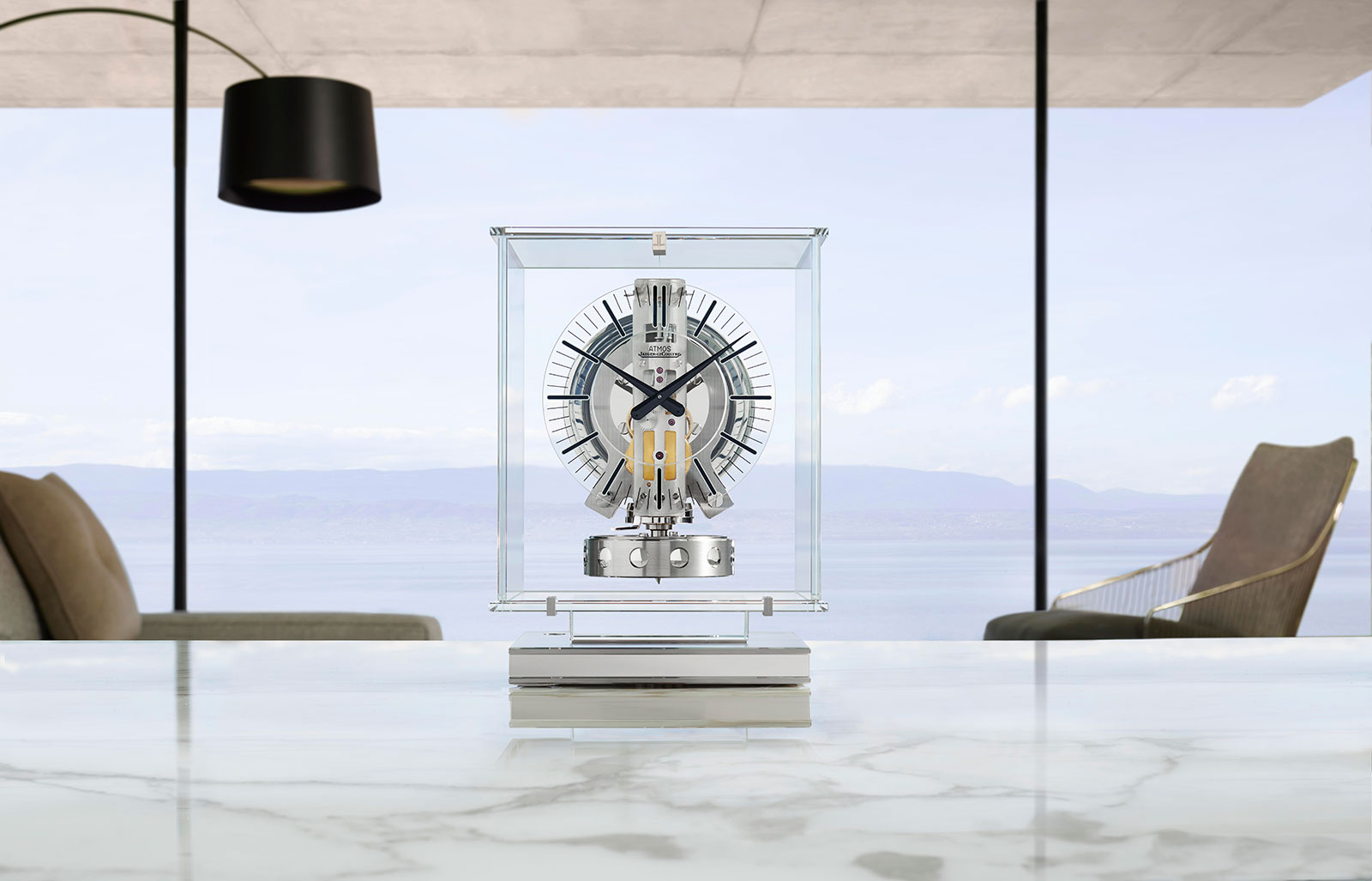 As crucial to Jaeger-LeCoultre's identity as the swivelling Reverso wristwatch, the Atmos clock remains a unique and intriguing invention almost a century after its invention – a clock that runs on air. Having been offered in a variety of iterations over the years, including several by industrial designer Marc Newson, the latest is the Atmos Transparente, a clean, modernist reinterpretation of a longstanding model in the line-up.
Despite being synonymous with Jaeger-LeCoultre, the Atmos was actually invented by someone else, who was inspired by a much older idea. Clocks wound by changes in atmospheric temperature were invented sometime in the 17th century, but remained largely experimental until French engineer Jean-Léon Reutter invented the Atmos in 1928. His idea was actually an evolution on the 400-day clock, which is regulated by an exceptionally slow pendulum and need only be wound once a year.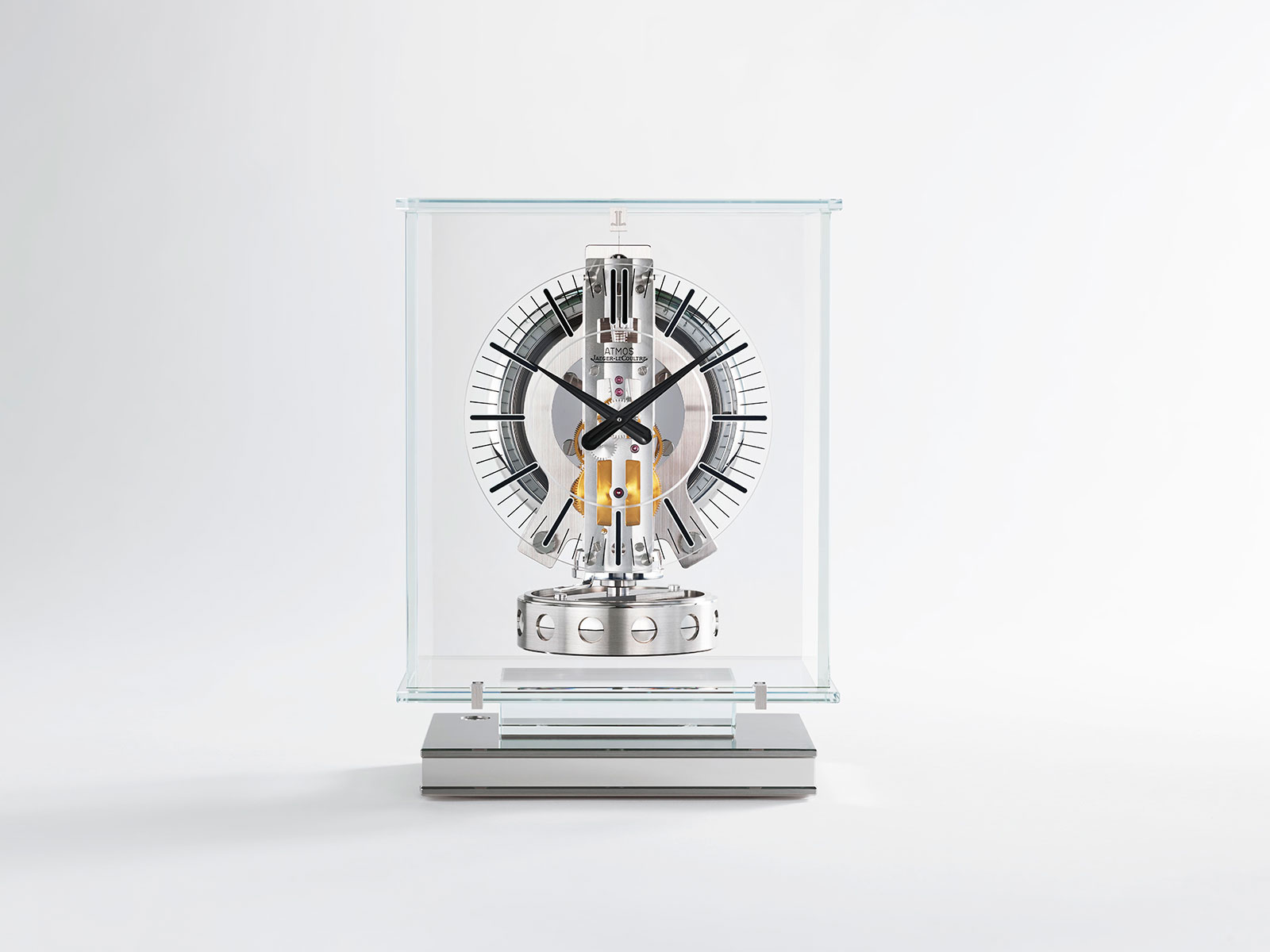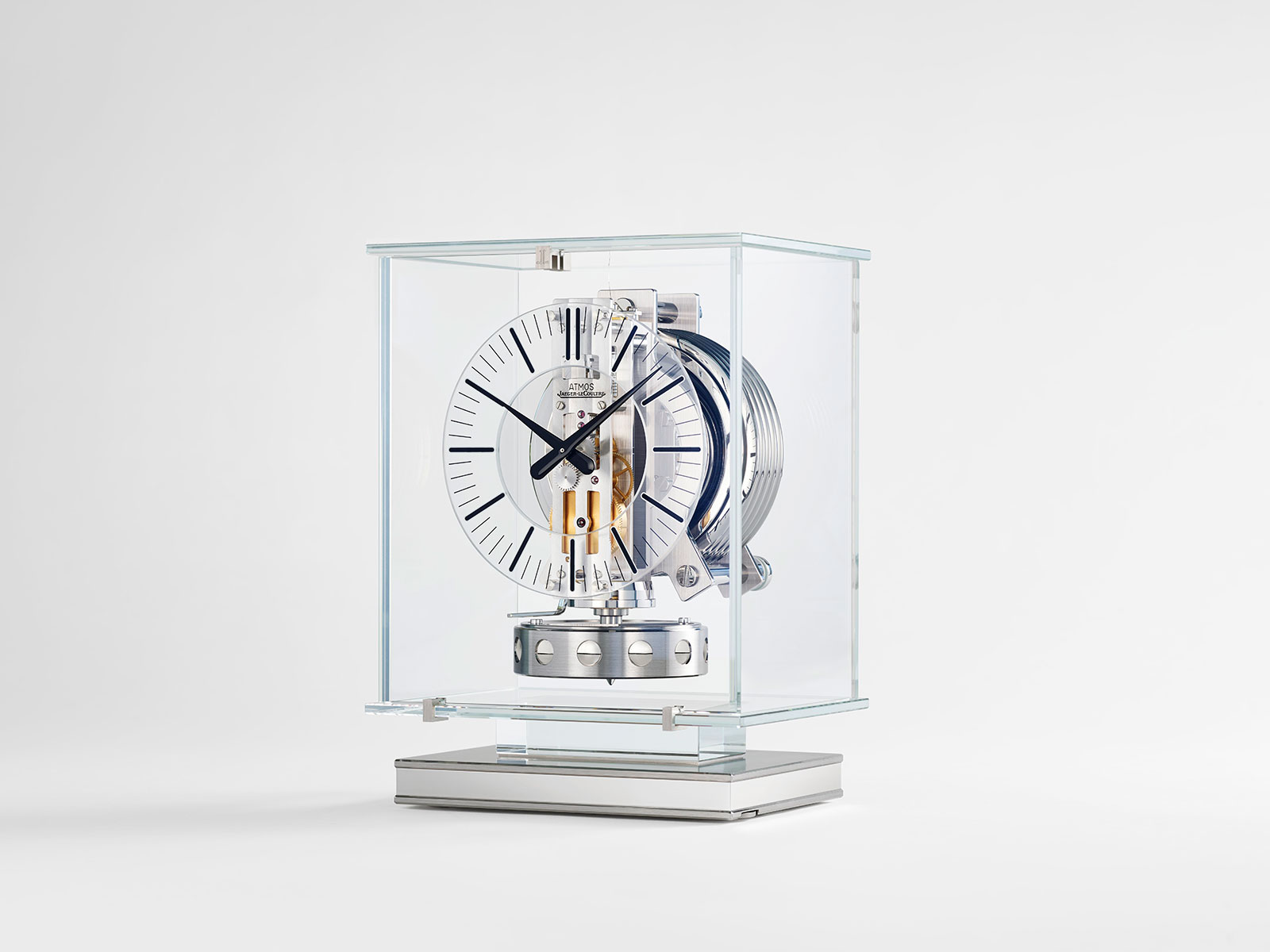 The magic of air
The genius of Reutter's invention was a sealed metal bellows containing mercury, which expanded and contracted with changes in temperature, thus winding the clock's mainspring. Despite its novelty, Reutter's clock met with little commercial success – early Atmos clocks marked "J.L. Reutter" are rare but not especially valuable – leading him to sell the idea to LeCoultre in 1935 (and two years later the company joined forces with Edmond Jaeger to form Jaeger-LeCoultre).
The company refined his concept, with the key improvement being the replacement of mercury with ethyl chloride gas, which improved the clock's winding efficiency and reliability. Since then the Atmos has become a steady seller over the decades, as well as an official gift of the Swiss government.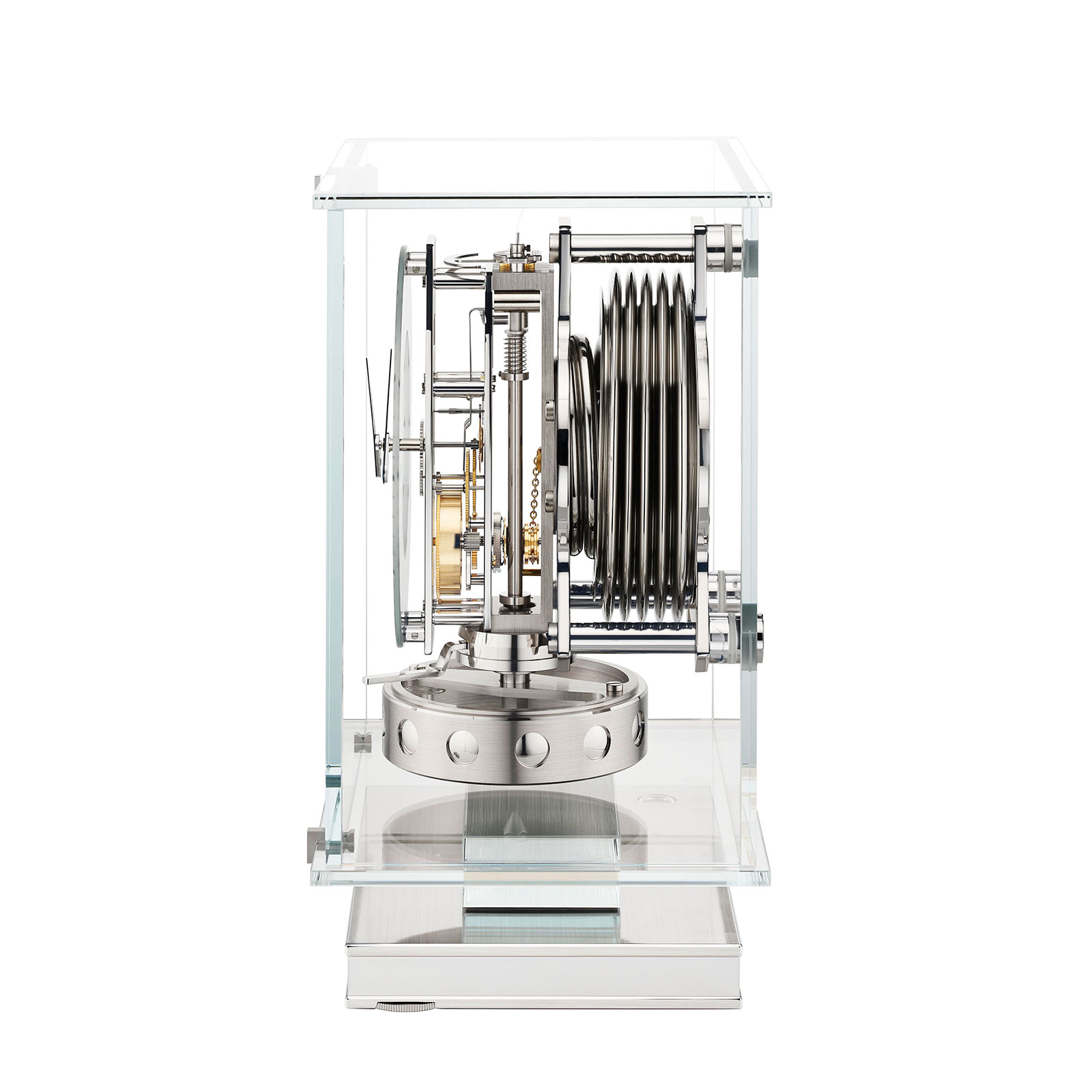 Though identical in shape – essentially a glass box on a rectangular steel base – the facelifted Atmos Transparente is simpler and sleeker than its predecessor. Black baton hour markers have replaced the Roman numerals of the original, matched with glossy black hands.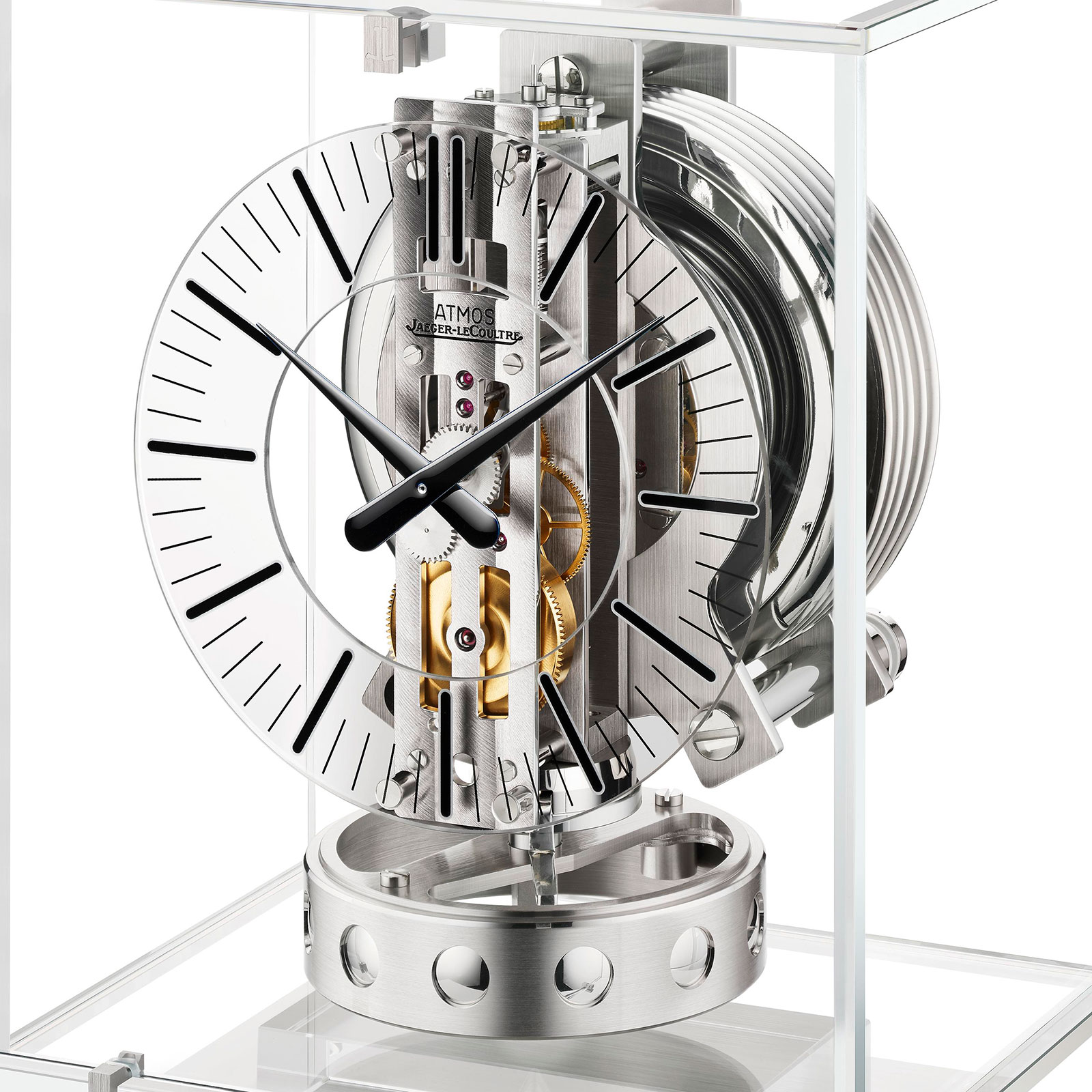 All of the mechanics that drive the Atmos as visible, including the gas-filled bellows on the back, as well as the extra-large – and extra-slow – balance wheel at the base. With the large balance making just 120 oscillations per hour – compared to 28,800 in a standard mechanical wristwatch movement – the Atmos movement runs at a leisurely pace that allows it to continue quietly for decades.
At US$9,450, the Transparente is priced significantly above the entry-level Atmos Classique that costs US$6,600, but is probably a more compelling proposition because of its contemporary styling that will fit most homes better than the old-fashioned – and out-dated – look of the base models.
---
Key facts and price
Atmos Transparente
Ref. Q5135204
Dimensions: 250mm by 185mm by 145mm
Material: Glass with antireflective coating, on a steel base
Movement: Cal. 563
Functions: Hours and minutes
Winding: Via changes in ambient temperature
Frequency: 120 beats per hour
Power reserve: "Virtually perpetual"
Availability: Jaeger-LeCoultre boutiques and authorised retailers
Price: US$9,450
For more, visit Jaeger-lecoultre.com.
---
Back to top.
---
You may also enjoy these.