Greubel Forsey Introduces the Entirely Hand-Made Tourbillon Watch
The Hand Made 1.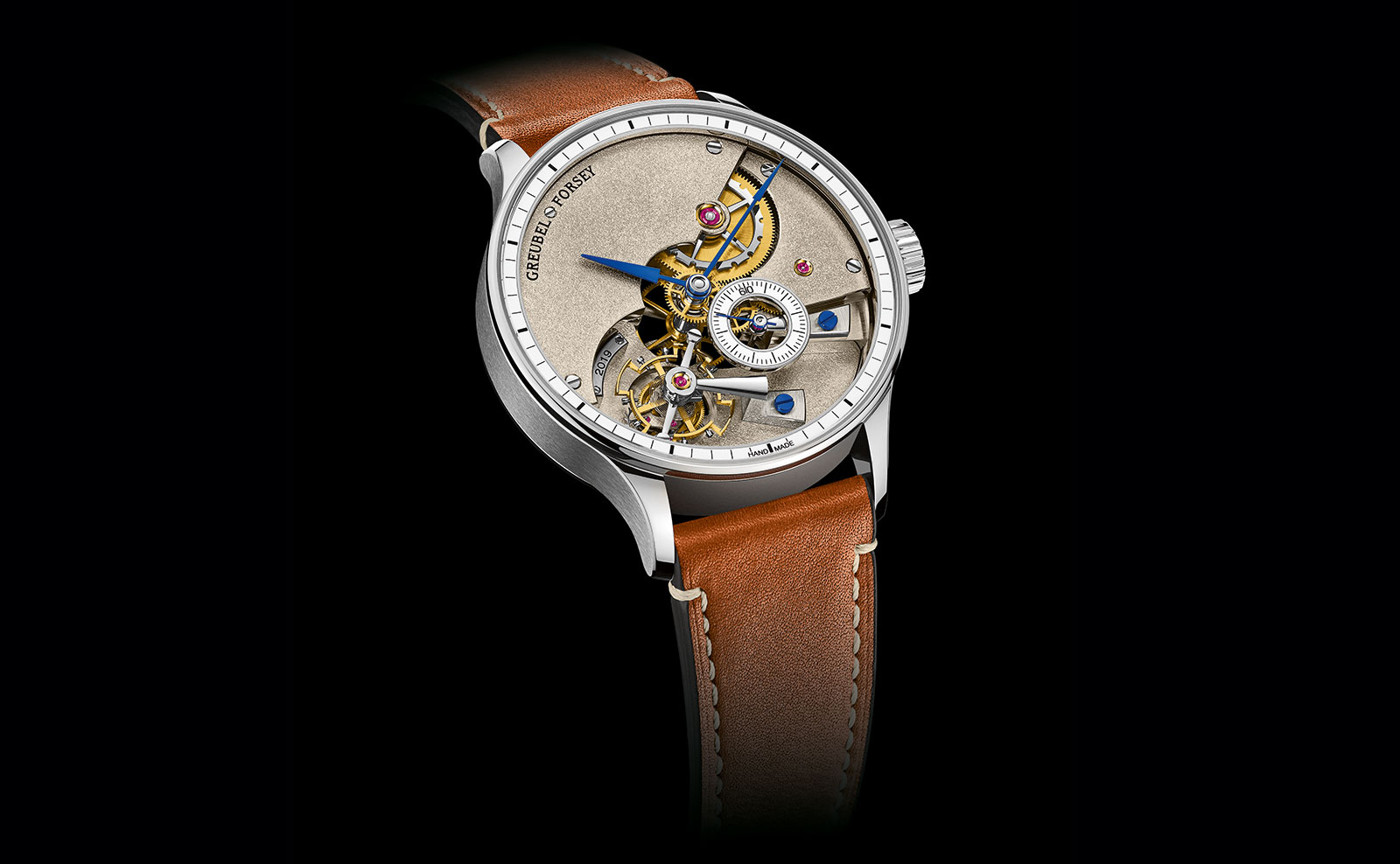 The Hand Made 1 is a watch "95%" produced "using only hand-operated tools", requiring some 6,000 hours, according to Greubel Forsey. That's equivalent to three years of work, largely performed by a special team of watchmakers assembled by Greubel Forsey specifically for this project, along with independent specialists who produce certain components.
Functionally, the Hand Made 1 is a straightforward timepiece – it shows the time, hours, minutes and seconds, and is equipped with a one-tourbillon regulator. The movement is made up of 272 parts, which is within the usual range for such a movement. The complexity of the watch comes from how it is made – by hand or by hand-operated tools – which is why only two to three examples will be produced per year.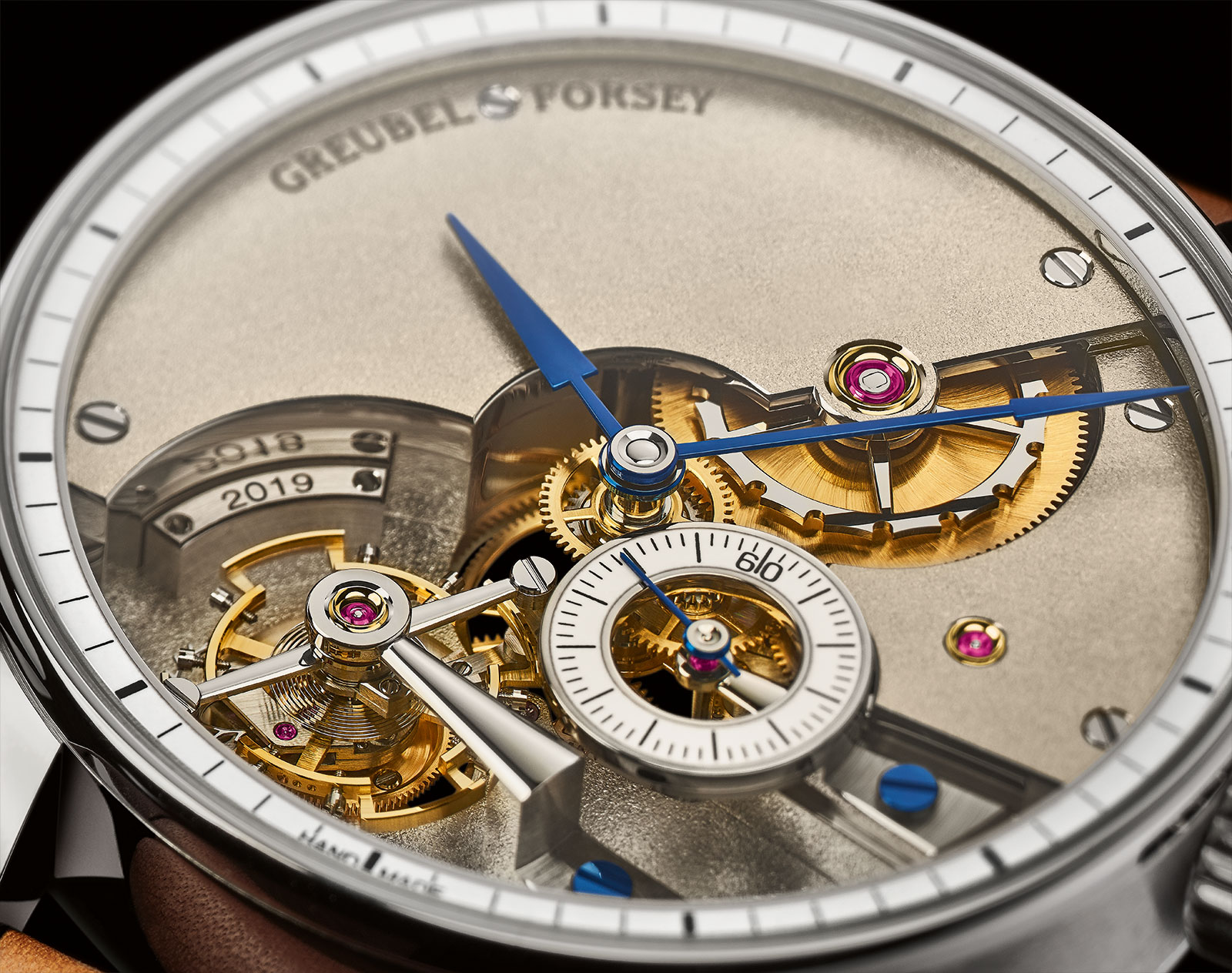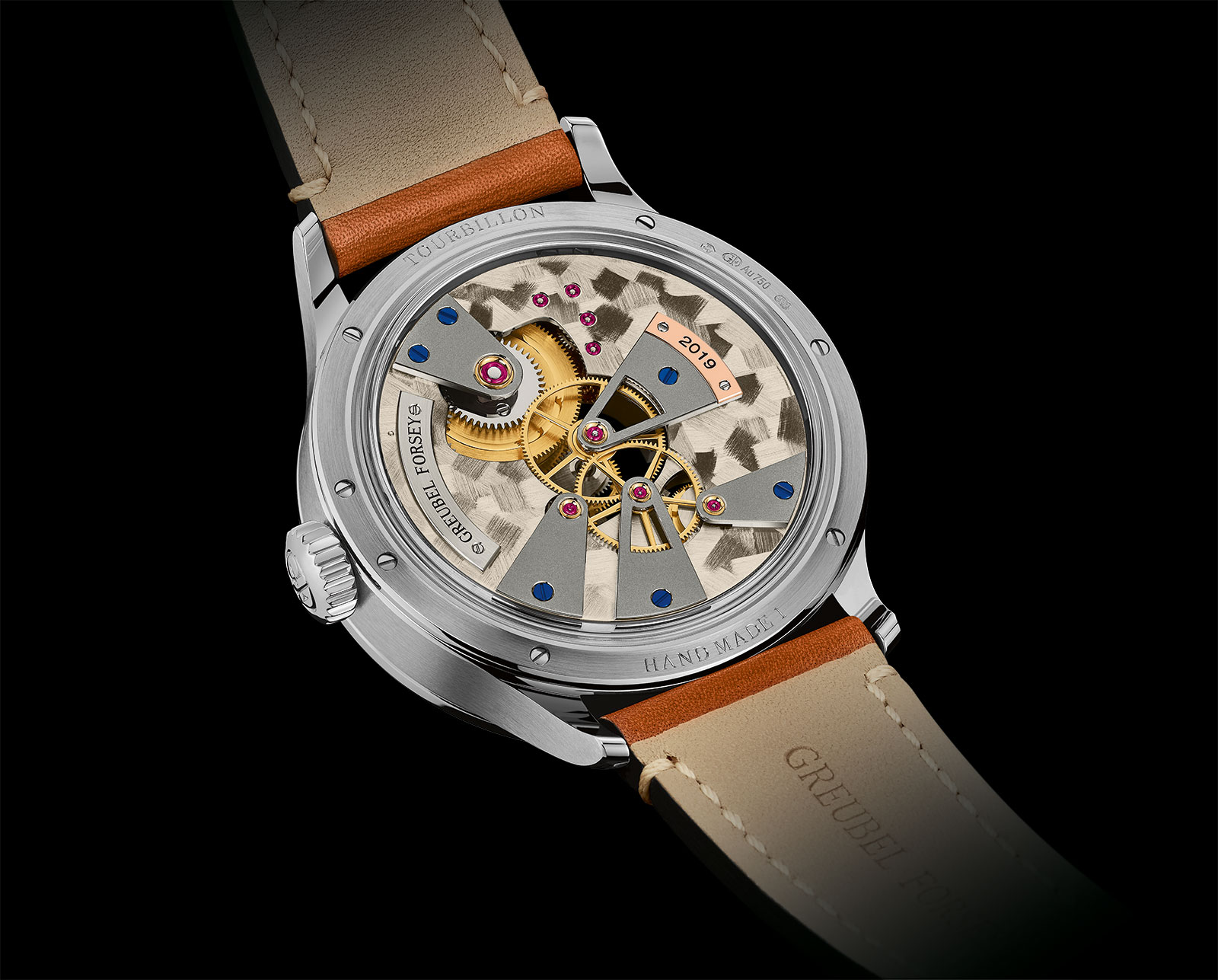 The genesis for the Hand Made 1 is the department within Greubel Forsey that produces prototypes, which are essentially one-off, hand-made watches. The same production techniques are applied to the Hand Made 1, except that they are taken to a far higher level, in order to create components that are produced with the same techniques as prototypes but to the same fit and finish as standard Greubel Forsey movements.
So each screw is made on a manual lathe, and can take up to eight hours to complete. The case components are milled on a pantograph lathe, essentially a manually operated CNC machine that requires the operator to guide the cutting tool to by hand.
And even the balance spring is rolled by a manual rolling mill that progressively flattens the wire into the thinness required for a hairspring – a specialised process that is done by an independent workshop. Similarly, the pallet fork of the escapement is made by an independent artisan who used to work for Greubel Forsey.
Because of the manual production process, many movement components had to be simplified; instead of a single part, they had to be split into sub-assemblies. Consequently, more parts were required to finish the movement than for a conventionally produced watches.
According to Greubel Forsey, the only components not made by hand are the sapphire crystals, gaskets, spring bars, jewels, and mainspring.
It is not only the fabrication of parts that is done by hand, all of the finished parts are decorated by hand to the highest standards, right down to the sharp inward angles on the inner edges and spokes of the gears.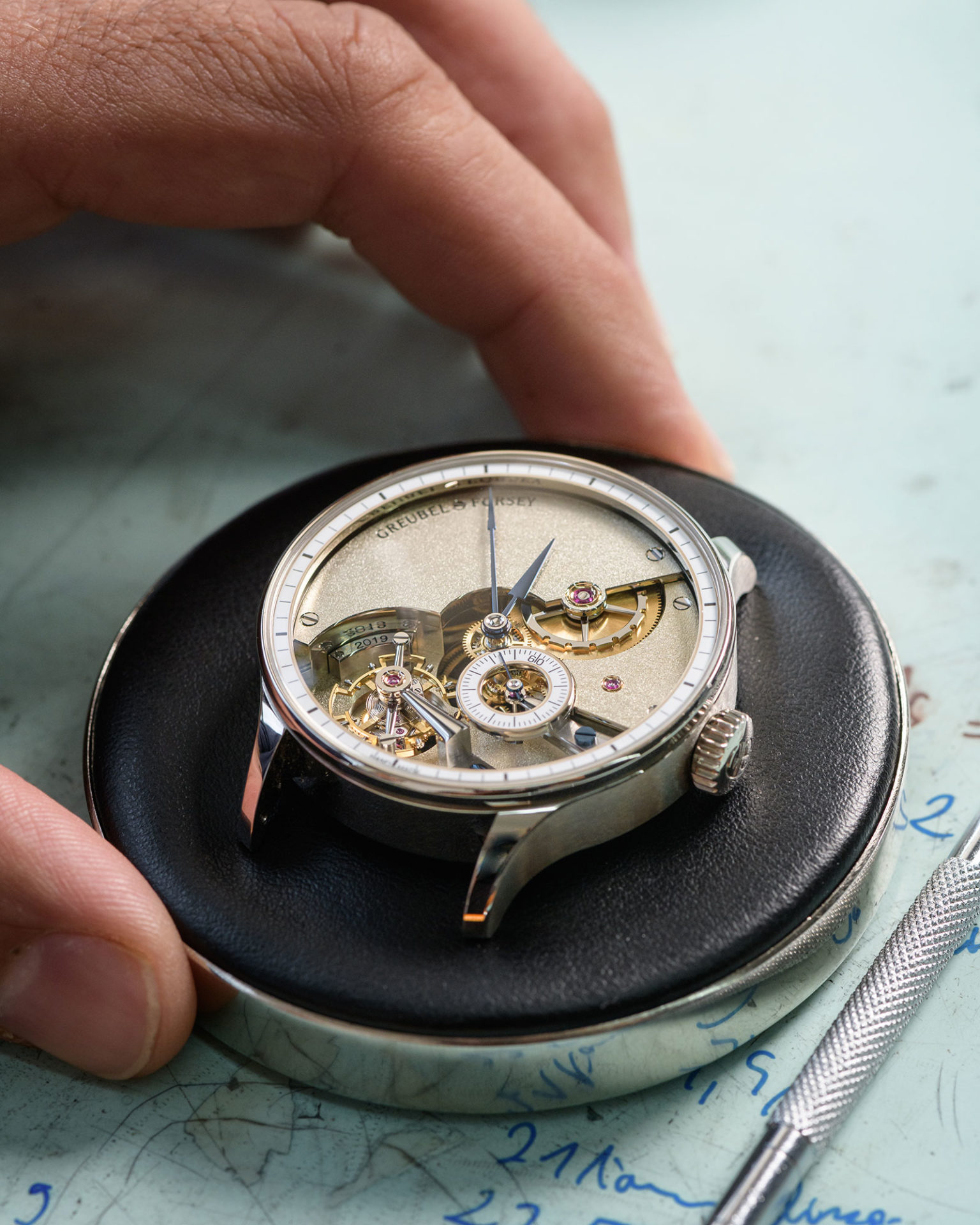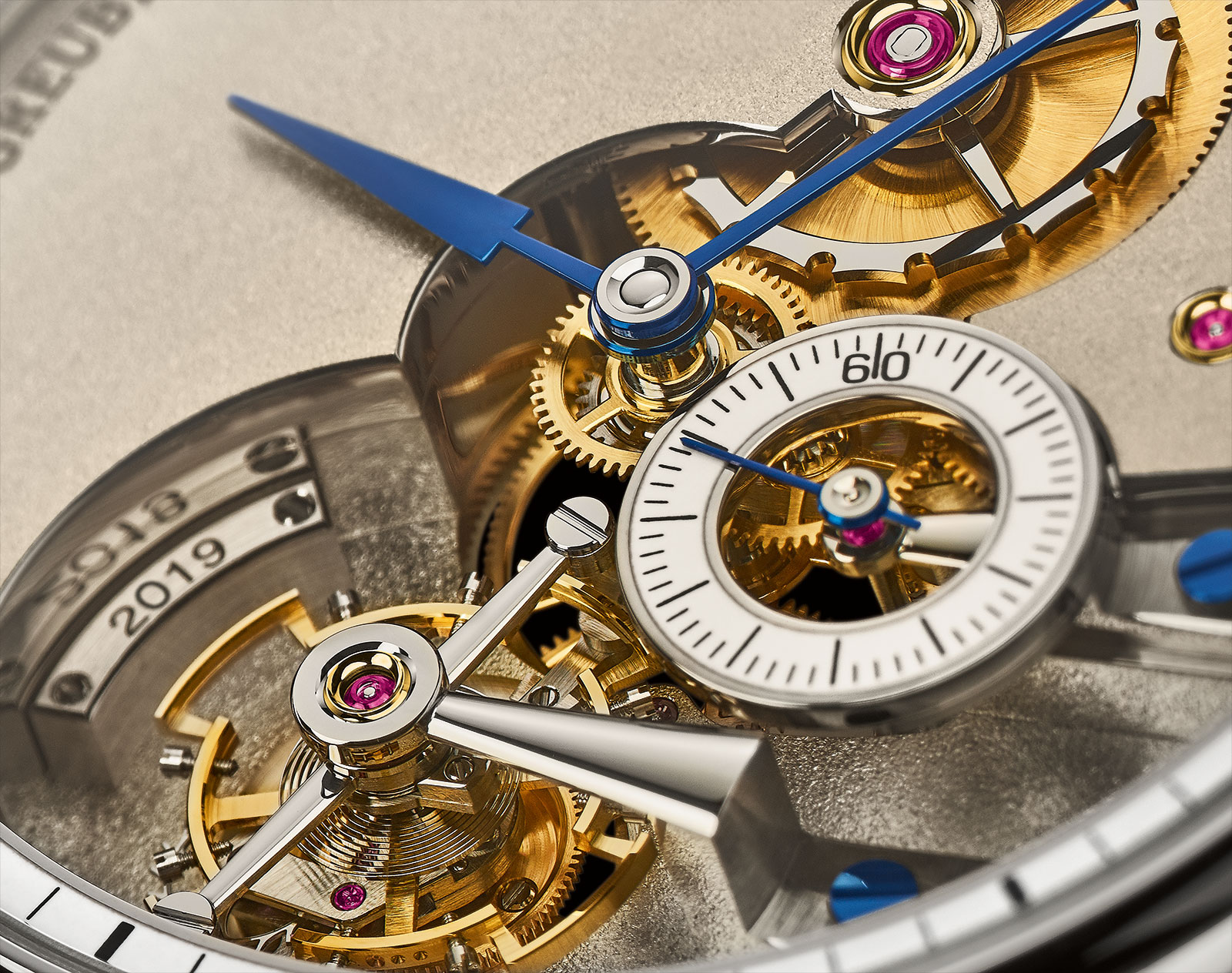 The meaning of time
Much of the philosophy behind the Hand Made 1 is reminiscent of Naissance d'une Montre, the hand-made watch project backed by Greubel Forsey that is intended to keep old-fashioned, artisanal watchmaking alive.
The quoted figure of 6,000 hours of work is notably higher than the time required for other high-end timepieces.
George Daniels, for instance, is believed to have spent 2,500-3,000 hours for each of his hand-made watches, but most his watches were essentially prototypes, and none were decorated or finished to a high level. Daniels' philosophy focused more on invention and construction rather than elaborate finishing, which he regarded as disguise for interior intellectual substance.
Philippe Dufour took about 1,000 hours to complete each grande sonnerie pocket watch he made, but the movements and their constituent parts were naturally larger in size, and at the same time produced with the help of automated machines, although Mr Dufour finished everything entirely by hand.
The Hand Made 1, in contrast, combines the two approaches: it is built with hand-made parts with techniques similar to those used for prototyping, but then refined and finished to the same degree as a conventional Greubel Forsey watch. That means not only are the components highly decorated, they are also interchangeable, just as a machine-made part would be. The interchangeability also explains why the rejection rate for the components is high – some 800 parts had to be produced just to have the 300 or so needed for the complete watch.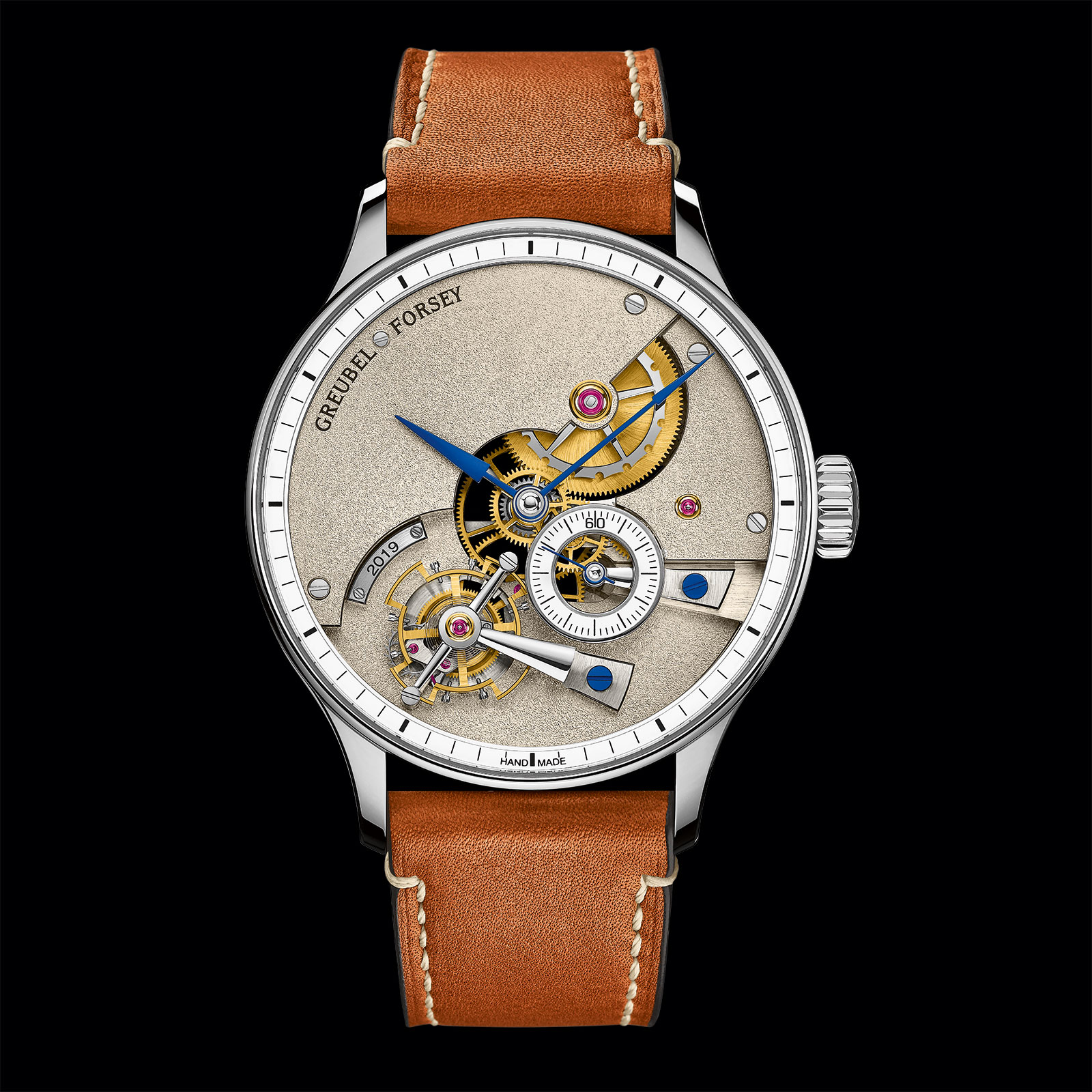 ---
Key facts and price
Hand Made 1
Diameter: 43.5mm
Height: 13.5mm
Material: 18k white gold
Water resistance: 30m
Movement: Hand Made 1
Functions: Hours, minutes seconds, and one-minute tourbillon
Frequency: 21,600bph (3Hz)
Winding: Hand-wound
Power reserve: 60 hours
Strap: Calfskin with white gold pin buckle
Availability: Two to three produced annually, with the first delivery sometime in the first half of 2020
Price: Not available, but likely to be between 700,000-900,000 Swiss francs
For more, visit Greubelforsey.com.
---
Back to top.
---
You may also enjoy these.