Interview: Nomos CEO Uwe Ahrendt Explains the Secret to Affordable and First-Rate Watches
The German watchmaker's chief outlines the measured and patient strategy that has made Nomos a success.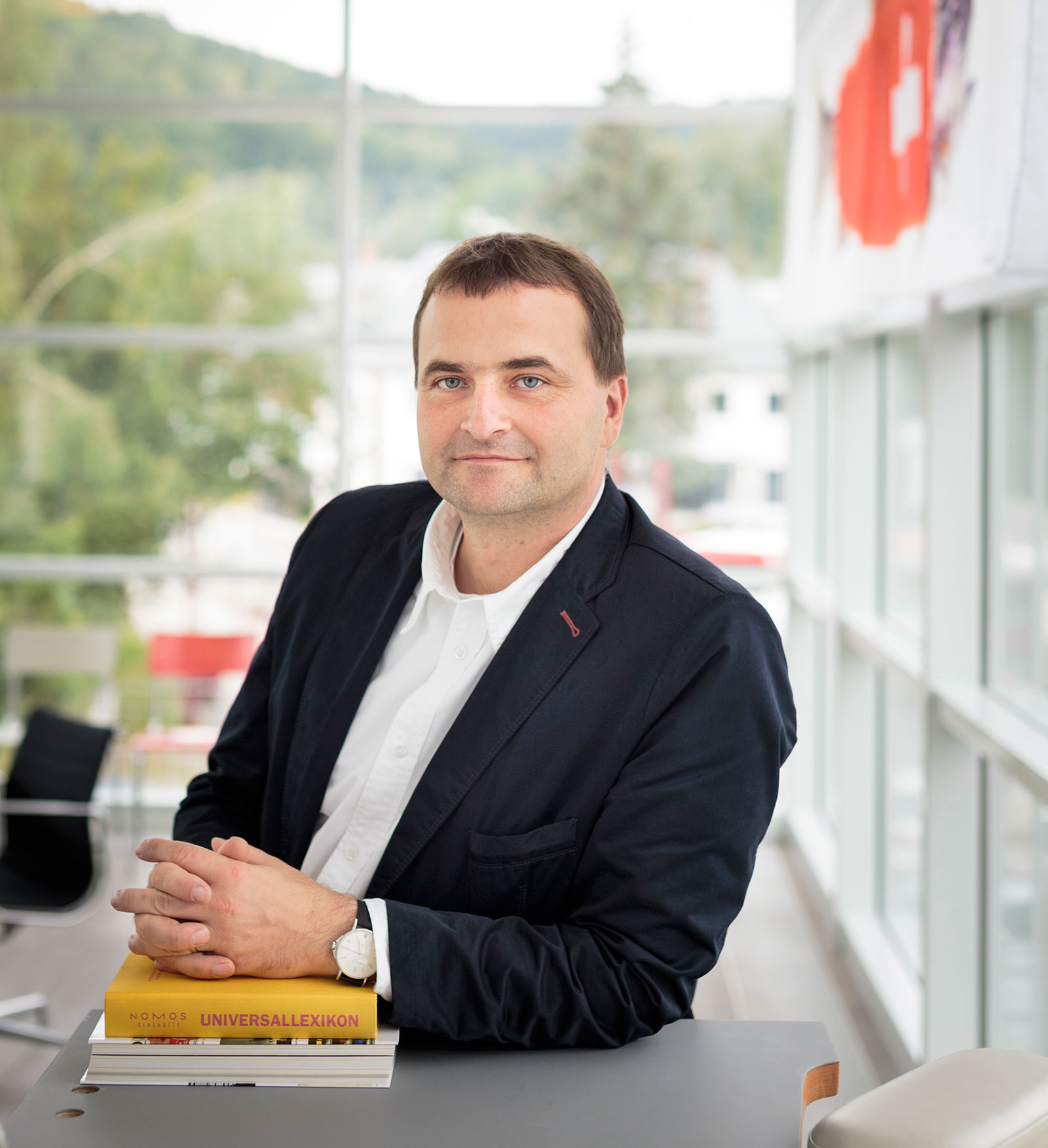 Clean yet quirky in style, but simultaneously technically competent, Nomos watches are well liked for their affordability. Made in the town of Glashütte, also home to A. Lange & Söhne and Glashütte Original, Nomos is still a relatively small company making about 30,000 watches a year, about the same as Audemars Piguet. But its unique appeal has propelled the company's rapid growth, with sales doubling in the last three years, in contrast to the travails of watchmakers elsewhere.
Run by Uwe Ahrendt, a Glashütte native who has spent his life in the town's watchmaking industry, Nomos is growing its international distribution in the measured and prudent manner typical of the brand. More than half of its watches are still sold in its home country of Germany, but its top brass were recently in Singapore, having just opened with Watches of Switzerland, a retailer specialising in affordable timepieces.
We sat down with Mr Ahrendt – who has been chief executive since 2000 – along with Head of International Sales Martina Etti, and Heike Arendt, Head of Product Management, to listen to Mr Arendt explain what makes Nomos.
Interview has been edited and condensed.
---
Made in Glashütte but styled in Berlin
Nomos has a good combination in Glashütte and Berlin… coolness and fresh ideas that we find in Berlin, and the quality, traditional craftsmanship of Glashütte. It's a unique combination; you don't really find this combination in fine watchmaking.
In Glashütte we produce all the parts in-house. And in Berlin we have the same in-house concept, but it's not watch production, instead it's texts, catalogues, advertising.
"Made in Glashütte" means quality, like Swiss made for watches. Glashütte is focused on watch production and nothing else. After six o'clock nothing happens. It's good for watchmaking but you won't find young designers or writers moving to Glashütte.
Our agency is in Berlin, not only for product design but also for public relations, brand strategy, social media, advertising and so on. We have 13 employees in Berlin who only work for Nomos. Judith Borowski, the head of our agency, Berlinerblau, is also an [equity] partner in Nomos, which guarantees this constant quality.
The office is completely different, the opposite in fact, of Glashütte. In Berlin you find a lot of journalists, designers, and cool people, so you can design a watch like Metro. [laughter] We have Americans, Spaniards, Mexicans, Britons. Berlin is international.
The Berlin office is a Nomos subsidiary, so we can control our image in the long run. Much of our image in Germany comes from a certain humour and wordplay in our catalogue. It's really not easy to transport this into English but it seems to work [thanks to the team in Berlin].
---
Keeping the house style clean and subtle – always
Our style is simple, clean but sophisticated, a little bit understated. There are some [design elements] we repeat all the time.
A briefing for a designer when he's working with Nomos for the first time is to keep to certain traditional nomenclature. The designers have to express our watchmaking quality, but on the other hand we give them freedom to impart their own influence to the design.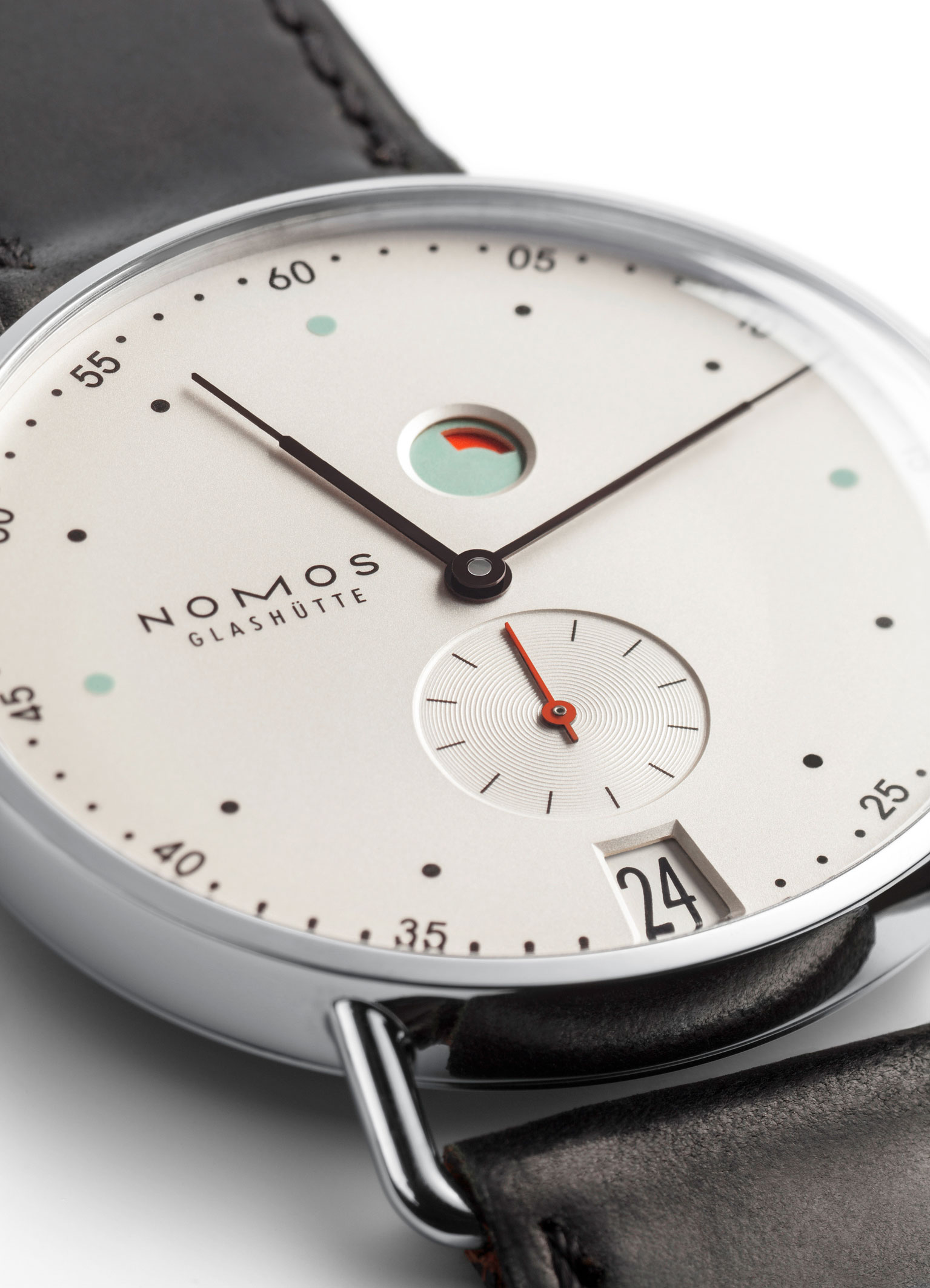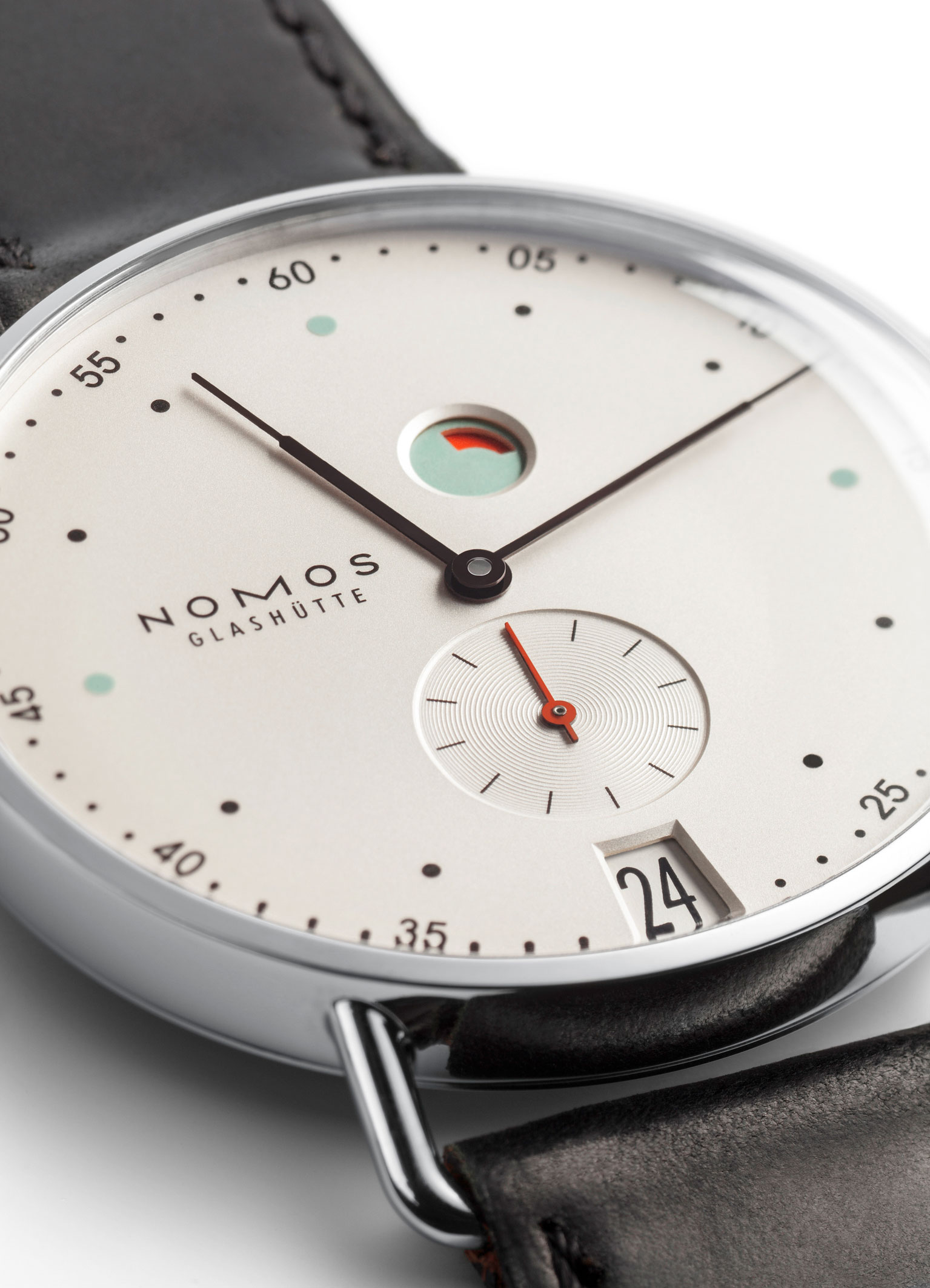 That's the only way watches like the Metro can develop. It was [Metro designer] Mark Braun's idea to use the power reserve with more colour, to give a modern and contemporary dash to a traditional, hand-crafted watches.
Sometimes we need to differentiate the watches, like the new neomatik. You need points of design to show that difference, not only when you see the movement in glass back. So you find the special champagne dial colour, and the neon orange hands [on the neomatik].
---
Do something for 25 years and you get very good at it
In those very early years, [founder] Roland Schwertner still lived in Dusseldorf and the design was done with a freelance designer [in 1990]. And that was the beginning of the brand: just a freelance designer, a watchmaker and the founder. In fact, the early designs were created in Dusseldorf, Berlin, Mallorca, wherever [Schwertner] was. The Berlin office was only set up in the late 1990s.
The interesting thing is that the original designs, the Tangente, Ludwig, Orion and Tetra, are still the same now. We have produced the same watches for over 25 years. The designs are the same but we have changed a lot inside with the movements.
Our production strategy is a little bit like Rolex, just a little. [laughter] We produce the same watch every year, the same movements every year, and year after year we produce more, with better quality, better technology, more investment, and now we can produce such watches in our price range.
---
Simple, flat movements
Nomos is a brand for simple watches with small, useful complications like date or power reserve. Our main complication is the height of the movement and producing the movement in-house. Over 50% of our movements have our own Nomos Swing System [the in-house escapement]. That's about 16,000 watches a year, all equipped with the blue hairspring.
Small movements in big watches, you don't do this in Glashütte [which is why our watches are this size]. The reason for the smaller sizes is not just the movements, but the idea behind the brand. We are not 'big bang' watches, we are sophisticated, understated, traditional and simple watches.
This is why the thin automatic DUW3001 movement [found in the neomatik] is important, because our bestselling models are still hand-winding watches. To transport this success into the automatic part of the business is why the DUW3001 is so important. The DUW3001 is a little bit like 'Nomos 2.0'.
---
Prudent management means affordable watches
Look at the owners of Nomos, the CEO – we don't see ourselves as luxury people. Saving money for Nomos is one of our priorities.
We don't have huge sales force, we are very careful with our money in marketing, so there is a connection between the affordable price and the way we work. That's also the reason why we work directly with our retailers, with no distributors in the middle, to reduce the margins. There is much more 'air' in the margins of other manufacturers.
In the 1990s our watches were produced for the people who made them; we wanted to have watches for ourselves and it's still the same today. It's not a luxury product detached from our lives. The watches are something we live with. The people who work at Nomos get a Nomos watch every year at the Christmas party.
---
Dipping its toes into haute horlogerie
We collaborated with Wempe 10 years ago for its anniversary and movements in the Wempe Chronometerwerke watches were made completely by Nomos, even the tourbillon. It was a great opportunity to get experience in this field, and when the collaboration ended we used this knowledge in the Lambda and Lux.
Our little haute horlogerie project won't go away, we are still introducing new watches. These watches are not our core market or core collection but they're very important for our image.
A lot of people don't believe that we do 100% of our movements in Glashütte. With these watches we can show we do in Glashütte, with traditional parts like the engraved balance cock, chatons, polished details, the screwed balance. All the traditional features you know from vintage pocket watches, the things our watchmakers do at the end of the day, or the weekend, like a hobby. [laughter]
---
The signature shell cordovan watch straps
Nomos was looking for a good leather for the watches, the eternal strap. Calf is not the right material and crocodile is not good for Nomos, since we are not a luxury brand like other brands. In between the two you find shell cordovan [made by Chicago tannery Horween].
The leather is exactly what we need because it's very durable, precious but not shiny and blingy. It's produced in an ecological way without chrome or chemicals; they bury it in the earth and polish it with glass balls. And we also like the idea that it's one thick piece of leather and will last for a long time.
When we found it we thought we don't have to think about straps anymore, we can concentrate on watches, which is not true of course. [laughter]
---
And a larger neomatik?
[laughs] Potentially. Imagine what type of complication could be added.
---
Back to top.
---
You may also enjoy these.