SIHH 2016: Personal Perspective and Highlights from the Independent Watchmakers
With SIHH 2016 having just closed its doors, it's now time to take stock of what happened during the weeklong Geneva fair. Here's a roundup of what took place at the inaugural Carre des Horlogers, the area dedicated to independent watchmakers at SIHH 2016.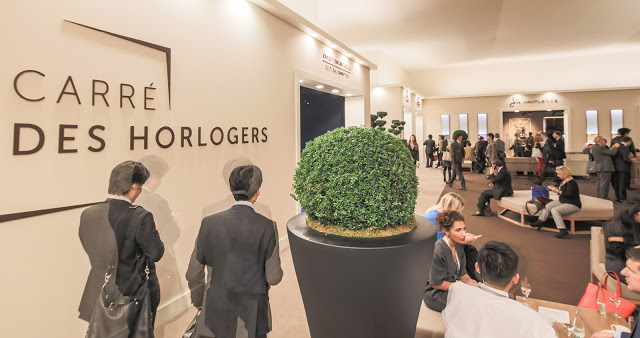 Nine independent watchmaker were part of SIHH for the first time, exhibiting in their own area of the hall known as the Carre des Horlogers, or "square of watchmakers". Contrary to naysayers' expectations, the independents were given prominent billing, with the carre sitting near the entrance to the fair, nearby Greubel Forsey and Richard Mille, the two giants of independent watchmaking that have been part of SIHH for several years. There was no shortage of traffic to the square during SIHH 2016, and the independents inside were mostly pleased with the turnout.
Highlights of the carre
The independents were fighting the valiant fight. One of the most successful, MB&F, unveiled a small table clock shaped like a robot riding on tank treads. Christened Sherman, after the Second World War tank, the clock is a relatively affordable SFr13,800, while also being lovable and geeky in a way that only MB&F can manage. At the other end of the spectrum was the SFr350,000 MB&F HM6-SV, a version of the organically shaped HM6, now outfitted with a sapphire crystal case.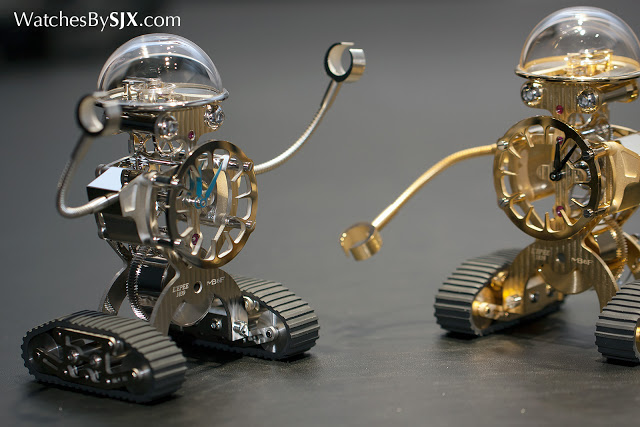 MB&F Sherman
Compatriot Urwerk introduced the UR-105 "T-Rex", a wristwatch featuring an aged bronze case engraved with a pattern resembling dinosaur hide. An enhanced version of the basic UR-105, the "T-Rex" is easy to like, being different enough to be interesting, yet sufficiently in tune with Urwerk's house style, especially its early 103 wristwatches.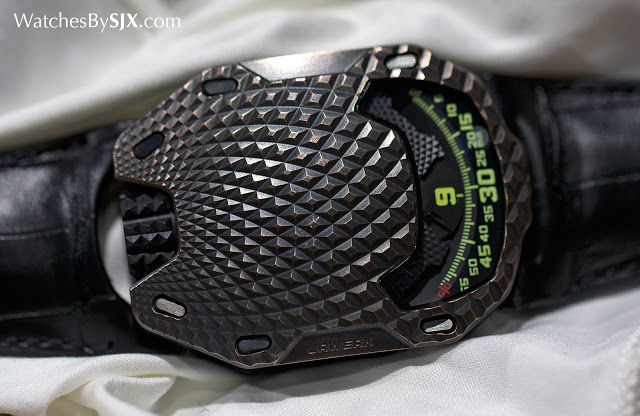 Urwerk T-Rex
Less easy to understand is the Urwerk EMC Time Hunter, an improved version of the EMC. This is equipped with an electronic mechanism to measure the rate and amplitude of the mechanical movement inside. It's an advanced combination of old and new tech, but one that appeals only to the most hardcore watch geek. Similarly, Voutilainen showed several wristwatches that were variations on a theme, with new dial finishes for his signature Vingt-8 chronometer. Since acquiring his own dial factory two years ago, Voutilainen has been on a roll with new dial and hand colours. And the line-up at SIHH included two GMT-6 models with vitreous enamel dials that were made by an external specialist; these were not unlike the one-off piece made for charity auction Only Watch last year.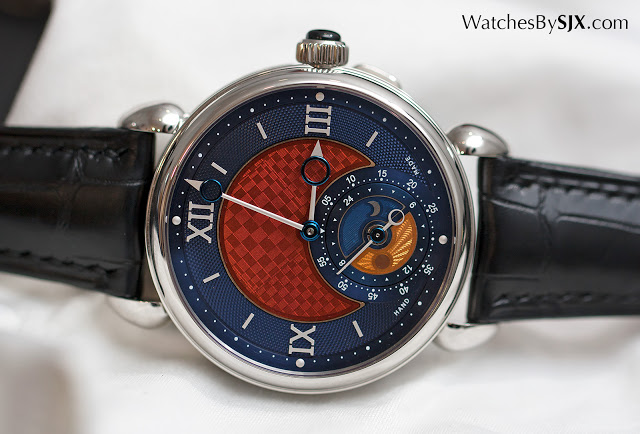 Voutilainen GMT-6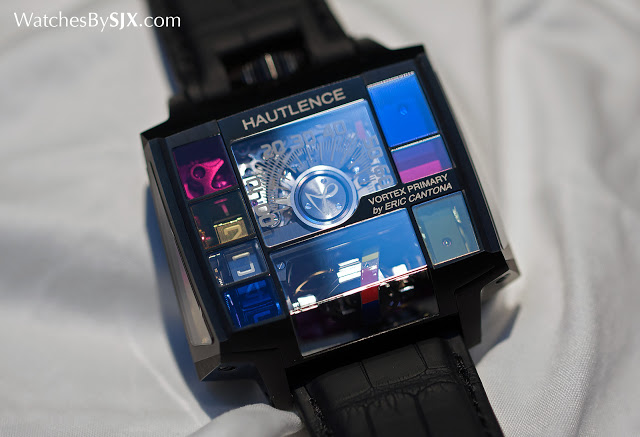 Hautlence by Eric Cantona
Sister companies H. Moser & Cie. and Hautlence also focused on variations on existing models, including the upsized Venturer XL. Both managed to employ some star power to boost their profile: musician Bryan Ferry was a guest of H. Moser, while footballer and Hautlence ambassador Eric Cantona was around to promote the Vortex Primary, a wristwatch reminiscent of the works of Piet Mondrian.  De Bethune, having parted with its chief executive and several managers late last year, unveiled a new travel time wristwatch that was impressively crafted and impeccably finished. Priced at a gravity defying SFr140,000 the DB25 World Traveller has a sphere to indicate the second time zone, with a movement decorated in an inventive and gorgeous manner. And at SFr450,000 with a case made from a chunk of space rock, the Dream Watch 5 Meteorite was even more astronomical.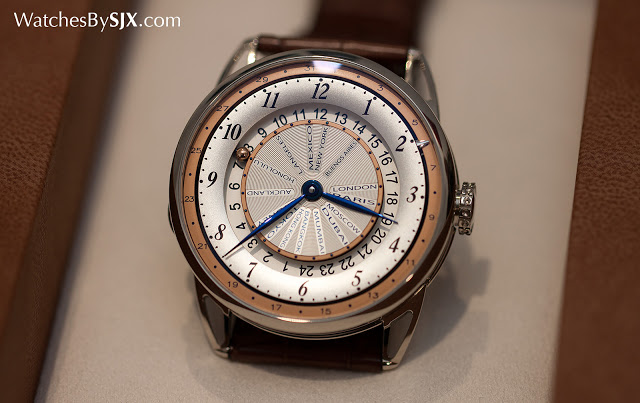 De Bethune DB25 World Traveller
Another new travel watch presented at SIHH was the Laurent Ferrier Galet Traveller Boreal, with a glow in the dark, sector-style dial. This new dial is also available on the Galet Square. While both watches are instinctively appealing, they are variants of existing models. It has been three years since Laurent Ferrier introduced a new movement, a long intermission for a brand that is all about movements.
Independent, and vulnerable?
It felt like the independents were swimming against a rising tide. Much talk amongst industry insiders was about which of the nine would be swamped; the unanimous verdict amongst pundits was that not all nine would still be in the carre at SIHH 2018 or 2019. That is a shame, since independent watchmakers, by virtue of their small scale, usually do interesting things that big brands cannot. While the inclusion of the nine independents was a hit with the media and collectors, who did not have to endure the bad traffic of Geneva to visit the independent watchmakers, on the grander scale of things the nine only represented a tiny slice of the business actually transacted during the fair. Nearly all the retailers in attendance, who are there to order stock for the upcoming year, were there to see the big brands. While the Carre des Horlogers will almost certainly return at SIHH 2017, its constituents might not be quite the same.
Back to top.
---
You may also enjoy these.