Hands-On with the F.P. Journe Tourbillon Souverain Bleu for Only Watch 2015
A unique timepiece created for the Only Watch auction, the F.P. Journe Tourbillon Souverain Bleu features a shimmering blue dial and tantalum case.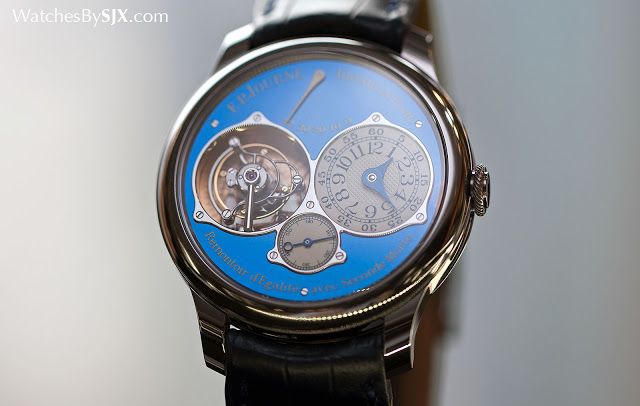 Last week we showed you the stainless steel Patek Philippe reference 5016A "Only Watch", which might just become the most expensive modern Patek Philippe wristwatch. Today we look at the star lot amongst the creations from independent watchmakers for Only Watch, the F.P. Journe Tourbillon Souverain Bleu in tantalum.
The most exotic case metal F.P. Journe offers is tantalum, a hard metal with a blue-grey hue. Its density and high melting point mean it's sometimes use for the tips of armour-piercing shell cases. F.P. Journe, however, elects to use tantalum for the most affordable watch in its line-up, the Chronometre Bleu. For the good cause of funding Duchenne muscular dystrophy research, tantalum is used for the first time on a complicated watch, the one-off Tourbillon Souverain Bleu.
With the same elegant dimensions as the standard model, the Tourbillon Souverain Bleu has a diameter of 40mm and a height of just 9.9mm. A dark grey with a strong hint of blue, tantalum is heavy in hand, with the feel of a precious metal. While the tantalum case is subdued in colour, the dial is remarkably reflective. Mirror-like with an intensely rich blue colour, the dial varies in tone according to the light and angle.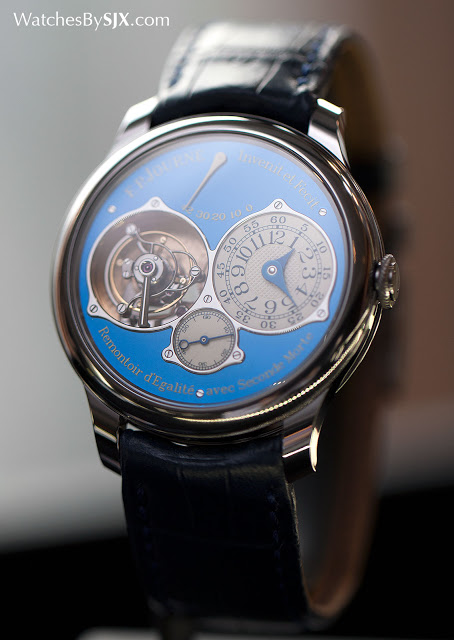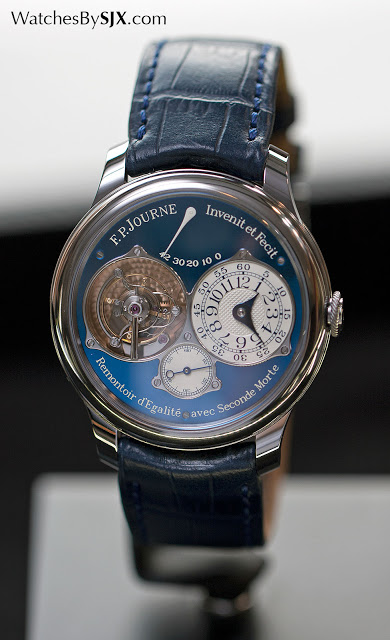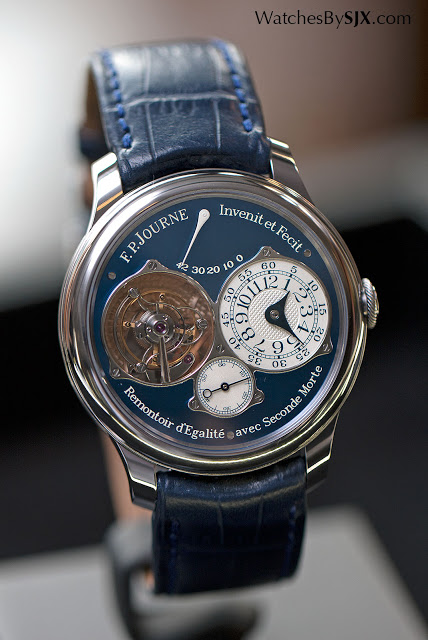 To achieve this colour requires a complex production process. The dial starts out as a metal blank, polished to a high shine. Seven layers of blue lacquer are then painted onto the blank, resulting into the shimmering blue finish of the dial.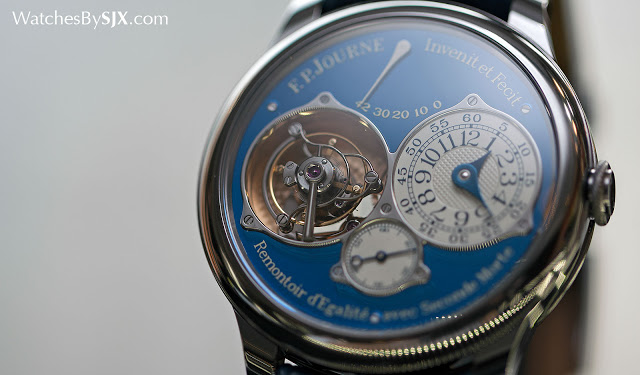 All the lettering on the dial is sharply printed and slightly raised, done in an off-white paint. The markings on the sub-dials for the time, however, are in a dark blue that is indistinguishable from black at a distance.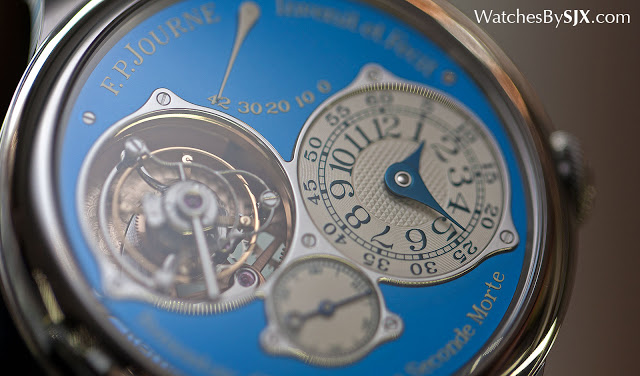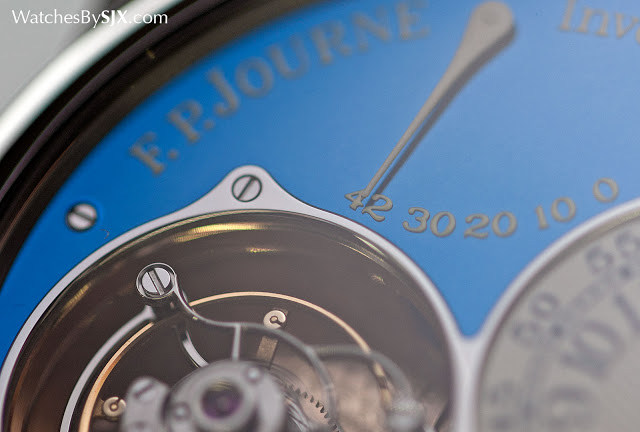 Mechanically this is identical to the standard F.P. Journe tourbillon, equipped with a hand-wound movement featuring a tourbillon regulator with a constant force spring. The bridge and base plate are in 18k rose gold, as is typical of Journe movements.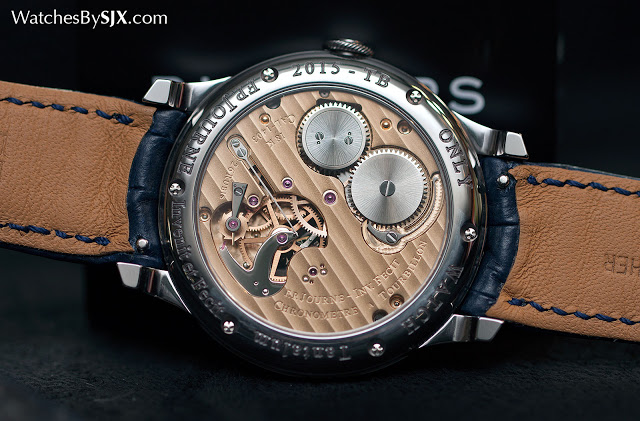 With the last one-off F.P. Journe tourbillon selling for SFr350,000 in May 2015 (it had a unique dial with a standard platinum case), this unique tantalum piece should go for significantly more. It's lot 13 in the Only Watch sale, with an estimate of SFr250,000 to SFr400,000. Addition October 15, 2015: Estimate added.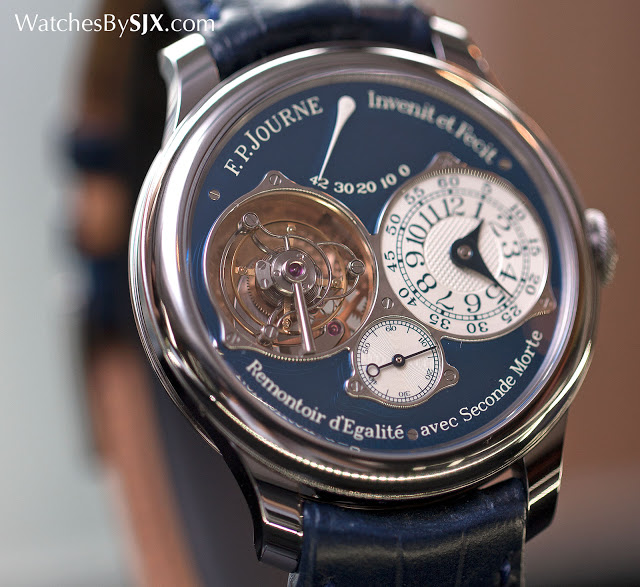 Back to top.
---
You may also enjoy these.