AUCTION WATCH: Highlights From Christie's Upcoming New York Watch Sale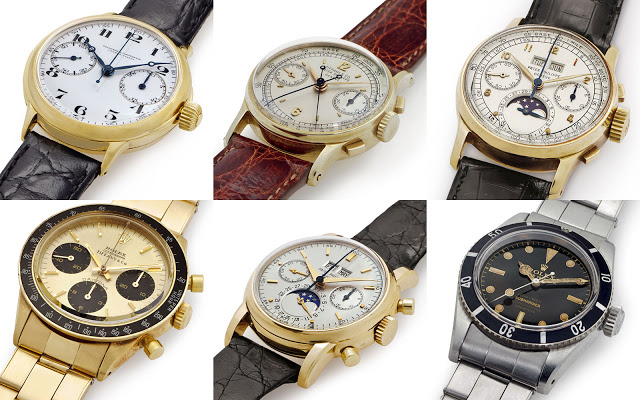 In just over a week on June 17 the Christie's New York watch auction will take place, with 265 lots slated to go under the hammer. Here's a selection of 10 highlights curated by the Christie's New York watch department.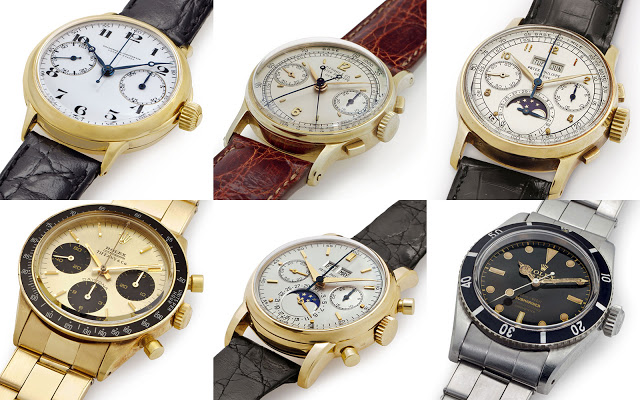 In contrast to Hong Kong which tends to leans towards modern high horology, the watch sales in New York tend to have more vintage timepieces. The upcoming Christie's sale has several top notch examples including a Vacheron Constantin monopoussoir chronograph formerly owned by the King of Yugoslavia and a Tiffany-signed Patek Philippe ref. 1436 split-seconds. Lot 37: A Rolex Submariner ref. 6538 "four-liner" with a well-preserved, gilt, tropical dial. Gilt refers to the multi-layered, lacquered and glossy dial finish with gold printing, while tropical describes the slightly brown tone of the dial (ultra-violet rays break down the black dial pigments over time. And the "four-liner" nickname refers to the four lines of text at six o'clock. Typical dials of this reference have two lines of text (depth rating and "Submariner", while this has four (depth rating, "Submariner" and chronometer designation). The ref. 6538 is best known as the watch James Bond, then played by Sean Connery, wore in Dr No. The estimate is US$60,000 to US$100,000.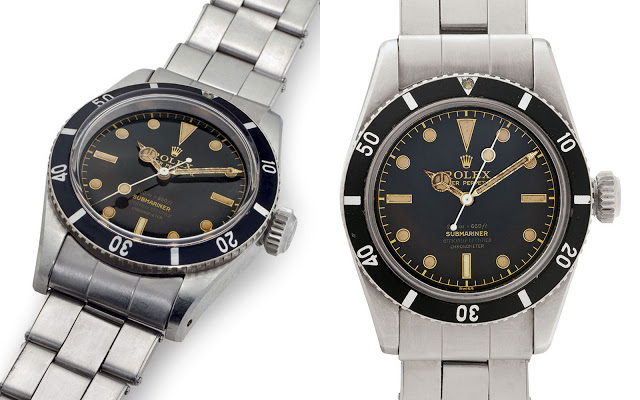 Lot 40: A Rolex Daytona ref. 6264 in 14k yellow gold, and signed "Tiffany & Co.", which makes all the difference in the world. The ref. 6264 Cosmography Daytona is uncommon in itself, but the double signed dial (Rolex and Tiffany's), makes it special since such dials are scarce. Making this even more notable is the fact that it's being sold by the original owner. The estimate is US$80,000 to US$120,000.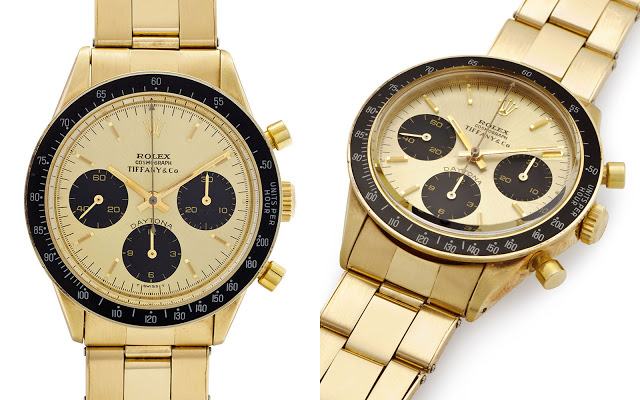 Lot 47: The Patek Philippe ref. 1436 split-seconds chronograph, with Tiffany & Co. once again making an appearance. This is a first generation ref. 1436 chronograph, distinguished by the crown doubling as the button for the split seconds chronograph. It was made in 1950 and sold in 1959. Several details of the case and movement explain its origins. The balance cock is marked "HOX", the importer's code for the Henri Stern Watch Agency, then and now the US distributer for Patek Philippe. And the case bears the symbol of the Swiss case makers association as well as a numerical code that indicates the case was made by Emile Vichet S.A. And the dial of course is signed "Tiffany & Co." indicating it was sold by the New York jeweller. Also notable is its ownership: this watch was originally given to Webb Everett by his wife Marjorie Everett in 1959, and engraved as such on the back. Together the couple were a major players in American horse racing in the mid to late 20th century as owners of major racetracks like Hollywood Park. The LA Times described Mrs Everett in her 2012 obituary as a "legendary and controversial figure in the sport of horse racing". The estimate is US$150,000 to US$250,000.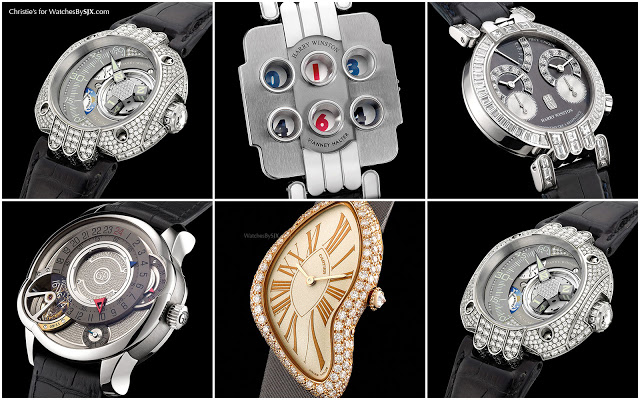 Lot 48: A Patek Philippe ref. 1518 chronograph with perpetual calendar, made in 1951 and sold in 1953. The ref. 1518 was the first wristwatch combining these two complications made in series, being the first of a now storied lineage of Patek Philippe chronographs. Being from the same era the lot above, the ref. 1518 has the same proportions characteristic of watches of this period, a relatively small case of 35mm combined with wide lugs. A notable feature in this piece is the tachymeter calibrated for miles, instead of the more common kilometres. Like the split-seconds of the previous lot, the case back of this ref. 1518 indicates the case was made by Emile Vichet S.A. This is estimated at US$200,000 to US$400,000.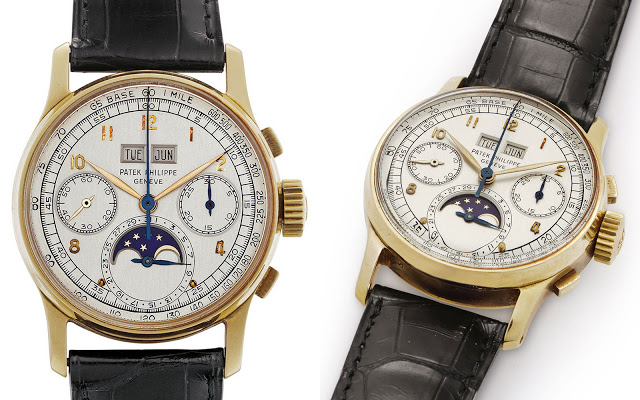 Lot 57: A striking Patek Philippe ref. 3424 "Ricochet" wristwatch, one of several designs by noted jewellery and watch designer Gilbert Albert. This dates from 1965 and is one of only five in white gold that have come to auction, with the yellow gold version being more common. Albert was a noted jeweller designer in the watch industry in the sixties and seventies, best known for his easily recognisable, sculptural designs for Patek Philippe and Omega. Now 85 years old, Albert no longer designs watches but continues his jewellery is still sold at his five boutiques in major cities. US$50,000 to US$80,000 is the estimate.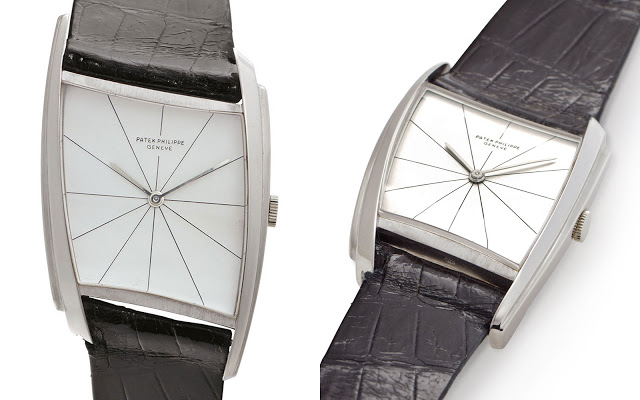 Lot 81: A Vacheron Constantin mono-pusher chronograph from 1927 – rare in itself but compounded by its history: this was originally owned by King Alexander I of Yugoslavia and is decorated with his monogram on the back. With a 34mm yellow gold case and white enamel dial, this has a restrained, elegant but functional look that is typical of the era. The current owners came to this watch via their father, who purchased it in Dubrovnik, Croatia, in the sixties. Never before offered for sale, it is accompanied by a letter from Vacheron Constantin confirming its royal ownership. Estimated at US$40,000 to US$60,000, an attractive figure given its rarity and historic significance.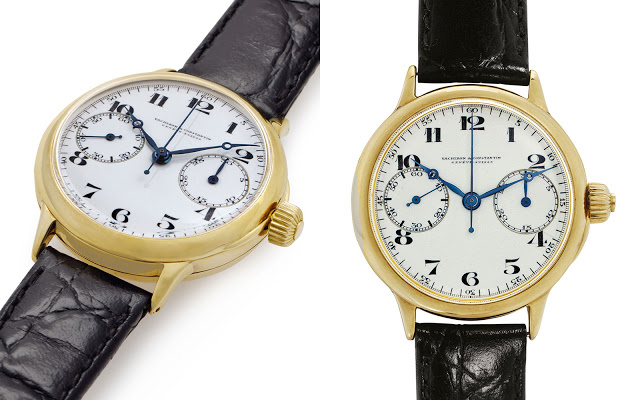 Lot 89: A Vacheron Constantin wristwatch set with nearly 50 carats of diamonds, sold by Cartier and signed as such on the dial. This has a yellow gold case and bracelet, set with some 434 diamonds totalling an impressive 48.5 carats.
Such watches are admirable for the sheer quantity of hand-set precious stones, but also notable because they are so characteristic of a particular period. The lavish gem-setting is typical of Vacheron Constantin watches of the seventies and eighties – this dates from 1978 – when the firm made many such timepieces, particularly for Gulf Arab clients (the former Saudi oil minister eventually acquired the company in 1987). Most famous are the Kalla series of diamond-set watches that were amongst the most expensive watches in the world at the time. This is estimated at US$100,000 to US$150,000.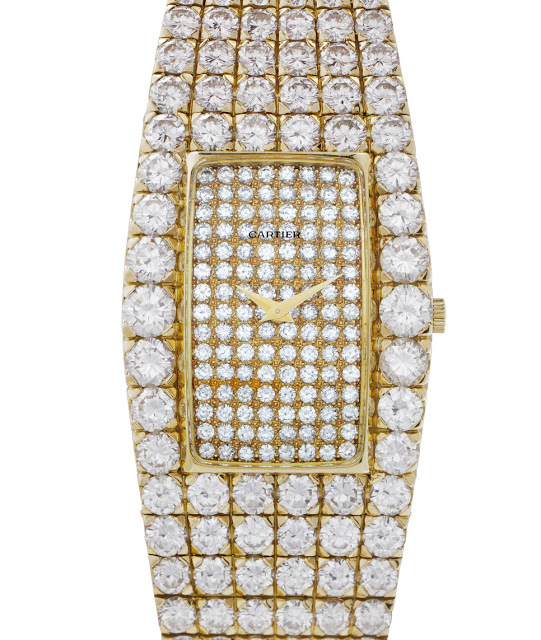 Lot 154: An original Panerai Egiziano dive watch made for the Egyptian navy. One of just 50 or so oversized dive watches made for the Egyptian navy in 1956, this Egiziano is an early model, with a dial marked "Radiomir", instead of "Luminor" as found on later specimens. The series came about thanks to an Egyptian officer who attended the Commando school of the Italian Navy in the 1950s.
The Egiziano, or GPF 2/56 as it officially known, is characterised by its extremely large size – the case is 58mm in diameter – and rotating bezel, which inspired the current Panerai Submersible watches. This is estimated at US$150,000 to US$250,000.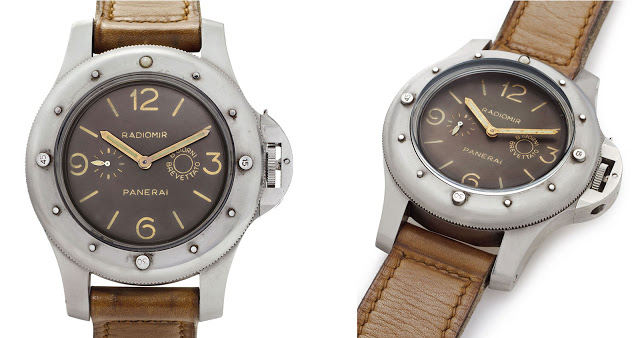 Lot 185: A third series ref. 2499 by Patek Philippe. This was the second chronograph with perpetual calendar Patek Philippe created (the first is the ref. 1518 like in the lot above), but often considered the most beautiful. Its 37.5mm case size and proportions chime with modern tastes, making it the most desirable of this particular complication from Patek Philippe. Despite being in production for over 30 years, only 349 of the ref. 2499 were made.
This particular piece is a relatively common yellow gold model – and more importantly the dial has been cleaned in the past – so it is estimated at US$260,000 to US$360,000, a seemingly large sum but at the low end of what the ref. 2499 can sell for. For the rare someone seeking a 2499 on a budget, perhaps as a daily beater, this fits the bill.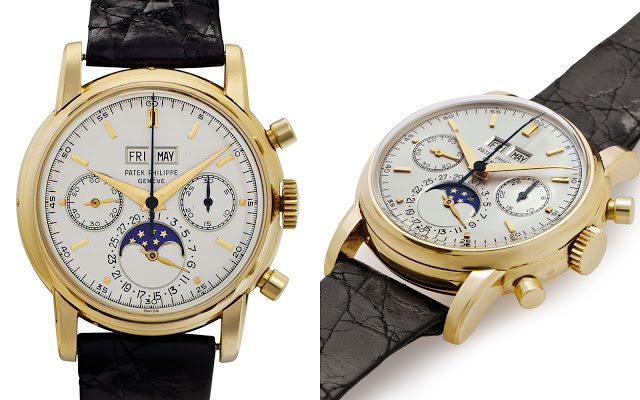 Lot 237: A Cartier desk clock with grand sonnerie, decorated with green enamel and diamond, on an agate base. Cartier once made jeweller, objets d'art and even functional items solely for kings, queens and the wealthiest in society. This desk clock is something from that period before luxury was democratised. Standing 10cm or just 4 inches high, the clock is made of gilded silver and finished in green champleve enamel with a white enamel border. It's also set with diamonds, and sits on an agate base. Inside is a grand and petite sonnerie movement that chimes the time en passant, or as it passes. The estimate is US$30,000 to US$50,000.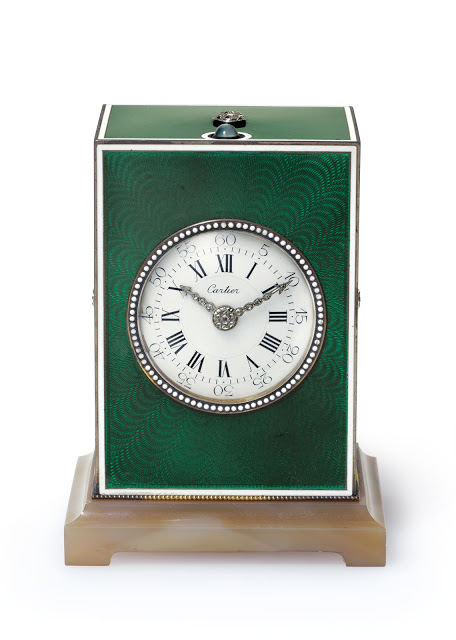 The sale takes place in New York on June 17, 2015 – sale details and the catalogue. This feature was brought to you by the Christie's watch department.
Back to top.
---
You may also enjoy these.