Pre-Basel 2015: Introducing The De Bethune DB25 Quetzalcoatl (With Specs And Price)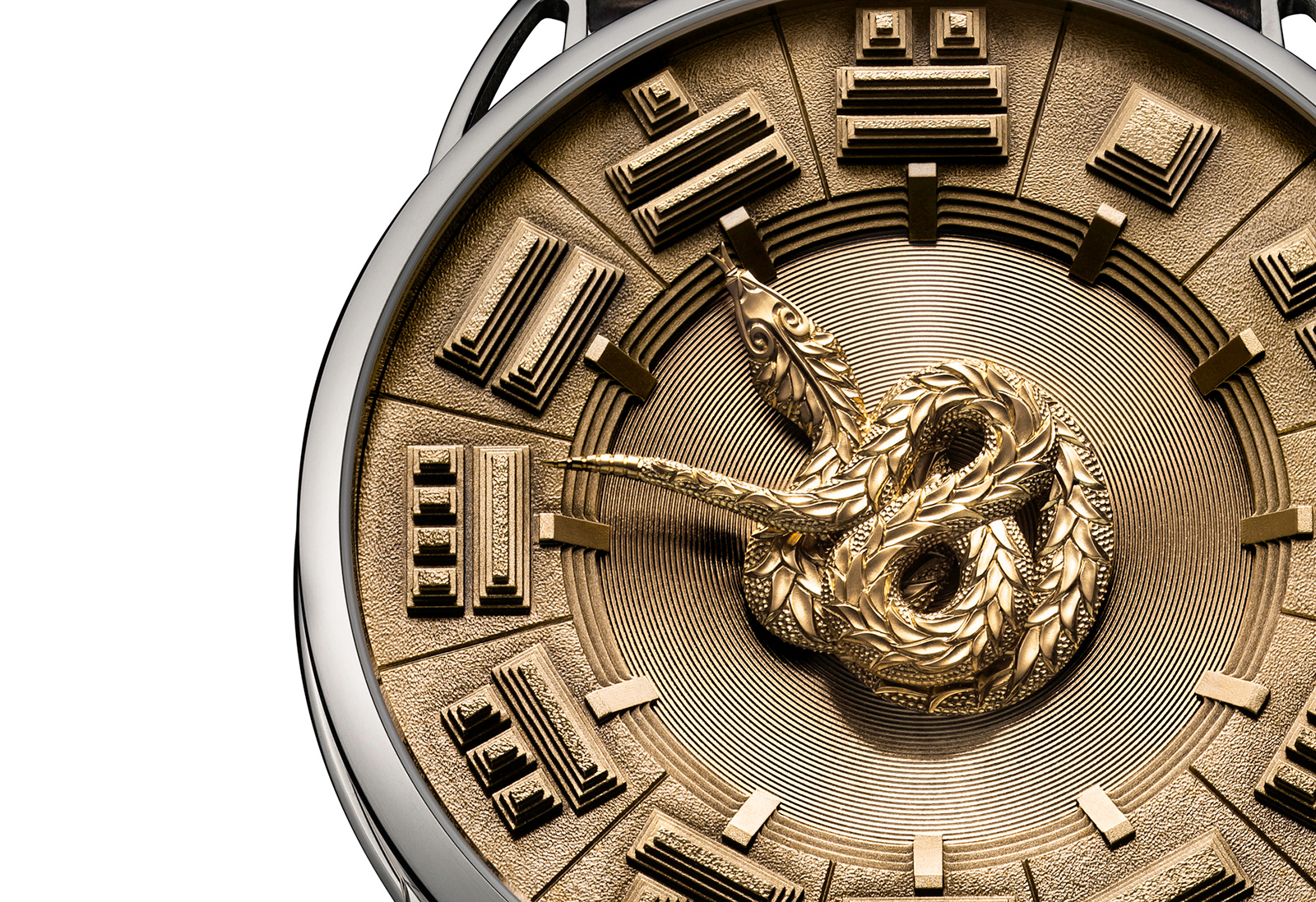 Fitted with a highly decorated solid gold dial that has become a signature of sorts for De Bethune, the DB25 Quetzalcoatl is inspired by the Aztec serpent god.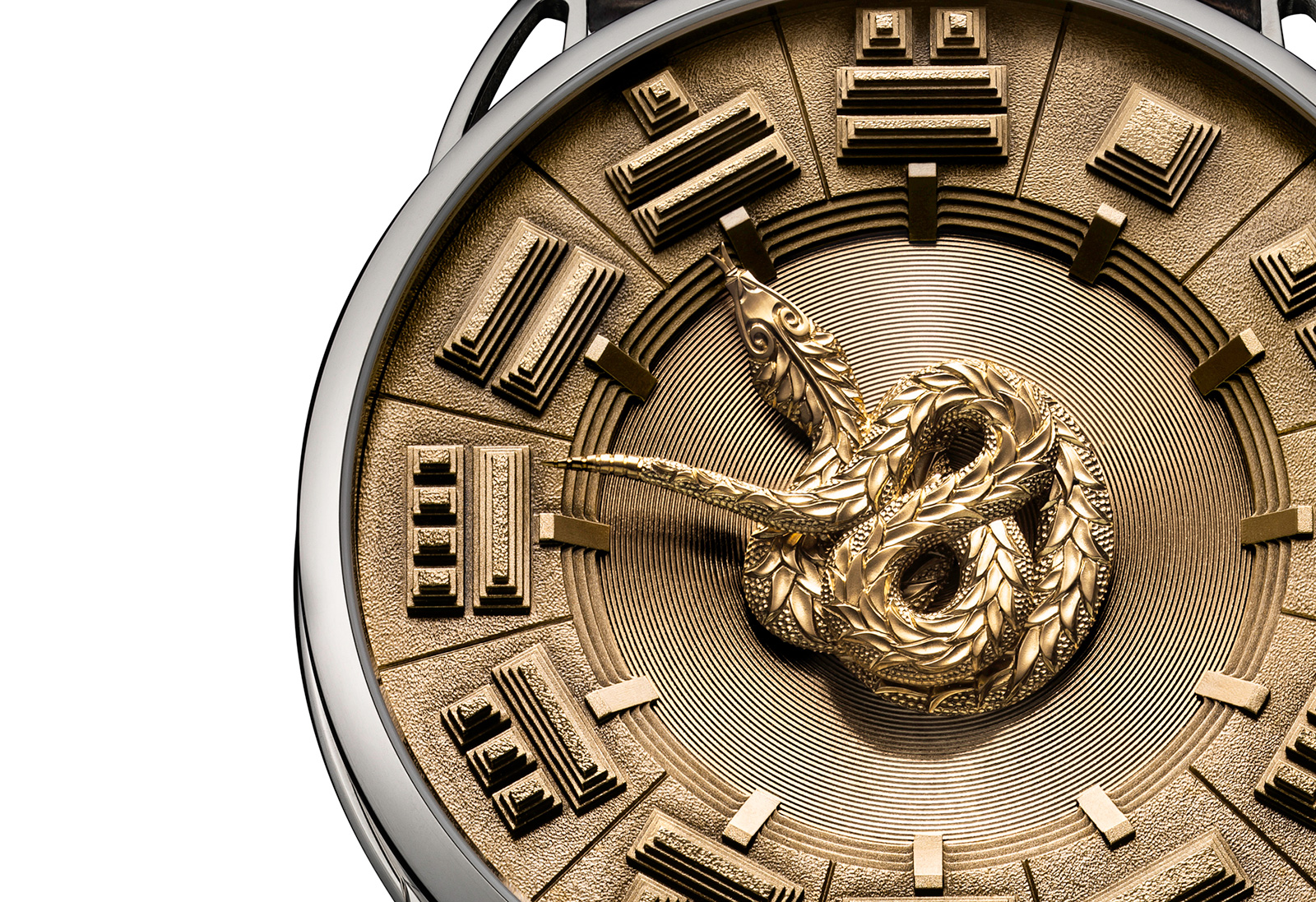 Soon to be unveiled at Baselworld 2015, the De Bethune DB25 Quetzalcoatl continues De Bethune's series of timepieces with gold dials hand-engraved by Michèle Rothen, a Swiss engraver in Le Locle. This is inspired by Aztec culture, with the time indication in the form of Mesoamerican snake god Quetzalcoatl and stepped pyramid hour markers. A snake decorated in relief engraving with feathers (Quetzalcoatl means "feathered serpent"0 is actually a pair of elaborate hour and minute hands. The head points to the hours and the tail does the same for the minutes. Because the snake appears coiled, its orientation is natural regardless of the time.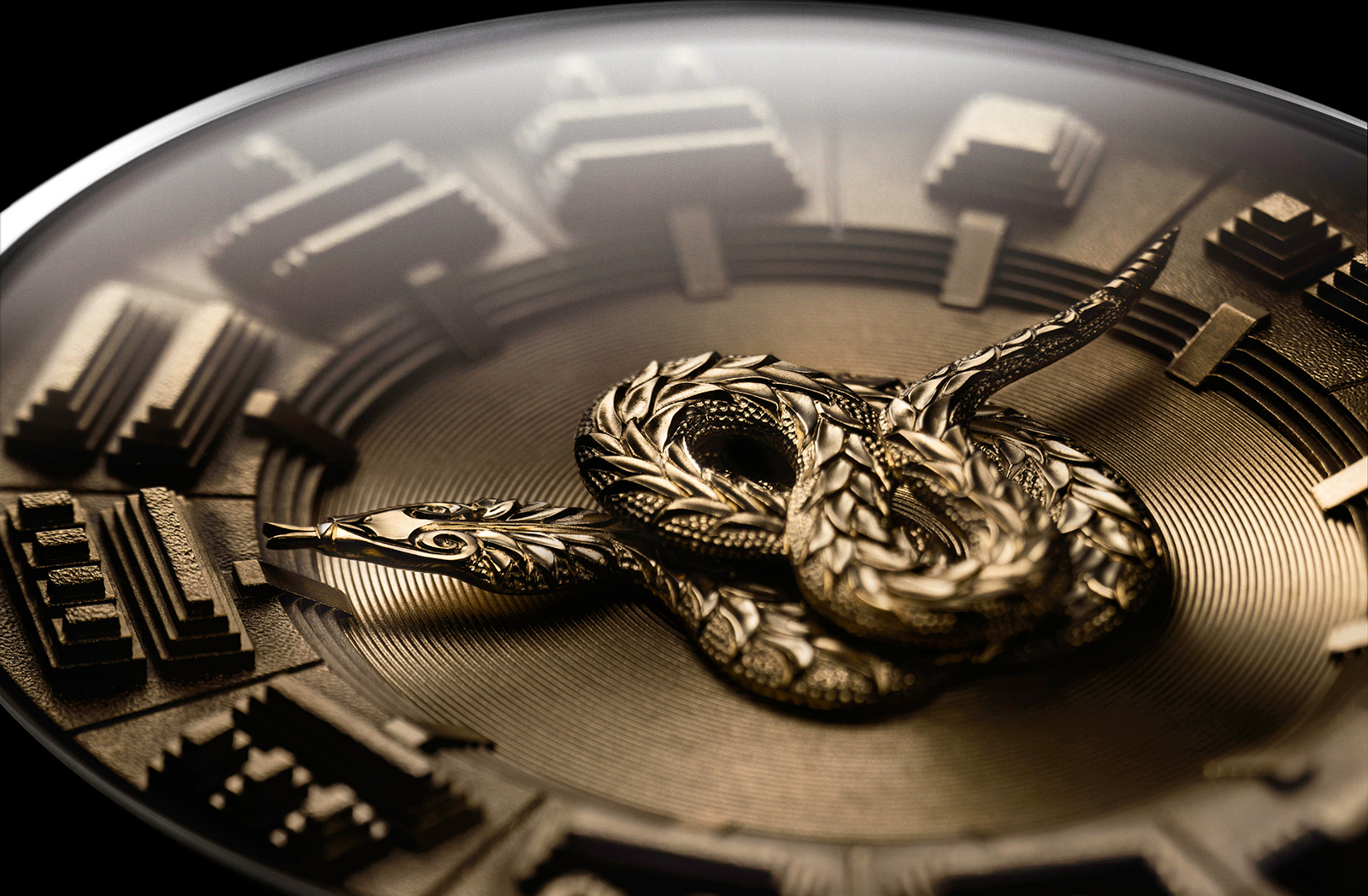 The hour markers are modelled on the Templo Mayor ("great temple") of the Aztec capital of Tenochtitlan, now in Mexico City, each with the stepped sides characteristic of Mesoamerican pyramids. A square pyramid represents single hours, while an oblong pyramid indicates five hours. 12 o'clock is thus comprised of two oblongs for ten hours, and two squares for two hours – a decorative yet intuitive method of conveying the time.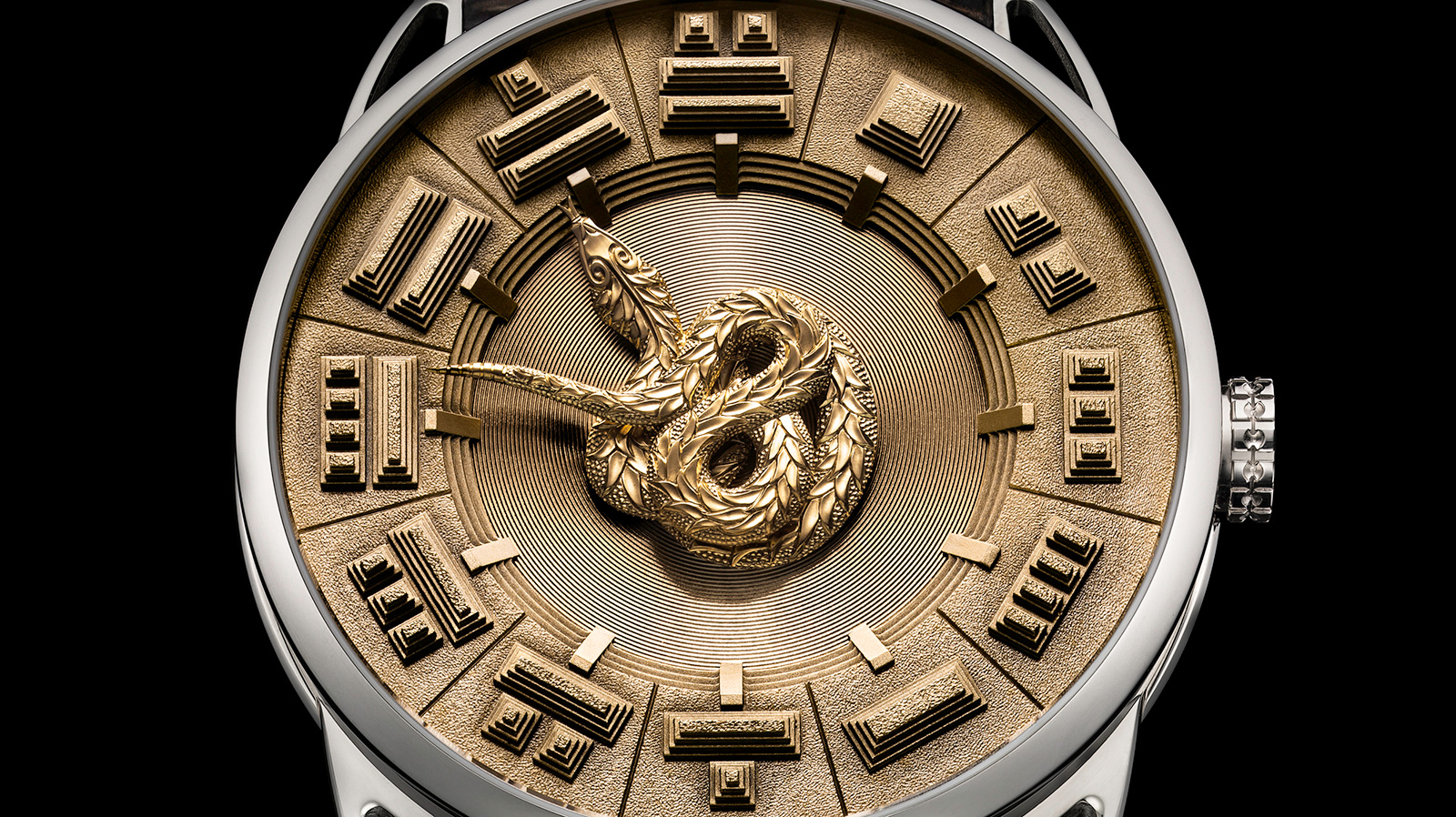 This is actually the second timepiece inspired by Mesoamerican culture, with the first being the DB25 IX Maya, reflecting De Bethune co-founder David Zanetta's partiality for it. De Bethune's inspirations are esoteric and diverse; the most recent watch in this series was the DB25 Imperial Fountain Chinese Zodiac, modelled on the fountain heads from the Old Summer Palace in Beijing. Like the other watches in the series, this is based on the D2B25, with the calibre DB2005 inside. It's hand-wound with a six day power reserve with several distinctive features, namely a heart-shaped bridge, triple pare-chute shock absorber as well as a balance spring and escape wheel in silicon.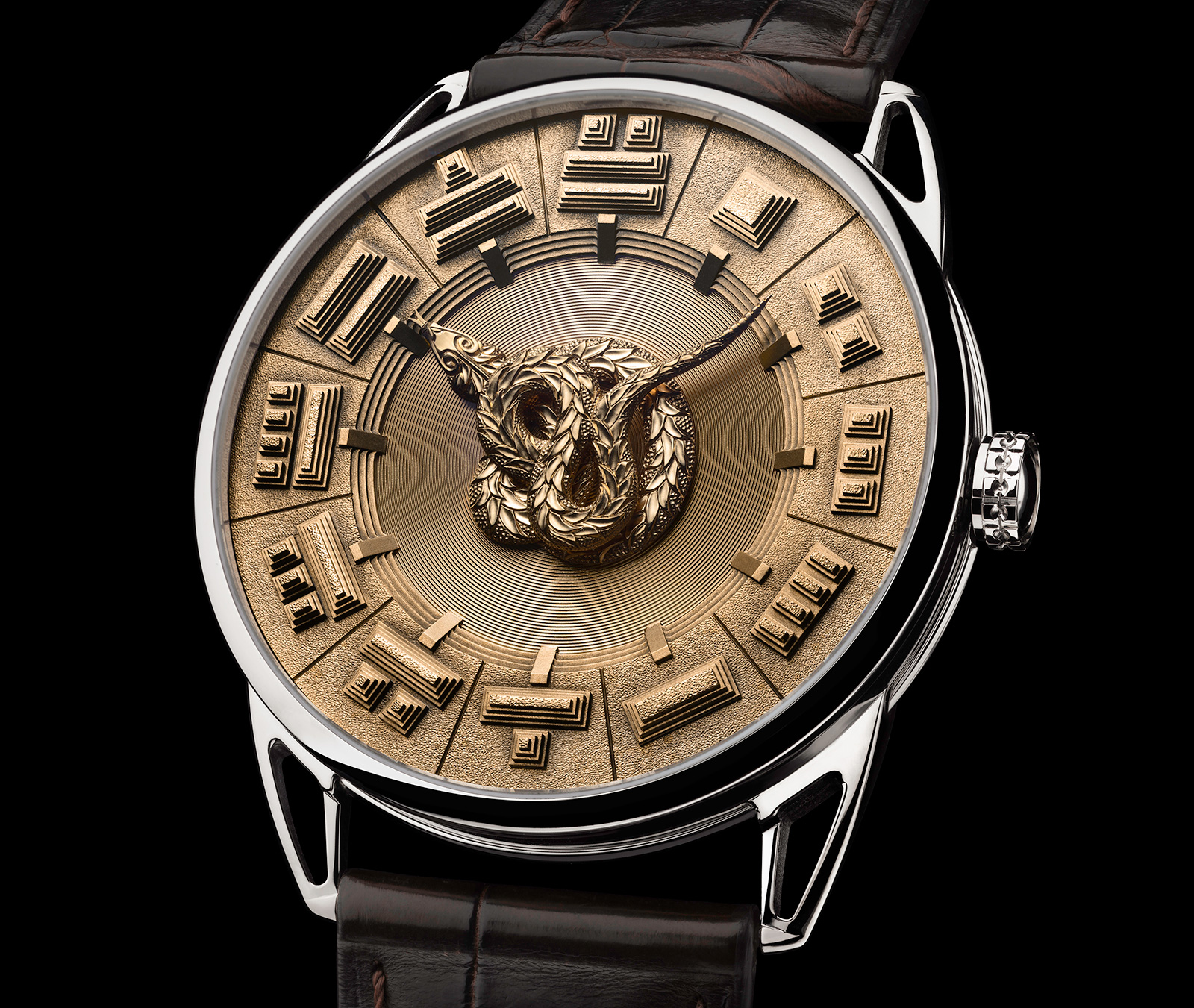 The case is white gold with a 44 mm diameter. Only 22 pieces will be made, with a price tag of 110,000 Swiss francs before taxes.
Back to top.
---
You may also enjoy these.