Baselworld 2013: De Bethune DB25 Imperial Fountain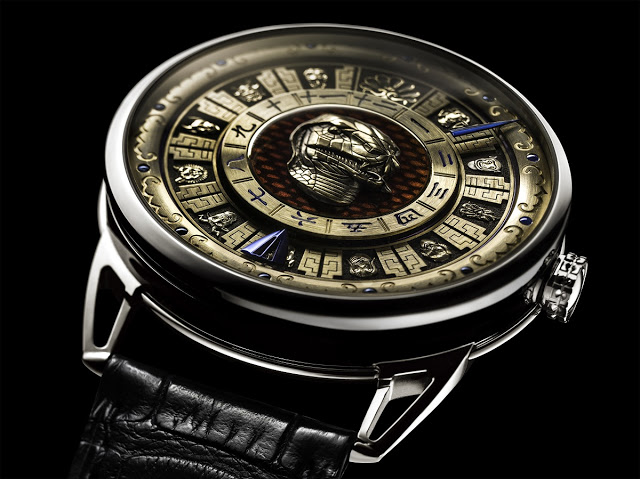 With a hand engraved animal head in relief, the De Bethune DB25 Imperial Fountain is inspired by the animal heads of the water clock at Beijing's Yuan Ming Yuan (Old Summer Palace). The rest of the dial is also hand engraved, with peripheral hands so as not to obscure the engraving.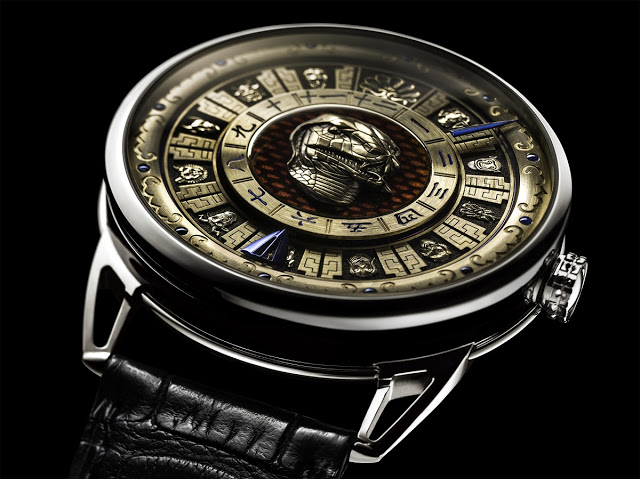 DB25 Imperial Fountain Snake
A few months ago De Bethune unveiled the teaser for the DB25 Imperial Fountain, and its official launch will take place at Baselworld 2013 in a few days. The DB25 Imperial Fountain is a set of 12 watches, each featuring an animal head of the Chinese Zodiac. I first saw the prototype last year, and subsequent works in progress earlier this year – the watch is spectacular. The heads are modelled on the bronze animal heads of the water clock at Yuan Ming Yuan, also known as the Old Summer Palace, outside Beijing. At the top of the hour, water would spout from each of the animal heads.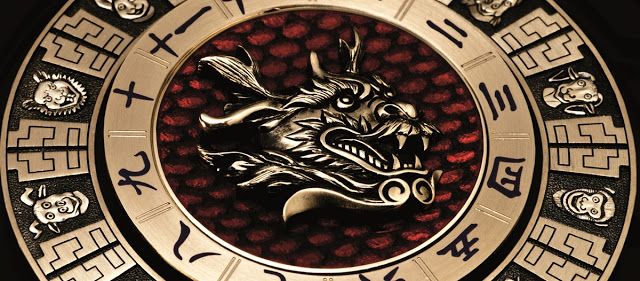 Dragon
Many of the heads were lost after the palace was looted in the late 19th century during the Second Opium War. Seven of the heads are still known to exist, and two created controversy at the auction of Yves St Laurent's estate in 2009. On the DB25 Imperial Fountain watches, the animal heads are in solid gold, having been hand engraved by Michèle Rothen, the same engraver responsible for the similarly decorated DB25 IX Maya. These heads are set on a grand feu enamel dial, while the rest of the gold dial – with 12 animal heads for the hours as well as the numerals in Chinese characters – is also hand engraved.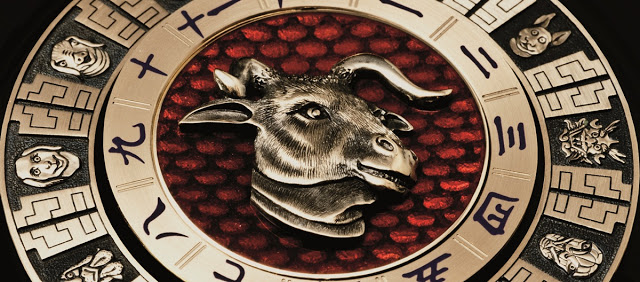 Ox
De Bethune developed a new movement, Calibre DB 2145, with peripheral hands for the DB25 Imperial Fountain. These hands sit under the central enamel portion of the dial, with only their tips showing. This means the view of the engraved and enamelled dial is maximised, while also allowing the animal head in the centre to be in relief.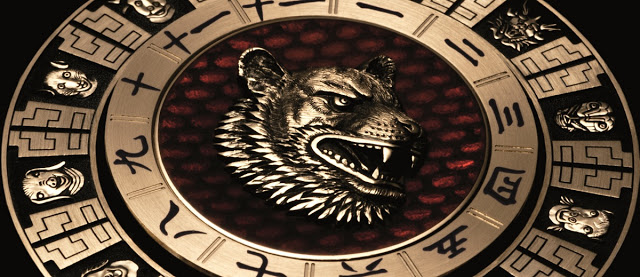 Tiger
Several versions of this watch in different metals will be available, singly and also in a set of 12. – SJX
Back to top.
---
You may also enjoy these.