An astounding collection of contemporary horology – the collector responds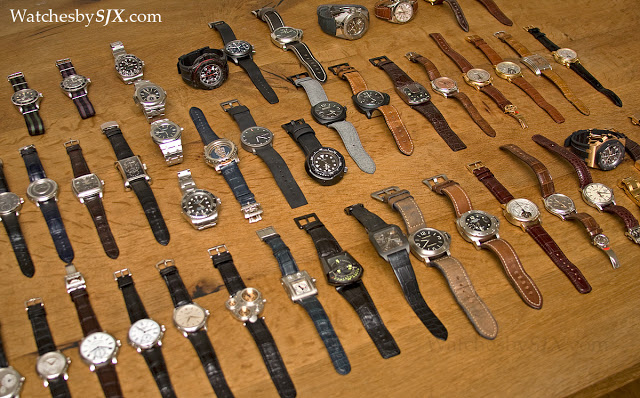 Two months ago we featured an astounding collection of contemporary horology put together by a gentleman collector. The assembly represents some of the most important timepieces of the last decade.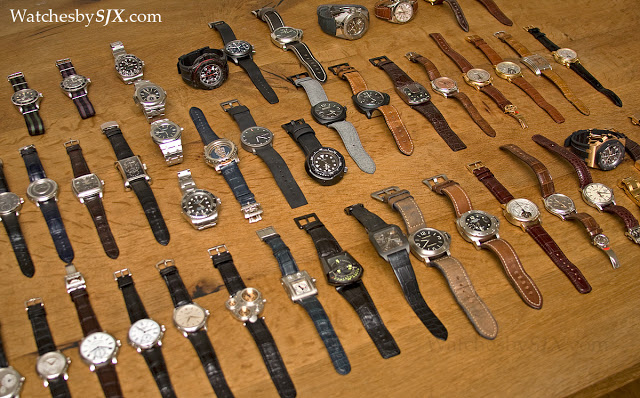 The response to the collector profile was tremendous, with readers from every corner of the world. Many of you had questions for the gentleman whose collection was profiled. The questions posed were condensed and then put to him. Here are his responses. What got you into collecting timepieces? A fascination with mechanical things that seem to work with no obvious power source.  What watch did he start the collection with?  A Casio calculator watch. How long did it start this collection?  23 years. It started with the Rolex GMT. If he was going to donate the collection to charity, but was able to keep one watch, which would it be? The Rolex GMT-Master II for sure. It was my first automatic watch, and also my wedding watch, hence it has a great deal of sentimental value. I still use it today. And it's also the watch I've owned longest, coming 23 years now.  Out of so many pieces, which is the one he finds on his wrist most often?  It's a toss-up between the Richard Mille tourbillon and the Lange Datograph.  Do you use a winder?  No. I prefer to focus my resources on the watches themselves, at least for now. How do you decide which independent watchmakers make it into your collection? Do you have any general guidelines? The watch must strike me emotionally, whether by design or mechanics. I find myself leaning towards clear or avant-garde designs most times.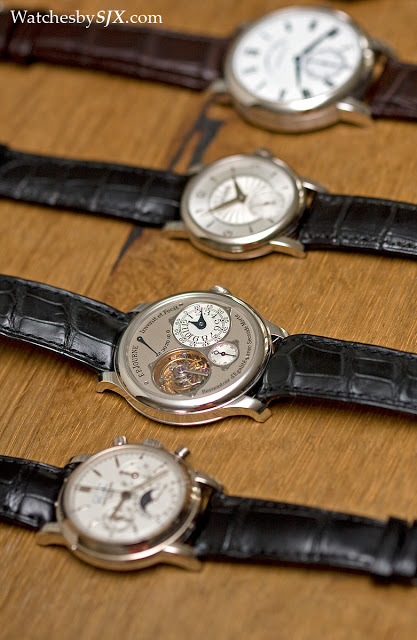 Spot the independents
I am curious to know what is involved in acquiring something like the Voutilainen Vingt-8? Is it as easy as calling up Kari and getting on the list? Or do you need some references or be some established collector within the community? Simply Google for retailers in your area as a start. The other option is to send an email to the watchmaker and see how it goes from there. Either one will usually get you what you are looking for.  This a collection of 100 or so pieces and we've seen at least 50. But no JLC Reverso? I am still in the process of getting details finished for specific motif to be put on the back of a particular Reverso, so it's a work in progress. Do you stick to watches that exist as production models or do you collect bespoke items as well?  Both, with no particular inclination to either.  On a broader level, what do you look for when acquiring a new watch for your collection, and are there any things which will, by default, rule a model out of consideration?   Size is one. Nothing over 47 mm any more, with a strong preference for 38 to 40 mm for practicality in day to day use. Technology has advanced enough today that movements can be miniaturised, so there's no real need for the extra size.  Second, it has to be easily serviced by any competent watchmaker. Not just the manufacturer itself, but anyone else. Since no one can say if the brand will still be around in the future, or if they will take an arm and a leg for servicing. Lastly, it should be easy to tell the time, which helps past a certain age. Why have you decided to concentrate on watches of the 21st century? I prefer to make my own vintage, so to speak.  Will this collection have an end? I mean if the collector has established an end when he arrives to a number of pieces or amount of money. Yes. I am not meaning to be mysterious, there is an end, though I prefer not to reveal the specifics.  Which is the watch the collector desired most?  One is the Patek ref. 5016 as it is the epitome of all complications in a single watch. To house all those complications in one watch is easy enough, but to do so in a size that will remain timeless is what nailed it for me.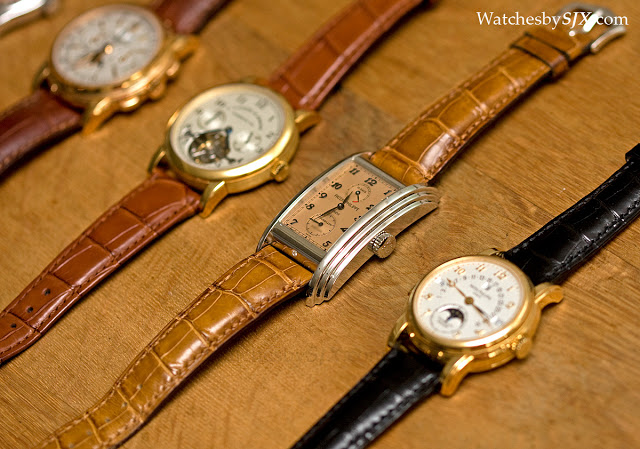 Patek Philippe ref. 5016 on extreme right
And this watch also educated me, the run-up to buying it was a learning process which made me realise why this has its place in the history of horology.   The wait was really long which made actually buying it and strapping it on my wrist that much more satisfying. We thank this gentleman for sharing his collection and thoughts with us. – SJX  Follow us on Facebook, Instagram and Twitter for updates and news.
Back to top.
---