News: Urwerk launches the UR-210, successor to the UR-202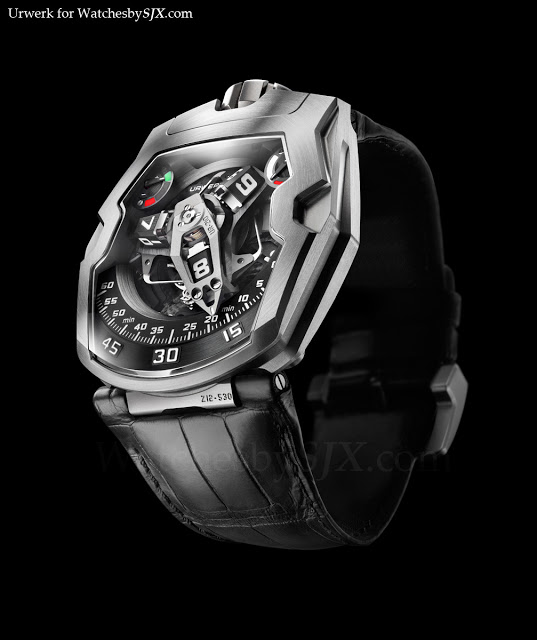 A year after presenting the UR-110 Torpedo, which replaced the watch that launched the brand, the UR-103, Urwerk now unveils the successor of the 200 series, the UR-201, 202 and 203.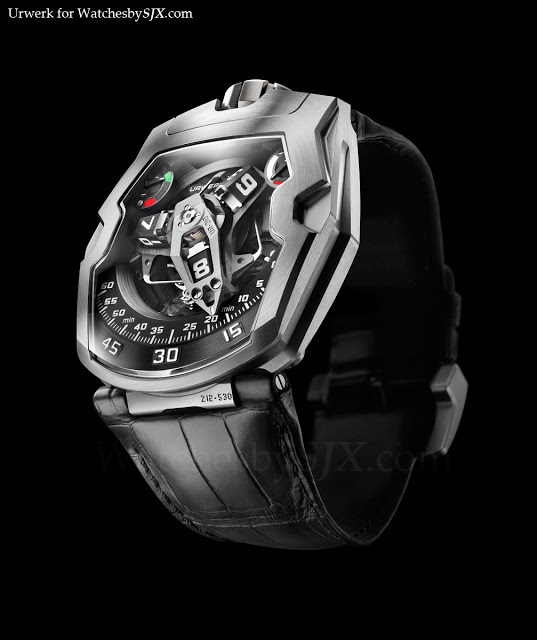 The Urwerk UR-210
Unsurprisingly dubbed the UR-210, the new is a further evolution of the satellite carousel system that has become the Urwerk trademark. It has three satellites on a carousel which indicate the hours, just like the earlier 200 series. But instead of a telescoping minute hand, the UR-210 has a large, three-dimensional retrograde minute hand, which harks back to the Harry Winston Opus 5 which had a similar retrograde hand (and also the more recent UR-1001 pocket watch). Made of aluminium and weighing just 0.302 g, the minute hand is tensioned by a cylindrical spring and balanced by a brass counterweight.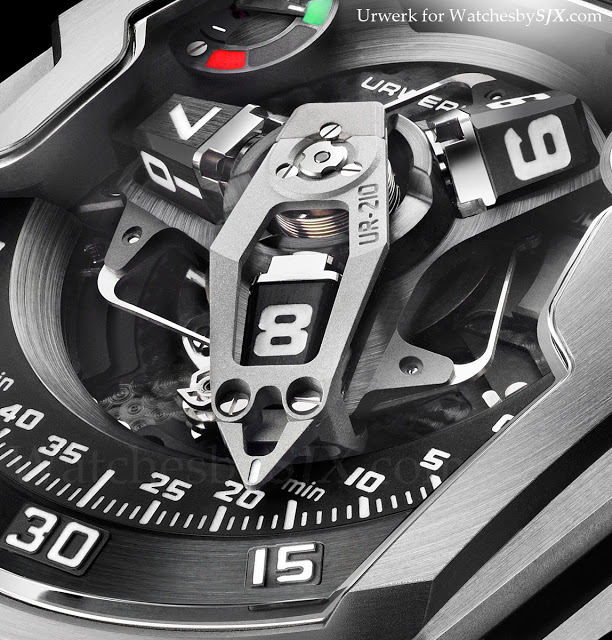 The three dimensional retrograde hand
And at 11 o'clock on the dial the UR-210 has a novel winding efficiency indicator (at one o'clock is the power reserve display). This shows the "difference between the consumed and generated energy of the mainspring" according to Urwerk. And it is the first ever implementation of this function, though the true usefulness is debatable.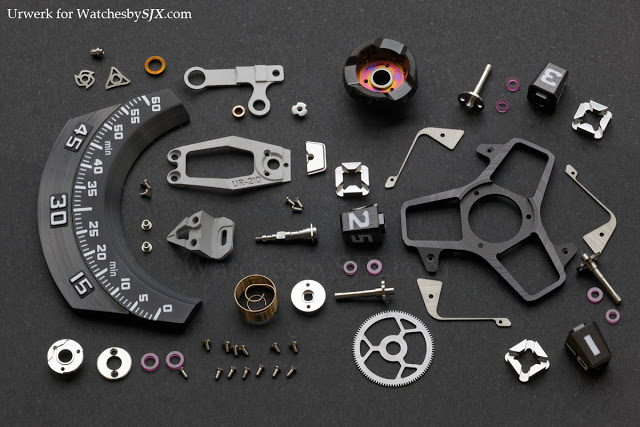 The components that make up the satellite carousel and retrograde time display
Over on the back the UR-210 has a winding efficiency selector like the UR-202 and 203. It features a tiny turbine that damps the movement of the rotor.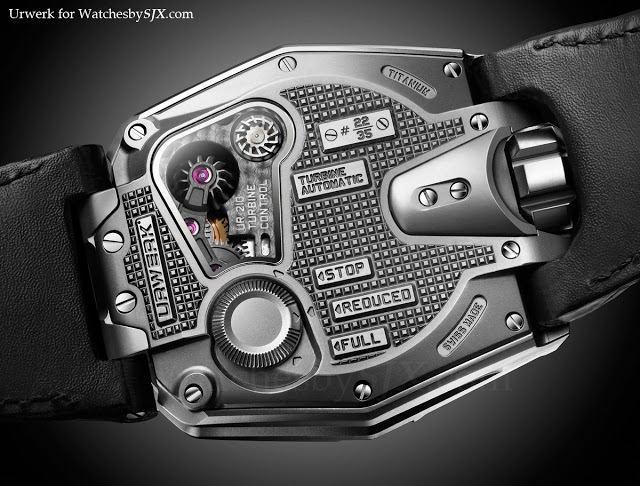 Unlike the UR-202, the UR-210 has a more angular and sculpted case. It has an aggressive stance, reminsicent of the Lamborghini Aventador, which itself seems to have been inspired by the Batmobile from Christopher Nolan's Batman films. It is also slightly larger, measuring 43.8 mm wide by 53.6 mm long, and it is 17.8 mm thick.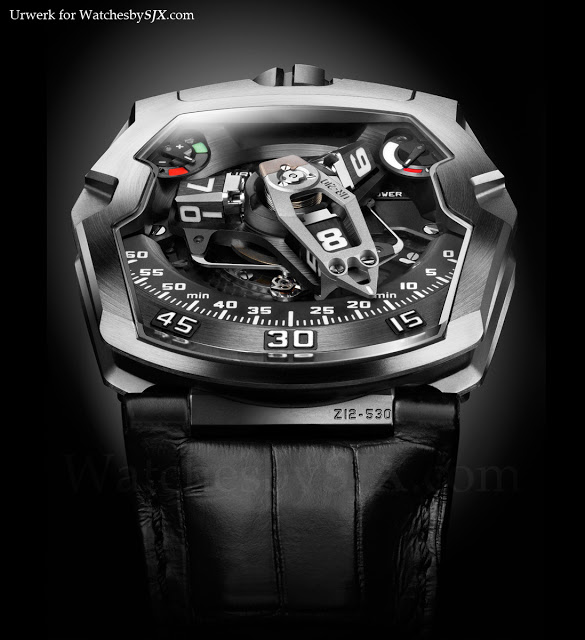 The case is steel and titanium, much like the first UR-110. So expect other versions of the case to follow, just like the progression of the UR-110 to models like the golden UR-110 ZrN. Delivery of the UR-210 will start in October with a retail price of CHF137,000 (before taxes). – SJX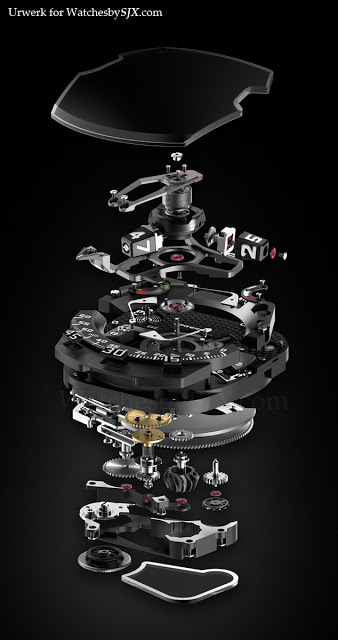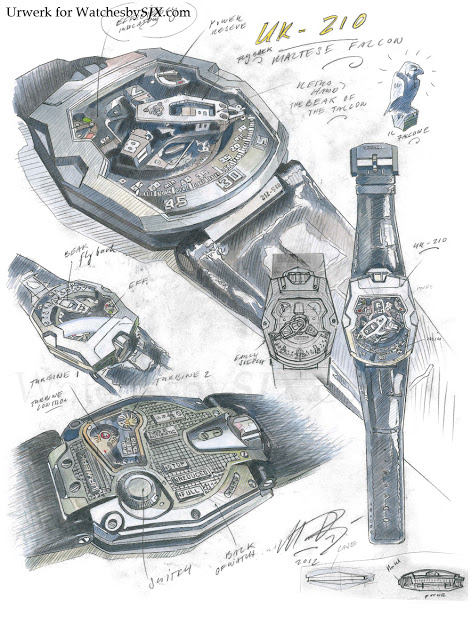 Back to top.
---
You may also enjoy these.