Devon Works presents the Tread 2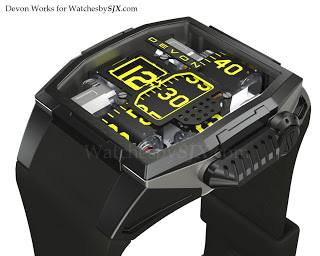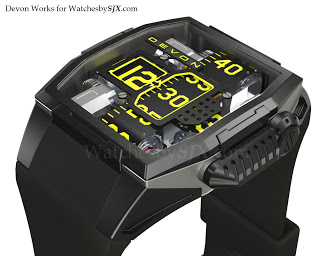 Devon Works Tread 2
Devon Works, the American company that unveiled the Grand Prix d'Horlogerie de Geneve-winning Tread 1 last year, has just presented the Tread 2. The premise remains the same – the watch displays the time on belts driven by gears with the whole mechanism powered by a rechargeable Li-ion battery that can be recharged wirelessly.
But unlike the Tread 1 which had three belts, including one for constant seconds, the Tread 2 is simplified with only two belts showing hours and minutes. The belts on the Tread 2 are mounted perpendicular to each other, in contrast to the Tread 1 which had the belts at an angle.
Inspired by American aerospace manufacturing, the belts are a mere 2/1000th of an inch thick and driven by miniature motors controlled by an IC loaded with Devon's proprietary software. According to Devon, the accuracy is +/- 0.5 seconds a day.
At 42 mm by 38 mm, the Tread 2 is more compact than its bigger brother. The case is in steel, with the option of black coating.
Quite appropriately the Tread 2 at US$10,000 is priced a third less than the Tread 1 which was $15,000. The Tread 1 is way cooler – watching the belts in action is utterly compelling and elicits tremendous comments from strangers – but the Tread 2 is a good follow-up at a more accessible price. Delivery will start in July 2012.
Interestingly aside from watches, Devon Works, founded by frozen garlic bread millionaire Scott Devon, makes all manner of cool stuff, including apparel, as well as a muscle car and a motorcycle. – SJX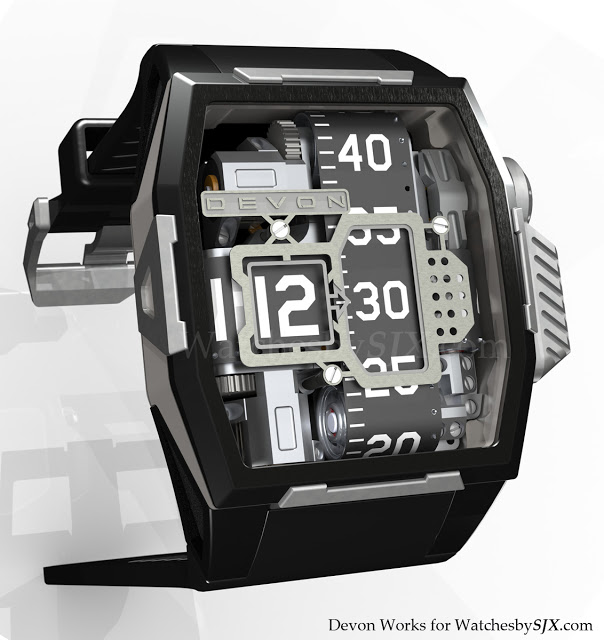 Back to top.
---
You may also enjoy these.