Baselworld 2012: Harry Winston Histoire de Tourbillon 3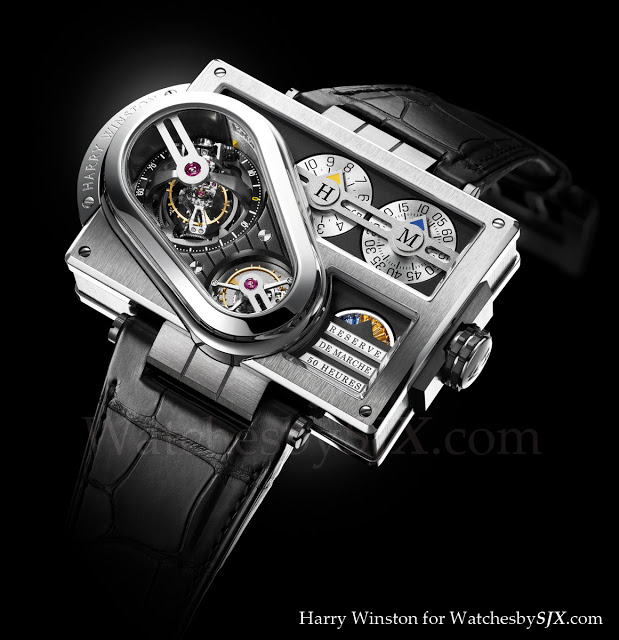 Here is a preview of the remarkable looking Histoire de Tourbillon 3 Harry Winston will present at Baselworld 2012 in March. It has one double axis tourbillon at nine o'clock with one cage rotating once every 40 seconds and the other every 120 seconds. The second tourbillon tourbillon at six o'clock makes one revolution every 36 seconds, which HW says is most effective in the vertical position. Both tourbillons are linked by a differential, similar to the Greubel Forsey Invention Piece 2.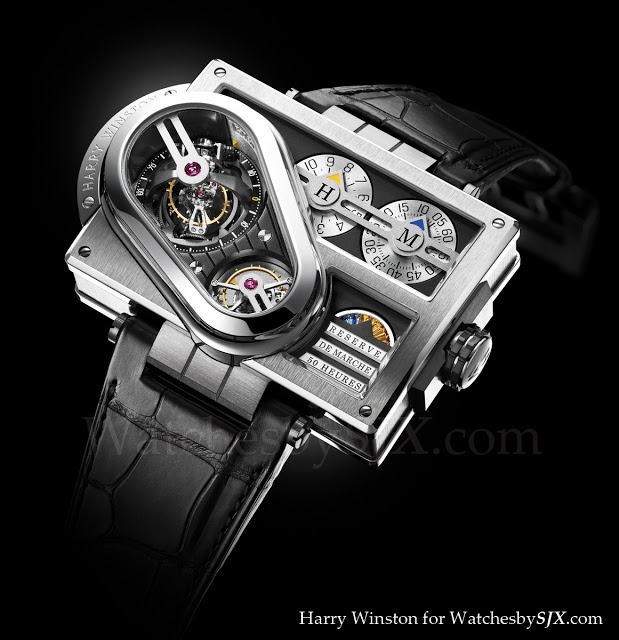 Harry Winston Histoire de Tourbillon 3
Harry Winston doesn't reveal who made the movement but it is surely Greubel Forsey, or more specifically Complitime, the sister company of Greubel Forsey that does movement development for other firms. Complitime also developed the earlier two Histoire de Tourbillon watches, which is Harry Winston's series of exceptional tourbillons. On the other hand, Opus is independent watchmaking with avant garde time display, just like the Opus 11. The previous two Histoire de Tourbillon watches were already incredibly large, heavy and expensive, but this one takes the cake. The rectangular Histoire de Tourbillon 3 case, which is in white gold with a Zalium case band, is a mind boggling 65 mm by 45.9 mm.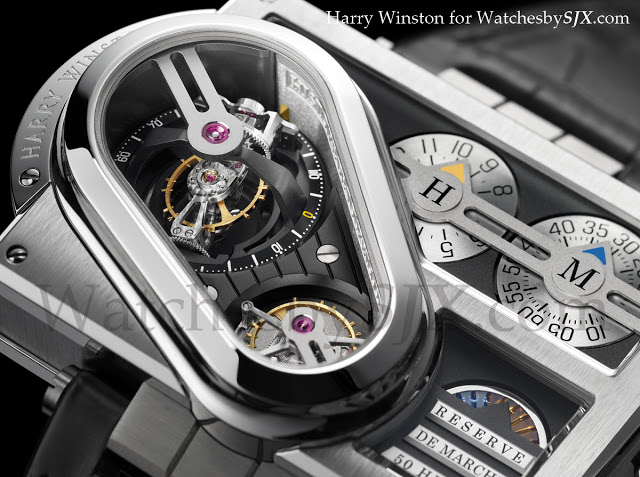 And one must remember the former CEO of Harry Winston who put it on this path of independent horology, Max Busser. Amongst Max's creations at MB&F is the rectangular HM2. Interestingly the power reserve indicator on the bottom right of the watch uses sapphires and citrines to display the power reserve. As the watch winds down the sapphires go from dark to light coloured, and then the yellow citrines tell the owner the power reserve is nearly zero. A watch like this is the natural evolution of the tourbillon since it has been devalued by loose supply and easy marketing. So to command a premium price a brand has to offer something truly different. I lack the technical knowledge to pronounce definitively if this will keep better time than a regular escapement, but it certainly makes a statement. 20 of these will be made and I reckon the price will be quite a bit over that of the Histoire de Tourbillon 1 and 2, which were about $700,000 each. But no one else does exceptionally interesting, and pricey, tourbillons better than Greubel Forsey. – SJX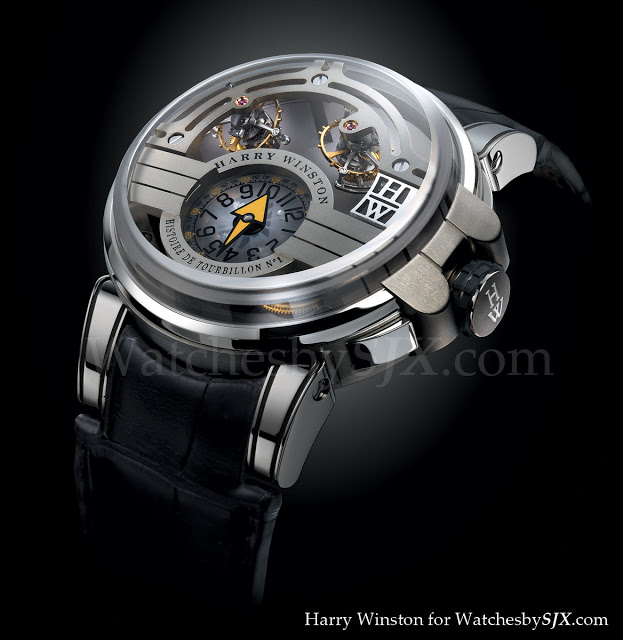 Harry Winston Histoire de Tourbillon 1
Back to top.
---
You may also enjoy these.