Auction Watch: Rexhep Rexhepi Chronomètre Contemporain I Sells For US$924,000
A big number for a young watchmaker.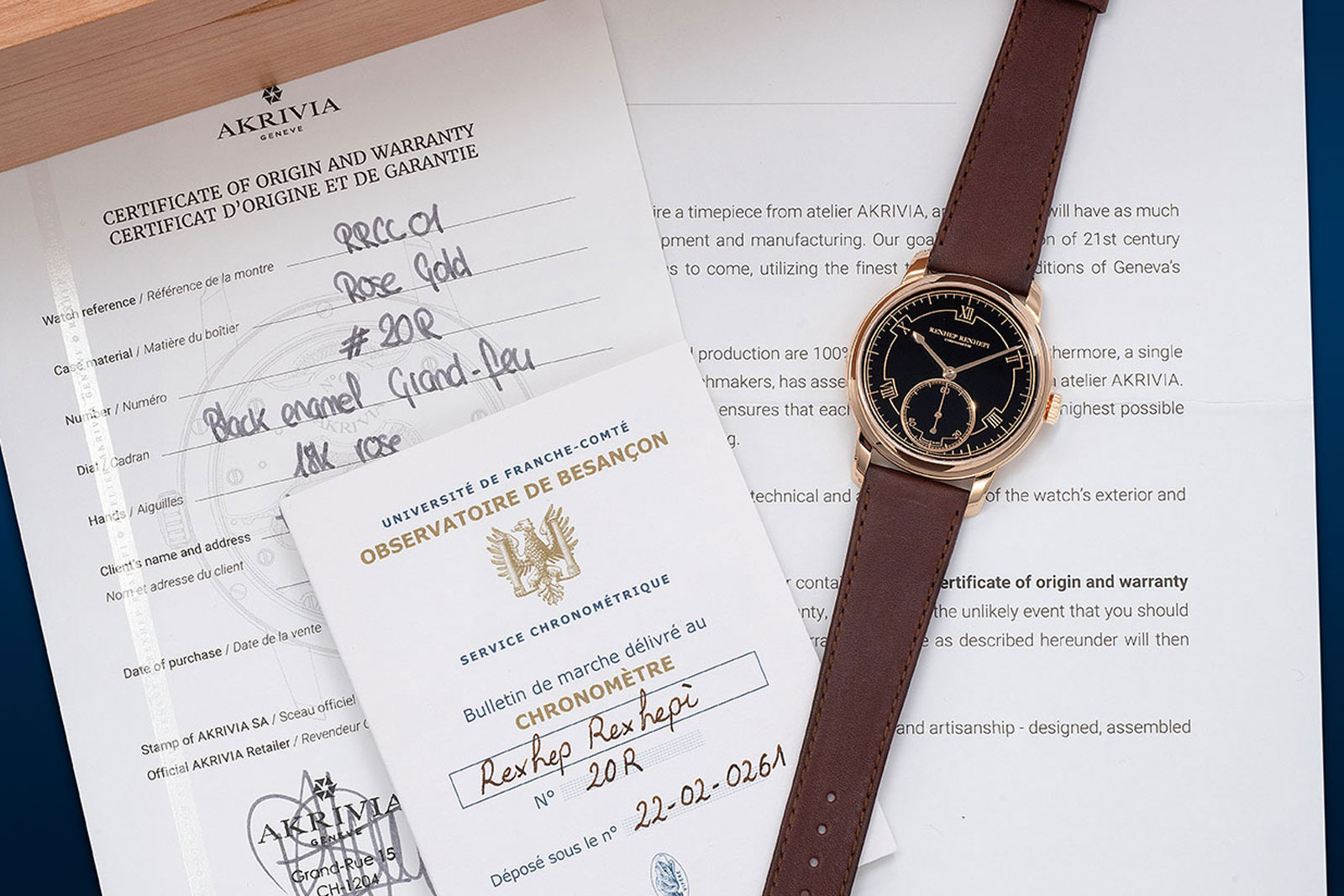 One of the most anticipated watches by an independent watchmaker to go under the hammer this season has set a record: the Rexhep Rexhepi Chronomètre Contemporain I (RRCCI) in pink gold sold at Phillips' Hong Kong auction for HK$7.24 million including fees, equivalent to US$924,000.
Notable for being in an ordinary, as opposed to charity, auction, the result of almost US$1.0 million puts its maker, the founder of Akrivia, in rarefied company alongside the likes of F.P. Journe, the only other independent watchmakers whose time-only watches can sell for such sums.
The RRCCI that just sold was the first example of the model to emerge at auction, with only one other example having sold on the secondary market but privately. With the watch already sold out and a long waiting list for its successor, the RRCCII, there were high expectations for the watch at Phillips, which originally retailed for under US$70,000.
Everyone's on it
The excitement as the lot came up was palpable. Auctioneer Aurel Bacs commented that so many bidders were phoning in that every Phillips employee on the phone bank was on the line.
Although there were at least a half dozen bidders to start with – all on the phone save for one room bidder – the contenders thinned out at the HK$4.00 million mark. Remaining were just three bidders: Alex Ghotbi and Tiffany To of Phillips on the phones with clients, and the gentleman at the back of the room.
Both based in Geneva, Mr Ghotbi and Ms To were presumably representing European or Middle Eastern collectors, while the gentleman is a prominent and discerning Asian collector.
It was a three-way battle until almost the end, when Mr Ghotbi dropped out, leaving just Ms To and the gentleman. Ms To's client clinched it with a bid of HK$5.70 million, or about US$728,000. With buyer's premium the tally is HK$7.24 million, or US$924,000.
The result handily surpasses the last record for a Rexhep Rexhepi wristwatch, which was CHF800,000 (about US$800,000 at the time) for the unique example made for Only Watch 2021.
The price cements Mr Rexhepi's place as one of the leading watchmakers of his generation. Now barely in his mid-30s, Mr Rexhepi was a Kosovar refugee who moved to Switzerland as a teenager. After stints at Patek Philippe and F.P. Journe, Mr Rexhepi founded Akrivia a decade ago and then found success with the launch of the RRCCI in 2018.
---
Back to top.
---
You may also enjoy these.