Interview: Cyrille Vigneron, Philosopher King of Cartier
On beauty, ethics, and the cycle of time.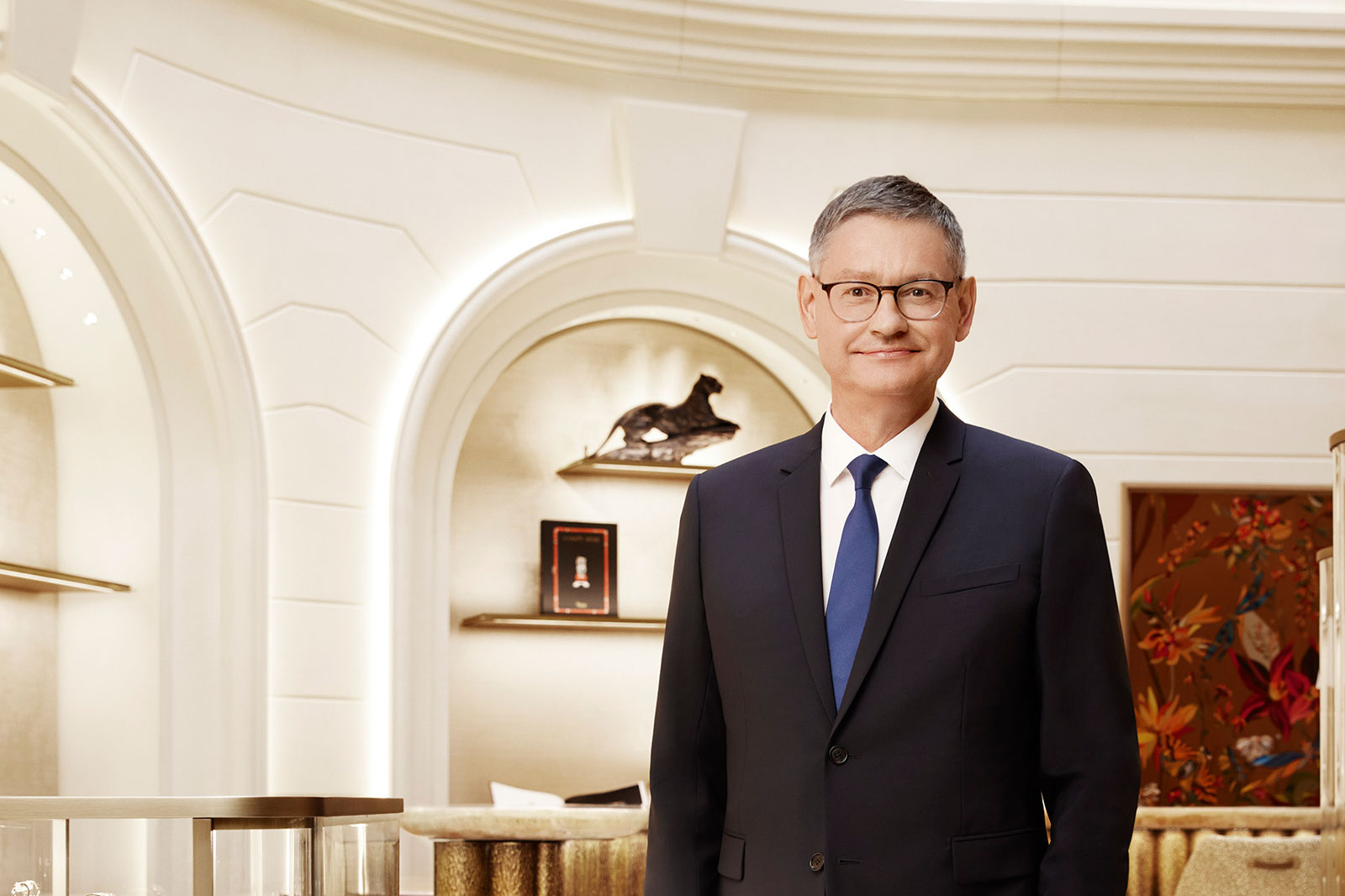 After a quarter century at Cartier, Cyrille Vigneron was tapped for the top job in 2016, becoming President and Chief Executive Officer of perhaps the grandest name in jewellery. Under his stewardship Cartier's lustre has only grown. Not only is the jeweller the second-largest watchmaker by sales, it is such a coveted marque that LVMH chief Bernard Arnault recently commented in the Wall Street Journal, "Cartier is a fantastic brand [but] it's not for sale."
During Watches & Wonders, I met Mr Vigneron for an interview that ran longer than expected, but we barely touched on watches or jewellery. Dressed in a grey turtleneck, Mr Vigneron possessed the air of an intellectual, very much atypical for an industry where leaders are often big personalities and dressed to match.
Yet Mr Vigneron is actually something of a social media influencer, albeit a professional one with over 82,000 followers on LinkedIn. His latest post on the professional social media platform posed the question, "What is true beauty?", accompanied by a photo of a fallen autumn leaf. It received over a thousand likes and almost 100 comments.
His posts on the network usually discuss abstract concepts while offering sharp insight, which is why I decided to leave out the watches (which we have already amply covered) and instead seek his perspective on bigger topics.
The interview was edited for clarity and length.
---
SJX: I follow your LinkedIn posts and find there's always a philosophical, reflective aspect to them. You reflect on topics related to the industry, but also go well beyond it. How do these philosophical musings relate to your role as CEO of Cartier?
Cyrille Vigneron (CV): Well, that's a good question. Maybe, I should ask the others… [laughs]
We are in the world of luxury, which is a confluence of a few things. There is the world of art because we create things that are not necessary. And especially in our case, we create things which are objects of beauty – an act of artistic creativity. Another other part is sociology. It's a world of aspirations, of how people define their identity, how they represent themselves to others.
So the leader of a maison like Cartier has to come from philosophical, artistic, aesthetic, and sociological roots. It's being both an artist and a shrink. In this role, you have to understand things rather deeply. Part of my role is to think, to encourage others, and to be a source of inspiration. In fact, I think the CEO should be a chief inspiration officer, not an autocrat or merely an executive.
SJX: I remember another of your posts described successful luxury brands as achieving universality and asked the question: once you're universal, how do you remain an exclusive brand?
CV: That's a paradox I would say. We talk to people who want to express their personality. It doesn't mean we talk to everyone, but we can talk to anyone, of any age, in any country, in any period can be touched by our message.
My two Love bracelets for example: one was for my tenth wedding anniversary and the other for the 20th. They say something specific to me. There are hundred of thousands of people around the world who wear Love bracelets, each of them for a different reason. Some wear it just because they think it's cool, others for status, and yet others to bond with someone special. For each person the Love bracelet means something for their own history. That's why it can be both universal and unique.
The same thing for a wedding band. A wedding band is something probably the most common piece of jewellery. It says I've committed to someone. And you celebrate the ritual with the ring. The ring is a tangible object that is the same for millions of people. But each ring represents something special to someone.
SJX: You touched on different cultures earlier, and you spent several years working in Japan?
CV: Twelve years.
SJX: That is quite a long time. Do you think exposure to a very different culture from where you come from has influenced your approach to the business? The floral arrangement behind you looks Japanese by the way.
CV: [The floral arrangement] is just one piece of flower or plant, but it represents the entirety of nature. Having just one element that allows you to bring the entirety of what you are – this aspect is very Japanese.
The second aspect is relation to time, which is very different in Asia. In the West, we to see time on a linear dimension where you move from the past to the present to the future. But in East Asia, China, Korea, and Japan, time is instant but also cyclical.
If you think in a cycle, there's no difference in past and future. Now it is spring, so winter was before, but in a year there will come another winter. You place yourself on a moving pendulum oscillating between past and future, which are one and the same. So the most important is to enjoy the present. When it comes, you live it fully.
If we think about that for a maison like Cartier, it is an enormous difference. People ask from a European point of view, how you balance the preservation of tradition with the preparation for the future? How much do you innovate and how much do you respect tradition?
But you think from an Asian perspective, tradition is constantly alive and present. You live in the present, which you have lived before. And this prepares you for the future.
SJX: Reincarnation.
CV: It's reincarnation, reinvention, or regeneration. It's the same you and it's a different you.
It's like the paradox of a Japanese garden, probably the oldest element of humanism, some 1,200 years ago. They were imagined then and now they're basically the same as they during that period. But yet they change every day. You have to take care of every detail every day so that it will be calm and harmonious – you pay attention to your present to ensure something that changes all the time can continue unchanged.
The third element of the Asia culture is impermanence. We in the West tend to think some things that are permanent, like real estate, when in fact, that's wrong. Everything just moves at a different speed.
For a luxury maison, being in this continuous flow of change means that in order to be constantly relevant, something has come from a period before and constantly changed to be constantly the same. The more we create new things, the more they look Cartier. So, we have to constantly refine them one by one, little by little, to redefine a style which is timeless.
SJX: We talked about cultures and brands. Do you think it is important or even relevant for a luxury brand to have a national identity like say, French jeweller, German car maker, Swiss watchmaker?
CV: I would say yes and no. Whether you like it or not, we have some projection of what a country can be good at. There is a perception of Swiss watchmaking. But does "Swiss made" distinguish a Swiss watch brand or is the Swiss watch brands that create the value of "Swiss made"?
I think it's more of the reverse. The more the brands work on collective values which are similar, the more they create a generic value for "Swiss made". This means if your watch "Swiss made", it will tend to have more value than if it is French made, for instance.
For Cartier, we have multiple identities because our watches are made in Switzerland, but we are a French-cultured brand. Being a French and Swiss maison carries something special in the imagination, something that can travel across the world, to Japan, Korea, to Singapore, and to others.
France has different facets – art, culture, and fashion so forth – but I think to the most interesting part of France is the one that tries to be universal. It is universal in welcoming talent. If you think about the fashion houses in France, they have many designers coming from everywhere.
When I was in Japan, I asked myself, what is the character of a French design house? Name the designers and see how many were born in France. Karl Lagerfeld, Azzedine Alaïa, Marc Jacobs, Phoebe Philo, Alexander McQueen, John Galliano – they come from everywhere but France. But they can be welcome in France, because France loves culture.
SJX: Now, I'm going to ask you a difficult question about countries and cultures. Politics is increasingly intruding on the world of business. Some luxury brands have suffered boycotts. Even Disney got in trouble recently. What are your thoughts on this?
CV: As a brand, we have to have a social consciousness of what we think is right. It is not politics, but a return of ethics. It used to be that the companies were not supposed to do that. Instead you respected the rules and regulations, and you were just supposed to serve the shareholder. But now with all the complexities of the world, there is the return of ethics in business.
Ethics defines what we think is right and what we think is wrong. Ethics doesn't mean you have to be involved in political discussions. It's not up to us to discuss about the validity of a government which has been chosen by its people in the way that is appropriate by its constitution. There is the United Nations [for that].
But it's up to us to have our consciousness of what we think is right for our customers. So, through Cartier Philanthropy we helped Doctors Without Borders with the refugees from Myanmar [settling] in Bangladesh – an entire population that has been pushed into the river in a very brutal way. That's a crime against humanity.
We stopped buying stones from Myanmar. We can't support people who are refugees while continuing to buy the stones. Of course, there are some stones we now have difficulties to source, but that's okay as we can find alternatives.
We have contributed to and curated the women's pavilion at the Dubai Expo. We are also working on the next one for 2025. This is a political commitment.
We think women are underrepresented in world affairs. And when women are more represented then the affairs get better – more cooperation and less conflict. So supporting women is probably a good way to support a better world.
SJX: That's making a statement.
CV: There was some question, is Dubai the right place? I say any place is a good place to support women. As far as the country has the will to move forward, it's good to be there.
Dubai has more equality and representation in government than France. On the gender gap, Japan is lower than Middle East. Each country has own issue and we should support from wherever we are.
Look at women's rights in France 50 years ago, when my mother had to ask my father for his approval to sign a work contract.
SJX: That's not that long ago.
CV: One generation before me. Young ones now think it is absurd only 50 years ago women were not authorised to run a marathon in Europe and in the United States. The first woman ran the Boston marathon 50 years ago. The UAE has evolved faster in women's rights in ten years than probably Europe in 50. We should encourage this – that's a political statement.
SJX: I really appreciate your perspectives. It's clear that you spend time to think about issues beyond watches and jewellery…
CV: Cartier can be a universal player, so we have to bring our view to the world, belief in human rights, belief in universality. We have to create forums, encourage cooperation, build bridges. That's why we have a bridge here in the [booth]. Because we are a visible brand, the more we do it, the more it gets echoed.
To my surprise, when I started to write my posts [on LinkedIn], I thought only people in the company would read them. Now I have 75,000 followers and some of my posts reach 300,000 people.
SJX: If you want a bigger audience, you should do TikTok videos… [laughter] I noticed your LinkedIn posts are quite regular. Once one or two months, you, you make a post.
CV: The next one will come in 10 days. The theme I am thinking of is the part of the moment where beauty reveals itself.
When you see photos of products and you think they might look nice, then you look up close and it's different. When you put on your wrist, it's a moment of truth. The beauty always existed, but now it reveals itself.
That's the interesting part: does beauty already exist before it is seen? Sometimes we don't have the eyes to see and sometimes, it has to reveal itself. Our role is also to reveal beauty.
SJX: You summed up the rationale for a watch fair like Watches & Wonders.
CV: A watch fair is the moment of truth when beauty reveals itself.
SJX: That's a good slogan for the fair – the moment of truth.
---
Back to top.
---
You may also enjoy these.