Frederique Constant Unveils 40 Hz Silicon Oscillator
Cutting-edge high tech.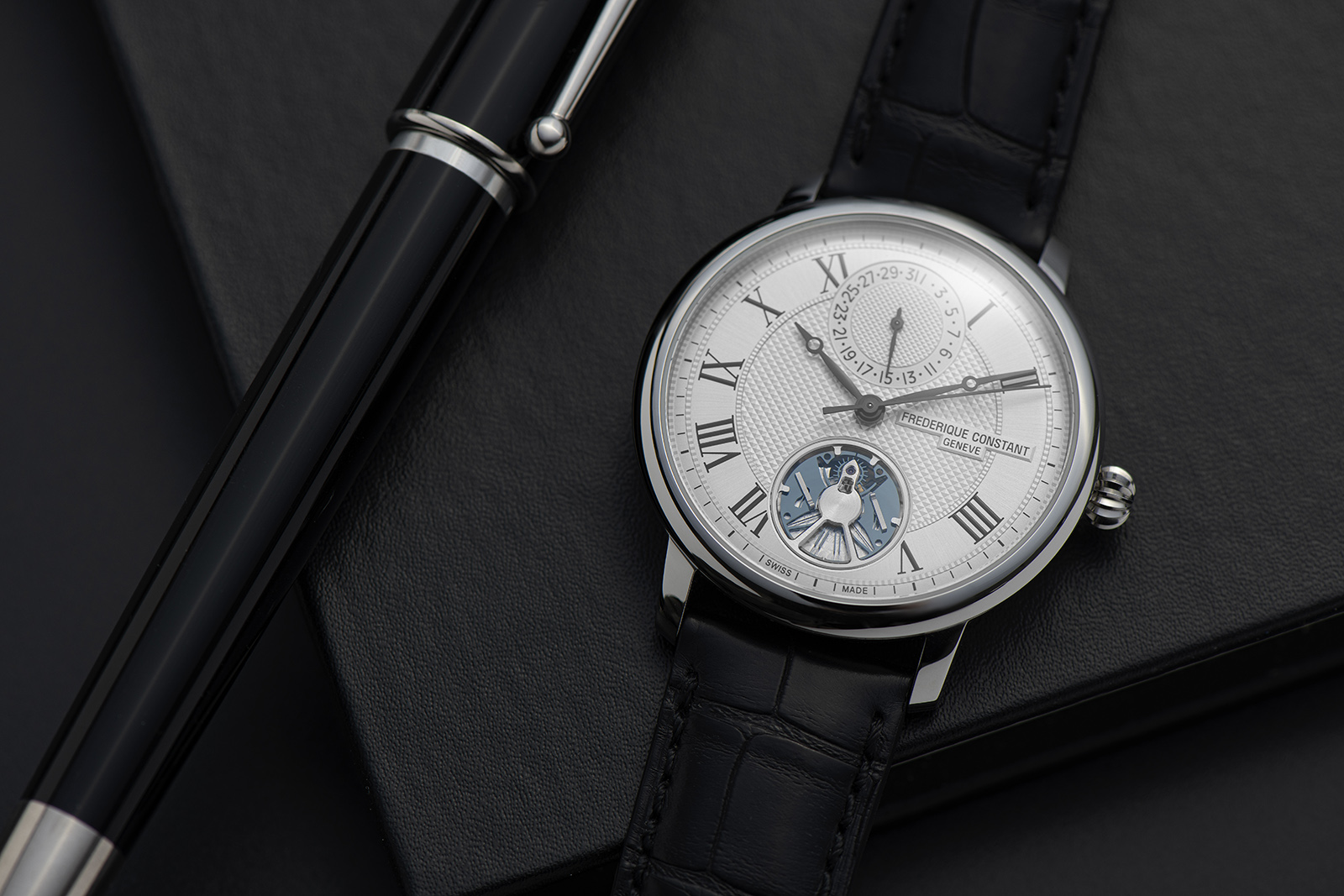 Best known for affordable complications, Frederique Constant's recent watches include a flyback chronograph for US$4,000 and a perpetual calendar for a bit under US$10,000. But the brand has also applied modern technology to its watchmaking with its analog smartwatches.
The brand's latest offering is cutting-edge horology, but in a mechanical movement. The Slimline Monolithic Manufacture is equipped with an automatic movement that runs at 40 Hz, or 288,000 beats per hour (bph), thanks to a compliant-mechanism silicon oscillator instead of a balance wheel.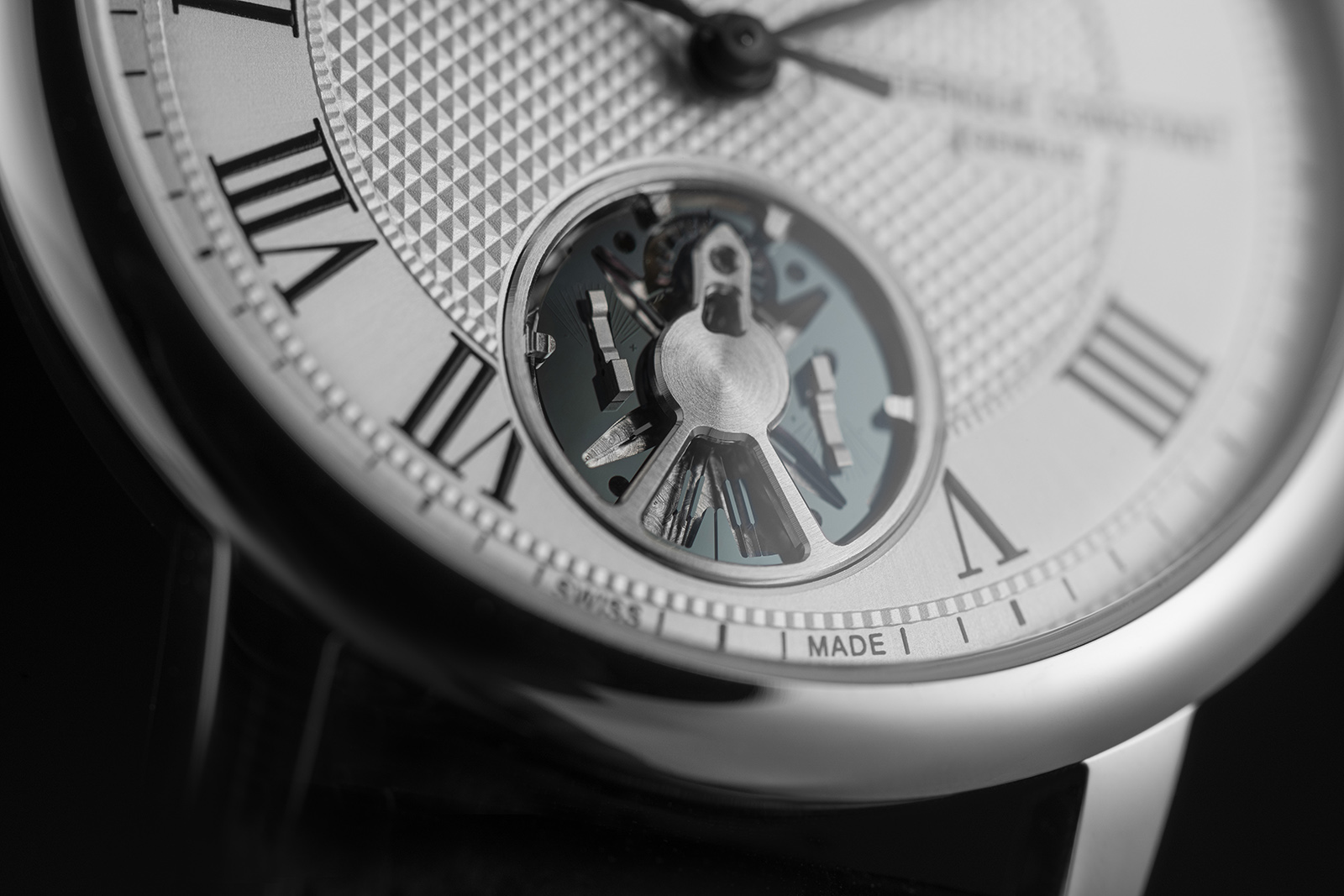 Initial thoughts
It's a pleasant surprise to see Frederique Constant delving into advanced horological solutions with its silicon compliant mechanism and entering a space often associated with pricier brands like Ulysse Nardin and Zenith. Even more impressive is the fact that the movement is not just as a concept, but a commercially available watch that will be in stores in fall of this year and priced relatively affordably, starting at €4,495, or about US$5,300, in steel.
The advanced movement leaves the design of the Monolithic Manufacture incongruous with its classical styling and a truly modern oscillator. However, as such watches go, the design is not the point – it is all about the novel escapement that will certainly pique the interest of technical-minded enthusiasts.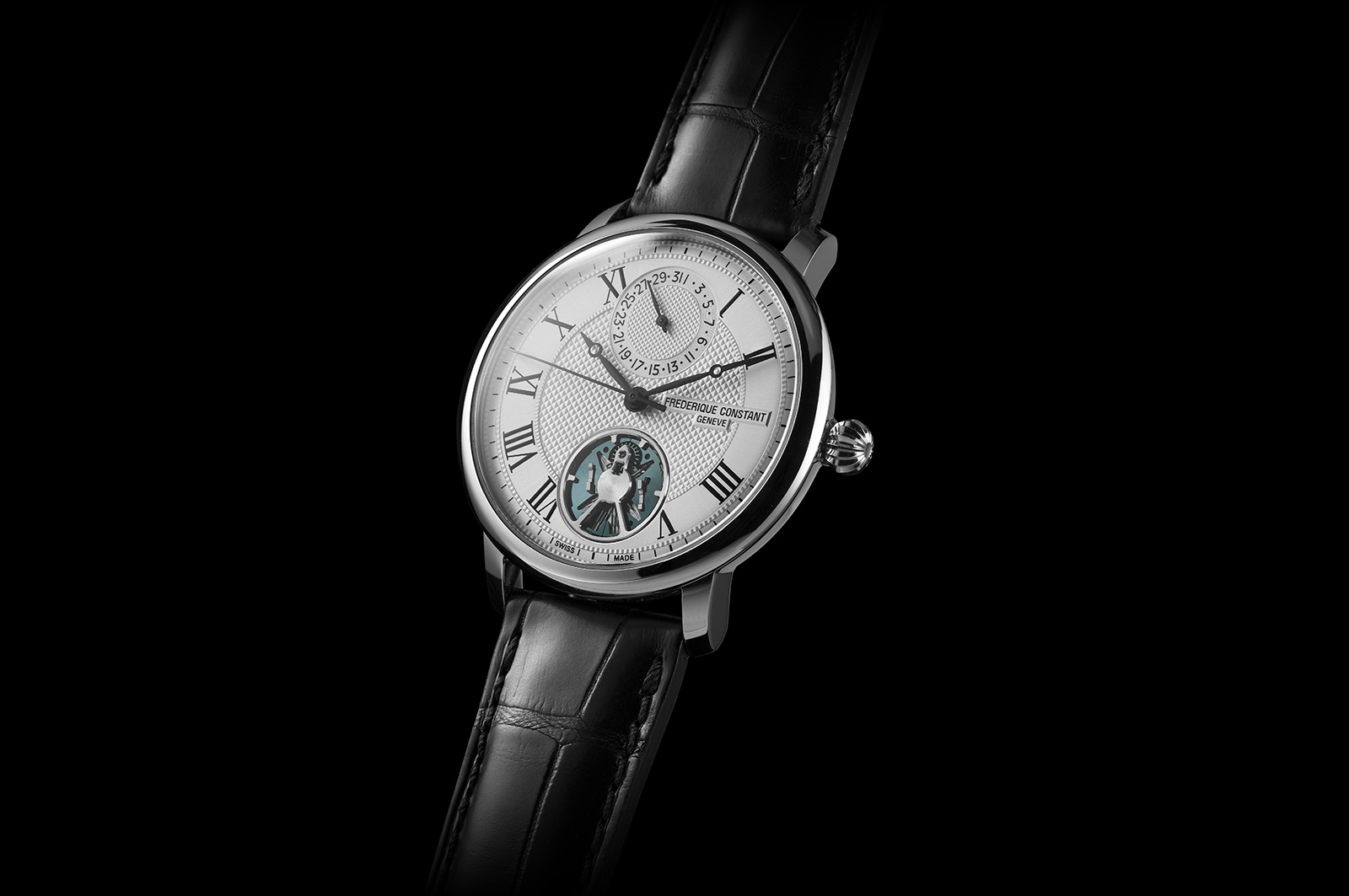 Hi-tech collab
The high-frequency silicon oscillator was born of a collaboration with Flexous, a startup focused on compliant mechanisms for horology that's backed by YES!Delft, a Dutch tech incubator. Flexous developed a compact, compliant-mechanism silicon oscillator for Frederique Constant, which installed it in a movement that is decidedly traditional, combining old and new ideas in a nearly seamless manner.
"Monolithic" refers to the one-piece construction of the silicon oscillator, which is also a compliant mechanism. Compliant mechanisms are single-part constructions designed to bend or flex – without joints or pivots – greatly reducing the part count of otherwise complex mechanical systems.
In the Slimline Monolithic, the silicon oscillator reduces the number of parts from 26 in a conventional Swiss lever escapement to just three. The balance wheel, hairspring, pallet fork and even jewel bearings in a traditional escapement have been integrated into a single silicon disc shaped like a butterfly. Two opposing inertial weights are mounted near the edges of the disc for regulation, making it similar in principle to a free-sprung balance wheel.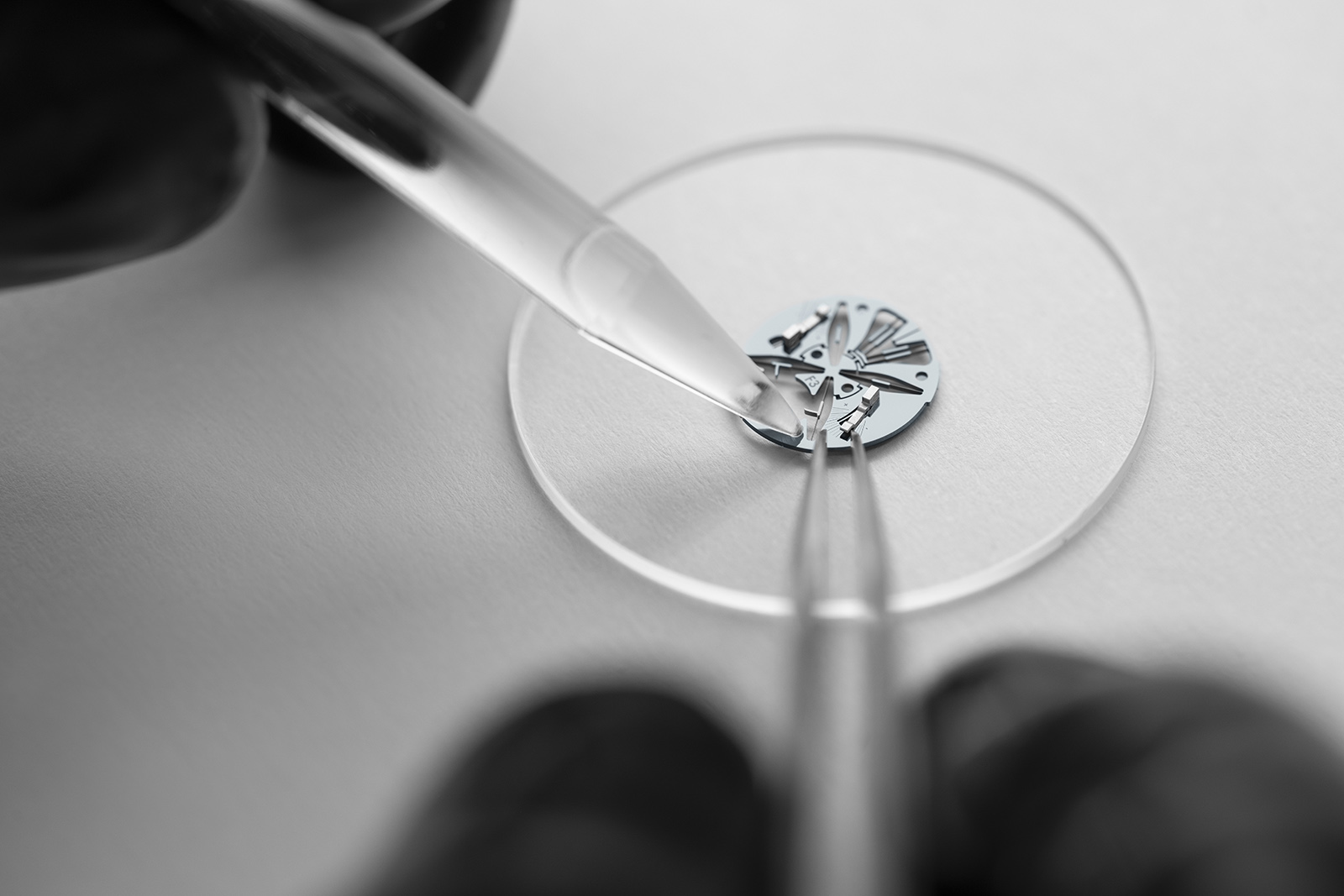 As a small and light component that vibrates at a tiny amplitude of six degrees, the silicon disc beats at a remarkably high frequency of 80 times a second, or 40 Hz – ten times the frequency of a conventional mechanical movement that runs at 4 Hz. Because of the high frequency, the escape wheel has to rotate similarly quickly, which is why it's also made of silicon, a lightweight material that has lower inertia than traditional metal alloys.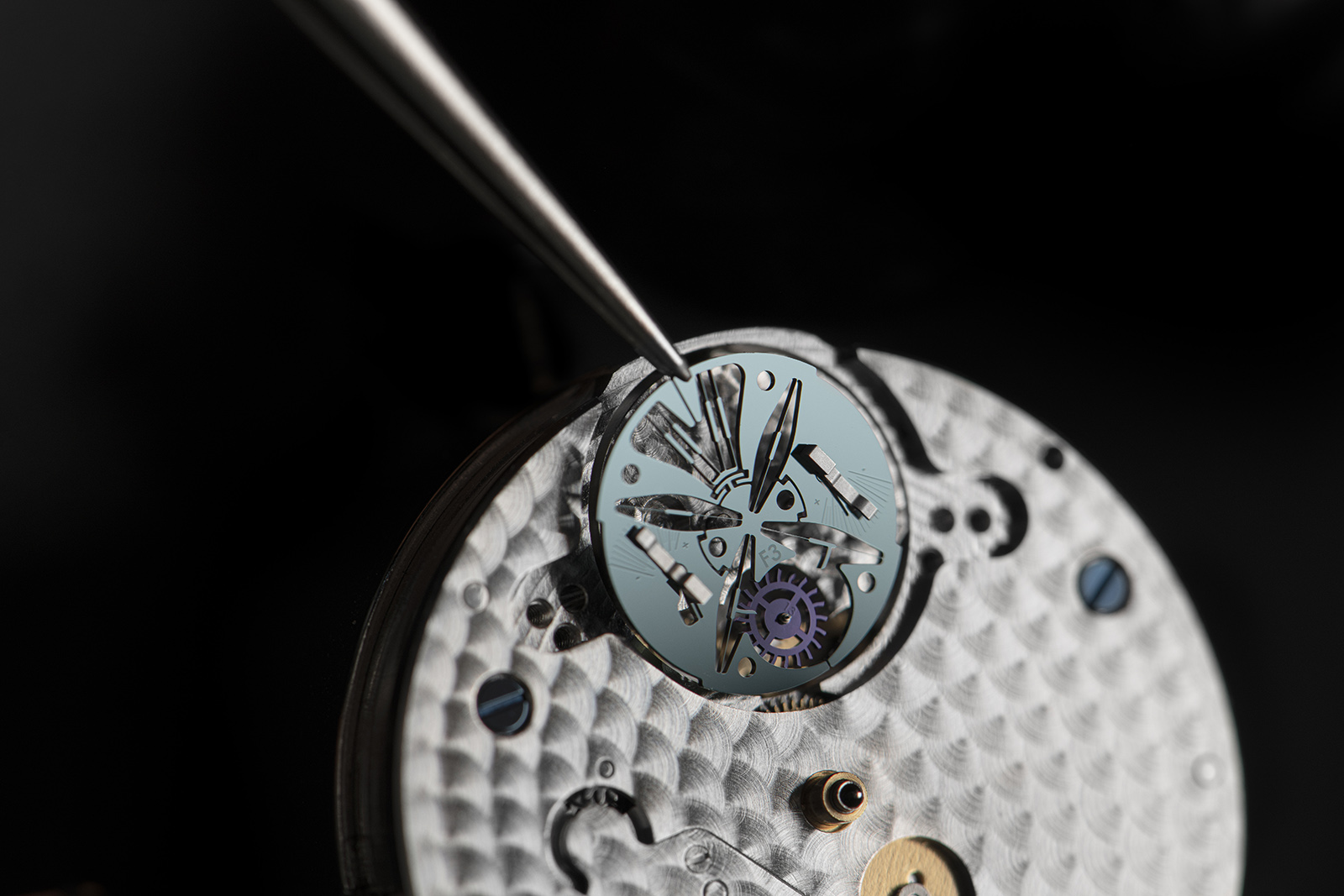 The ultra-high frequency theoretically provides better timekeeping as the oscillator is impervious to external disturbances like shocks while on the wrist. And silicon itself is resistant to changes in temperature, making the oscillator stable regardless of the environment. Frederique Constant claims the movement's accuracy being within COSC standards, running within -4 to +6 seconds per day.
Furthermore, silicon is antimagnetic, making the oscillator and escapement resistant to magnetism, which will otherwise influence the timekeeping of escapements made with conventional materials.
The high-frequency oscillator also results in the extremely smooth motion of the seconds hand, giving it a fluid, gliding sweep that's reminiscent of the Grand Seiko Spring Drive (which runs at an even higher frequency due to its quartz integrated circuit).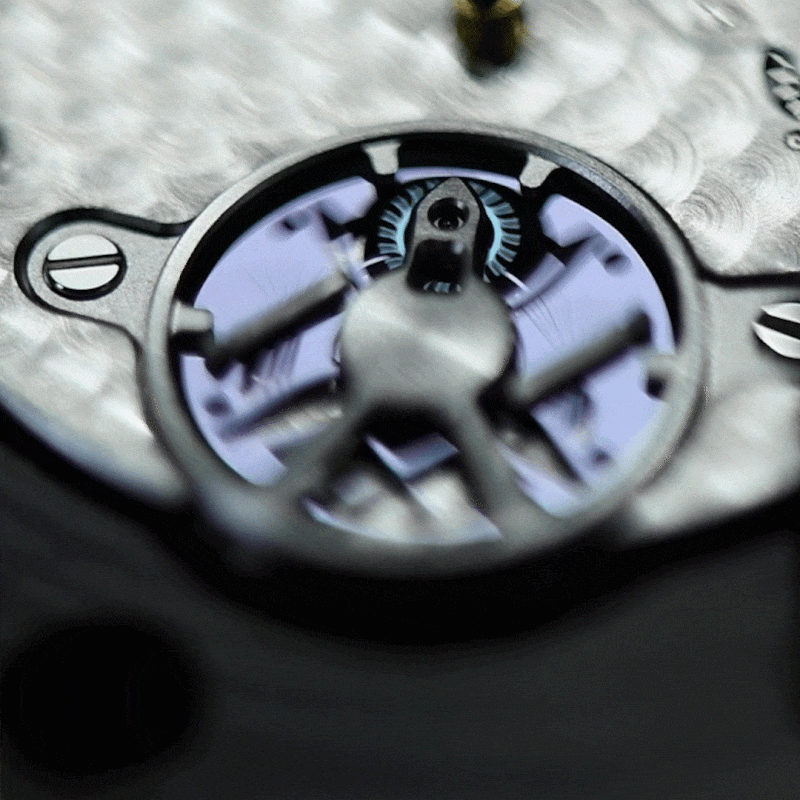 Oscillator aside, the Monolithic Manufacture is driven by an otherwise standard automatic movement featuring a central seconds and date, save for the addition of a "fifth wheel" in the going train to speed up the escape wheel. Despite the high frequency of the oscillator, the movement still boasts an impressive 80 hours of power reserve, largely due to the lightness and high efficiency of the silicon components.
A classical aesthetic
Save for the modern escapement, the rest of the watch has a classical, Breguet-style aesthetic that's typical of Frederique Constant – a stamped guilloche dial with Roman numerals and pomme hands. The dial reveals the escapement with the "open-heart" aperture at six o'clock that's balanced by a date sub-dial at 12.
Three variants will be available:  steel with either a silver or blued dial in a limited edition of 810 pieces each, or in 18k rose gold with silver dial and limited to 81 pieces.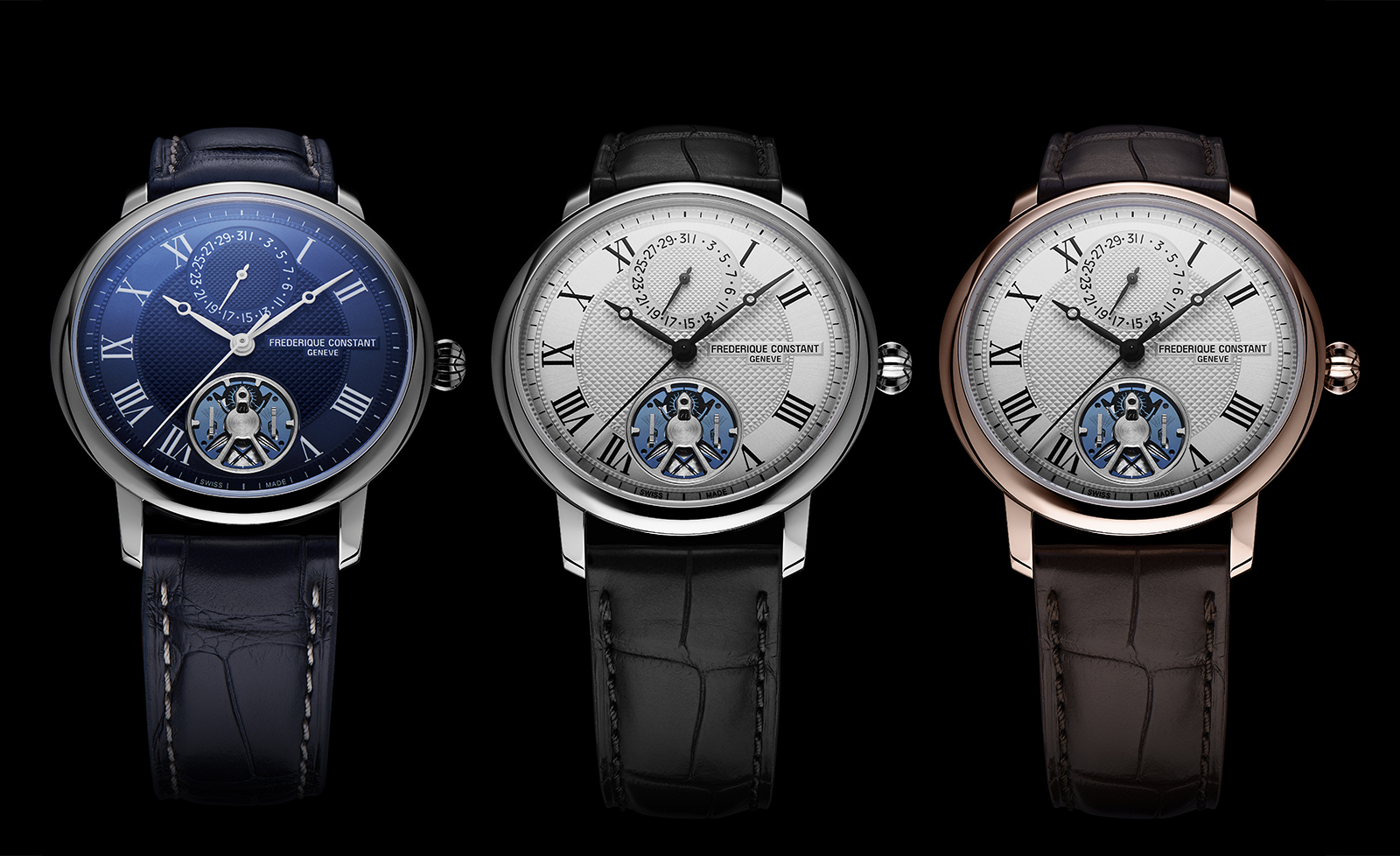 ---
Key facts and price
Frederique Constant Monolithic Slimline Manufacture
Ref. FC-810MC3S9 (rose gold, silver dial)
Ref. FC-810MCN3S6 (steel, blue dial)
Ref. FC-810MC3S6 (steel, silver dial)
Diameter: 40 mm
Height: Unavailable
Material: Steel or 18k rose gold
Water resistance: 30 m
Movement: Cal. FC-810
Functions: Hours, minutes, seconds, and date
Winding: Automatic
Frequency: 288,000 beats per hour (40 Hz)
Power reserve: 80 hours
Strap: Alligator strap with folding buckle
Limited edition:
Steel – 810 pieces
Rose gold – 81 pieces
Availability: Fall 2021 at retailers
Price:
Steel – €4,495
Rose gold – €14,995

For more, visit frederiqueconstant.com.
---
Update March 27, 2021: Added a statement that the oscillator and escape wheels are antimagnetic, as they are made of silicon.
Back to top.
---
You may also enjoy these.