Young Japanese Watchmaker Norifumi Seki Makes His Debut
The Sphere Moon Phase Pocket Watch.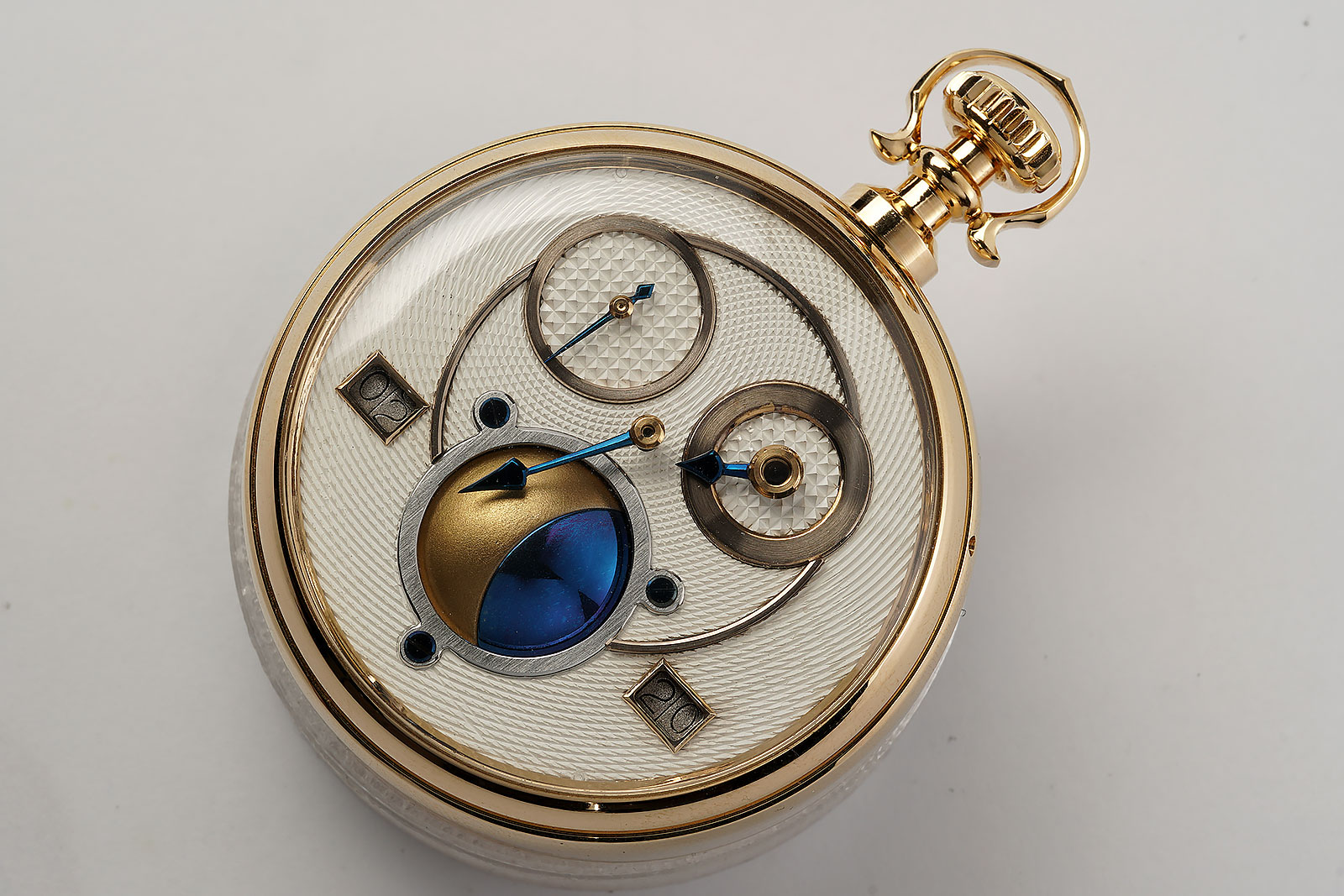 Just 23 years old – he was born in 1997 – Norifumi Seki graduated from watchmaking school last year, and recently completed his first timepiece, the Sphere Moon Phase Pocket Watch. Though inspired by the works of past watchmakers, Mr Seki's creation is surprisingly novel in both aesthetics and construction, especially since it is essentially a school project.
Based in Tokyo, Mr Seki has trod a short path to create this impressive watch. After graduating from junior high school, which is for children aged 12 to 15 in Japan, his interest in mechanics and craftsmanship led him to fabricate simple objects, including a beautifully-made folding knife.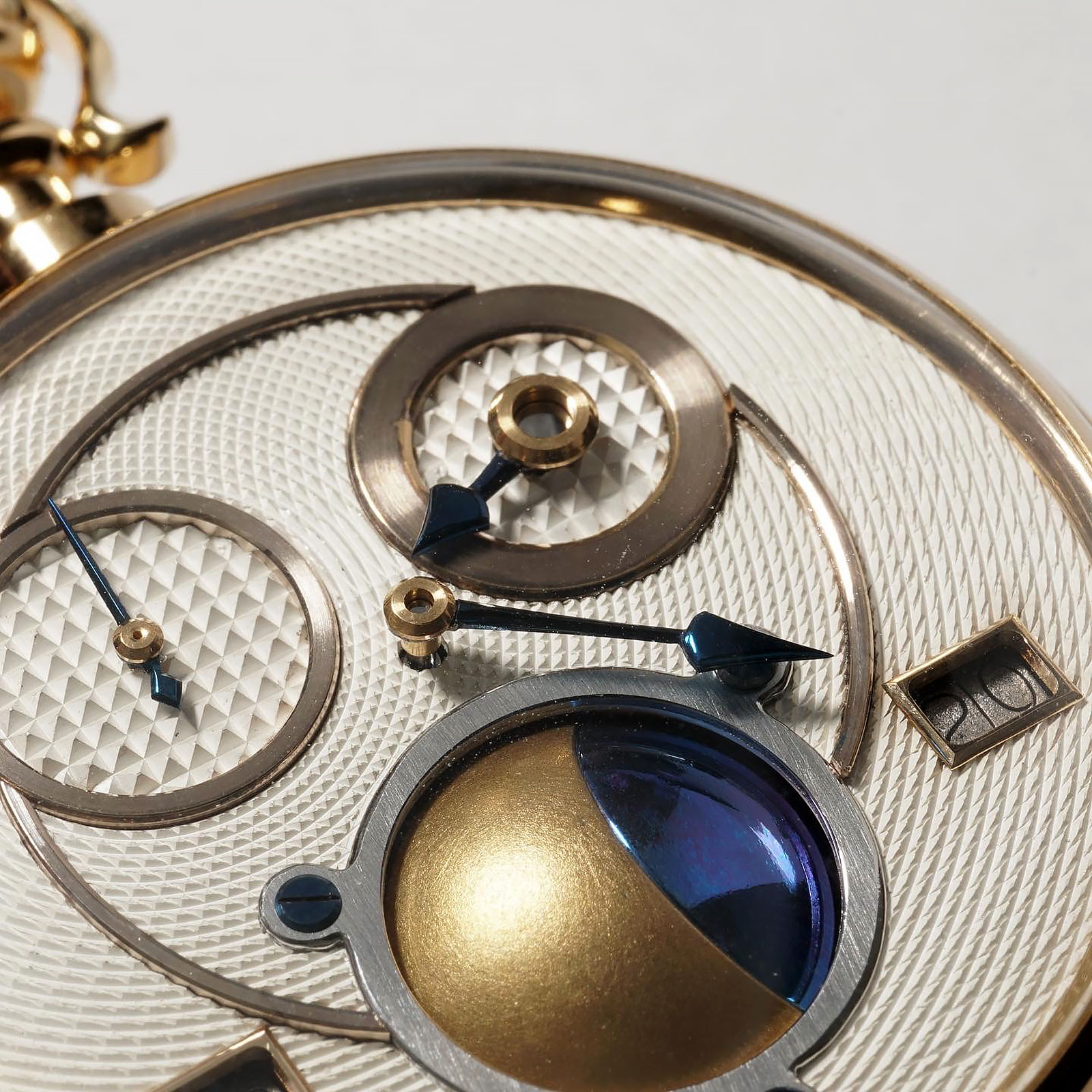 Inspiration
In 2016, Mr Seki met Masahiro Kikuno – arguably Japan's most interesting contemporary watchmaker – who inspired him to manufacture a watch by hand. And so at age 18, Mr Seki entered Hiko Mizuno College of Jewelry, a school in Tokyo's Shibuya district that also teaches watchmaking and shoemaking.
During his final year in school, Mr Seki started on his own watch. It's a large pocket watch with a regulator-style time display, oversized date and month indicators, along with an extra-large spherical moon phase.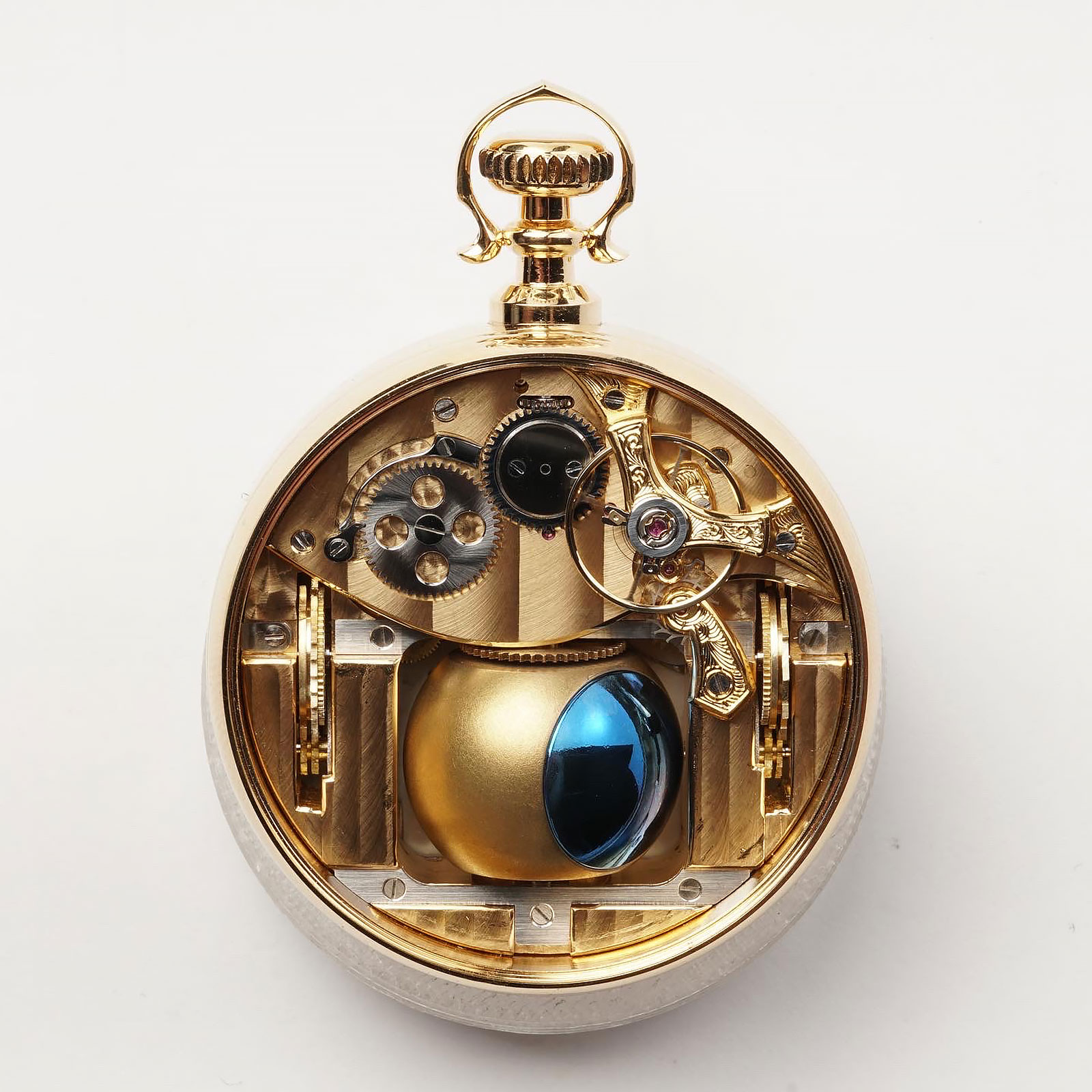 Spherical moon and drum calendar
Made entirely of titanium, the moon phase is 20 mm in diameter and set via a recessed pusher in the case band. A third of the sphere is heat-blued titanium, while the other is coated in gold.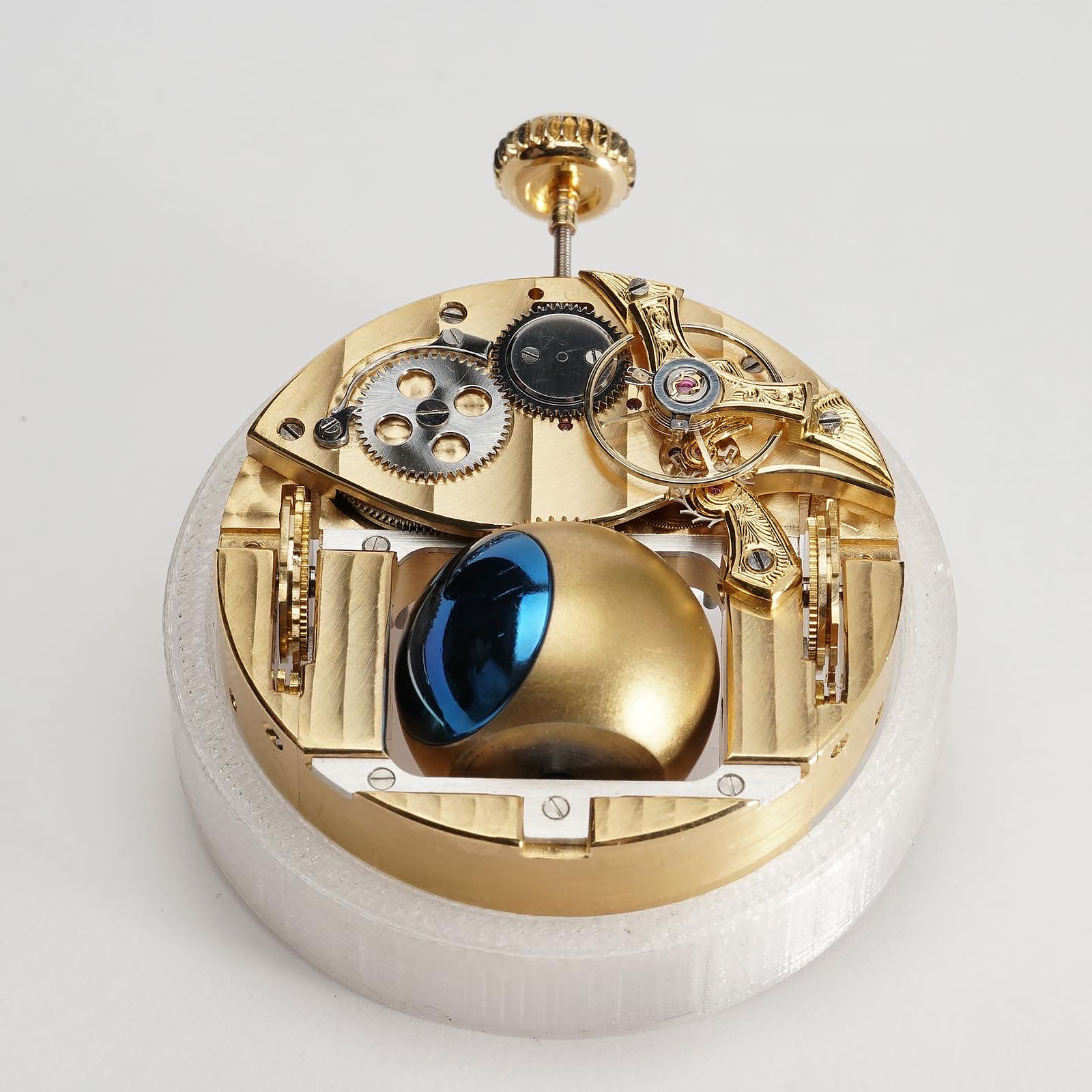 Show in two large windows, each containing two drums for the digits, the calendar is a simple one, with the month in the left window and date on the right; both can be set via the crown. Because the calendar display relies on drums, rather than discs, it is driven by gears perpendicular to the plane of the movement.
Building the movement
The movement is a mix of parts from tried-and-test calibres, as well as components made from scratch. Amongst the parts Mr Seki made are the base plate, bridges, and mechanisms for the calendar and moon phase.
Most of going train, from mainspring to fourth wheel, are taken from the Valjoux 7750, long a favourite base movement for complications because of its robust and reliable energy delivery.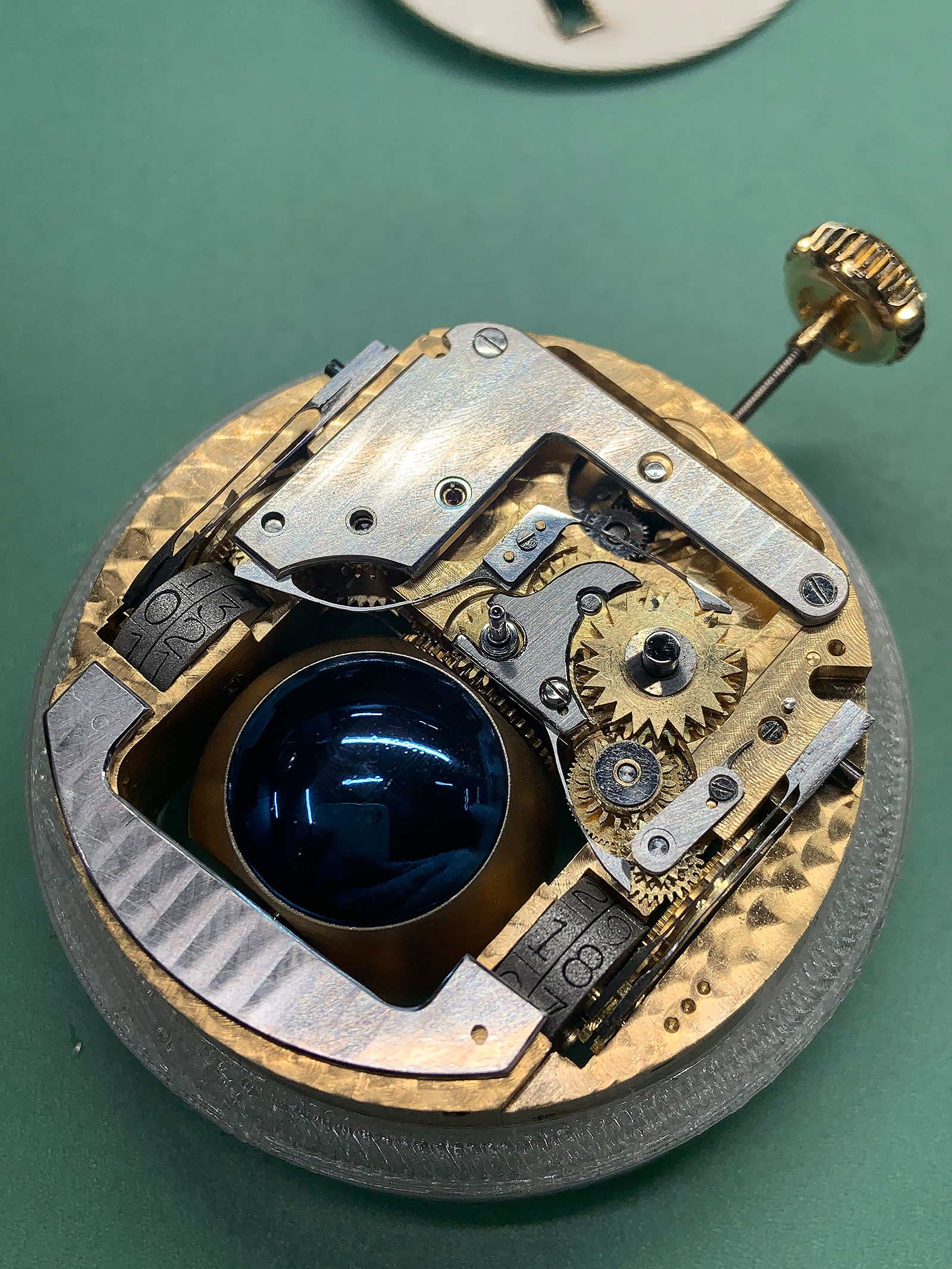 But because Mr Seki wanted the movement to operate at 3 Hz, instead of the 4 Hz of the 7750, the escapement comes from the Peseux 7040, a no-nonsense hand-wound movement from the 1960s.
He then produced his four-armed balance wheel and paired it with a hairspring from the 7750. As a result, the balance bridge still retains the Etachron regulator index of the 7750.
The movement is gilded in 18k yellow gold, and finished with perlage and Cotes de Geneve. Both the balance bridge and escape wheel cock are hand engraved by a former classmate of Mr Seki's at Hiko Mizuno College.
A student's budget
Mr Seki also produced most of the external components of the watch. Despite limitations in equipment and budget because he was still a student, Mr Seki managed to fabricate parts of impressive quality and design.
Though it appears to be engine turned, the dial was actually engraved on a lathe, as Mr Seki did not have access to a rose engine. But the dial colour was achieved the traditional way, having been silver plated using diluted sulphuric acid.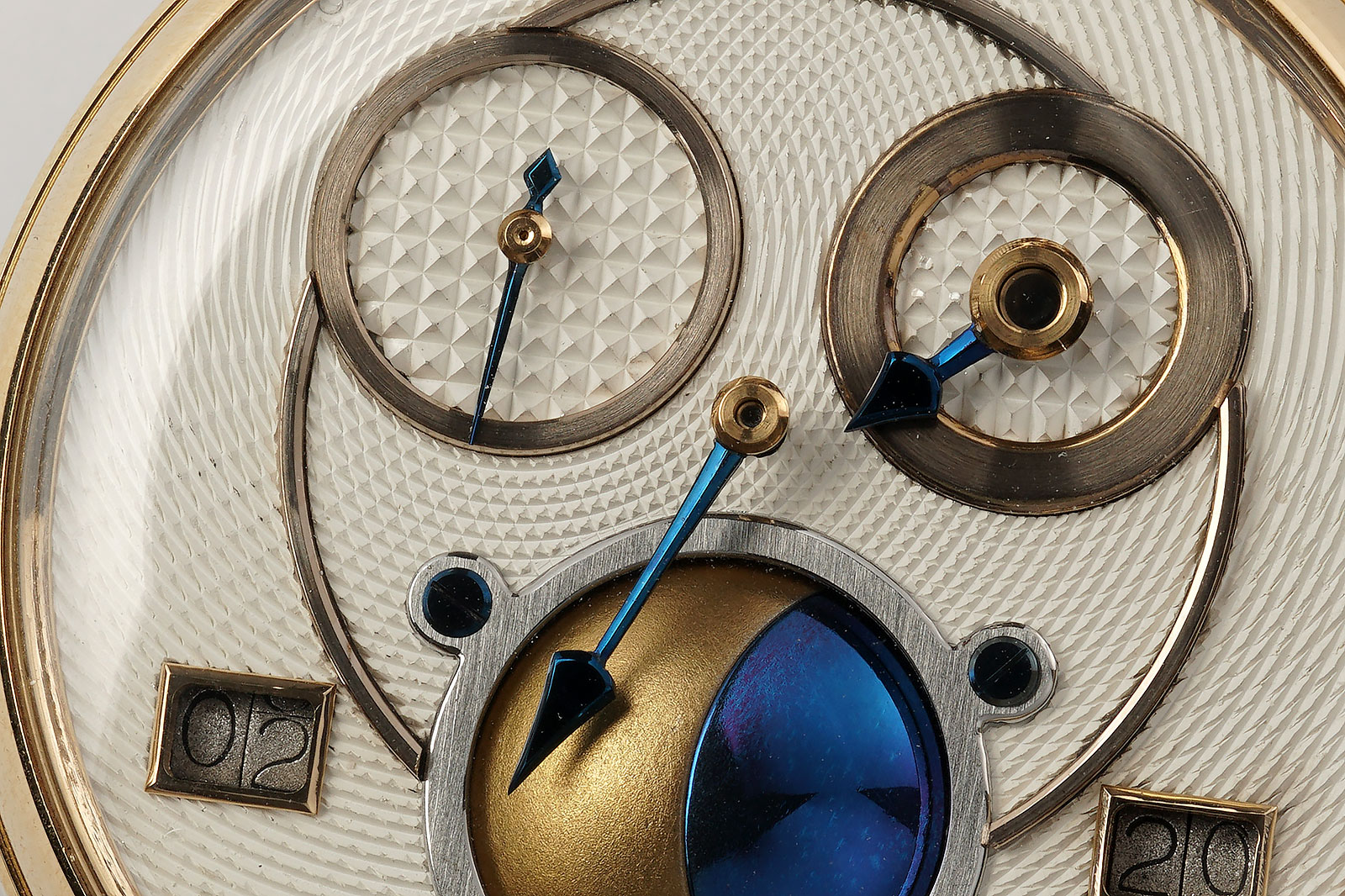 The hands were also made from scratch, made of a combination of heat-blued steel and gilded brass.
Similarly, the case, crown and bow are made of brass and then plated in gold.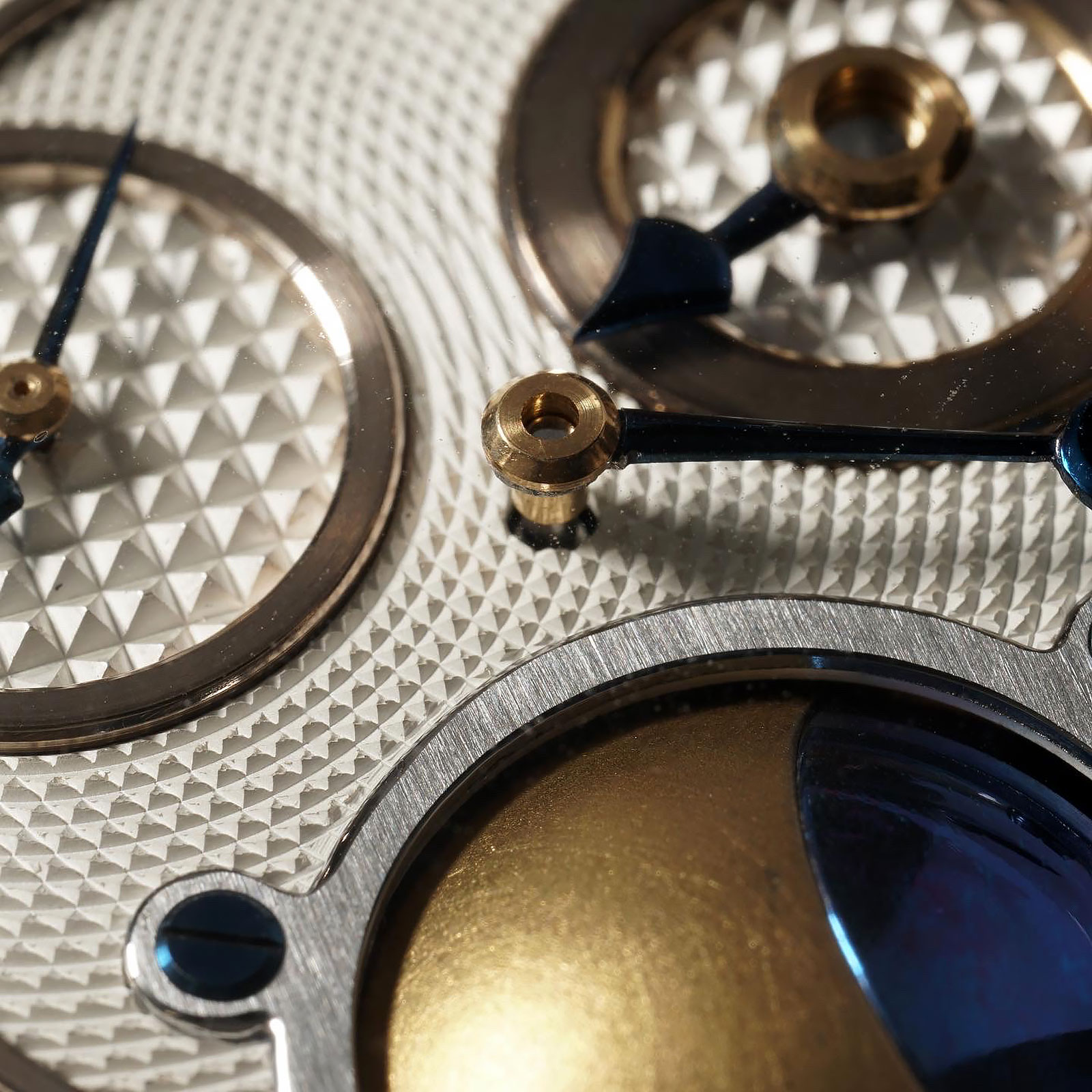 According to Mr Seki, the calendar mechanism is still "unstable" in both its nightly changeover and during manual adjustment, so the that aspect of the movement still needs refinement.
He has not decided what to do with the pocket watch yet, but he plans to test it over a year, and then decided if he will produce additional examples to sell. You can follow him on Instagram at @aysopos_jal.
---
Correction March 4, 2020: The balance wheel has a smooth rim, and does not have adjustable weights as stated in an earlier version of the article.
Back to top.
---
You may also enjoy these.