Interview: Jean-Marc Pontroué, Chief Executive of Officine Panerai
Leading the "Laboratory of Ideas".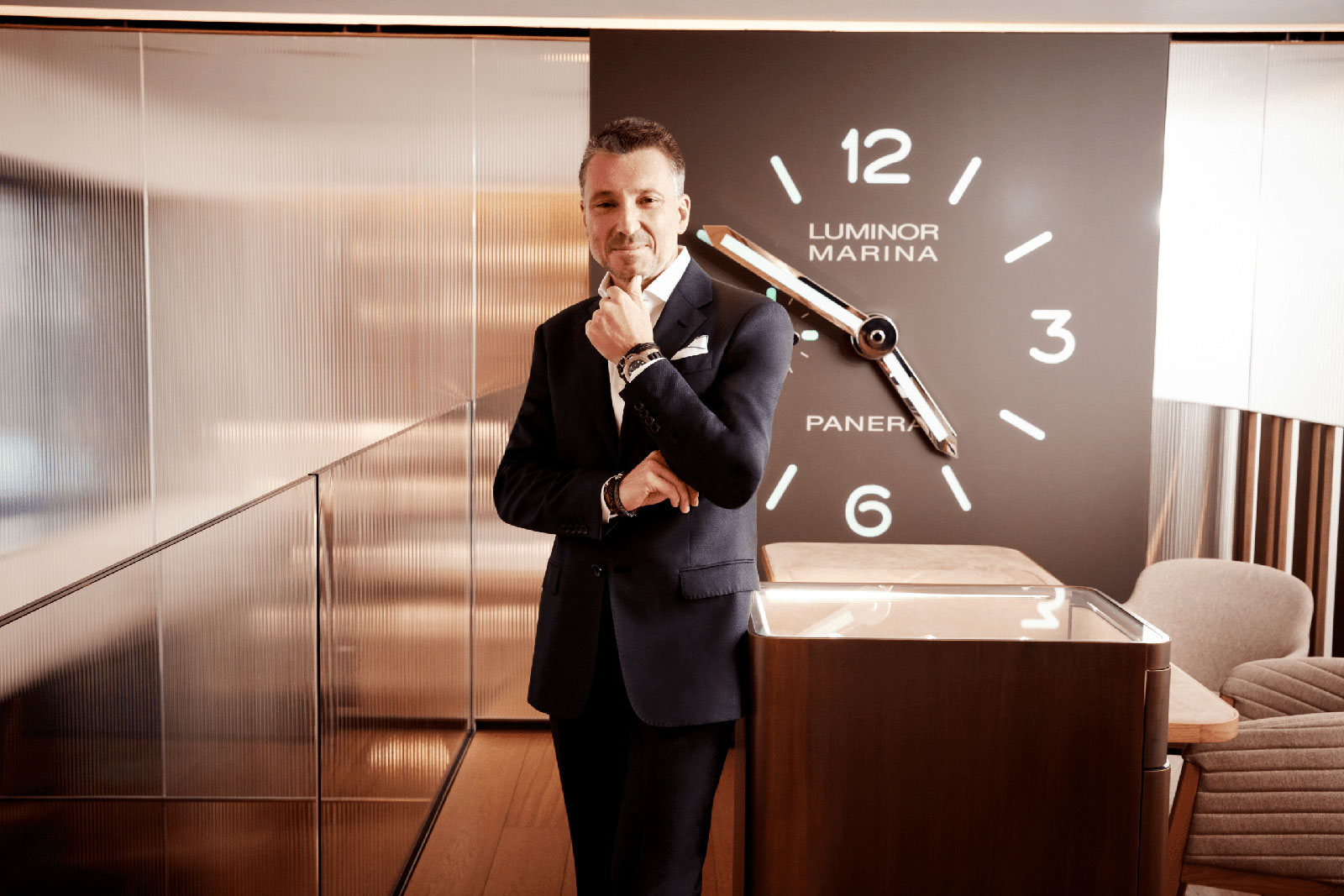 After a successful seven-year stint running Roger Dubuis, Jean-Marc Pontroué was elevated to the top job at Officine Panerai, not just a far larger brand but one of the most significant in the landscape for its influence and popularity.
Well regarded within Richemont as both a talented leader as well as a warm and sincere personality – a rare trait in the top ranks of the watch industry – Mr Pontroué became Panerai chief executive in April 2018. Before taking the helm at Roger Dubuis, the French national spent 11 years in charge of product strategy at Montblanc, and before that, a few years at fashion house Givenchy.
His career path is distinct from that of the earlier generation of Panerai management, many of whom came from Cartier, including former chief executive Angelo Bonati, who was head of sales at Cartier Italy. And that has perhaps given Mr Pontroué a different perspective; he wants Panerai to be accessible, both in price and spirit.
Though only in the job less than a year, Mr Pontroué has reshaped Panerai in ways both subtle and explicit. Amongst the more obvious changes is the streamlining of Panerai's offerings into four families – Radiomir, Luminor, Due and Submersible – as well as the special edition watches launched at SIHH 2019 that are accompanied by experiences, ranging from a training session with Italian navy commandos to an Arctic adventure.
I spent an hour with him at SIHH 2019 to learn more about what he's done so far, and what he plans for Panerai.
The interview was edited for length and clarity.
---
I saw all the SIHH products, and a few more special watches on Instagram [that will be launched later in 2019]. You have a great width of products this year from the modern Submersibles to the historical remakes. 
Very good. Do you like the direction? 
I do and I think it makes sense to be a bit less hardcore military. In past it was Marina Militare all the way. Now it's a bit more diversified; still maritime and the sea but not just the navy. The experiences that come with the watches are also interesting.
We say Panerai is Laboratorio di Idee [laboratory of ideas], so it is very important to give it substance. It's not just a claim, but we are really bringing innovation in terms of experiences where we can take customers to the next level.
I'm happy if people like you who have seen all the other brands can say we did a good job by making [the brand concept] clearer – more adrenaline, more excitement, more fun.
Are these experiences going to be a recurring thing?
I want multiple experiences. I want you to be able to come here and see I have 20 new products with 20 new experiences. It's very important to immerse the customers in the life of the brand.
Why do we do a watch with Guillaume Néry and not with me? Guillaume is a world champion in free-diving. That's why we develop watches with him. All the people we will work with are people associated with this type of world or environment.
So experiences will be one segment of the brand. The other segment, the military and historical part of the brand – will still be a recurring theme?
Yes, it will still be part of the assortment as the historical background of the brand.
And each collection of watches, Luminor, Radiomir and so on, are associated with one segment?
Exactly, that's the structure. Radiomir stands for all that has been in the past – re-editions, vintage, [the classic yacht] Eilean, Firenze, museums. This is Radiomir. No more ceramic cases in Radiomir; it has to be steel, gold, or platinum.
Luminor is the brand. The green ["3, 6", 9, 12"] dial you see at the entrance – this is what Panerai stands for – contemporary Italian elegance.
Due is a family that stands for the acquisition of new groups of customers – women, millennials, and new countries are more open to this type of watches that are easier to wear.
And then Submersible is about extreme sport – Guillaume Néry, Mike Horn, Marina Militare. If you're not doing four hours of sports every day, you don't deserve a Submersible. Sylvester Stallone started with this. You know Dwayne Johnson? When he buys a Panerai, he buys a Submersible.
I like what you have done with the booth. I guess this is the new feel of the brand; it's a bit more accessible.
This is what Panerai is all about. It should be a friendly brand. It makes me very happy when customers say that they have been to our boutiques 10 times just to enjoy life, have coffee, and feel at home.
The experiences that are offered with the 2019 watches are more modern compared to before, when the main experience was sailing. Are you still going to continue with that?
Only for the world of Radiomir. Classic sailing with Eilean – that is Radiomir. In the future, we will have Eilean stationed at key harbours such as Amsterdam, London, Miami. This is how we can use Eilean as a platform to entertain customers, but not in a contemporary way.
It's a super boat but not to explain the Submersible. I would not launch a Submersible on Eilean. A Submersible is launched with Mike [Horn].
And for you yourself, personally, would you say you are a classic Radiomir man or a sporty Submersible guy?
Since I do sport, I'm more Submersible. But when I wear a suit, I love the Due.
Luminor is a nice watch because it is so broad in terms of potential. Radiomir is an elegant classic, with straps that are incredible. You know, the straps are never black on a Radiomir. It is always beige, brown, honey, tobacco – all the colours that are the Italian spirit of the brand.
On another topic – Paneristi. They're a specific group of collectors and enthusiasts who are fanatical about the brand. How does that figure in your strategy?
I want to be close to these people by showing them respect for having been loyal to our brand for more than 20 years.
It is a great chance for us to have this group of people who can tell you more about Panerai history than I'll ever know even if I stayed 20 years in the company.
And they have very interesting points. They ask why I did that, then I explain it to them and they give me arguments. Will I please everybody? No, it's impossible.
Panerai is a brand that brings emotions, so when we do something – and I see it on social media – we can cause great excitement, great disappointment; there's no in-between. Panerai is a statement brand so we never make a so-so, boring statement.
Sometimes there can be great disappointment, as we saw this year [here at SIHH].
It can happen tomorrow to anybody, even a giant in the field. Like in 1996 when Coca-Cola decided to change the formula of classic coke and created New Coke.
I remember arriving in the US and people were protesting on the streets, saying they didn't want New Coke, they wanted classic Coke. After six months Coke cancelled it – out with the new, in with the original. Coca-Cola probably has the biggest marketing department on earth and that shit still happened.
So, you can be a leader in your industry but mistakes like that can still be made, which is a great learning [opportunity]. It can happen to anybody because you take risks, then you win or you fail. The important point is to have 51% wins and 49% failures.
Many Panerai fans like the military heritage and remakes – those are usually wins – but there are also collectors who like complications. You also launched a tourbillon this year. How important are high-end complications going to be for Panerai?
I strongly believe in the tourbillon because it is a significant business. I believe in modern complications, like the new Lo Scienziato, which has a modern, skeletonised, lightweight type of movement. This tourbillon is one of our bestsellers. 
I was at the first Panerai launch event in 1998, or 1999, and it was so exciting. There is no other brand in the last 20 years that has evolved as much while being as successful as Panerai.
This is the only success story in the industry, perhaps with the exception of Richard Mille, that was non-existent 25 years ago. All the others, like Audemars Piguet and Rolex, that are very successful today were already in business 25 years ago.
With that kind of history behind you, do you feel pressure?
No, not at all. Firstly, I'm a very relaxed person even though I can be very stressed.
Today we have the chance to shape a great brand with great products, which is part of a great group. So we just have to make sure the marketing is as good as the product. You can have great marketing and poor product, or great product and poor marketing.
We have great products and great marketing; we need both engines running at the same time. We are working together as a team slightly better than many others. The point is being slightly faster than the [competition]. That's it.
---
Back to top.
---
You may also enjoy these.