Interview: Casio's Chief Engineer on Tech and Tradition in the G-Shock MR-G
Samurai meets sci-fi.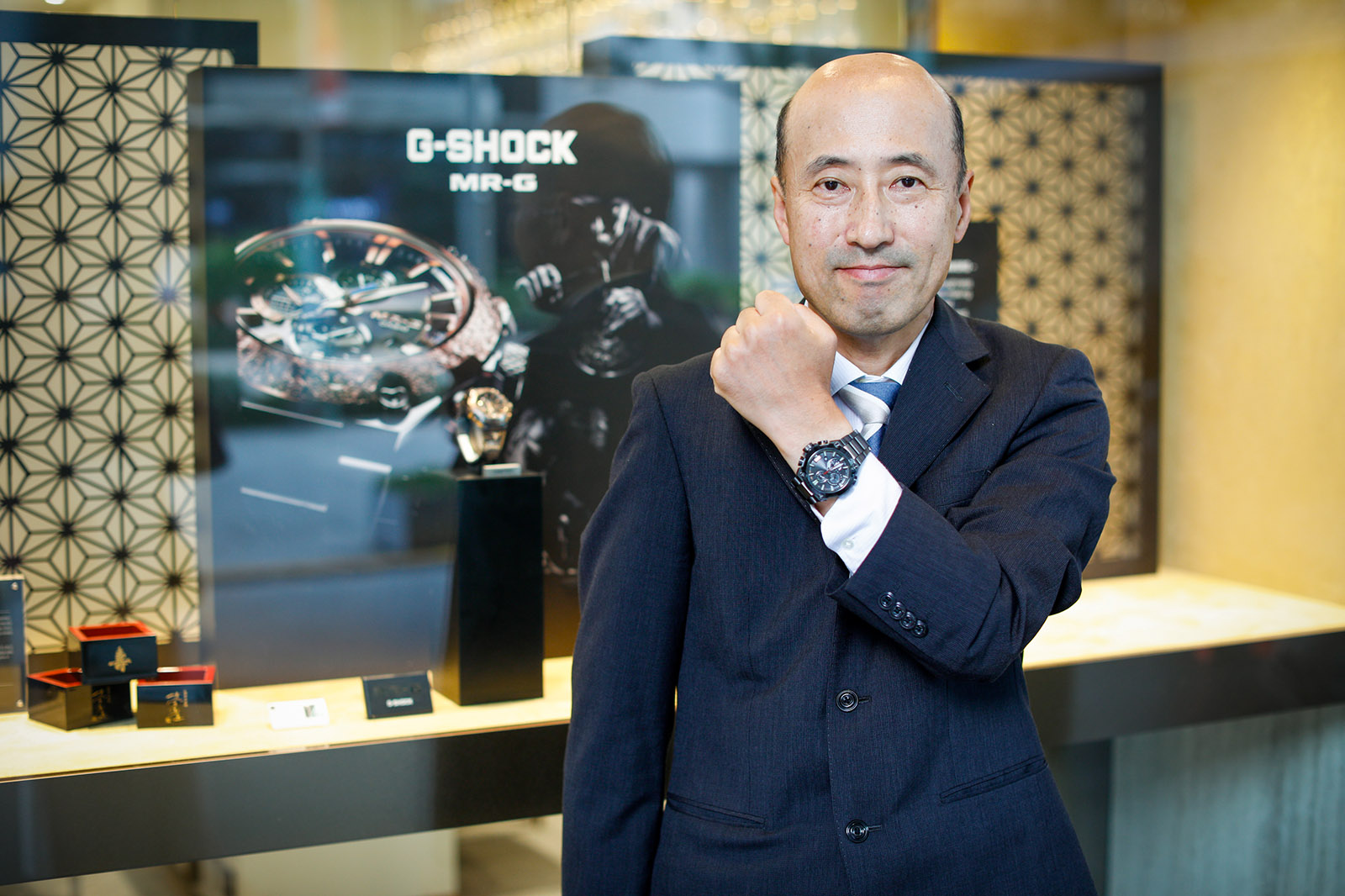 Since the first Casio G-Shock rolled off the production line in 1983, the shock-proof watch has grown into a monster hit, selling over 100m units by 2017. At times cartoonishly bulky, the rugged style of the G-Shock is perhaps watchmaking's most extreme example of form following function. But what comes as the biggest surprise is its adaptiveness. Despite spawning over 2000 variations to date, the G-Shock remains distinctive, unique enough that it's become the benchmark for robust, oversized electronic watches. And yet it's versatile enough for almost anyone, being worn by military special forces, astronauts, sportsmen and pop stars.
Having conquered the mass market, its move upmarket with the all-metal MR-G was inevitable in hindsight. Conceived to combine bleeding edge technology and traditional Japanese decorative techniques, the MR-G was Casio's first foray into luxury sports watches, launched over 20 years ago in Japan, but only sold internationally starting 2015.
"The idea of a luxury G-Shock came from Kikuo Ibe [the inventor of the G-Shock]. It challenged us to do what luxury brands couldn't do," says Casio Chief Engineer Shingo Ishizaka, who led the team that designed the MR-G. "We wanted to create G-Shocks that would accompany our audience through different stages of their lives, and in that sense, grow with them," he adds, "The MR-G caters to a more mature audience who are in their 40s and 50s, and wore G-Shocks when they were young."
In his mind, the transition from digital to analog displays seemed like a natural step in the move upmarket, which is why the MR-G now typically features traditional hands in addition to a digital panel. Though the aesthetics are different, the MR-G remains rigorously dedicated to the philosophy of the G-Shock.
"When I started designing metal G-Shocks, I thought about what could be done with the G-Shock that can never be done with other luxury watches on the market – create a luxury metal watch that was as indestructible as a plastic G-Shock," explains Mr Ishizaka, "It's more a process of elevation than creation because we have to stick to our values."
Regardless of the new white-collar incarnations, a G-Shock can never lose its blue-collar robustness, according to Mr. Ishizaka. It was, after all, a watch designed for construction workers.
"It has to be unbreakable and shock-resistant, and that informs its design. Not only that, it also takes the form of all of its hi-tech functions," he stressed. Like its plastic predecessor, an MR-G uses multiple parts for the case – the bezel and back are separate from the case middle for instance – with shock absorbers between them to protect the electronic module from shock.
"However, in contrast to a regular G-Shock, we use the most advanced technology and rare materials in a MR-G, with many components that are crafted by hand," added Mr. Ishizaka. Since the beginning, all MR-G watches have cases and bracelets in steel or titanium, with more recent models boasting elaborate surface finishing, like the recently launched MR-G "Hammer Tone".
The case decoration, plus the electronic functions and spatial demands of fortifying a metal watch, result in an aesthetic that is far more complex than the average sports watch. Consequently the MR-G resists all attempts at categorisation, but when viewed through the perspective of Mr. Ishizaka, this seemingly awkward combination of the most advanced technology and the most traditional of Japanese decorative techniques seem apt.
"Premium G-Shocks are made in our Yamagata factory in Japan so I wanted the watches to look the part. I wanted them to look like they were obviously made in Japan," explained Mr. Ishizaka. "I thought about the traits of Japan that were easily identifiable. It is widely known that Japan is a country where ancient traditions coexist with modern technology so eventually I arrived at this combination." Think of it as samurai meets sci-fi.
---
Back to top.
---
You may also enjoy these.