Doxa Revives the Sub 300 "Black Lung" Prototype
Recreating one of the most sought-after Doxa watches.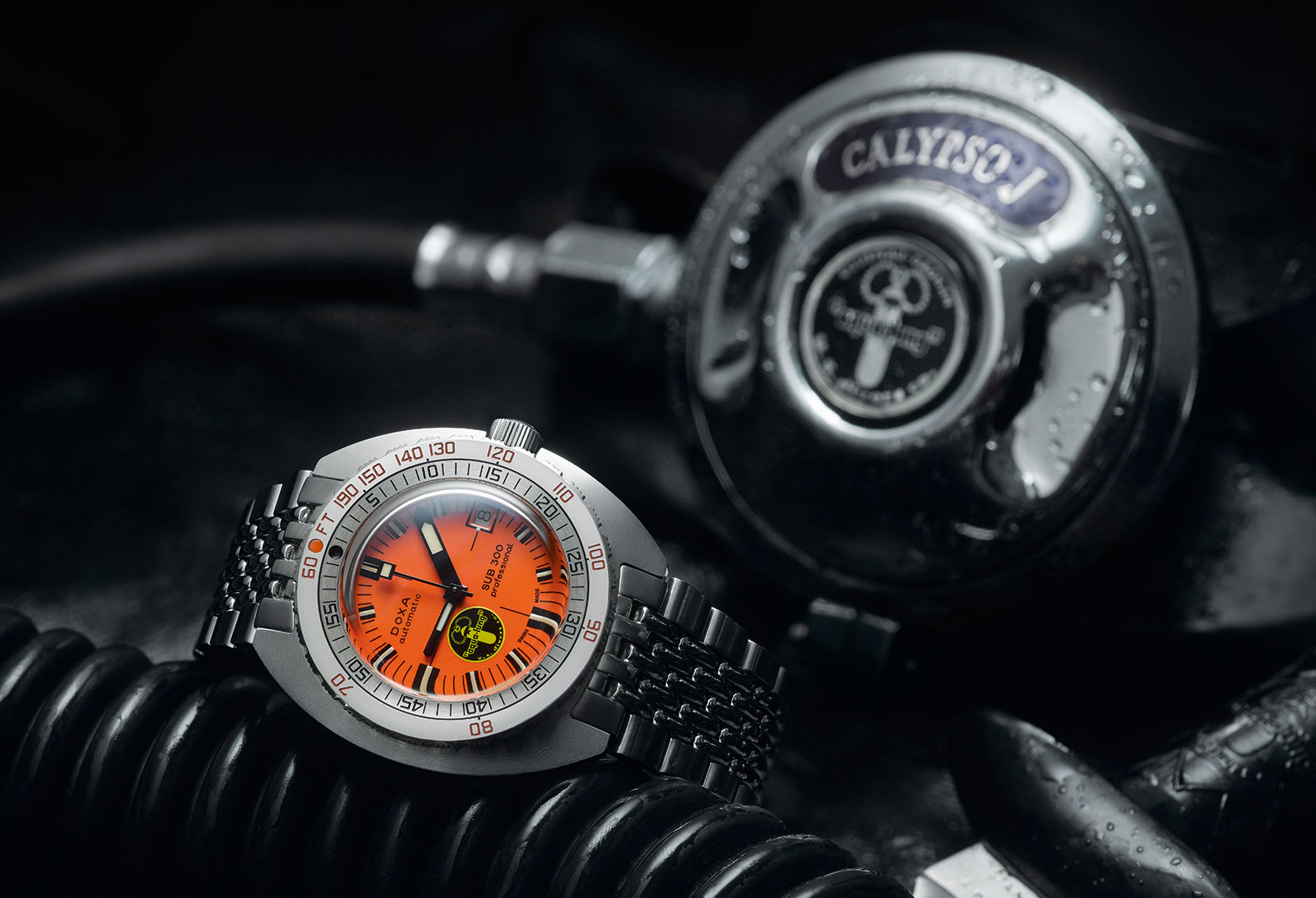 Exactly half a century ago, Le Locle-based Doxa unveiled the Sub 300 "Black Lung", nicknamed after the blacked-out Aqua Lung logo on its dial. But it would be remiss to call it a proper launch as the Sub 300 was, in truth, a prototype of the actual watch that would become a milestone in the history of dive watches.
It's estimated that no more than 20 Black Lungs were sold as a trial for the new model, which was later revised and officially launched as the Sub 300T (with the suffix short for tritium). Amusingly, to mark the Black Lung's 50th anniversary, Doxa has decided to reproduce this storied prototype whose appeal, today, conversely lies in its defect and rarity.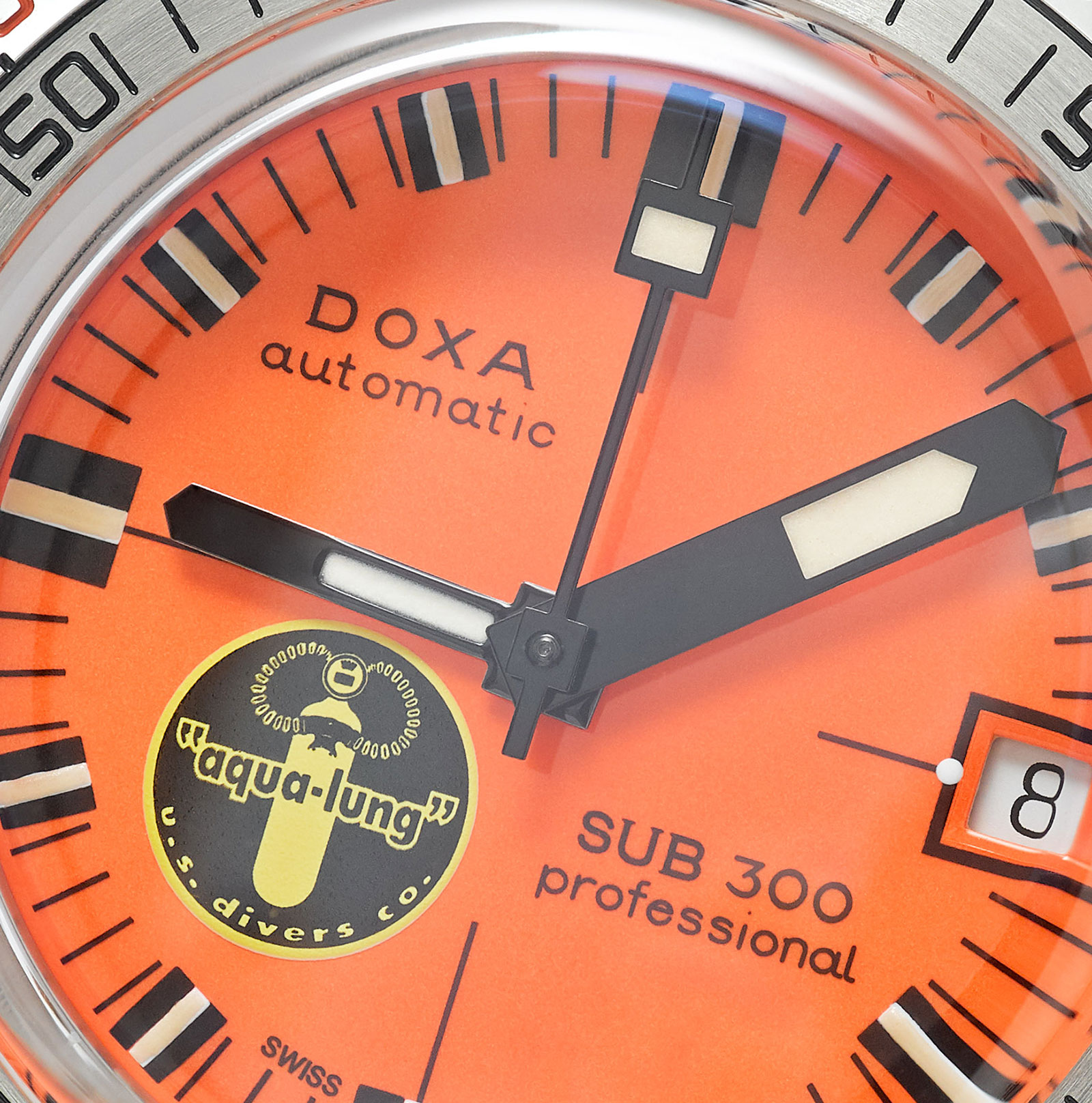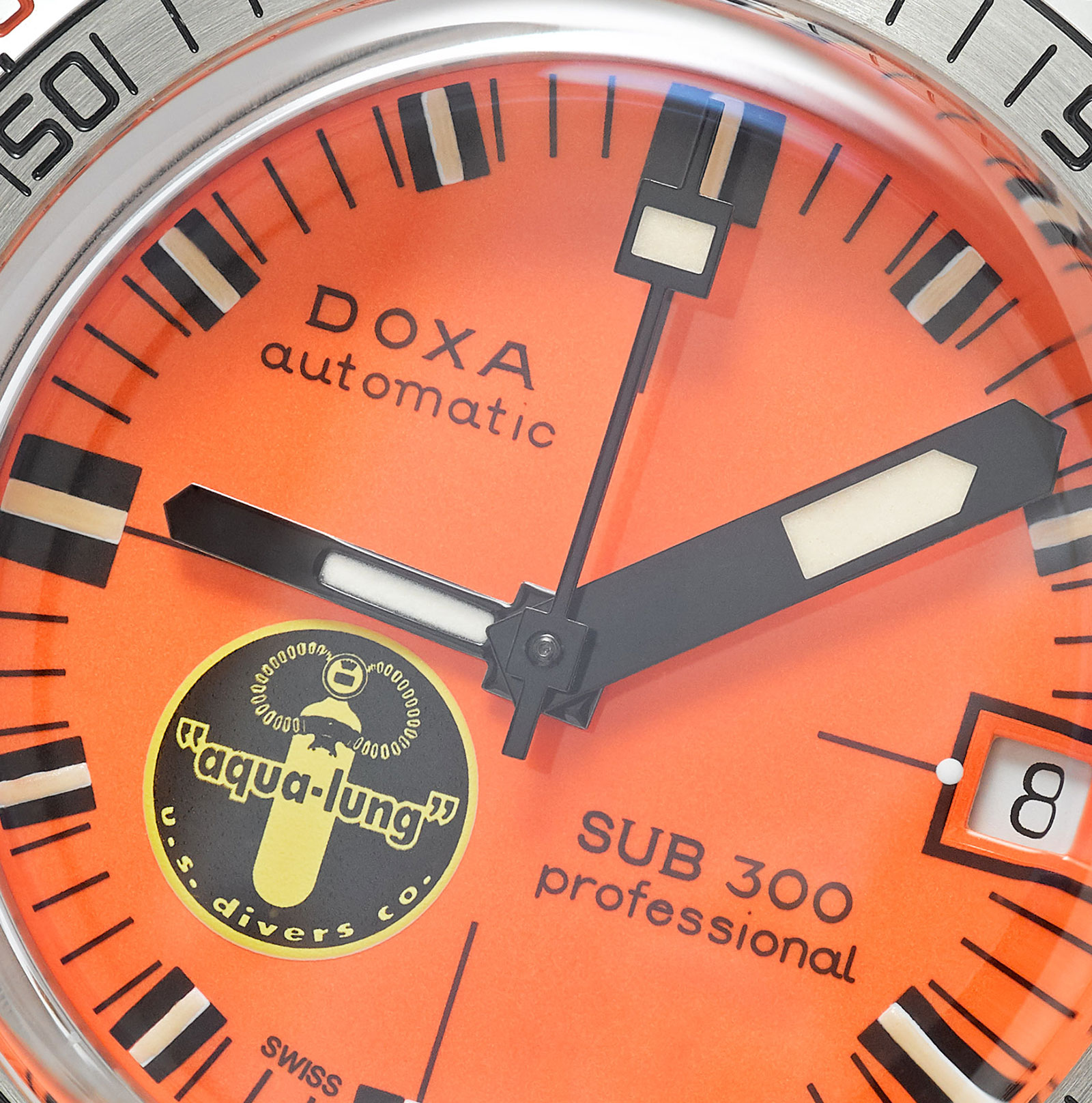 Apart from a seemingly minor peculiarity on the dial of the Black Lung, it bore the same winning attributes as its successor. In the decades prior to its birth, the industry would have had its fill of heavyweights designed for military or commercial use. Amongst them the Blancpain Fifty Fathoms designed at the behest of the French Combat Navy School, the Rolex Submariner chosen by the Royal Canadian Navy (amongst other military forces) and the Omega Seamaster Ploprof 600m developed in conjunction with deep sea engineering outfit Comex.
At the same time, recreational diving was starting to become something of a cultural phenomenon due to the introduction of a modern demand regulator in 1942 known as "Aqua-Lung".  Co-designed by the legendary ocean explorer Jacques Yves-Cousteau, this self-contained underwater breathing apparatus (SCUBA) would supply divers with compressed air in a cylinder, connected to a pressure regulator. It effectively transformed diving, once the preserve of the military, into the pastime of civilians. This newfound underwater accessibility thus created a niche in watchmaking waiting to be filled.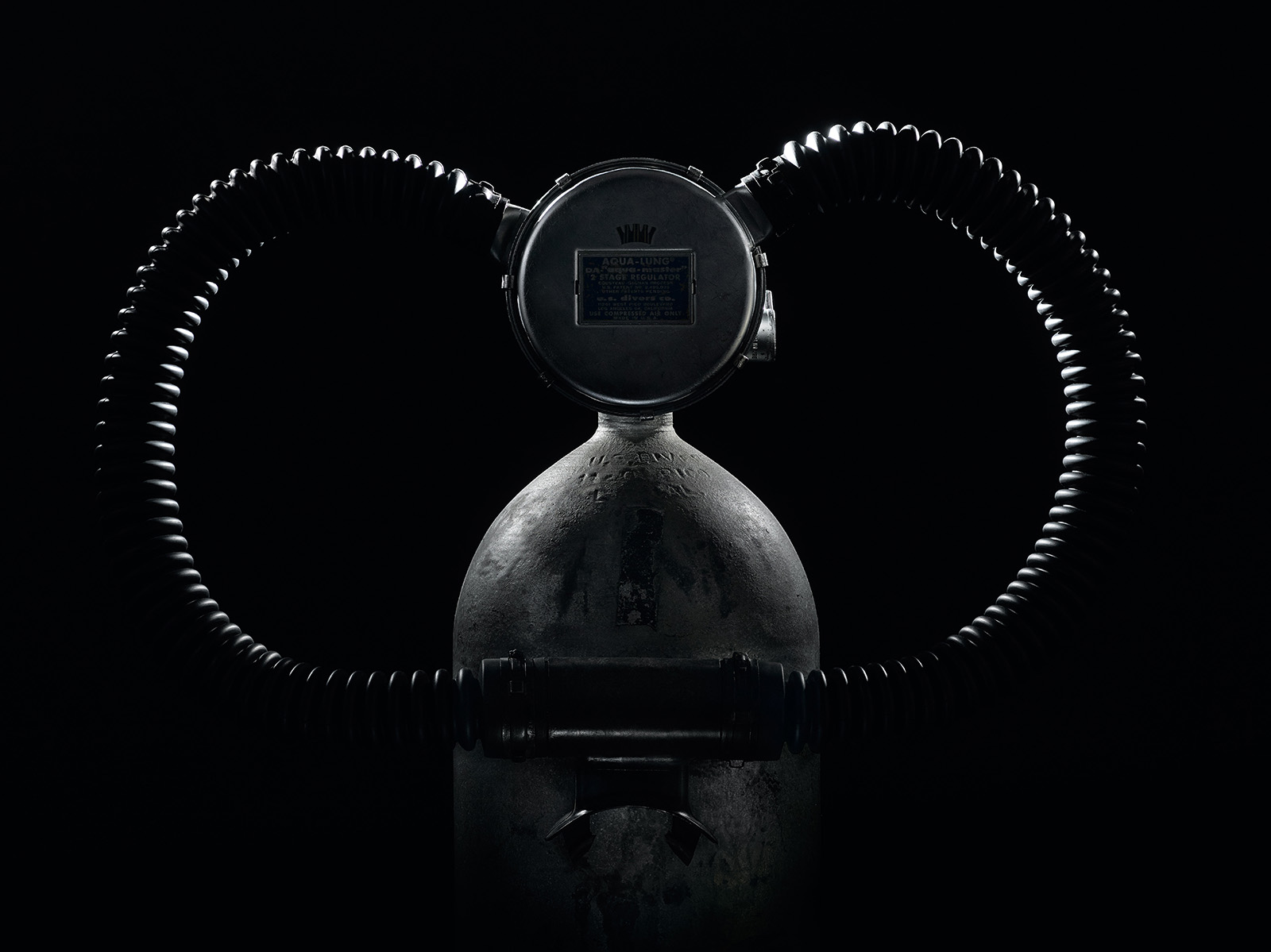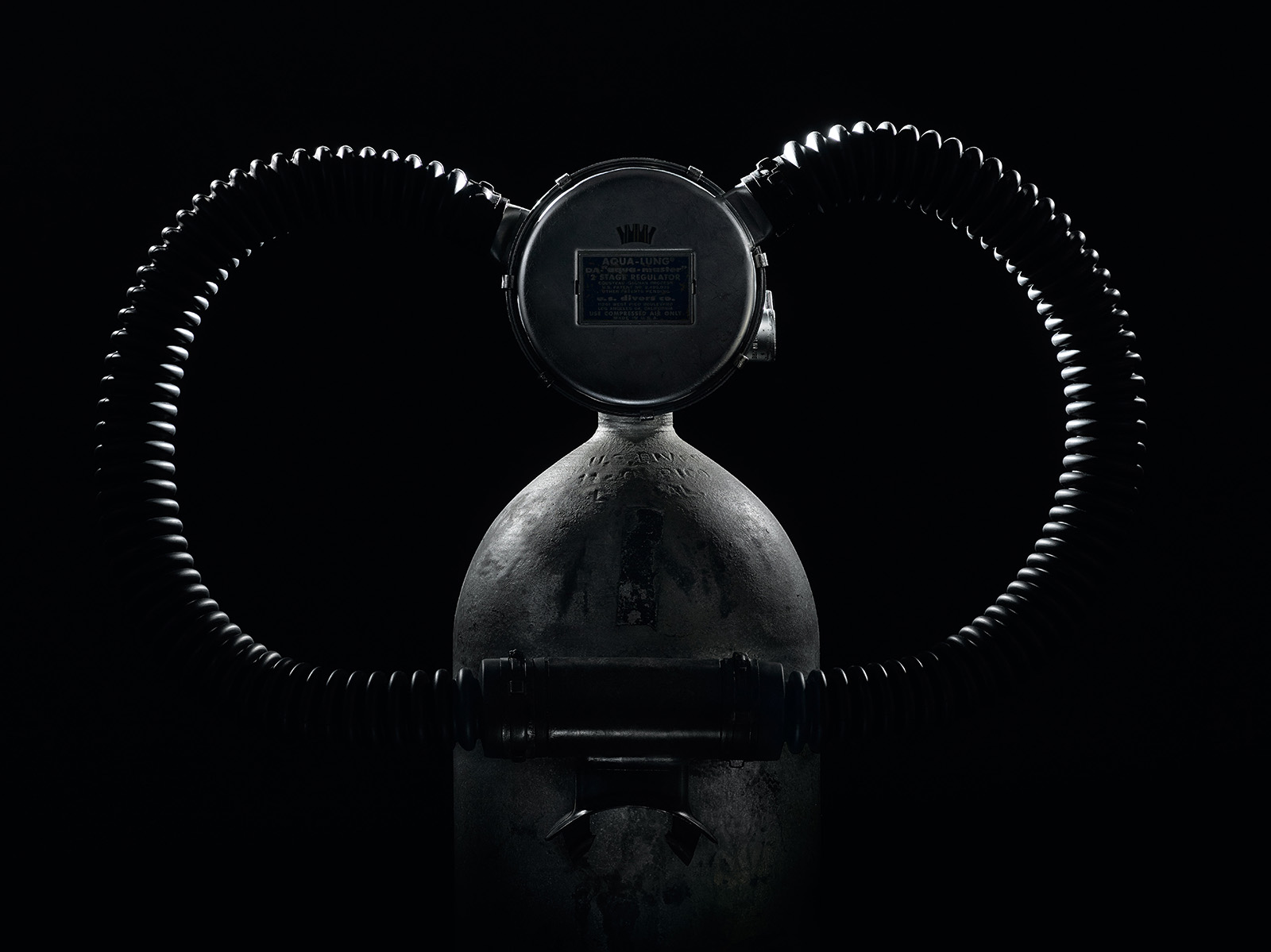 Urs Eschle, Doxa's Head of Operations commissioned a team of watchmakers, engineers and divers, including Claude Wesly, the first man to live three weeks underwater, to create an affordable dive watch that would no longer be modelled on a mil-spec design. The Sub 300T was, at its core, a populist — a watch truly tailored to the needs of the recreational diver. It was rated to a depth of 300 metres and had a tonneau case, measuring a massive 45mm in length and width, which protected the crown.
Though it's a point of contention today, orange was the colour chosen for its dial as it was discovered to offer the best contrast at depth after the team had tested a variety of colours in the murky waters of Lake Neuchâtel. It was also the first orange-faced diver that subsequently served as the template from which many other dive watches have since derived. The hour hand, unimportant on a bottom timer, was dwarfed by an enlarged minute hand, while its sweep seconds hand featured a large square tip. Together with bold tritium markers, the watch offered optimum legibility.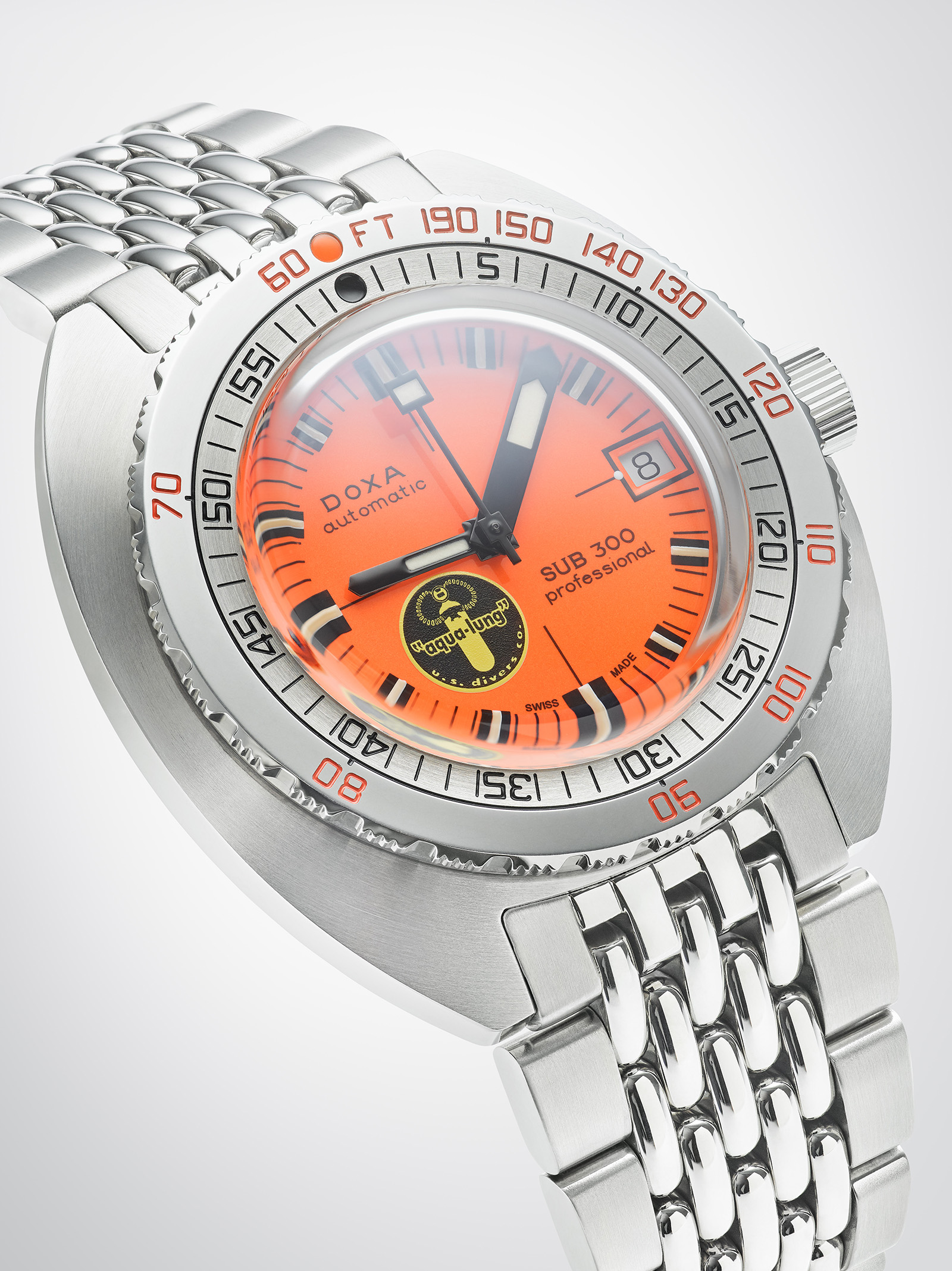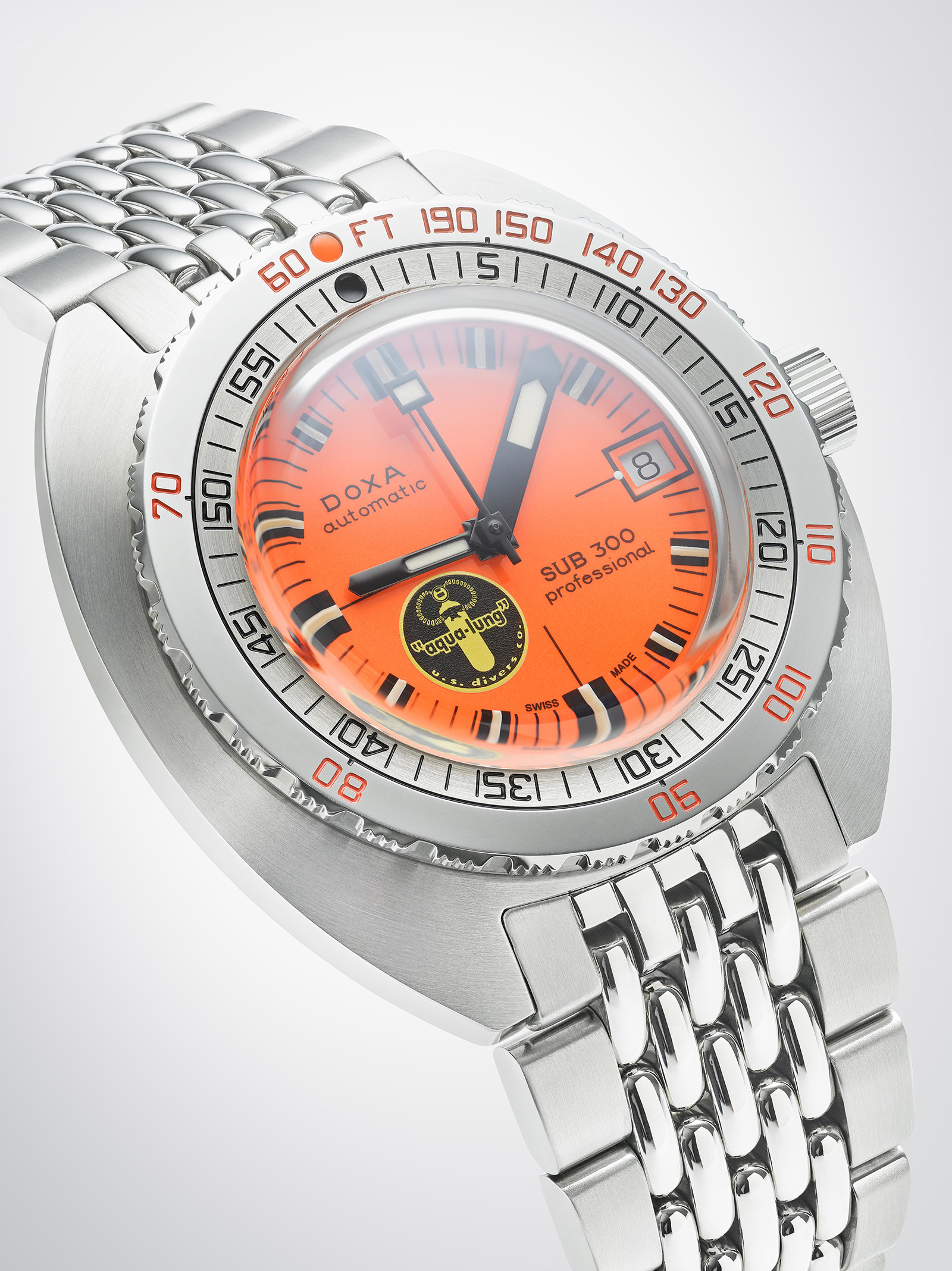 The unidirectional rotating steel bezel had a serrated edge for optimum grip with wet or gloved fingers. Engraved on its surface were not only minute markings in black but also a patented "no-deco" outer scale in orange, displaying the depths according to the US Navy's maximum no-decompression limits for safe recreational diving.
It was powered by an ETA 2852, and had a beads-of-rice steel bracelet with a spring-loaded clasp that expanded to accommodate a wet-suit sleeve. The watch carried the "Aqua-Lung" logo on its dial as a sign of approval from Cousteau himself, who further endorsed it by distributing the watch through his company, U.S. Divers.
Back to the watch in question, the Sub 300 Black Lung came by its name for having a black Aqua-Lung logo, which compromised legibility whenever its black hands swept across it. As a result, it was eventually replaced by an outline of the logo and became the Sub 300T.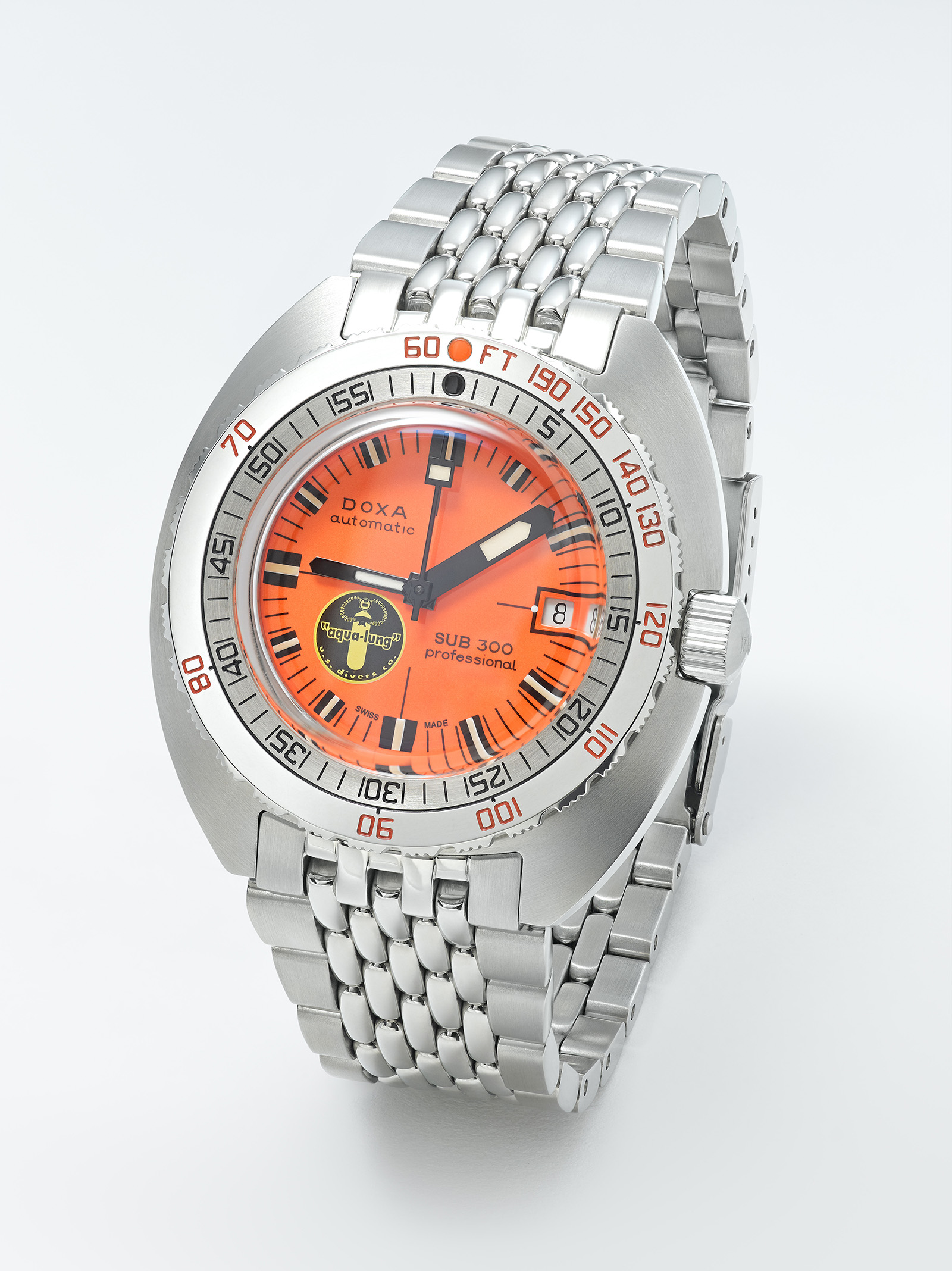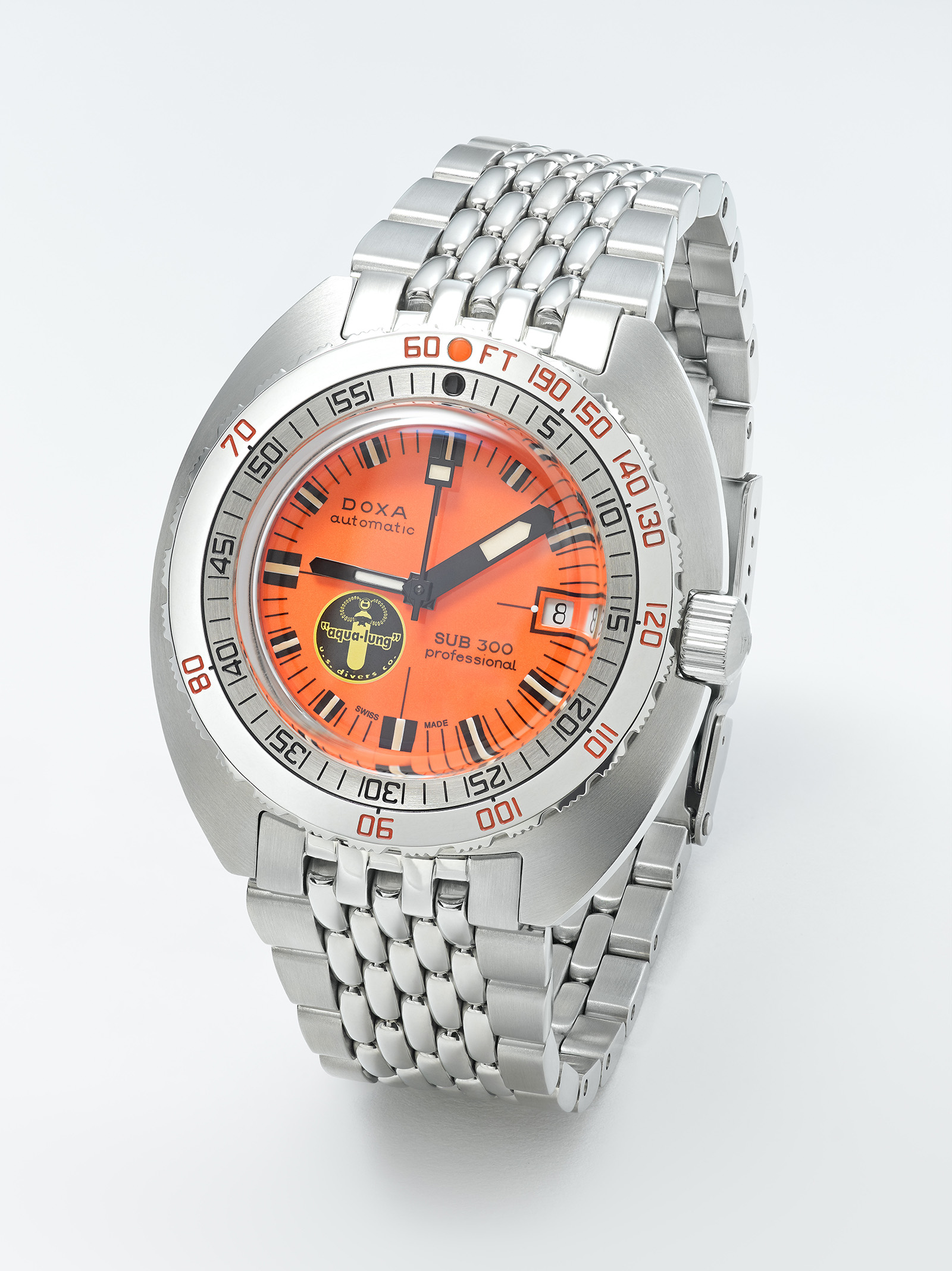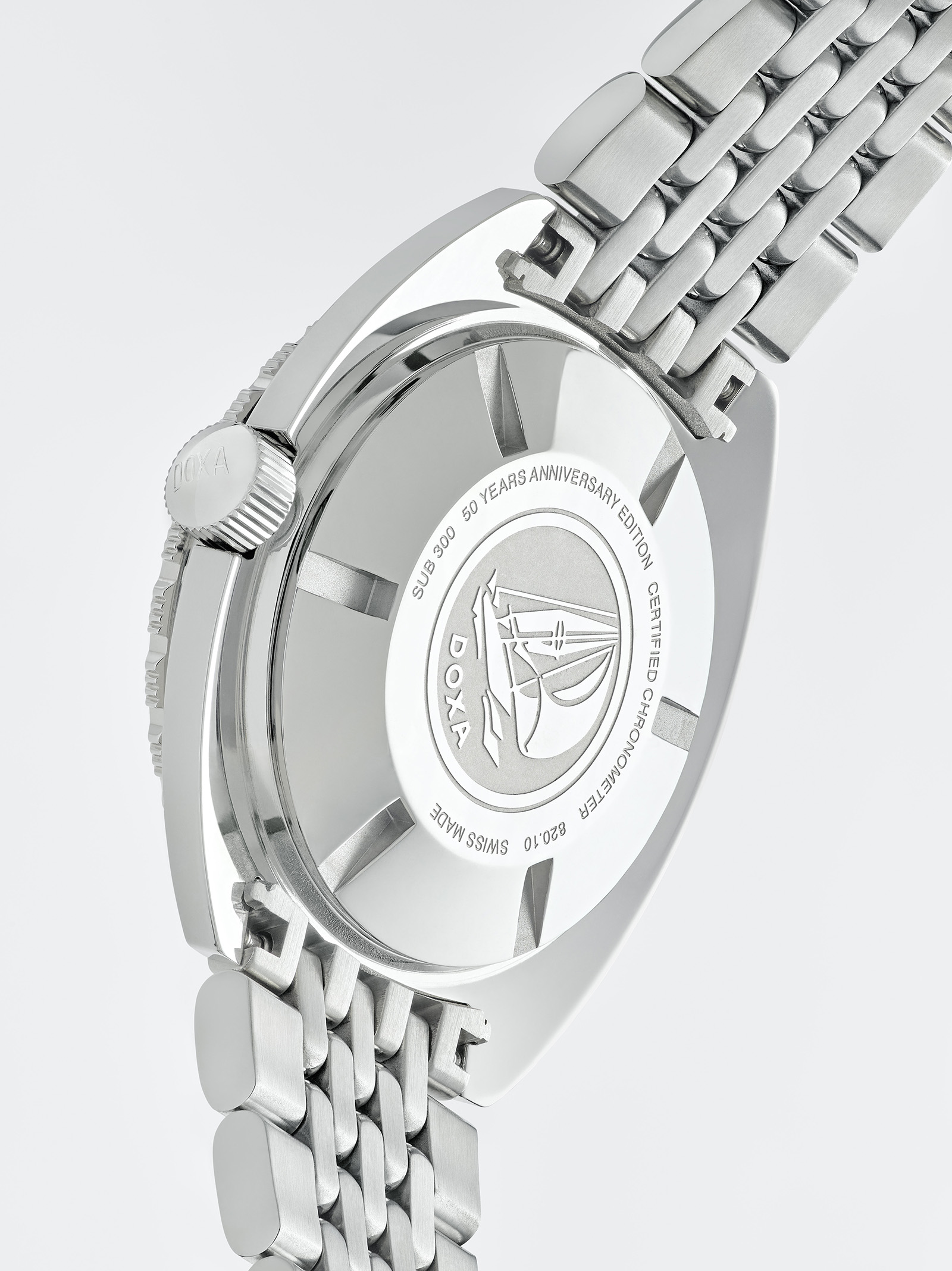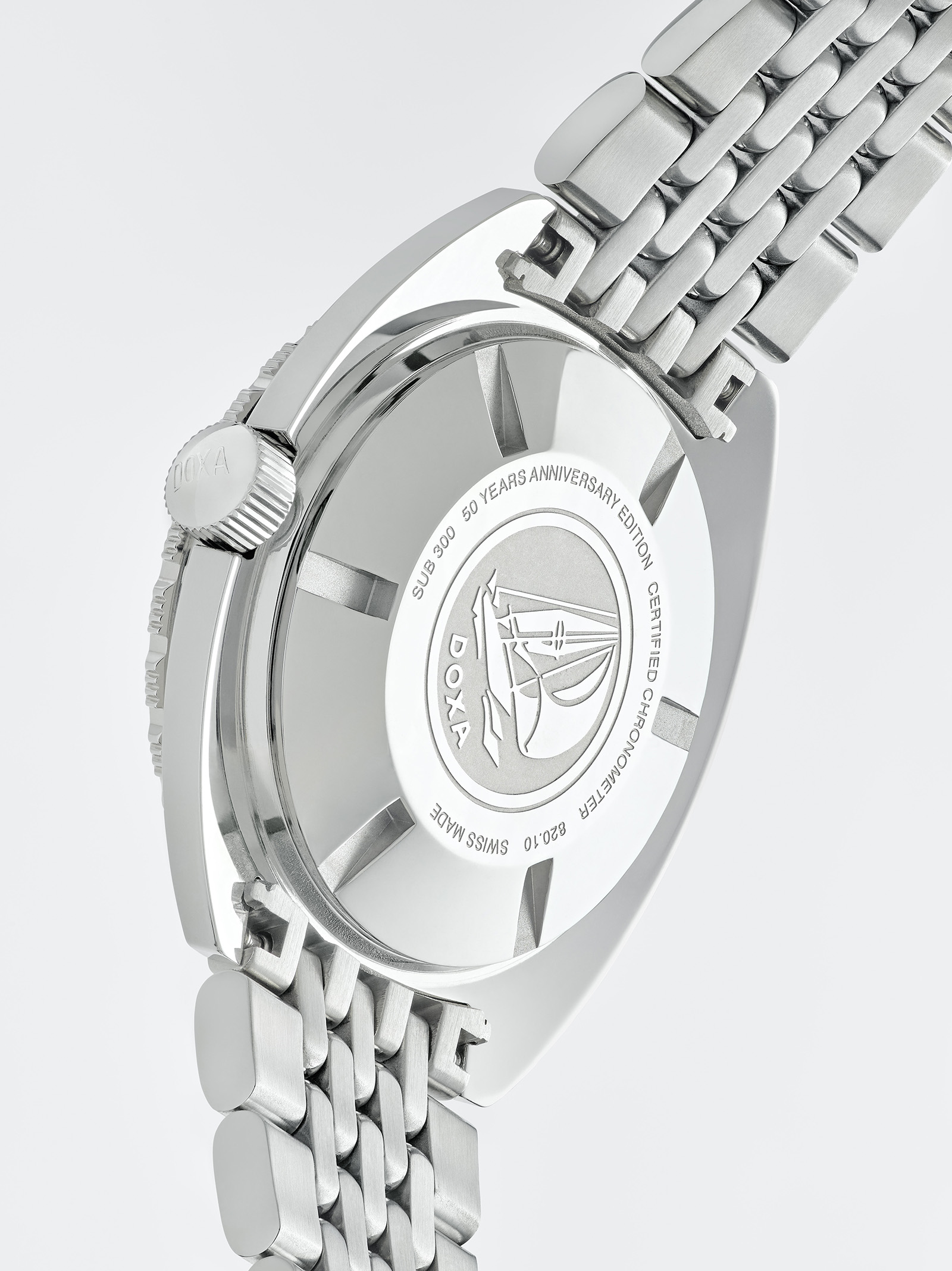 The new Doxa Sub 300 Black Lung features the same unmistakable design as the original except that its "no-deco" scale goes up to 190 ft instead of 195 ft. It measures 42.5mm, and has a domed sapphire crystal instead of acrylic. Also, it is now powered by a chronometer-grade ETA 2824-2 movement.
Price and Availability
The watch will be a limited edition of 300 pieces, and is available for pre-order here. It is priced at US$2,590, and is slated to ship in December.
---
Back to top.
---
You may also enjoy these.