Highlights From the Largest Ever Breguet Timepiece Exhibition in the United States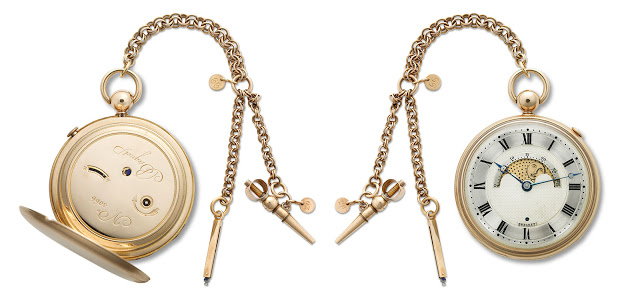 Breguet: Art and Innovation in Watchmaking is a comprehensive showcase of the work of the great Abraham-Louis Breguet. Comprising over 70 timepieces, it takes place in San Francisco from September 19, 2015 to January 10, 2016.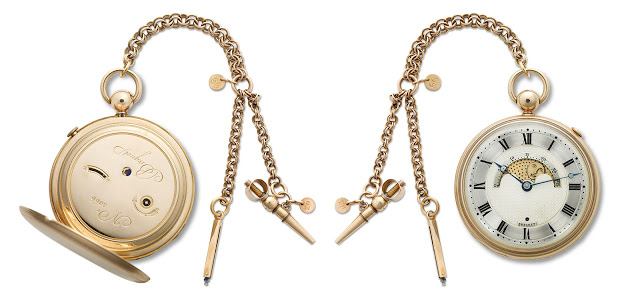 Breguet no. 3066, a repeating pocket watch with oversized moon phase, sold in 1818
Abraham-Louis Breguet was one of the preeminent watchmakers of his time, responsible for inventions including the tourbillon regulator, with clients like Marie-Antoinette and Napoleon. Not only did he was he responsible for complications, Breguet also had his own distinctive aesthetic, one that still appeals three centuries later. The largest ever Breguet exhibition in the United States, Breguet: Art and Innovation in Watchmaking celebrates his work, as well as that of the company bearing his name. Over 70 timepieces, including many originals from his lifetime, will be on show at the California Palace of the Legion of Honor in San Francisco starting September 19, 2015. The exhibition is organised into 15 sections, each dedicated to a particular complication or style that is significant in Breguet's body of work. One such section covers subscription watches, simple timekeepers with only an hour hand that Breguet invented in 1797 and sold on a subscription basis. More affordable than most watches at the time, they helped Breguet grow his client base.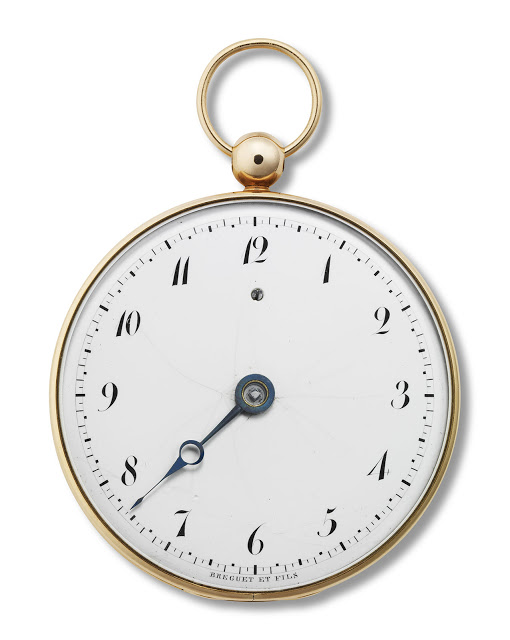 Breguet no. 3424 subscription watch
Many of the timepieces on show once belonged to key historical figures whom Breguet counted amongst his clients, a list that included practically all of the heads of state of major European countries. Breguet timepieces are intimately intertwined with European history of the 18th and 19th centuries.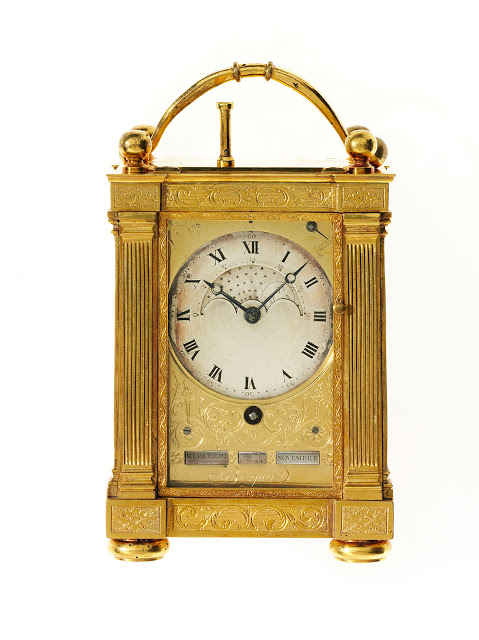 A quarter repeating travel clock sold in 1798 to Napoleon Bonaparte days before he departed for Egypt on his campaign against the British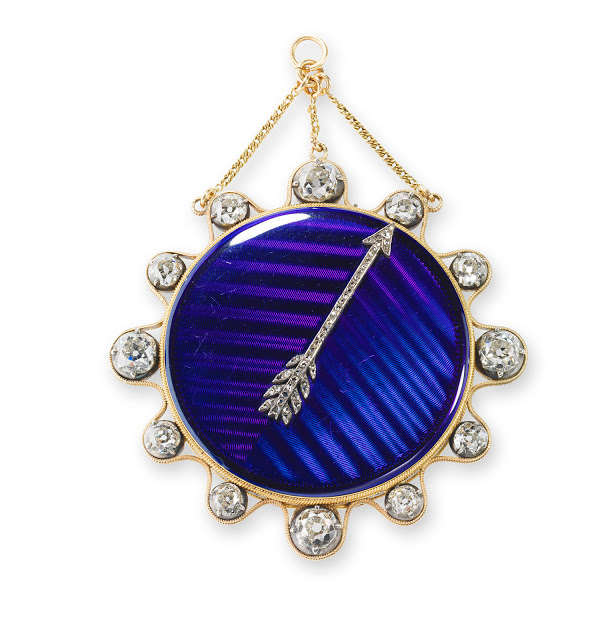 Another Breguet invention, the montre a tact that indicates the time in a tactile manner with the arrow-shaped pointer, this one sold in 1800 to Empress Josephine, wife of Napoleon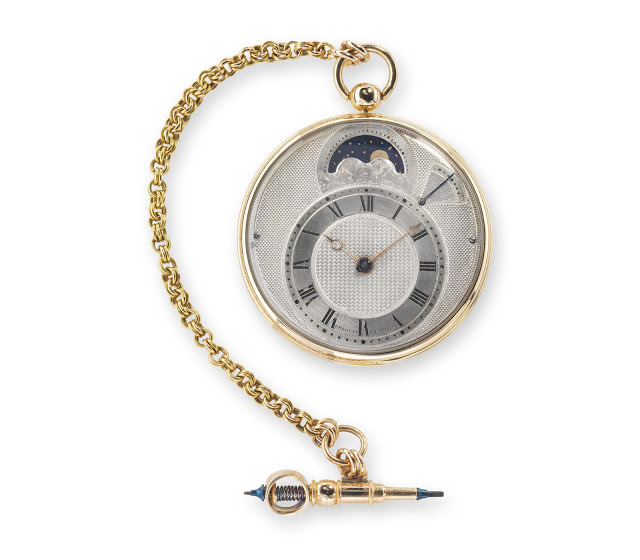 A pocket watch with moon phase sold in 1813 to Empress Marie-Louise, the second wife of Napoleon
Marine chronometers, or precision, gimballed clocks, made for navigation and supplied to the French navy are also a key part of the exhibition, so are watches made for the Turkish market, distinguished by their enamelled cases and Arabic numerals.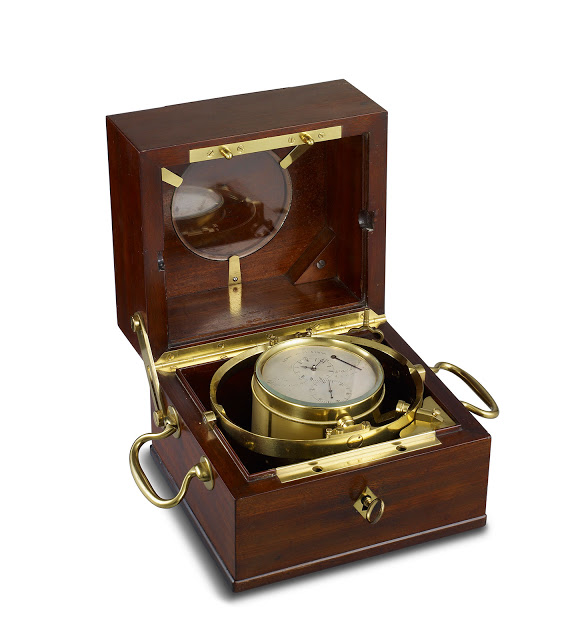 Marine chronometer, sold in 1841 to the French navy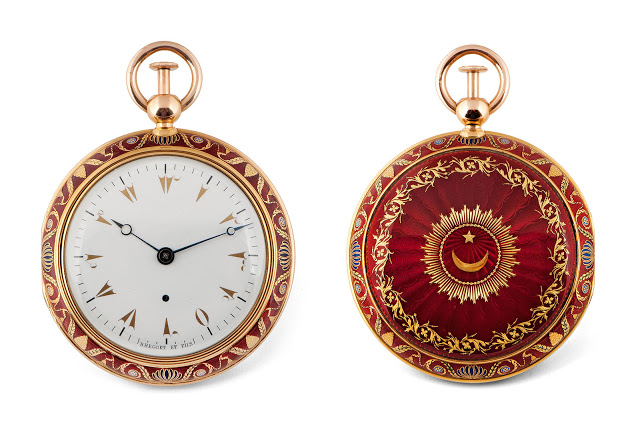 Quarter repeater with grande and petite sonnerie made for the Turkish market, sold in 1808
Breguet also worked on various precision watches, including those he terms garde-temps. Many were scientific instruments but some were also created for civilian clients.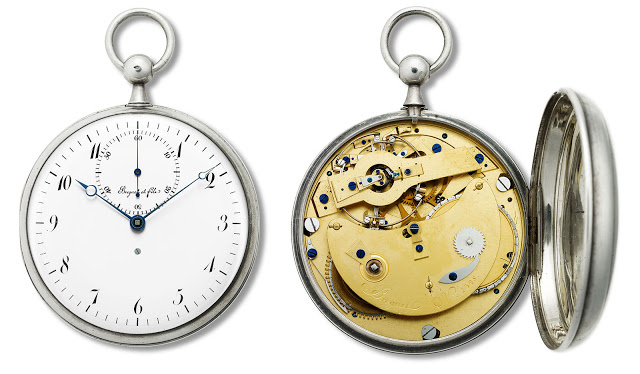 A precision wristwatch that was the personal watch of Abraham-Louis Breguet's son Antoine-Louis
And Breguet's work also encompasses various complications, ranging from the well known, like the minute repeater, to the esoteric, like this resonance-type pocket watch.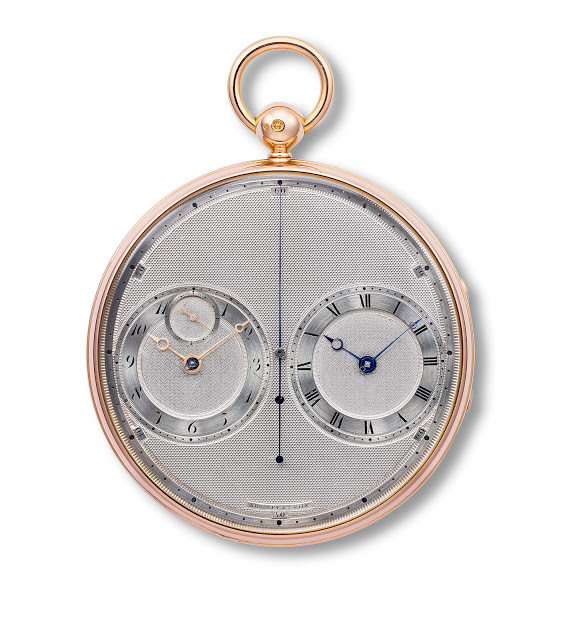 A pocket watch with two movements designed to operate on the principle of resonance, sold in 1814
Chronographs also feature prominently, with Breguet having made several pocket watches a seconds hand that could be stopped and started.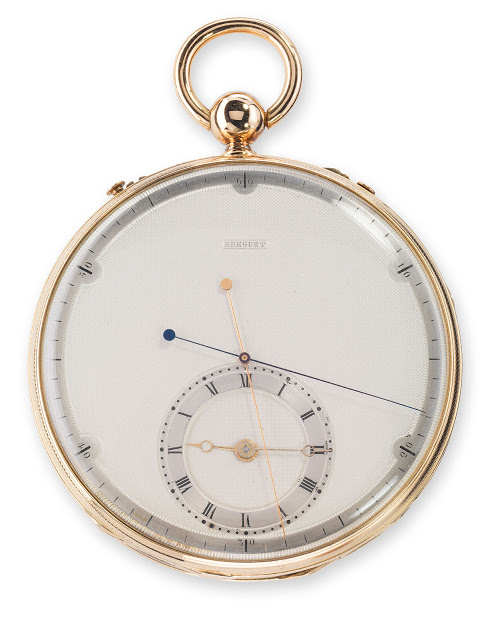 A split-seconds chronograph pocket watch sold in 1825
And of course the tourbillon regulator has a section all to itself, being Breguet's most famous invention. Conceived to average out timekeeping errors due to gravity, Breguet patented the tourbillon in 1801.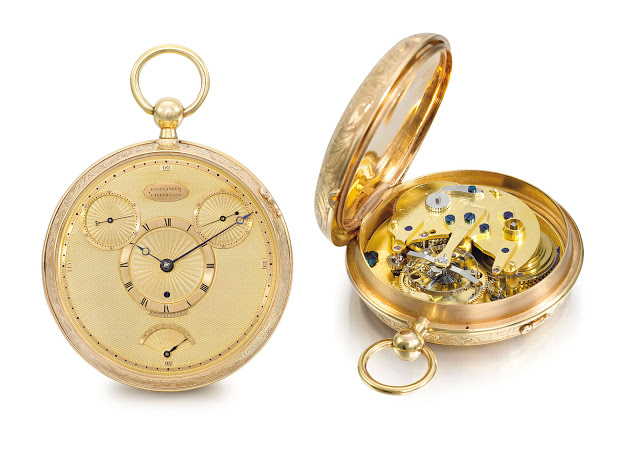 Pocket watch with four minute tourbillon regulator, sold in 1809 to Count Stanislas Potocki of Poland
Clocks are also a key part of the exhibition, amongst them an Art Deco clock from 1921, by which time the Breguet family had sold the company to English watchmaker Edward Brown.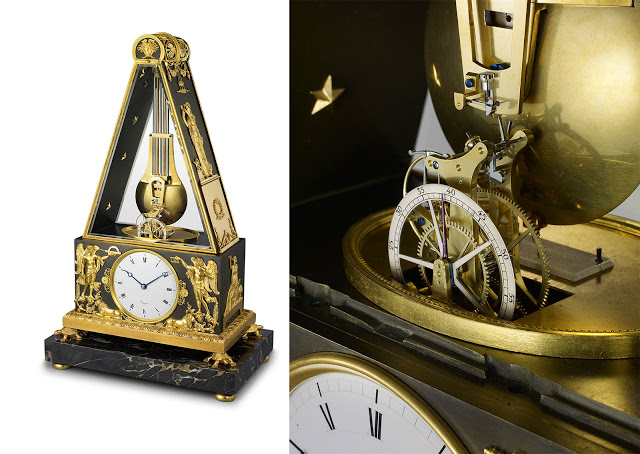 A pyramid clock with constant force escapement with passing hour and quarter strike, sold in 1827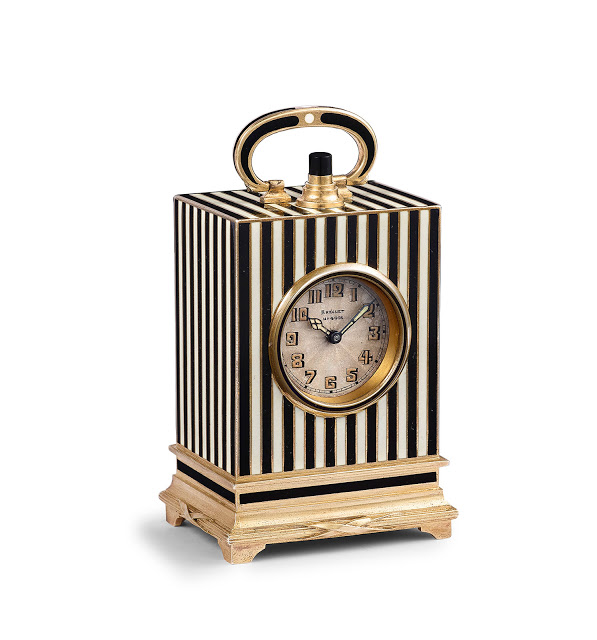 An Art Deco minute repeating clock with an enamelled case from 1921
Breguet: Art and Innovation in Watchmaking opens on September 19, 2015 and runs until January 10, 2016. It's open Tuesdays through Sundays from 9:30 am to 5:15 pm. On December 24 and 31 opening hours are 9:30 am to 4:00 pm. It's located at Rosekrans Court, Special Exhibition Galleries 20B-C, inside the California Palace of the Legion of Honor, located at: Lincoln Park 34th Avenue and Clement Street, San Francisco, CA 94121 USA Tickets can be purchased online from the Legion of Honor.
Back to top.
---