The super complex Firmamentum from HWM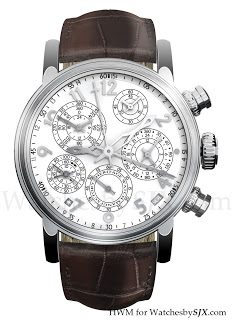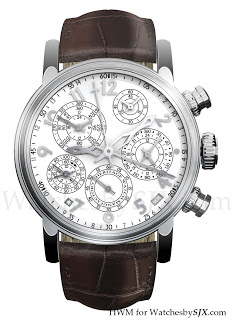 Heritage Watch Manufactory (HWM), a small brand co-founded by watchmaker Karsten Frasdorf, will show the Firmamentum at Baselworld 2012. Some may remember Mr Frasdorf from the now defunct independent brands Marc Brogsitter and then Fabrication De Montres Normandes.
At HWM Mr Frasdorf continues his signature movement style, brushed bridges and a large balance wheel, with an emphasis on chronometry. The Firmamentum is styled a navigation watch in the traditional sense – think sailing and navigation by the stars – because it displays the hour angle, sidereal time and solar time. It accomplishes this with an astonishing 15 hands and five subdials. Here is a brief explanation of all the subdials: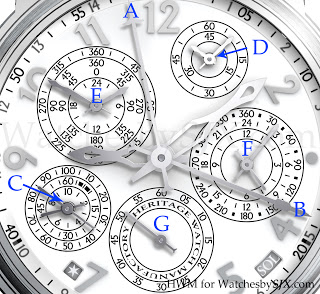 A, B and C are the arc hour, minute and seconds displays respectively used for the hour angle D shows the arc hours and minutes for solar or sidereal time E is the right acsension (short hand) and 24 hour indicator for solar or sidereal time F is the 12 and 24 hour indicator as well as declination (long hand) G is the constant seconds hand The button at two o'clock switches the variable speed gear train between display solar (24 hours a day) and sidereal time (23 hours, 56 minutes, 4.091 in seconds a day). And the button at four o'clock is a hack seconds mechanism that stops the seconds hand as well as the balance wheel for precise time setting. Both of these pushers can be locked to prevent accidental activation. All of HWM's watches are designed by Eric Giroud, who is more famous for the work he has done for MB&F like the steampunk LM1 or the pod racer HM4. Despite this sterling design pedigree, the Firmamentum looks exceptionally complicated, both conceptually and practically. Coincidentally I recently wrote about the new Arnold & Son TB88 dead seconds chronometer, and how it was an improvement over the outrageously complex longitude watches Arnold & Son specialised in a few years back. The HWM Firmamentum is in the same category of bizarrely complicated in my opinion. Nevertheless it is technically impressive and hats off to Mr Frasdorf for thinking of this.
– SJX With thanks to Monochrome for providing info on the subdials.
Back to top.
---
You may also enjoy these.