Business News: Swiss Watch Exports Hit an All-Time High (and a Low)
It's all about value, not volume, unless it's MoonSwatch.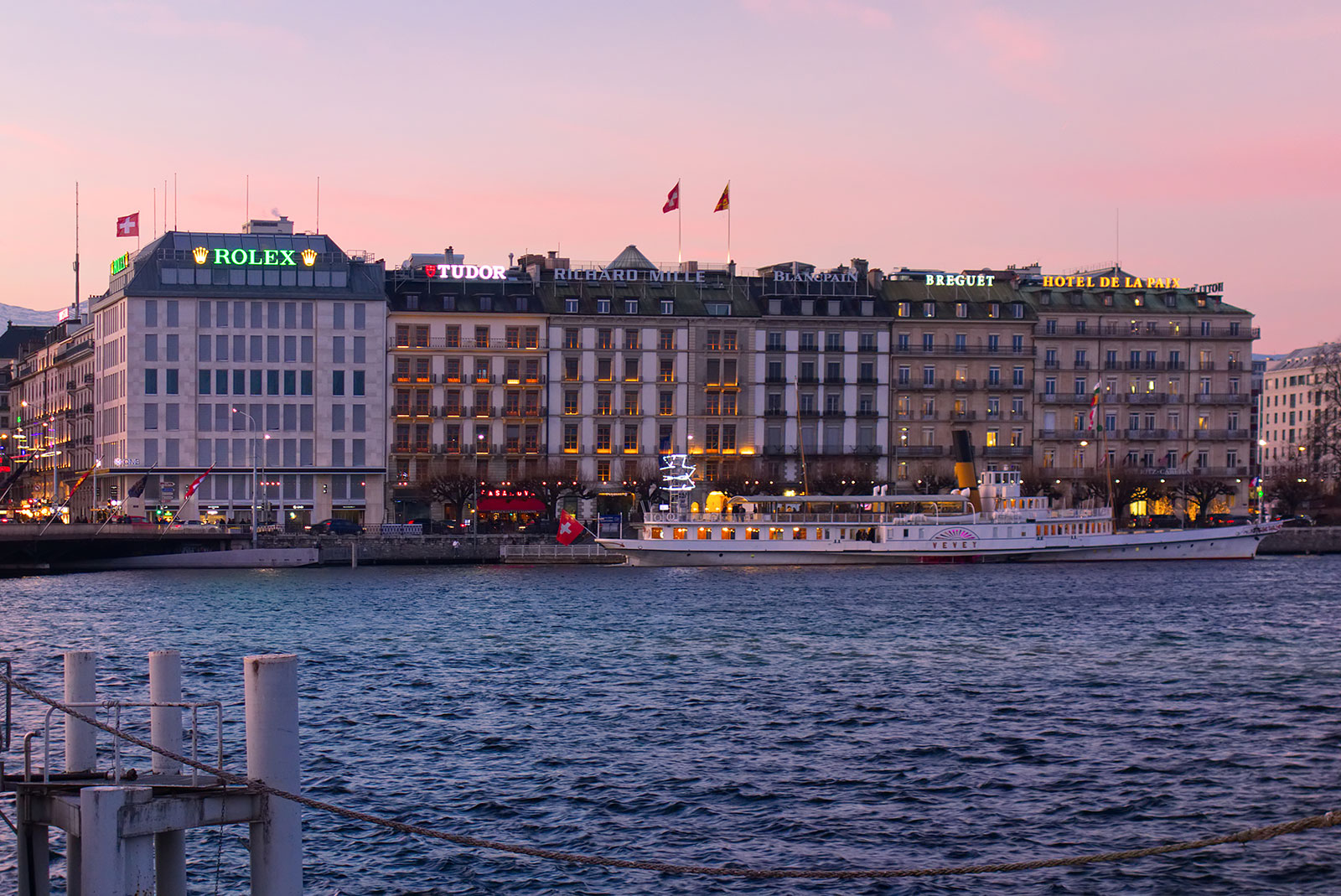 Having just been published by trade body Federation of the Swiss Watch Industry (FH), Swiss watch exports – a proxy for the global luxury watch industry – once again broke records in 2022 with an annual tally of CHF23.7 billion, a rise of 11.6% over the year prior and an all-time high. Compared to 2019, the year before the pandemic began, the number is even more impressive: a jump of 15.5%, which translates into CHF3.2 billion of additional exports.
At the same time as FH announced the industry's 2022 performance, Swatch Group published its annual results. Even though the group is an important contributor to the volume of Swiss watch exports – it makes up an estimated 60% of total volume – the brands in its stable, which include Omega, Longines, and Breguet, are not keeping pace with the broader industry's growth.
Value up, volume down
After a steady decline in export volume over the past 20 years – reaching an all-time low of 13.8 million wristwatches in 2020 – quantities have not recovered. In 2022, the industry exported only 15.8 million watches, an increase of just 0.3%, or only 49,000 units, over 2021 – whereas in 2000 Switzerland exported 30 million watches.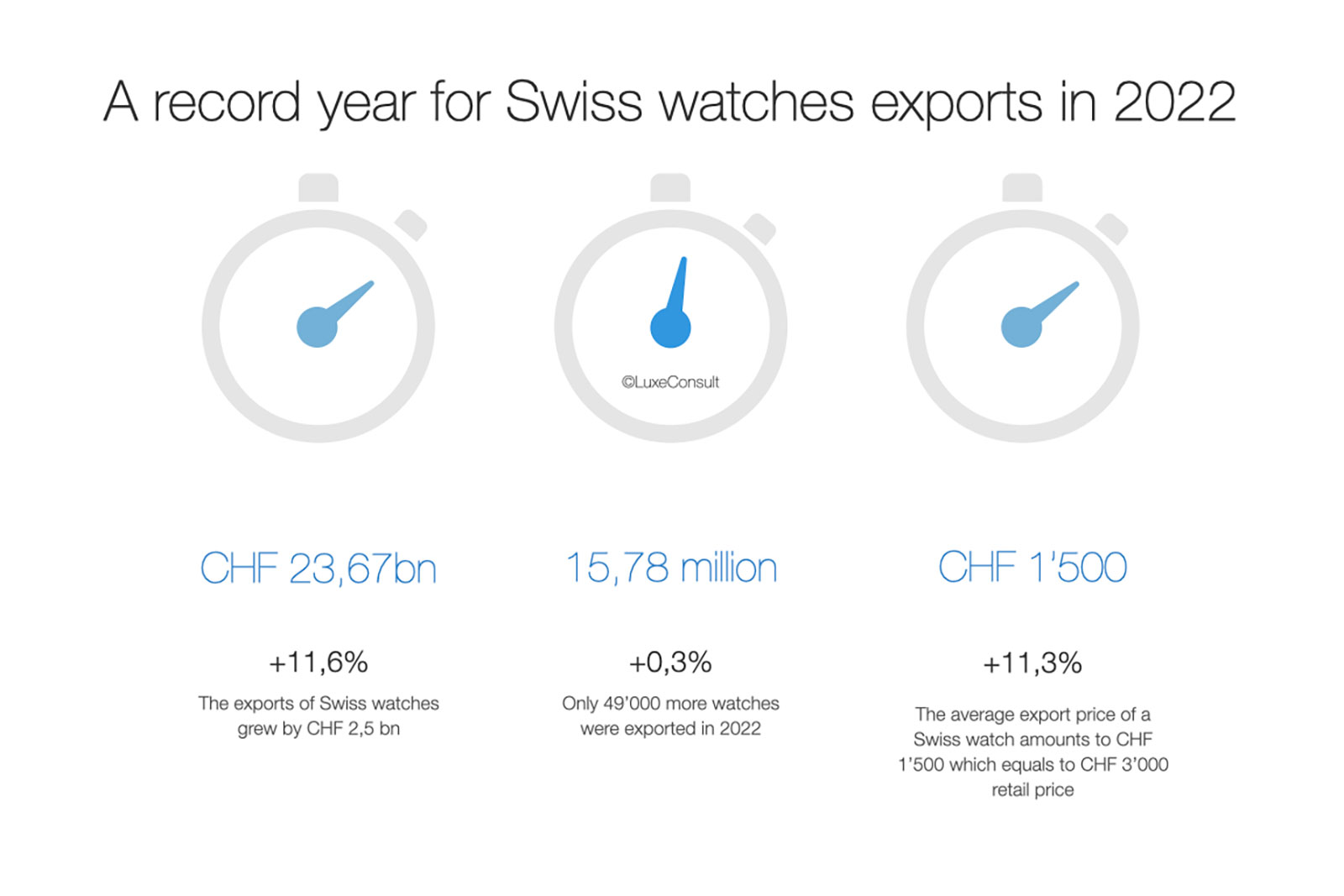 But the numbers are actually worse than they look. Take the MoonSwatch out of the equation – the bestselling Swatch accounted for about 950,000 watches exported and another 50,000 sold within Switzerland – export volume for 2022 is actually about 900,000 lower than that of 2021.
Volume and value – an inverted pyramid
The Swiss watch industry demonstrates the Pareto principle, better known as the 80/20 rule. Only 17% of volume generates 83% of the value. In other words, less than a fifth of watches account for over four-fifths of vale.
The most expensive watches illustrate this in the most extreme manner. Watches with a retail price of over CHF100,000 numbered about 25,000 last year, 0.2% of the 15.8 million units in total, but accounted for about CHF3 billion of value, 12.5% of the total export value.
That won't be news to observers of the industry, since it has long been known that "champion" brands such as Rolex, Audemars Piguet, Patek Philippe, Richard Mille, Tudor, Breitling, Omega, and Cartier that are they key drivers of growth in export value, with the sole anomaly at the low end being the MoonSwatch.
Swatch Group performance
Swatch Group announced its 2022 revenue grew 4.6% at constant exchange rates, while the value of Swiss watch exports rose 11.6%, indicating that most of the group's 17 brands are stuck in reverse gear. The disparity in growth is even more obvious if we take into account the group's biggest brand in terms of revenue, Omega, had a successful year where it likely grew faster than the industry average in its price segment, implying substantially below-average growth at the group's other marques.
According to Swatch Group, lockdowns in China resulting from the pandemic resulted in a revenue shortfall estimated at CHF700 million. That's one way of looking at things; another is the fact that Swatch Group overly dependent on China.
Again, the only exception is Omega, which has successfully diversified its sales and, for instance, gained substantial market share in the United States over the course of the pandemic.
It becomes clear that Swatch Group is bucking the industry trend on two levels. First, its MoonSwatch is the only out-performer at the low-end of Swiss watchmaking, managing to rack up stellar sales when everyone else is wilting against smartwatches. Second, the group as a whole is underperforming the broader industry, which has been enjoying rapidly rising values even in the face of diminishing quantities.
A mixed, but cautiously positive, outlook
With the reopening of the Chinese market after a bad 2022 – Swiss watch exports to the country shrank 22.5% last year – the landscape for the luxury goods industry and Swiss watchmaking is promising. Swatch Group is likely to be the main beneficiary of this positive development in Chinaas its two biggest brands in terms of sales, Omega and Longines, are also the the biggest in China by the same metric.
But the environment in other markets, will probably get more difficult. The deterioration in outlook also holds true for the United States, which was the biggest market for Swiss watch exports in 2022, having grown 26% year-on-year. Still, 2023 should once again be a record year for Swiss watch exports, albeit at a more modest pace, with an expected growth of 3-4% in value.
But the performance of individual brands and groups will likely become even more polarised, with the biggest five brands accounting for 50% of sales. There will be exceptions, of course, including a few niche brands in high-end independent watchmaking (that account for less than  1% of export volume) will continue to do well, along with the sole brand performing well at the low-end, high-volume segment, Swatch.
---
---
You may also enjoy these.