A Visit With Hajime Asaoka, the Solo Independent Watchmaker Working In a Tokyo Apartment
Hajime Asaoka is a Japanese independent watchmaker who only recently began making timepieces. Entirely self-taught, he works out of a converted apartment in Tokyo which is equipped to make nearly all of the components required for his timepieces.
Best known for his manual-wind wristwatch with a 16 mm balance wheel, Asaoka recently he unveiled his collaboration with contemporary artist Takashi Murakami. A few weeks ago I managed to visit Asaoka-san at his atelier.
Asaoka-san is an industrial designer by training, having studied that at the Tokyo University of Fine Arts. His past work has included furniture – some of which are included in a contemporary furniture of Japan compendium – and even graphic art for the album of Japanese pop superstar Ayumi Hamasaki.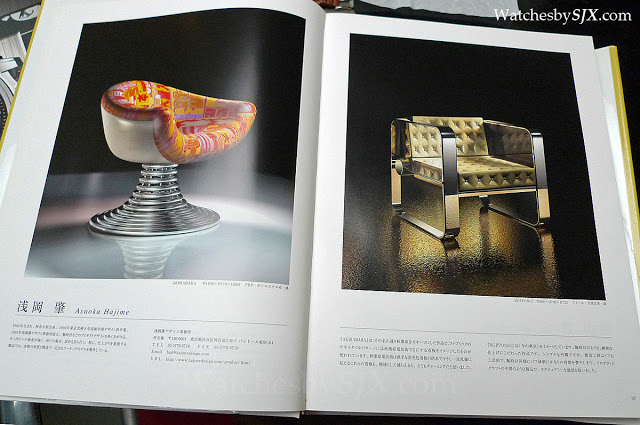 Samples of Hajime Asaoka's chair designs
He only began making watches in 2009, when he completed his first tourbillon prototype. Asaoka-san began with a tourbillon because it is the most visually compelling complication in his opinion. One of his major inspirations was George Daniels, especially Daniels' book Watchmaking. Unlike Daniels, however, Asaoka-san is self taught, he has had no formal watchmaking training.
"If a car is a full-length novel, the watch is a haiku".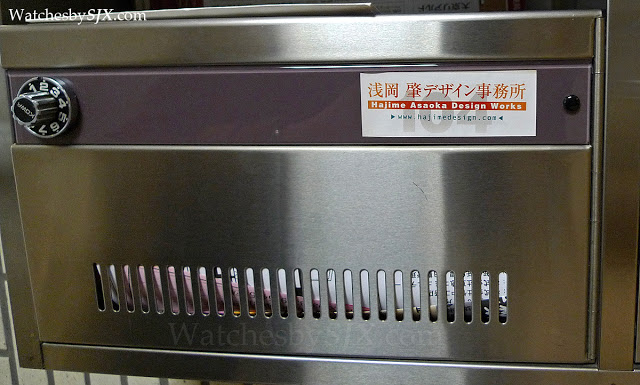 Located in a quiet residential area of Tokyo, Asaoka-san's workshop is actually a repurposed, two room apartment, with the production workshop occupying the smaller room.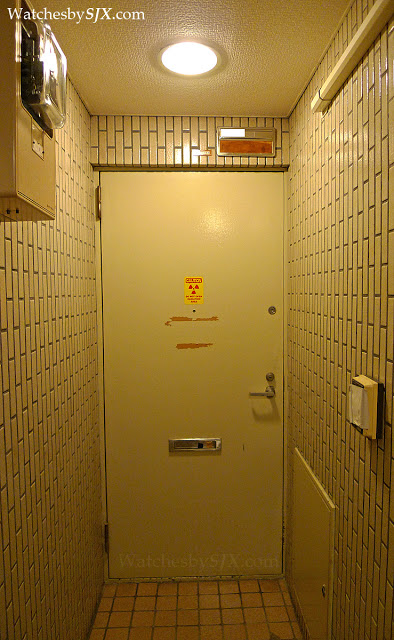 The sticker on the studio entrance reads "Caution Do not open Radiation area"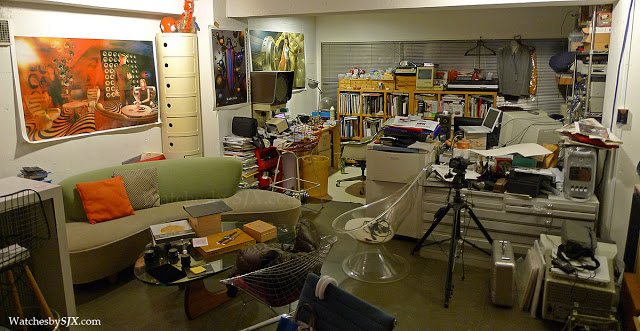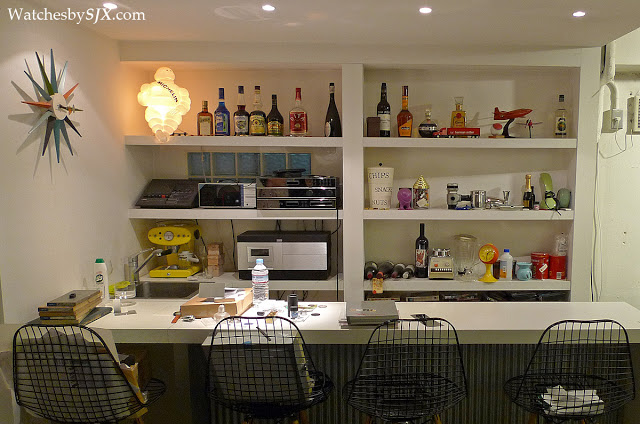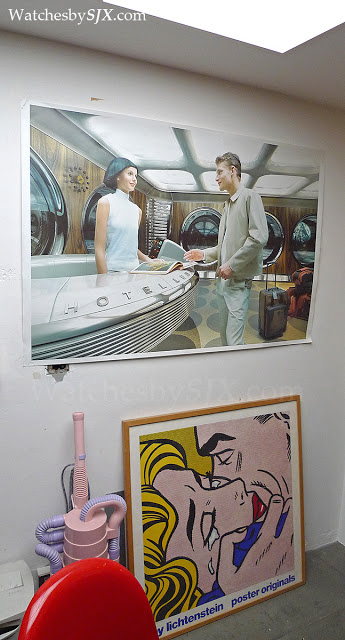 A sample of Asaoka-san's graphic design work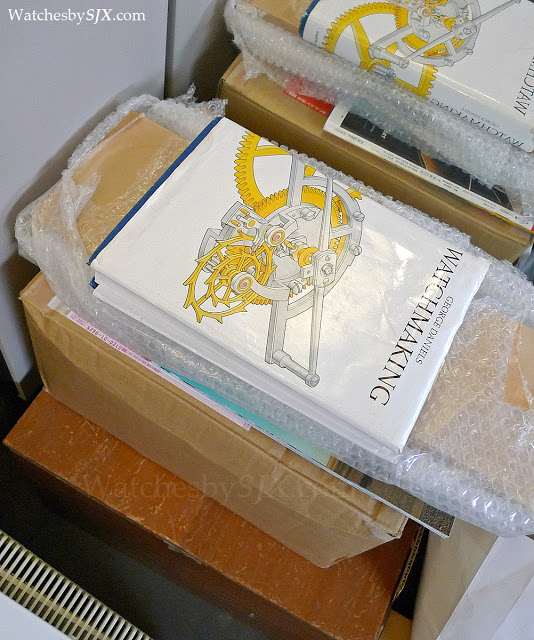 Inspiration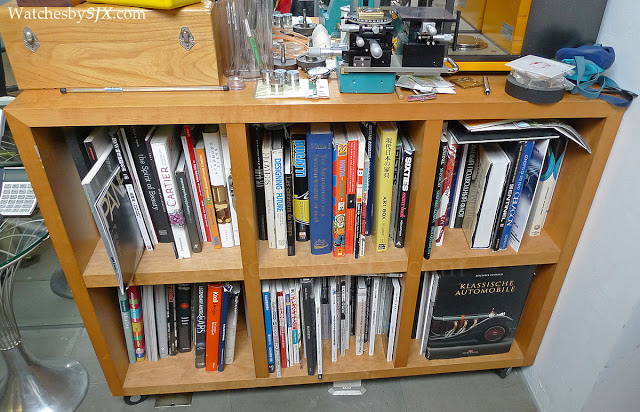 More inspiration
Majority of the components of his watches are made here, even the dials. Most of the outsourced parts are the external bits like the crystal and case.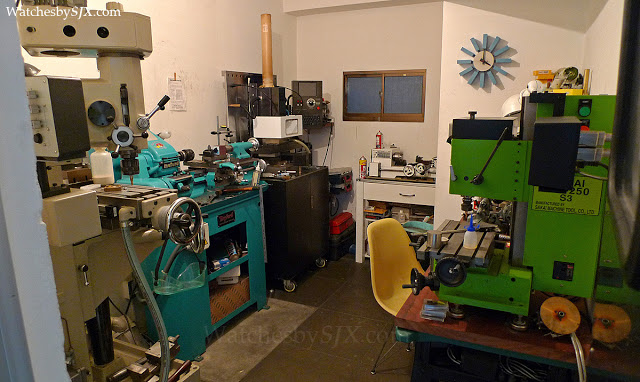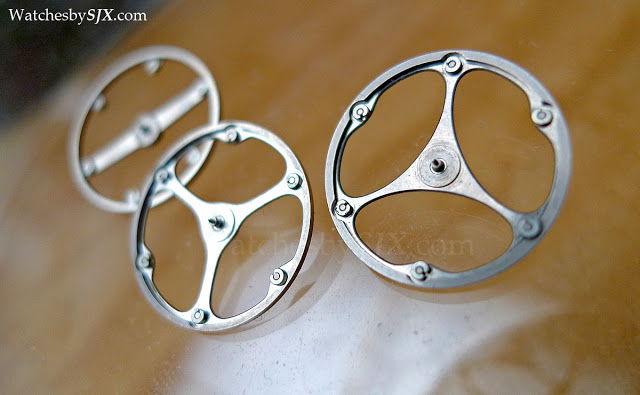 In-house balance wheel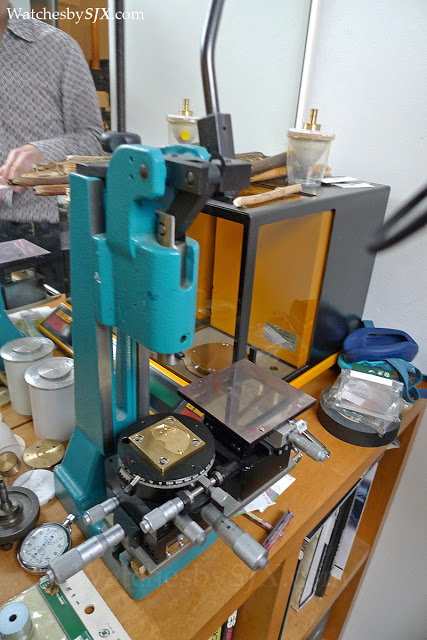 This is to print dials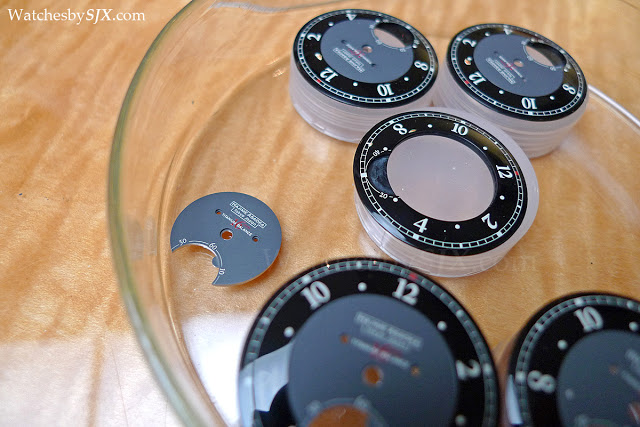 Simplicity is a key element of his watchmaking. "If a car is a full-length novel, the watch is a haiku," he says, "The making of haiku sounds easy at a glance, but it is difficult to express everything with a few words. Likewise I think it is difficult to express originality because a watch is simple."
Asaoka-san has a personal interest in timepieces, and has a watch collection that indicates an appreciation of watchmaking. In fact, like many watch aficionados, he purchased some of his watches from online auctions.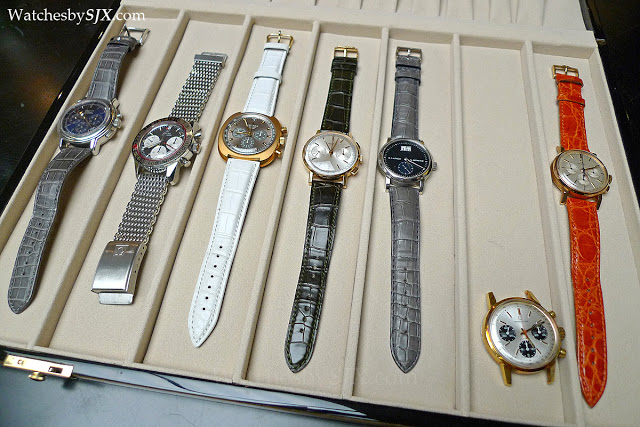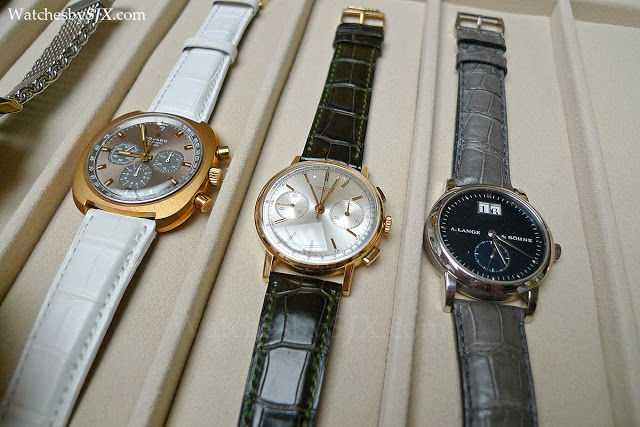 Longines 30CH chronograph (centre) and Lange Saxonia (right)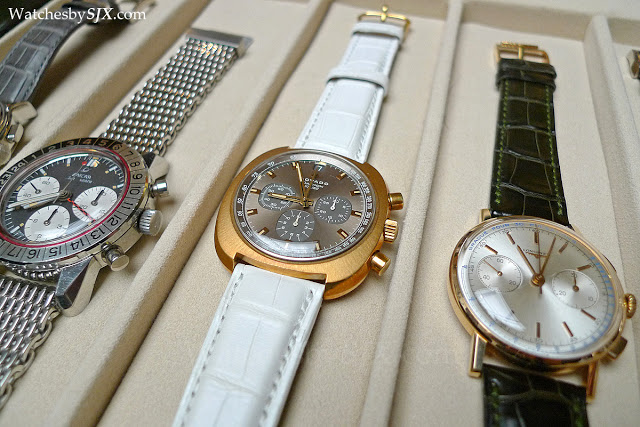 Movado Datron chronograph with El Primero movement
His collection is mostly a sampling of high grade, vintage, hand-wind chronographs, which he admits he has a soft spot for. It includes the Zenith El Primero, Longines 30CH, Omega 321 and also Venus and Valjoux calibres.  In fact, he revealed that he may create a chronograph in the future. Also in his collection is a first generation Lange Saxonia, a gift from his wife, which Asaoka-san explains provided him with a clear idea of truly good movement finishing. Since the tourbillon, of which four have been sold, Asaoka-san has presented a second wristwatch, a hand-wind with an oversized balance wheel.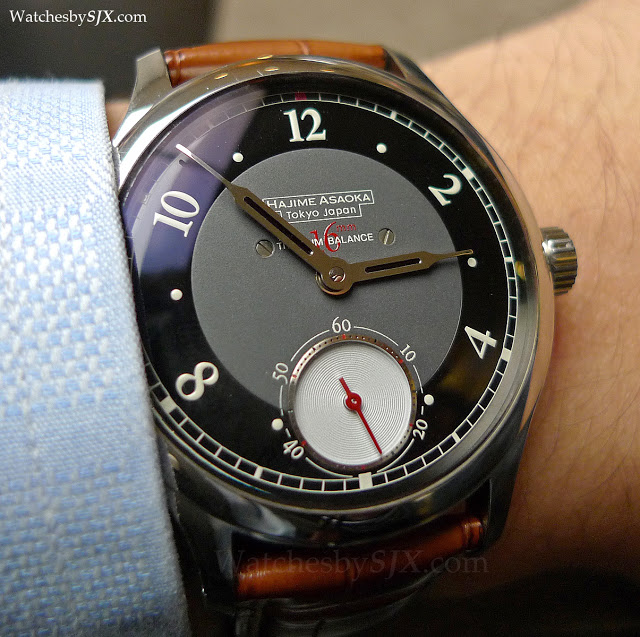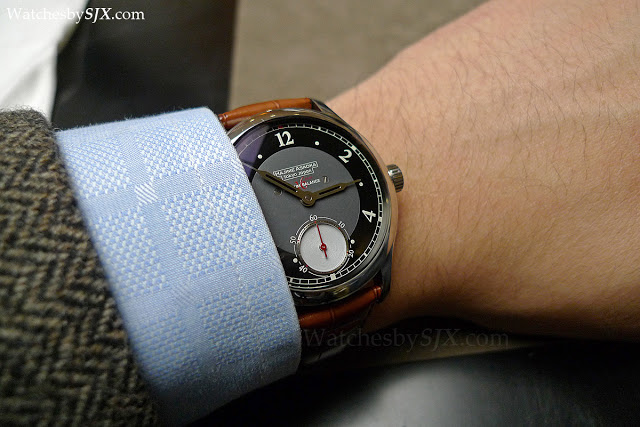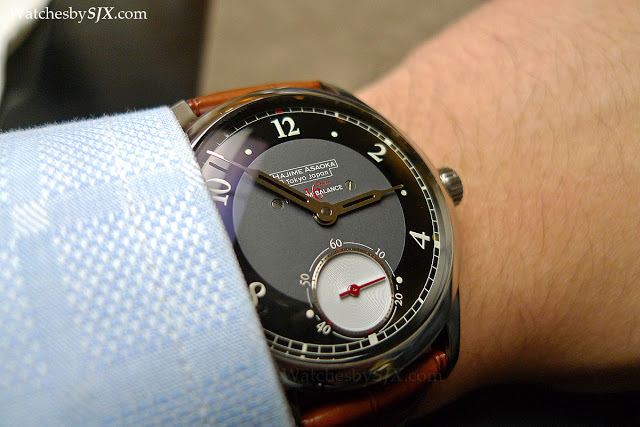 Housed in a 37 mm steel case, the watch has a enormous, 16 mm balance wheel. Watching it oscillate is a treat.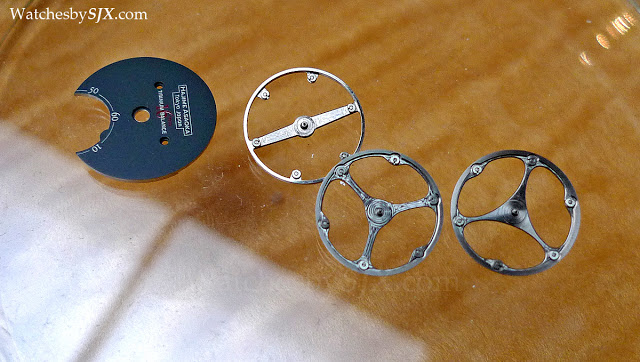 The balance wheel is almost as large as the central portion of the dial – it is that big
The design takes inspiration from 1930s gentlemen's watches. It is modestly sized, but has an intriguing look due to the modern design elements as well as the evidently quality of the watch. The deep black gloss of the lacquered outer dial is especially attractive.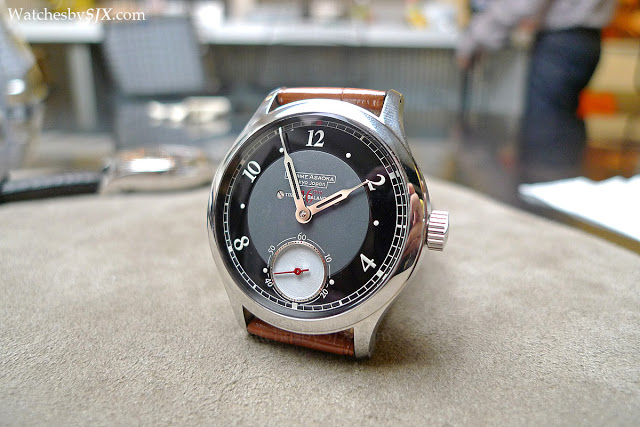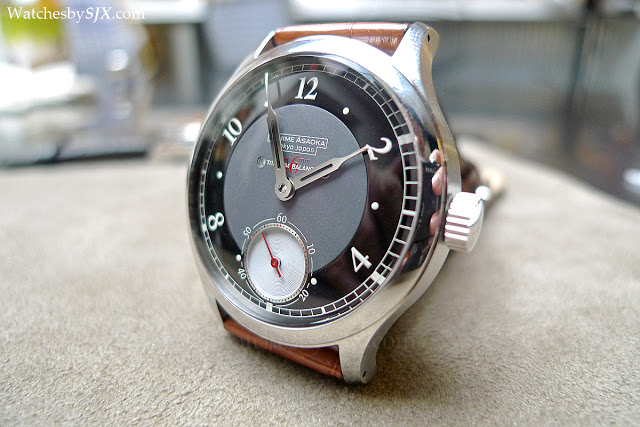 As is expected from a high-end Japanese product, the finishing of the watch, inside and out, is excellent. Every part conveys attention to detail and precision of manufacture.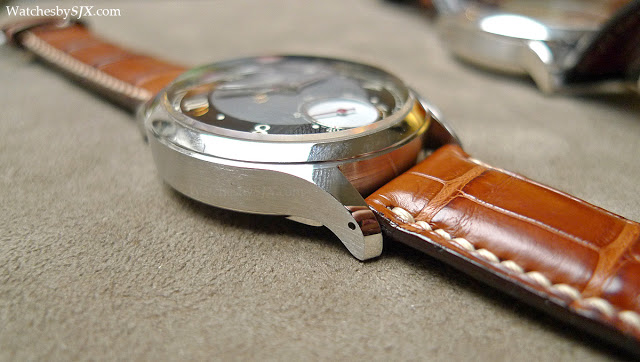 An especially delicious element of the movement is the beautifully bevelled octopus wheel.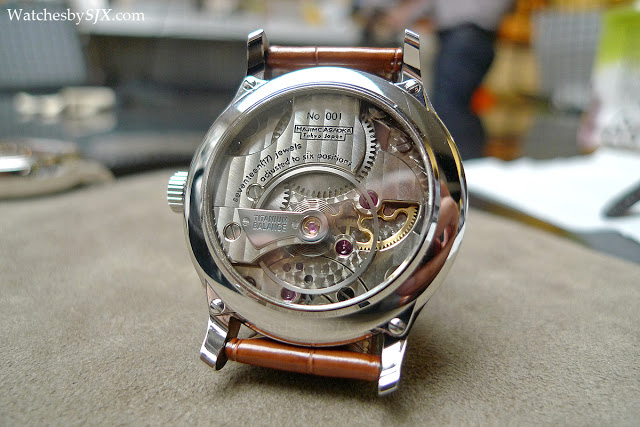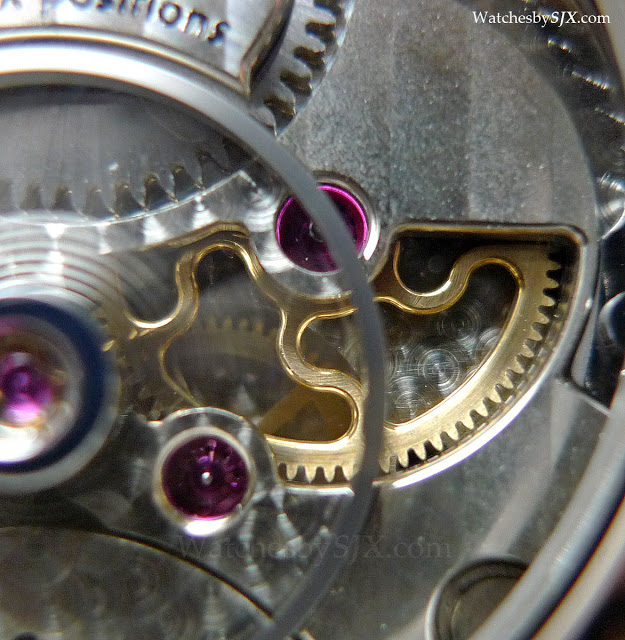 Hajime Asaoka is certainly a watchmaker worth keeping an eye on. His watches are typically Japanese in that they are designed with obvious historical inspiration, while manufactured and finished with an obvious attention to fit and finish. I very much look forward to seeing more of his work. – SJX
Many thanks to KIH for arranging the visit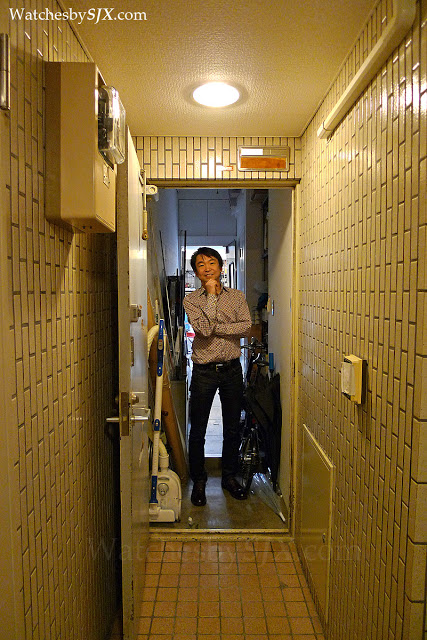 Hajime Asaoka
Back to top.
---
You may also enjoy these.